Haupt

newsitems

ECHR to hear Muslim Woman's plea against Sharia Law in EU Member Greece, while Erdogan visits
ECHR to hear Muslim Woman's plea against Sharia Law in EU Member Greece, while Erdogan visits
Wednesday, 29 November 2017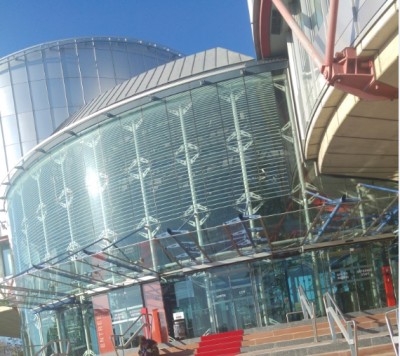 *Strasbourg/Angelo Marcopolo/- While, for the 1st Time in 65 Years, a Turkey's President will be Visiting Greece, where he wants to meet also with a Muslim Minority of Greek Citizens at a Province, ECHR's Great Chamber will hold a Public Hearing on Sharia's applicability in Europe nowadays, Next Week in Strasbourg, after a Complaint lodged by a Muslim Woman with Greek Citizenship who asks to Protect her Family's Right Not to be Submitted to Islamic Sharia Law, even against their Freely and Clearly Expressed Will.

Her Husband had decided, in a Will signed in front of a Notary, to leave all his belongings to his Wife. But, after his Death, some Relatives sued his Widow to the Courts, claiming that Sharia Law should Exclude the ordinary Civil Law, and, therefore, he would Not be Free to Decide about his own Inheritance, since Sharia would be Imposed instead.

The only Property, included in the Disputed Heritage, which could be used as a Home, is the Half of an Appartment, while he Widow of the Deceased Man denounces that his Relatives ask, in fact, to get for them 2/3 of her Husband's belongings.

0n August 2016, ECHR raised 2 Questions, to all parties involved, about the Respect of Human Righs to "Fair Trial" and "Private Property", vis a vis such claims to Impose Sharia Law on EU Citizens of Muslim confession, even against their will, and by Excluding the ordinary Civil Law applicable to all other EU Citizens living in Europe.

Sharia Law has been remplaced by ordinary Civil Law even inside Turkey itself, already since the 1920ies, but Ankara's Authorities reportedly persist to Claim that it should apply, nevertheless, to all the Muslim Minority with Greek Citizenship living in Western Thrace, which is part of the EU.

In the Past, such Decisions affecting Citizens' Rights in Society, as Settlements of Disputes about Alimonies, Guardianship, Emancipation of Minors, Wills and Inheritance, in addition to Separations and Divorce, etc., had been reportedly assigned to the Competence of Civil Servants appointed and monitored by the State of Greece. But after the 1920ies, they were transfered to Muslim Muftis, even if they tresspassed their strictly Religious duties.

This was Later Doubled also by a Parallel, separate Dispute, about the Choice of Muftis for the Muslim Minority of Greek Citizens living in Western Thrace (Greece), while Muftis educated in Turkey (whenever they might, eventually, officiate afterwards inside Europe, USA, or elsewhere in the World), are notoriously Chosen, Trained, Appointed and Monitored by Ankara's Government, (instead of any Independent Religious Community).

Initially, the embattled Widow won her cases to the 1st and 2nd Level Greek Courts from 2008-2011, which defended her Husband's Right to Freely Decide to whom he wants to transmit his personal Belongings, according to the Ordinary Civil Law applicable to all EU Citizens in Europe, by evoking the principles of Equality and Non-Discrimination, Freedom, Private Property, etc.

But, Later on 2013-2015, the Highest Courts in Greece accepted he Husband's Relatives' claim that Islamic Sharia Law should be Imposed to all Greek Citizens of Muslim Confession living at the Western Thrace Province, argying that this would still result from the 1920 Treaty signed at Shevres (France) and the 1923 Treaty of Lausane, as ECHR noted.

Meanwhile, the current Prime Minister of Greece, Alexis Tsipras, has reportedly prepared Recently a Draft Law which Confirms all Greek Citizens' Right to use, in Equal conditions as all other EU Citizens, the ordinary Civil Law and Courts, if they wish so, without being Obliged to be Submitted to Islamic Sharia Law, unless Members of that particular Muslim Minority ask for it.

'''Controversies against Recent Claims to apply the Islamic Sharia Law in Europe have reportedly Emerged not only in Bosnia-Herzegovina (Western Balkans), but even in core EU Member Countries cush as Germany and France (where this was Strongly Rejected), as well as (even "Hotter") in the UK, etc, almost in Parallel with the Rise and Decline of "Islamic State"'s Deadly Terrorists, cowardly Targetting innocent Civilian People in systematic Brutal Aggressions, (Decapitations, Bombings, Mass Shootings, Car/Lorry crashes over pedestrians, Axe/Knife/Manchette Attacks, etc).

So that Next Week's ECHR Public Hearing in Strasbourg has attracted a quite Widespread Attention, both accross Europe and elsewhere in the World, as far as General Principles of Human Rights may be affected, judging by Press Articles published on that issue, and the 3rd Party Interventions of relevant NGOs, such as that of "Christian Concern" (UK), Helsinki Monitor for Greece (GHM), Hellenic League for Human Rights, etc., with written observations.

Erdogan (as well as his Government's Ministers) have been notoriously Hindered to Speek in Public Meetings of Turkish Immigrants recently in EU Countries such as the Netherlands, Germany, etc., after Harsh Criticism and various Troubles, but Foreign Minister Cavusoglou was authorized to do so inside a Building in France, and now the Turkish President asked and was authorized by Athens' Government to meet Greek Citizens of Muslim Confession at a Province located near the Borders between EU Members Greece and Bulgaria with Turkey, in Western Thrace, (North-East Greece).
(../..)


--------------------------------------------------------------------------------


Pierre Pflimlin's visionary line : Honouring the Memory of the man who wanted to build Europe on the Mountains, based on Spirit !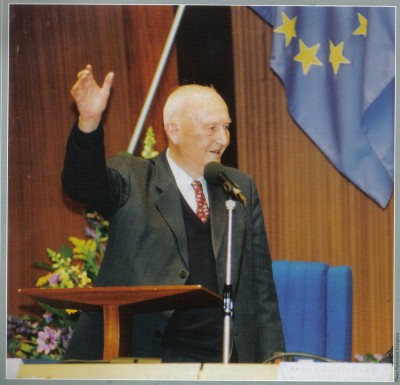 One of EuroFora's best inspirators is naturally Pierre Pflimlin :

We had a chance to personally meet the dynamic and experienced former President of both EU Parliament and CoE's Assembly, France's Prime Minister and Strasbourg's Mayor, only at his 90th anniversary, during an Historic speech at the Council of Europe, exceptionally full of people.

But his energetic figure looked more like a youngster of 19 years old, eager to win the Olympic games !..

Visionary, 2P was, from many points of view :

His daughter, Antoinette, Artist-decorator, and Senator Jung, President of a group of friends, confirmed us an Historian's revelation, that Pflimlin had initially the idea to build all European institutions (EU Parliament, Council of Europe, European Court of Human Rights, etc) at the spectacular heights of Oberhausbergen hills, with an eye-catching view of both French Vosges and German Black Forest Mountains, in the midst of a Forest : A real vision to create a brand New European Headquarters with a big ambition !
But, it seems, that "someone in Brussels" found that picture, precisely, too big for his taste, and threw a spanner on the works...
Pflimlin stroke back a Decade ago, at his Historic 1997 farewell speech :
He urged Europeans to find another, more substantial way, to lift Europe to more important Heights in Future :
- "On which basis can we imagine the birth of a great Europe ?", he asked.
"Certainly an Economic basis ! A solid market economy, meeting also the needs of social justice. A Political basis : Europe must become a strong Political Power, able to influence World's changes, naturally for Peace."
"But I believe that the essential foundation of a greater Europe should be of Spiritual nature : .... The great pacific Revolutions were Spiritual Victories" : They expressed "People's main motivation to live in a society with our Values of Liberty, Democracy, respect for Human Dignity".
"Then, the roadmap is ready : Yes, the foundation of the unity for a large Europe is the spiritual heritage, inspired by Christian Humanism and the Humanism of Renaissance, of Enlightenment, from which emerged a Civilisation focused on the Human person".
"Here is the task to be accomplished. It's very difficult".
"The Time approaches when I'll have to pass over the torchlight. God willing, this torch should enlighten the path of those who are going to build, tomorrow, the great Europe, marked by this Spirit".
(Extract from the Book "Pierre Pfilmin : Alsacian and European", 2007. Texts by Senator Louis Jung, by the long-time f. Director of Strasbourg's Newspaper DNA, Alain Howiller, and by f. EU Parliament's Press Director, Paul Collowald : See dedications, hand-written by the authors, the day the book for Pflimlin's 100th Aniversary was launched at Strasbourg's Press Club and European Parliamentary Association's headquarters, 13 April 2007).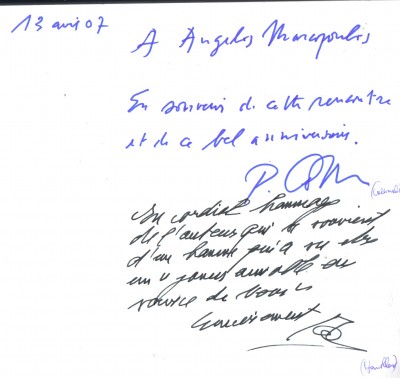 Polls