Accueil

newsitems

ECHR to hear Muslim Woman's plea against Sharia Law in EU Member Greece, while Erdogan visits
ECHR to hear Muslim Woman's plea against Sharia Law in EU Member Greece, while Erdogan visits
mercredi, 29 novembre 2017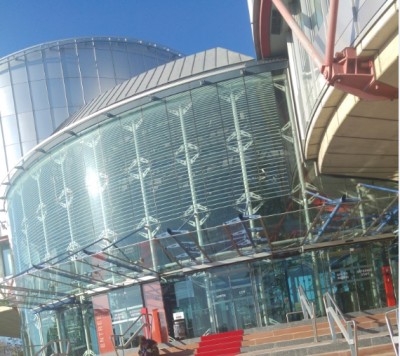 *Strasbourg/Angelo Marcopolo/- While, for the 1st Time in 65 Years, a Turkey's President will be Visiting Greece, where he wants to meet also with a Muslim Minority of Greek Citizens at a Province, ECHR's Great Chamber will hold a Public Hearing on Sharia's applicability in Europe nowadays, Next Week in Strasbourg, after a Complaint lodged by a Muslim Woman with Greek Citizenship who asks to Protect her Family's Right Not to be Submitted to Islamic Sharia Law, even against their Freely and Clearly Expressed Will.

Her Husband had decided, in a Will signed in front of a Notary, to leave all his belongings to his Wife. But, after his Death, some Relatives sued his Widow to the Courts, claiming that Sharia Law should Exclude the ordinary Civil Law, and, therefore, he would Not be Free to Decide about his own Inheritance, since Sharia would be Imposed instead.

The only Property, included in the Disputed Heritage, which could be used as a Home, is the Half of an Appartment, while he Widow of the Deceased Man denounces that his Relatives ask, in fact, to get for them 2/3 of her Husband's belongings.

0n August 2016, ECHR raised 2 Questions, to all parties involved, about the Respect of Human Righs to "Fair Trial" and "Private Property", vis a vis such claims to Impose Sharia Law on EU Citizens of Muslim confession, even against their will, and by Excluding the ordinary Civil Law applicable to all other EU Citizens living in Europe.

Sharia Law has been remplaced by ordinary Civil Law even inside Turkey itself, already since the 1920ies, but Ankara's Authorities reportedly persist to Claim that it should apply, nevertheless, to all the Muslim Minority with Greek Citizenship living in Western Thrace, which is part of the EU.

In the Past, such Decisions affecting Citizens' Rights in Society, as Settlements of Disputes about Alimonies, Guardianship, Emancipation of Minors, Wills and Inheritance, in addition to Separations and Divorce, etc., had been reportedly assigned to the Competence of Civil Servants appointed and monitored by the State of Greece. But after the 1920ies, they were transfered to Muslim Muftis, even if they tresspassed their strictly Religious duties.

This was Later Doubled also by a Parallel, separate Dispute, about the Choice of Muftis for the Muslim Minority of Greek Citizens living in Western Thrace (Greece), while Muftis educated in Turkey (whenever they might, eventually, officiate afterwards inside Europe, USA, or elsewhere in the World), are notoriously Chosen, Trained, Appointed and Monitored by Ankara's Government, (instead of any Independent Religious Community).

Initially, the embattled Widow won her cases to the 1st and 2nd Level Greek Courts from 2008-2011, which defended her Husband's Right to Freely Decide to whom he wants to transmit his personal Belongings, according to the Ordinary Civil Law applicable to all EU Citizens in Europe, by evoking the principles of Equality and Non-Discrimination, Freedom, Private Property, etc.

But, Later on 2013-2015, the Highest Courts in Greece accepted he Husband's Relatives' claim that Islamic Sharia Law should be Imposed to all Greek Citizens of Muslim Confession living at the Western Thrace Province, argying that this would still result from the 1920 Treaty signed at Shevres (France) and the 1923 Treaty of Lausane, as ECHR noted.

Meanwhile, the current Prime Minister of Greece, Alexis Tsipras, has reportedly prepared Recently a Draft Law which Confirms all Greek Citizens' Right to use, in Equal conditions as all other EU Citizens, the ordinary Civil Law and Courts, if they wish so, without being Obliged to be Submitted to Islamic Sharia Law, unless Members of that particular Muslim Minority ask for it.

'''Controversies against Recent Claims to apply the Islamic Sharia Law in Europe have reportedly Emerged not only in Bosnia-Herzegovina (Western Balkans), but even in core EU Member Countries cush as Germany and France (where this was Strongly Rejected), as well as (even "Hotter") in the UK, etc, almost in Parallel with the Rise and Decline of "Islamic State"'s Deadly Terrorists, cowardly Targetting innocent Civilian People in systematic Brutal Aggressions, (Decapitations, Bombings, Mass Shootings, Car/Lorry crashes over pedestrians, Axe/Knife/Manchette Attacks, etc).

So that Next Week's ECHR Public Hearing in Strasbourg has attracted a quite Widespread Attention, both accross Europe and elsewhere in the World, as far as General Principles of Human Rights may be affected, judging by Press Articles published on that issue, and the 3rd Party Interventions of relevant NGOs, such as that of "Christian Concern" (UK), Helsinki Monitor for Greece (GHM), Hellenic League for Human Rights, etc., with written observations.

Erdogan (as well as his Government's Ministers) have been notoriously Hindered to Speek in Public Meetings of Turkish Immigrants recently in EU Countries such as the Netherlands, Germany, etc., after Harsh Criticism and various Troubles, but Foreign Minister Cavusoglou was authorized to do so inside a Building in France, and now the Turkish President asked and was authorized by Athens' Government to meet Greek Citizens of Muslim Confession at a Province located near the Borders between EU Members Greece and Bulgaria with Turkey, in Western Thrace, (North-East Greece).
(../..)


--------------------------------------------------------------------------------


Fillon invites EU to invent "New Horizons" behind Oil crisis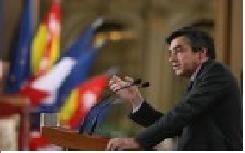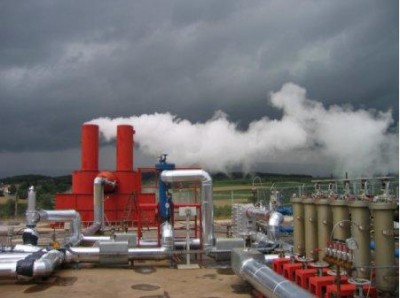 Soultz-under-Forests, June 13, 2008

A pioneer Franco-German research project on GeoThermy, near Strasbourg, served as "Symbol" of EU's will to become Independent on Energy by developing innovative Technologies, while imported Oil prices threaten to provoke a World-wide crisis.

It's essential to demonstrate Europe's will to "invent New Horizons", by creating Environment-friendly, Independent and Renewable Energy sources, while price rises continue for Oil, a polluting old ressource with insufficient stocks, stressed French Prime Minister Francois Fillon, anouncing that this will be a focus during the forthcoming French EU Presidency (July - December 2008).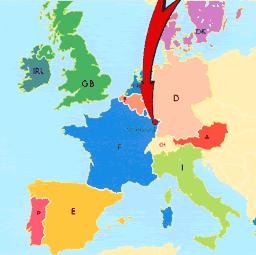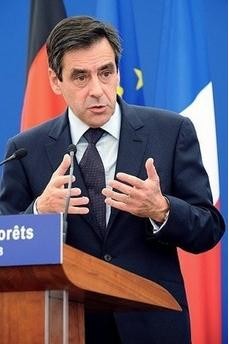 Fillon symbolically injected a 1st KWh produced by GeoThermy into Strasbourg's Electricity grid, during a special gathering of German and French officials at Soultz-under-Forests ("Soultz-sous-Forêts"), using a geothermal innovation which is "the most advanced in the World" :

The innovation uses Strasbourg's underground water richness to capture Heat, by injecting liquid among Rocks 5 km deep, where temperature is 200 c. Thus, it can be activated at any moment and location, even without natural warm water springs : A big advantage compared to old biothermal tools.
Engineers, Scientists and the Industry will have 2 Years to invent practical ways for this innovation to become productive and cost-efficient in real Economy, said Fillon.
115 Millions of Euros invested, 15 Research Labos, 430 Scientific Publications including 34 Doctoral PhD, and a systematic cooperation between French and German Governments and Public Agencies on Research, succeeded to prove that the new method works.
Already able to serve Electricity to a village with 1.500 inhabitants, the pioneer project intends to reach a capacity to serve 20.000 inhabitants before 2015, as part of a larger Plan to make all Renewable Energy Resources (together with Wind, Solar, etc) able to cover more than 23% of all Electricity needs before 2020.

- In fact, "behind the challenge" faced with the current Oil crisis, there "is a New Horizon that we can shape all together", by "creating New Tools for the Future", Fillon launched towards EU Member States.

Meanwhile, we should intensify Energy Savings, simplify Transports, and help the Poorest cope with growing Oil prices, until EU joins a World-wide lead into inventing reliable and sufficient Renewable Energy Sources, he added.

Many, technologic and other Challenges exist, but they can be overcome : F. ex. the new GeoThermic method tested at Shoultz since 1987, had provoked an Earthquake at a nearby site, close to Bale, by injecting big volumes of pressurized Water in underground broken Rocks near a Seismic Faultline in 2003. But the move was rectified later-on, by diminishing the amount and pressure of the water injected in underground rocks, so that no Earthquake is provoked.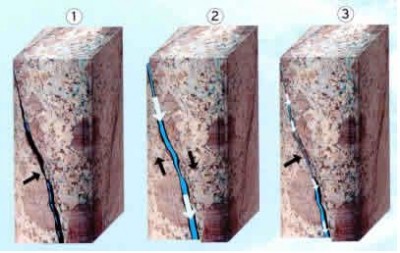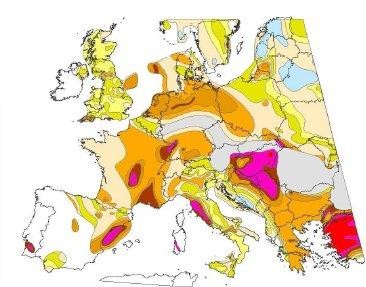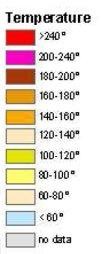 More than 1 Billion Euros are invested by France on Scientific and Technologic Research about Sustainable Development until 2012, aiming to take a 10 years advance, there where innovation can become source of Growth, Competitivity and Jobs, which, according to some evaluations could reach more than 220.000 before 2020, Fillon observed.

During the forthcoming French EU Presidency, together with our German friends, we shall do all necessary efforts for Europe's World-wide lead against Global Warming, thanks to Energy tools able to ensure its Independence, Growth, and Citizens' well-being, he concluded.

-------------


The "Enhanced Geothermal System" (EGS) stems from pioneer research initiated by teams from France, Germany and Italy, joined also by Swiss, the U.K., and Sweden, even U.S. and Japan, since the 90ies.

In 1996, a European Economic Interest Group (GEIE) was founded, in order to exploit Electricity-produsing Heat from deep underground Rocks, including France's EDF and Germany's PfalzWerke.

In 2002, a Pilot scientific project started to be tested in Soultz-under-Forests, 50 kms north of Strasbourg.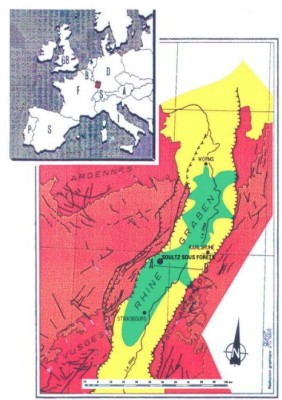 Polls