Accueil

newsitems

Human Life gets Born Earlier, Marks Victorious Turn in Fight v. Deadly Virus+ at House of Rising Sun
Human Life gets Born Earlier, Marks Victorious Turn in Fight v. Deadly Virus+ at House of Rising Sun
mardi, 18 février 2020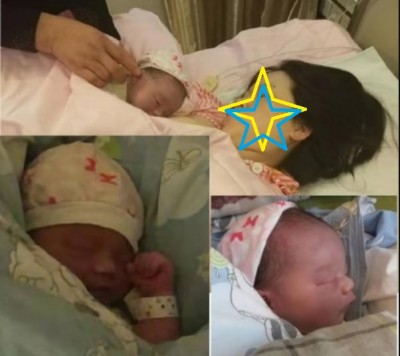 *Strasbourg/Angelo Marcopolo/- At an Exceptional Event, Human Life had to be Born Weeks Earlier than normaly expected, reportedly in order to Help an on-going, Hard General Struggle against a Deadly Virus, at the House of the Rising Sun, in China,"Eurofora" learned.
Indeed, a Baby due to be Naturaly Born around the Middle of February 2020, was, Instead, Born with Cesarian Surgery, much Earlier : on the 6th of February, (i.e. 1 or 2 Weeks Before its Natural Outcome), with Risks of Health Issues, at a Hospital of the Chinese Internationalized, Cosmopolitan Mega-City (Similar, mutatis-mutandis, to New York, Geneva, Strasbourg or Saint Petersburg, etc) :  Shanghai.  
"New York Times" Later Published a Long Article on "Pregnant Women" alleged "Problems" in Virus-Hit China, (on February 25 : UPDATED), But did Not Mention Any Case as "Hard" as that on which "Eurofora" was alerted, by well informed sources...
By an Incredible "Coincidence", the Prelude of that Baby's Birth was Full of various, converging Tensions, Anxiety, Risks and Threats, at Different Levels, related to a Daily Growing Deadly Virus' Epidemic, inevitably mixed also with several Socio-Political Issues of our Times (See Infra).
While, Astonishingly, the Aftermath of its Birth was, UnExpectedly, Synchronous with the Beginning of a Real, New Facts-Based, Hope to eventually Win that Collective Battle for Human Lives, as, for the 1st Time, that Deadly Virus started to Decelerate, and Even, apparently, indicating a Trend to be Contained, perhaps gradualy Diminish, Compared to the Past Weeks/Months, (See Facts Infra)
However, Questions still appear to remain Open, particularly about the, eventualy, more or less Harsh Prize, that this Too Early New Born, might, eventualy, have to pay in its Life, and that of its Family, for Having been Deprived of 1 or 2 Weeks Time of Development inside the Womb of its Mother, as was its Natural course, in normal circumstances.
And this was the Family's 1st and Unique, yet, Child-to-be, while China's NHC had Just Deplored anOther Year of "Low Birth Rate" Problems on 2019, which had Already led President Xi to Launch from 2016 a Policy of "2 Children" Per Family, (Istead of Only 1, until then), as an Annual Population "Decrease" Persisted, more or less, (with - 630.000 Less NewBorns on 2017, - 2 Millions Less on 2018, and - 580.000 Less on 2019), inciting the Government to Create a New, UpGraded, Infant Care Service, for Children Under 3 y.o., from 2020.
-------------------------------
Previously, the still Pregnant Mother and the Father had a Discussion with an Hospital Official, who, reportedly, Warned them that, in addition to Notorious "Transport' Restrictions", amidst the Virus' Crisis, the Medical Staff "might Not have the Means" to Properly Care for that Birth, if  it was Allowed to Complete its Natural Course, Up to 1 or 2 Weeks Later, adding that an Early, Artificial Birth might, Perhaps, be even less dangerous for the Future Baby's Health.
The "National Health Committee" (NHC) had, reportedly, Already spoken about "Reasonable Arrangements, as SOON as possible", with Pregnant Women ready for Birth, But this concerned, officially, Hospitals newly designated for Virus treatments, and it had not yet happened in that case.
However, theirs was a Public (and Not Private) Hospital, (that the Family had EnTrusted on a Warm Recommendation by close Friends at Shanghai, Paying something More in order to get Promised Better Services at a Special Department), and, therefore, at least theoretically, Subject to Any Eventual Instruction, by Regional and/or National Public Authorities for Possible Urgent Transfert of Medical Staff and/or Supplies towards the Overwhelmed Epicenter of the Virus at Hubei Province, during the Next Few Days...
--------------------
Indeed, Even if, Until around Middle January 2020, China's NHC had been Routinely Occupied with Various Other, entirely Different Issues, (as, f.ex., "Life Expectancy" Reaching "82,2" y.o. among Beijing Residents, Research on "TB" by Shanghai Labs, or Robot-Asssisted "Brain Angiography" and Surgery for Replacement of Feet's Bones, etc), Suddenly, on 20 January, NHC Officialy Announced that the New, Deadly Virus has been Proven to be "Transmissible" Between Humans, (in Fact, on January 29, it was Proven that such Transmissions Already Existed Since ..."the Middle of December 2019"), while, However, Top Experts Still Expected, Initially, that this New Virus, probably, would "Not" Spread as far as the "Scale" of SARS had done, Back on 2003, as they Claimed...
- But, Since January 21, China's President XI Orders "All-out Efforts ...to Curb the Spread of Virus", Including to "Mobilize All Available Resources", Followed by the "Strictest Measures" are also Announced against what they Called, then, "Viral Pneumonia", on January 21, (with 291 Infections and 7 Deaths then), which "Continues to Spread" and "Might Spread Further". Already, Since January 29, this New (2019-2020) Virus' Infections "Exceeded" those of SARS, Back on 2003).
>>> Most Important : It's at the Latest Since the 26th of January 2020, NHC's Director, Ma Xiaowei, Warned that China was "at a Crucial Time", in its Hard Struggle against that, UnKnown yet, New Deadly Virus' Spread, so that, inter alia, also Public Transport Suspensions and Other Transports' Restrictions might be Necessary, even at Schanghai, in Addition to "Medical Staff" and "Supplies"' Transferts towards Hubei Province's Epicenter, (where +5.000 More Hospital Beds were going to become available Soon : the Biggest, that of "Thunder God's Mountain", with 1.500 Beds, Scheduled for February 6, was Finaly Ready just 2 Days Later, Adding +100 Beds More), Promising for Virus' Patients the "Best Hospitals" and "Best Medical Resources". Before and After that, NHC was Full of various Announcements that Medical Staff from several Other Provinces was Going to Fight the Virus at Hubei/Wuhan.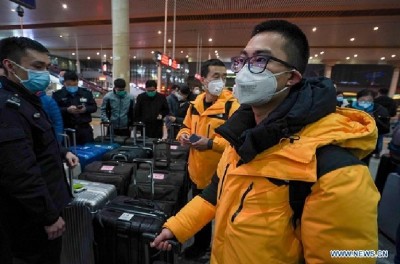 => Thus, Already, since the 27 of January, "959" Medical Staff from Various Provinces had been Send to the "Hardest Hit" Areas of Hubei (Wuhan, etc), and they were Due to be Followed asap. Also by anOther "1.600". On January 29, about "6.000 Health Workers" were Arriving at Hubei "From Accross China", (Following "a 1st Team from Shanghai"). On February 2, there are "8.310 Medical Staff members From ...Accross China", Coming from "15 Provinces and Municipalities, including Shanghai" (Cited 1st) "Despite Their own Difficulties", NHC Announced. On February 2, "1.400 Nurses" coming from ''NationWide" are Added, and on February 4, the Government "Assigns anOther +2.000 Medical Workers" at Hubei, (i.e. a Total of about + 11.700). To whom, Beijing's Hospitals Added anOther "667 Medical Workers" on February 8, while Hubei Still "Needs +2.250 More"... On February 10, a Total of "Nearly 30.000 Medical Workers accross the Country" had been "Assigned to ...Hubei", and "19 Other Designated Provinces" were due to Send Even "More" ! (This Includes "1.430 Shanghai Doctors and Nurses", "as of Feb 11", when anOther +214 were Added from Just 1 Hospital, NHC Noted).  And Hubei Government Decided, since February 2, the "Allocation of Secure Accommodation, and Daily Necessities" for InComing Medical Workers, Adding also "Protective Equipment" and various "Subsidies", Including "Daily + 43 $" more, (etc).
But, "Medical Supplies", (including "Masks" and Other "Protective" equipments, "DisInfectants", "DeContamination Materials", etc), Initially were, Still, InSufficient throughout the Country, to the point that, on January 31, China was Glad to Receive such an Aid by a Air-"Cargo" from Lukashenko's "Belarus", and on February 6, "Masks" from "Brunei" !  On February 1st, Prime Minister Li Keqiang asks to Give "More Medical Supplies to Regions Hit Harder" by the Virus. This became a Government Policy from February 2, with a "Priority" to "Accelerate" Medical Staff and Supplies towards Hubei, (While "Other Provinces" were "Urged" to organise "Flexible Ways ... to Arrange Work in Other Sectors")... + "20 Mobile Hospitals" are Added "from February 4" to "Wuhan" Virus' EpiCenter". On February 5, the Government announces that  "some Multi-Speciality Hospitals will be Transformed" and "Dedicated" to Virus' "Infected" Patients. Indeed, from February 4, NHC's Focus is "On the FrontLine" (i.e. at Hubei + against the Virus), "withOut Time to Spare !".
Meanwhile, the Numbers of Infections and Deaths caused by that Virus were Growing Each Day, Even with a considerable Acceleration Since 27 to 28 January, and at a Regular Pace at least Up to February 5 included : F.ex., on 28 January Infections Jump from 2.744 Up to 4.537, on 30 January they Reach 7.736, Jumping 1 Day Later up to 9.720, Growing to 11.821 on February 1st, Afterwards 14.411 (2 February), 17.238 (3 February), 20.471 (4 February), and Reaching 24.363 on 5 of February.
In Parallel, Airlines like USA's "Delta" Examine to Suspend Flights to/from China After "February 6", as the "Turkish Airlines" have Already Decided to do so, from that Date.
Even Direct, Open, and Harsh Political Attacks against the Chinese Government, (targetting particularly President Xi Jinping), and Attempting to Exploit the Virus' Crisis in order to Provoke Frustrations and Revolts, had been Launched at the Internet, (rapidly Echoed by some Foreign Medias, as, f.ex. UK's "Socialist/Liberal"-leaning Newspaper "Guardian", etc), f.ex. on February 4, (See Facts Infra).
-----------------------------
=> It's in these Exceptional Circumstances that the Family was led to Accept an also Exceptionaly Artificial (i.e. by Cesarian Surgery) and Early Birth (on February 6), as it had been Clearly Suggested by that Hospital's Authorities for them.
They Obviously Believed that, Given all those Exceptional Circumstances, such an Exceptional Sacrifice (of a Week or More of Human Development inside the Mother's Womb, and of a Natural Birth) Might be the Right Solution for All involved, and that, in real practice, probably they couldn't or shouldn't do otherwise.
------------------------------------
Indeed, Meanwhile, the Numbers of People Infected by that Virus (Both in All China, and particularly at Shanghai), and of those Killed by it, were Regularly Growing, almost Every Day, at least Until February 5, included.
+ Moreover, the Harsh Political Attack against the Chinese Government, and particularly President Xi Jinping, (Comp. Supra), that was Lauched from February 4, at the Internet, soon Echoed by some Medias in the Foreign Press, (f.ex. UK's "Guardian", etc), had Obviously Attempted to Exploit "the Great Virus"' (sic !), as it Characteristicaly called it, in order to Discredit the Public Authorities, Provoke Anger and Mass Revolt, Even Claiming that it was Doubtful whether a Change in China Nowadays could be made Peacefully, and Urging People to "Rage" and "let (their) Lives Burn" (sic !), for a "Break through", (etc), After which, would follow a ..."post-War (re-sic !!) ReConstruction" !
 - Accusing China's Government to be "InCompetent in Dealing with the CoronaVirus", and to have "made a Mess in Hubei province", added to Wider "InOperability", "DisCombobulation" and "Impotence", the Writer of that Pamphlet Titled : "VIRAL ALARM" (sic !),  former University Professor Xu Zhangrun, Destituted on 2019, Claimed that  the Chinese Authorities would be Responsible for a provoked "Economic Slowdown", added to "Isolation" by Other Countries' "Travel Restrictions", and for having "left the country withOut even enough face Masks", and with "CountLess numbers of People Unable to get adequate Medical Attention, ...Abandoned as they wail in HopeLess Isolation", Even for "the ever-Increasing Death toll [caused by the Virus]", pushing towards " a Vast Chasm" where "there is No Refuge from this Viral Reality", so that "Because of this Great Virus, the People are enRaged", and the "Only Hope" would be "that in the Wake of the CoronaVirus, the People will Reconsider their Situation, and...Will Awaken to its predicament", as he says...  
>>> - Interestingly, (while some  Notoriously Suspect a "Labo-Frabricated" Virus, including former Twice-Elected Iran's President Ahmadinejad, "NOBEL" Prize French Professor Montagnier, etc.: See http://www.eurofora.net/newsflashes/news/ahmadinejadonlabomadevirus1.html + http://www.eurofora.net/newsflashes/news/ahmadinejadonlabomadevirus2.html +  http://www.eurofora.net/newsflashes/news/nobelprofonlabmadevirus.html), that former "Professor of University",  so Fond of the "Great Virus" (Comp. Supra), Accuses what he calls a "Tyranny" in China's Nowadays "Governance, to be "Undermining a Technocratic System" (sic !), that he Praises, Based on "a vast Corps of competent Technocrats", who would "form.. a Highly Capable Coterie of Specialists and Administrators", in what he Openly Names as a "New TechnoCracy" and Even a "TECHNOCRATIC CLASS" (re-sic !!), seeking "Personal Advancement" and "Self-Improvement" and "Promotion", that would be particularly "Rewarding", in a "Modern Bureaucratic System".
- On the Contrary, China's President Xi Jinping, with an "Instruction" of January 27, had Urged, certainly, "the Party" to "Leed and Unite the People", But, mainly to "Rely on the People" in order "to Win the Fight" against the Virus, ("Scientifically", with "Precision" and "Unity").
=> - Thus, Professor Zhangrun Heavilly Criticizes, particularly the Chinese President Jinping, for what he Claims to be a "Communist Party's ...<<Red 2nd Generation>", with a "ReVival of <<Red Culture>>" and "the appearance of Revolutonary Committees", during "Recent Years", "run by People nurtured on the "Politics of the Sent-down Youth" ["that is, of the Cultural Revolution era—...during the late 1960s and early 1970s", as his Translator in English Reminds], representing "the Worst Political  Team to have Run China Since 1978" (sic !), [i.e., Since the Suppression of that "Cultural Revolution" ; Comp. Supra), and especialy "over the Past 6 Years" ["under Xi Jinping", as the Translator notes], in what he calls a "Leninist-Stalinist", "Maoist Style" (re-sic !!)...
----------------------------
 >>> However, Contary to those Scary "Predictions" of that self-styled "Prophet of Doom" (Comp. Supra), Suddenly, by an Incredible Coincidence, ...Immediately After the Early Birth of that Child, (Comp. Supra), i.e. Since February 6, a Surprizing "U-Turn" Appears in the Fight Against that Deadly Virus, with the Number of Infections Starting to Regularly Fall Down, Day after Day, until they Form a Crystal-Clear and Steady Downward Trend, (towards a probable Containment of the Virus, possible Prelude of an eventual Future Victory of China's Anti-Virus Struggle) !
    - Already, Since January 29, a Senior Expert had Warned that the Virus would Reach its "Peak" in "1 Week or 10 Days" Later, (i.e. around February 5 or 8). This Obviously meant an Augmentation of Dangersous Tensions, Until then, and the Start of a Better Trend towards Overcoming the Virus(' Crisis, After that... And, by an Astonishing Coincidence, those Dates Matched the BirthDay Fixed for this Shanghai Baby, much Earlier than Normal and with an Artificial (Cesarian Surgery) instead of a Natural Birth (6 February)...  
    => If its Family (Simple Private Citizens) might, eventually, had Missed those Medical News, is it possible that Even that Public Hospital's Direction had Nothing Heard about such Important Progonostics made by an Official Public Announcement of China's National Health Committee (NHC) ?     
    + And, was, then, Vain the "Sacrifice" that this Baby's Father and Mother made, (with Even Risks for possible Health Issues in the Future ; Comp. Supra) ?   
    At any case, it's a Surprizing FACT that, Precisely Since that Crucial Date of February 6, 2020, the Numbers of Infections by the Virus Started to Become Lower and Lower, almost Every Day, Both throughout All the Country and in Shanghai City itself !    
    F.ex., while Between the 1st and 5th Day of February, the Total Number of New Infections per Day in China Constantly was Growing Higher, from + 2.212 New Cases, Up to + 2.590 New, +2.838 New, and + 3.893 New,  
    on the Contrary, Precisely Since February 6, (i.e. Just After that Early + Artificial Birth : Comp. Supra), Suddenly, the Trend Radically Changes, and it Becomes  predominantly Downward, with the Daily Total of New Infactions Falling from +3.893 Down to Just 3.697 (February 6), and Afterwards even +3.151 (February 7), Followed by + 2.657 (February 9), +2.484 (February 11), +2.068 (February 12), +1.820 (February 13), +1.506 (February 15), +1.121 (February 16), and so on...          
    => To the Point that, for the 1st Time Since the Beginning of the Virus' Epidemic, (Officialy from the Middle or End of December 2019), Already on February 4, NHC found some "Encouraging Signs", at least in "Statistics" showing a "Dropping Fatality Rate", (probaly After Recent Measures taken Also on Drugs, such as "HCQ, Remdesivir, or Ritonavir", etc., out of an Initial Study of "30" Possible Drugs against the Virus, made by Shanghai's "Institute of Materia Medica"), as well as "Mild Symptoms" in a Large Majority of cases, Urging People "Not to Panic"...
    + On February 8, NHC Officialy Announced in a Press Conference, that "Recovery" cases "Rise" (Including Even of an Old Man, Aged 91 y.o. !), While, on the Contrary, the "Infection Rate" is "Lowering" (See Numbers cited Supra), as well as the "Fatality Rate", particularly After the Recent Massive "Transferts" of "Medical Staff" from "Allover China" towards "Hubei"'s Hotspot.
     - Concerning "Shanghai", on February 10 is Announced that it had Only "1 Dead" from the Virus, out of "295" Infections, (Among a Population of More than ..33 Millions of People !). Meanwhile, "From the 2 of February", the City's "Subway" Transported around "800.000" People per Day, while its "Ground" "Public Transports" more than "1 Million" Daily, (i.e. the 1/8 of its Usual Traffick, But, Still, Fair Enough, Considering Also that this was a "Holiday" Period, with Many People's "Return" between "7 to 10 February").
    ++ On "Cure Rate", a "Remarkable" Augmentation Up to "6,1%" on February 10, From Only "1,7%", on January 27, was Observed at "Hubei" Province Hotspot, according to the NHC, Mainly "Thanks to the Transport of Medical Personel coming From All along the Country", (Comp. Supra). But, Even at the Total of China's National "Proportion of Patients Cured" from the Virus, the Amelioration is Bigger : Up to "8,2%" From Only "1,3%", Between February 10 and January 27 !
    +++ On February 12, the NHC Announced Officialy that the Number of "China's New confirmed Cases" of Virus' INFECTIONS, "Outside Hubei Province, ...has been DROPPING for 8 Consecutive Days" ! Indeed, "the Numbers of New" Infections "in These Provinces, from February 3 to 11, were  : 890, 731, 707, 696, 558, 509, 444, 381 and 377"... And, Later, (after this Number Fell Down to "176" on February 15), NHC Added that such New Infections Continued to "Drop" during "12 Consecutive Days", until Feb. 16.
    ++++ "Fewer New Infections, More Cured !", locaciously Titled NHC's Headline News, on February 12.
    +++++ "Since February 7, (i.e., practicaly From the Early Birth of that Baby : Comp. Supra), Each Day has seen Some 500 Patients walk Out of Hospital, after Recovery !", Enthousiasticaly revealed the NHC in a Press Conference on Feb. 13. (Mainly "Anti-Viral" Drugs and "Oxygen" Support, were Credited with that Result).
    ++++++ For the 1st Time, China's President Xi Jinping, after a High-Level CPC Meeting on February 12, reportedly Hailed "Positive Changes" in the "Situation of the Epidemic", and "Hard-Won Progress" by "All Sides" in the Latest "Results", Urging to "Focus on Priorities", "withOut Any Let up", in order to "Win the People's War against the Epidemic".
    +++++++ Moreover, NHC Announced, on February 19 (UP-DATED), that "China's Daily Number of newly Recovered Virus' Patients has Surpassed that of New ...Infections, for the 1st Time", (since "1.824 People Recovered" Today, While "new ... Infections" were Only "1.749", i.e. Less). In Other Words, New Recoveries Started to OutNumber New Infections.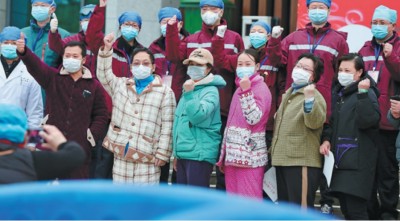 => Obviously, All this, Opens a Way towards ultimately "Winning" the Fight against the Virus in China.
    However, that Shanghai Early NewBorn and its Family, do Not Know Why its "Sacrifice" (Comp. Supra), by being Deprived of 1 or 2 Weeks of Human Developmen in its Mother's Womb, and having an Artificial (Cesarian Surgery) Instead of a Natural Birth, with a Risk of Health Issues, practically Coincided with a Crucial "U-Turn" in China's Hard Fight vis a vis the Deadly Virus, (Comp. Facts cited Supra).
    Nevertheless, they have Seen, at least, that its' Tragic BirthDay de facto "Marked" that Astonishing "U-Turn" towards a Possible Victory of Chinese People against the Virus (Comp. Supra) !

(../..)
------------------------------------------
                                    + But How is it Possible for that Hospital's Direction to have Ignored NHC's Official Warning that the Virus' Crisis was Reaching a "Peak" at the Beginning of February (Comp. Supra), so that Soon, things would Go Better, and that Child (as also others) might have been Born Naturally, After Completing its Normal Development in its Mothers' Womb, withOut Needing Cesarian Surgery, Neither Risking to provoke this or that Health Issue ? Why did it Commit such a Big Error ?
    This was an, Apparently, Respectable, Big Hospital, Linked to an Important University, and Founded (along with Various Other Social Outlets) under the Auspices of a late Historic Personality in China's Socio-Political Life during a Long Time in the Past, which had been, in Addition, Warmly Recommended to the NewBorn's Family by a Friendly Couple, that they EnTrusted.
    However, Who was Responsible for the Direction of that Hospital in Real Practice, at that Period of Time ?
    A Press Investigation by "Eurofora" found that, in Fact, during the Last 2 or 3 Years, (Since 2017) it was Directed by a Typical "TechnoCrat", (precisely of that Kind of "Technocratic Class" that Renegate former Professor Xu Zhangrun was Calling to Revolt Against China's Government, and particularly versus President Xi Jinping and the CPC Party, on pretext of the "Great Virus", in his February 4 Published Text of Harsh Propaganda : Comp. Supra), since she had, apparently, done Nothing Else, throughout a Long Life, than to  Exclusively Focus, Selfishly, on her Own Personal Career, as an "Expert"...     
    +Moreover, she is widely Known for mainly 1 thing : To have been Always Pushing towards Giving to a "Technocratic" Lobby the Controversial Power to ...Artificially Fabricate Children, (Excluded from Natural Births), inside their Labos, through "Artificial Reproduction Technologies", as so-called "Test-Tube Babies", of "In Vitro Fertilisation (IVF)", etc, under Various Pretexts ! As, f.ex., the Incredible (and UnSubstantiated) Claim that ...More than 25% of Chinese Couples, (i.e. 1/4), would have Become Nowadays "InFertile" (sic !)... (While Even the UK Experts, usualy Fans of Tech., speak of Just "1 in 8" Cases, i.e. the Half of that). This had Started right from the Beginning of her Career, when, After having been an Ordinary Provincial Medical Student, she Briefly Studied at a UK-Influenced outlet in ...Hong Kong, before Returning Back to her Province During Many Decades..., (with, Afterwards, Only some Short Stays at Cincinati/US or at Kiel/Germany, etc., much Later, Towards the End of her Career).
    ++ In Addition, she Systematicaly Pushes to Give to "Technocrats" Also Power Not Only on the (Artificial) Process of Births, But Even over its Substantial Content ! Indeed, she's Obviously a Fan of "Gene-Editing" and other Genetic Manipulations on Human Embryos, (Added to Pre-Implantation Genetic Screening, etc., Practically allowing to "Chose" those who Will be Born, or Not, according, f.ex., to "the Parents' Expectations", and/or if their Genes Match Various Requirements, etc), also under Various Controversial Pretexts : Including, f.ex., the Alleged Recent "Discovery" of "More than 10.000 Genetic Diseases" (sic !), as she Claimed, Suddenly, Only During the Last Few Years, i.e. When Controversial and Dangerous for Humanity, "Gene-Editing" Technologies (threatening to Affect Even Future Generations) notoriously Emerged at the Forefront of Actuality, (at the Latest on 2017/2018, etc)...
    Obviously for that Purpose, she Now Heads 2 Labos, on Human "Embryos" (at Shanghai) and on "Genetics" (in her Province), and has Just co-Signed, on 2019/2020 a Controversial Publication on "Recent" Developments in (mainly Artificial) "Reproduction" of ..."Mamals" (sic !), where ..."Mouses", "Dogs", "Pigs", "ZebraFish", "Monkeys" or "Baboons" (etc), are examined Together with "Humans", particularly on ..."Hyper-Andro-Genism" (sic !) Characteristics affecting Women, (already Suprizingly Apparent at Most of Her own Photos), added to Men's alleged "InFertility", etc., and Various Other Alleged "Genetic" Problems, (Comp. Supra), for which, Controversial "Gene-Editing" Technologies are Presented as if they would be the Only "Promising" Solution of the "Future", Even if, at least Until Now, they Stil Fail by InAccuracy or InEfficiency,  and even More by Serious Risks of "Off-Target Effects", (sometimes "Unlikely to be Detected"), as she Admits, (in Addition to "Serious Risks for Diabetes and CardioVascular Diseases" Threatening More those Born Artificialy, Instead of Naturaly), Threatening to Provoke particularly "Cancers"...
    All that, Added also to Claims for "Gene Editing Technologies", very "Rapidly" developed in "Recent Years", as  "the prefered Tools for Species-oriented Transformation" (sic !), and Various "Adverse Effects"' "Trans-Generational Transmission", (etc), particularly After the November 2018 Scandal of Genetic Manipulations on Human Embryos HERITABLE by Future Generations in 3 New-Born Babies Secretly Fabricated by a Chinese Technocrat Educated, Funded, Led, and Publicized by a USA Lobby close to Former "Socialist/Liberal" POTUS Barack Hussein Obama, (See: ... + ..., etc), could make any "Eurofora"-related Person, here in Strasbourg, (Given our Notorious and Crystal-clear Opposition to such Serious Dangers against Humanity) a Probable Target of Hostility, from some among Such Controversial Technocratic Lobbies, where a Possible "Motive of (Any Eventual) Crime" would be Obvious...
- But, What about that Family of this Curiously Early-Born Child in Shanghai (Comp. Supra) ? At any case, this Controvesial recent Director of that Hospital (Comp. Supra), was certainly Conscious about the Precious Value of 1 or 2 Weeks More in Human Development inside its Mother's Womb, Until the Completion of that Embryo's Maturity and its Natural Birth, Later than February 6 (Comp. Supra), since she (that Hospital's CEO) Often Speaks hershelf about the Importance of the "Development Process", of any Still "Developing Embryo", and, particularly, of its' "Timing", concerning precise "Stages", Measured Not in Months, but in "Weeks" or Even "Days", accross "3 Levels" made of (a) Bones, Skin, Arterial network, etc., (b) Organs, and (c) Brain, Nervous system, etc., at the "Outer Layer", (i.e. also the Last)...
+ As for those "Technocrats", that renegate former Professor Xu Zhangrun Attempted to make Harshly Revolt against China's Government, and particularly versus President Xi Jinping, under Pretext of wjat he called "the Great Virus", in his February 4 Published Text of Propaganda,  (Comp. Supra), the Way that this Hospital's Controversial CEO Concludes her Latest Paper that she Recently Co-Signed, Together with some other Like-minded Experts, Focused on Controversial "Gene-Editing" "Applied" to the Artificial Fabrication of Children in Labos, (Comp. Supra), appears Blatantly Characteristic and Typical :
Indeed, just After a more or less Clear (even if, at least Partly, Controversial) Claim that :
- A given Technological "Method" would have "been "Successfully" used for Brain and Cancer tissue sections", according to them, via the "above-mentioned Methods ...(which would be) Useful, But ... do Not provide ... (the Wished) ReSolution",
+ Suddenly Appears the Following Block of Astonishingly InComprehensive Text :
"The transcriptome in vivo analysis (TIVA) approach uses a photoactive tagging strategy for capturing mRNA from single cells in live tissue (Lovatt et al., 2014). Sequential fluorescence in situ hybridization (SeqFISH) and multiplexed error-robust fluorescence in situ hybridization (MERFISH) technologies are based on single-molecule fluorescence in situ hybridization (smFISH) (Chen et al., 2015; Lubeck et al., 2014; Shah et al., 2016). "SeqFISH uses a temporal combinatorial barcoding approach. For a given transcript, "a limited set of fluorophores is used, and "the transcript is barcoded by sequential probe hybridization" (Lubeck et al., 2014; Shah et al., 2016). ["CRYSTAL-CLEAR" !!!???...] MERFISH uses temporal combinatorial barcoding with a two-step labeling approach. The encoding probes are composed of a RNA-targeting sequence and two flanking readout sequences, which are designed for targeting hybridization followed by readout hybridization (Chen et al., 2015). MERFISH applies a modified Hamming code for correction of errors in the temporal barcode. Three in situ-based sequencing methods, including targeted in situ sequencing (ISS), fluorescence in situ sequencing (FISSEQ) and spatially-resolved transcript amplicon readout mapping (STARmap), have been reported (Ke et al., 2013; Lee et al., 2014a; Wang et al., 2018c). These methods use rolling-circle amplification (RCA) to amplify the signal, and the product is then subjected to sequencing-by-ligation methods. STARmap, in particular, uses a specific amplification of nucleic acids via intramolecular ligation (SNAIL) approach to omit the reverse transcription step", (sic !) thus Increasing Efficiency (-AH !...) (Wang et al., 2018c).
- Did you Hold your Breath ?...
+ Immediately Afetrwars, commes the Final "Conclusion"'s, controversial but clear Claims :
- "In Summary, Scientific Research on Reproductive Biology has been Greatly Prompted by ... Novel Technologies. In particular, ... Modifications of mammalian Germ-Line cell development and human Infertility. In the Future, We Expect that the Continuing development of....Gene Editing Technologies, and their Applications to the field (i.e. Artificial Fabrication of Children) Will Enable ...deep understanding of ...Development and Diseases, which will eventually lead to better Diagnosis and Therapy approaches for Human Infertility. ( Sic ! => IBID, PMA/ART)
++ Follows the usual Mention on :
>>> "Compliance and Ethics :  The Author(s) declare that they have "NO CONFLICT OF INTEREST", (sic !)...  
- Really ? Nobody among them doesn't Head "Labos" involved in Genetic Manipulation of Human Embryos, which Seeks Public Authorisations, Recognition/Promotion, and Funds ?...
=> Such peculiar Prose would Obviously Deserve to be placed Side by Side with ...World-Famous Modern Litterature Writer, ...James Joyce's "Ulysses" Tragi-Comical Master-Piece !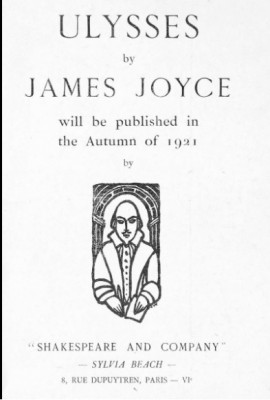 -----------------------------------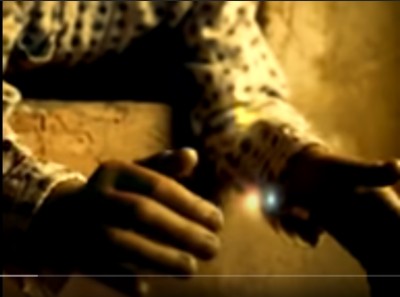 ("MUSE" : "NewBorn" Song)
https://www.youtube.com/watch?v=qhduQhDqtb4
---------------------------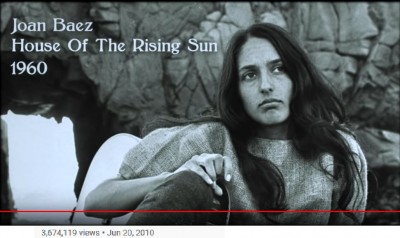 https://www.youtube.com/watch?v=rD80eZ6Gxz0

------------------------------------


  ("The House of the Rising Sun" - The Animals (1964) - +21 Millions Views)
(../..)
("Draft-News")
--------------------------------
BRIEF NEWS
00:00 - 02.06.2021

00:00 - 18.10.2020

00:00 - 19.06.2020

00:00 - 18.05.2020

00:00 - 20.04.2020

00:00 - 02.02.2020

00:00 - 09.12.2019

00:00 - 27.11.2019

00:00 - 16.11.2019
Statistics
Visiteurrs: 54960144
Archive
Login Form
Other Menu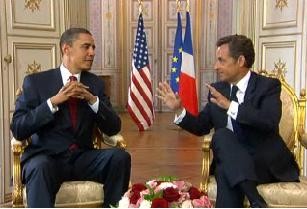 La Turquie, test-clé d'Independance de l'Europe face aux USA, les aménant de chercher en commun des nouvelles idées pour se mettre d'accord ?  
 Le débat, amical mais clair, entre les Présidents Américain et Français, Obama et Sarkozy,  la veille des elections européennes du 7 juin 2009, a montré que la question controversée sur la démande de la Turquie d'entrer dans l'Europe est actuellement le point central et le test le plus pertinent de l' indépendance de la France et de l'Europe par rapport aux Etats Unis.   
 Les electeurs européens, aussi bien en France qu'ailleurs en l'UE, auront une seule chance à trancher, ce dimanche 7 juin 2009, en choisisant leurs eurodéputés pour la période 2009 - 2014, car après ca risque d'être trop tard, vu que tous ceux qui suivent les affaires européennes dépuis des décennies savent qu'en réalité, le moment des décisions sur la Turquie viendra au plus tard en 2013, date rétenue dépuis longtemps pour une importante révision des "Perspectives Financières" de l'UE qui reflètent des choix Politiques fondamentaux.

    Le Président français, (récement encore représentant de l'UE, dans laquelle il joue un rôle important, ensemble avec la chancelière allemande Merkel, et autres leaders européens, ayant une influence notable auprès des Citoyens Européens, comme les derniers sondages montrent), réagissant à la repétition, par le nouveau Président Américain de la vieille position traditionelle de l'Washington poushant toujours vers la démande de la Turquie d'entrer dans l'Europe :

     - "Je ne peut pas laisser détruire l'Europe, (qui) est un élément de stabilisation du Monde", réponda Sarkozy. "J'ai dit au Président Obama que pour moi il était très important que l'Europe ait des Frontières", a-t-il souligné, confirmant la position Franco-Allemande commune, récemment rappellée ensemble avec la Chancellière Merkel.

    - "Il y a une différence (entre France/EU et les USA)...  sur les modalités. La position traditionnelle des Etats-Unis d'Amérique, c'est l'intégration" de la Turquie au sein de l'UE. "C'était la position du Président Bush, du Président Clinton, de tous les présidents américains".     
- "La mienne vous la connaissez : Ce n'est pas l'intégration dans l'Union Européenne. Mais j'ai proposé que nous réfléchissions, l'Europe, la Russie, la Turquie à la création d'un Espace Economique et de Sécurité en commun", a ajout Sarkozy rappelant son invitation de créer quelque chose de neuf et mieux adapté.

    Mais, "cela ne veut pas dire qu'il faut repousser la Turquie dans les ténèbres. La Turquie est un allié dans l'OTAN, (et) une Passerelle entre 2 Mondes, voilà quelle est la meilleure modalité. C'est cela dont nous avons parlé", revela-t-il. Si "nous avons une Différence sur les Modalités, nous n'avons pas une différence sur l'Objectif : Faire de la Turquie un élément de Pont entre l'Orient et l'Occident", Sarkozy assura Obama.

    - "Laissez-nous au moins une légère divergence sur un sujet, cela vous permettra de bien réfléchir pour les prochaines échéances", ajouta Sarkozy en réponse à un journaliste de l'opposition Socialiste qui avait soulevé la question de la Turquie, en la melant (comme un lobby turc notoirement essaie de faire pour exploiter la manipulation de quelques Arabes, la Civilisation Historique desquels fût pourtant detruite par l'ex-empire Ottoman-Turc) avec une question tout à fait différente : celle de la voile islamique (!), avec laquelle elle n'a rien à voir.

    - "Sur la Turquie, Monsieur, vous appartenez à un journal ...qui a appelé à voter, au moment de la présidentielle, pour mon adversaire.... Quel était votre argument à ce moment-là ? Vous disiez : « Attention, Nicolas Sarkozy va trop s'aligner sur les Etats-Unis d'Amérique », et je vois que deux ans après vous dites : « Ah, il y a un sujet sur lequel le Président Obama et le Président Sarkozy ne sont pas d'accord » Cela devrait vous rassurer, Monsieur" , réponda-t-il, en faisant sourire même le président américain, (et laissant entendre que trancher définitivemen la controverse sur la Turquie pourrait être au coeur de l' Elections Présidentielle  en France pour 2012 )
-------------------
    - "Ce que les Etats-Unis peuvent faire, c'est encourager ....TOUT PROCESSUS qui permettra à la Turquie d'être convaincue qu'elle a des amis, que ce soit la France, les Etats-Unis ou l'Europe", réponda Obama, apparamment n'excluant pas, a priori, le point de Sarkozy sur la création d'un espace commun d' économie et sécurité entre l' UE, la Turquie et la Russie (v. supra).

    "Les Etats-Unis ne sont pas membres de l'Union Européenne, nous ne pouvons pas dicter si un pays quelconque adhère ou n'adhère pas à l'UE"; Obama a admis, parlant de la "Turquie, (sur laquelle) le Président Sarkozy et moi nous sommes entretenus sur ce dossier avant".  "Maintenant le Président Sarkozy représente un Etat membre de l'Union Européenne et il a une position différente", opposée à démande turque d' entrée dans l'UE.    
 "La Turquie par contre est un allié de l'OTAN très important. ...La Turquie a fait connaître son intérêt à une intégration croissante avec l'Europe et nous (USA) encourageons cette attitude. J'ai souvent dit que l'adhésion de la Turquie à l'Union européenne serait importante".     
"Mais, (en tout cas) je crois qu'il est important de noter que le Président Sarkozy appuie fortement le travail que la Turquie fait au sein de l'OTAN et je crois qu'il s'intéresse à une intégration économique plus intense avec la Turquie". (Ce qui pourrait se faire, justement, avec un "parténariat privilegié" adéquat et/ou l'idée de créer un espace commun EU - Turquie - Russie  : V. supra).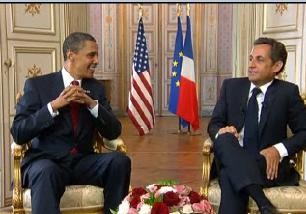 Est-ce que l'effort du Président de la France, soutenu par la chancelière Allemande et l'opinion publique de la plupart des Citoyens Européens la-dessus, de trouver un accord entre l' Europe et l' Amérique sur la Turquie, en proposant de sortir des chemins battus et créer du neuf, en etablissant "un Espace Commun d' Economie et Sécurité" (v. supra), suffira de calmer un lobby traditionaliste à quelques bureaucrates de Washington DC, datant dès l'époque de l' ex-"Guerre Froide", beaucoup plus ancien que le nouveau Président vénu de l' oxygen des "grands lacs" près de Quebec du Canada : Chicago, connu comme "la ville du vent" nouveau ?
-----------------------------------------------------------------------
Le Prémier Ministre Fillon appele à "faire vivre le Rève Européen"
------------------------------------------------------------------------  
 Seul l'avenir le dira. Mais, entre-temps, l' Europe ne peut plus attendre et perdre encore plus du temps et d'energie vitale sur la démande controversée de la Turquie, qui a notoirement menacé d'arrêter l'édification européenne dépuis 1999-2005 :

    Comme le Premier Ministre François Fillon a clairement dit, un peu plus tôt cette semaine, dans un discours éloquent sur les enjeux de l' Election Européenne de ce juin 2009 (V. résumé envoyé aux adhérents d'"EuroFora"),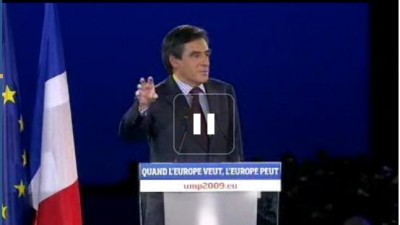 - "S' abstentir, c'est laisser à la Technocratie le pouvoir de dominer" la vie des Citoyens européens, qui devraient prendre l' Europe en branle le corps", et commencer d'agir par toutes les voies politiques démocratiques, prennant conscience que "l' Europe c'est Nous, (i.e. les Citoyens), et "Pas eux !" (i.e. les Technocrates), selon une image symbolique.

    - "Je me souviens de l' Europe obligée de faire Silence, (au Passé), quand "les Grands" décidaient de son sort", rappela Fillon.  "Je me souviens de l'Europe divisée, de l' Europe dominée" par d'autres, '"de l'Europe appauvrie""Je me souviens de Berlin occupé, muré, divisé comme un butin qu'on tire aux dès. Je me souviens du Silence de Varsovie. Je me souviens du Silence de Prague"..   
 - "Nous, les Européens, nous avons bien failli sortir de l' Histoire, et dévenir, pour du bon, les dès d'un jeu joué par d'autres".     
- "C'est pourquoi je ne peux pas concevoir une Europe qui ne serait pas Souveraine, une Europe qui ne serait pas Maitresse d'êlle-même", aujourd'hui et démain, martella-t-il. "Le Monde s'est habitué trop longtemps à une Europe faible, que l'on pouvait traiter avec condescendence".  
 - "Le moment est venu de rélever le défi : Le moment est vénu de montrer que, nous les Européens, avons décidé d'être débout, et d"être nous-mêmes".     
"Dépuis 2 ans (i.e. dès les Elections Présidentielles de 2007), avec Nicolas Sarkozy, nous avons oeuvrer pour relever notre Identité Nationale (de la France), dont nous sommes fiers. Et bien, l'' Identité Européenne mérite tout autant, elle qui prolonge les Génies de nos Nations".


    - "Je crois à la présence d'une Civilisation Européenne", déclara Fillon, largement applaudi par des milliers de personnes ayant entendu une série des Musiques entremelées characteristiques de differents pays européens, et des images lumineuses géantes avec des extraits symboliques de Goethe, de Victor Hugo, de Shakespeare, et d'autres auteurs italiens, espagnols etc celebres à travers l'histoire.

    - "L' Humanisme, la tolerance, la Liberté de la Conscience. La Solidarité. L' Etat de Droit. La confiance placée dans la Science, l' Innovation, le progrès. Toutes ces Valeurs, elles disent clairement où commence et où s'épanuit cette Europe" que nous voulons, observa-t-il.

    En harmonie avec les positions soutenues par le Président du Parlement Européen, eurodéputé allemand, Hans Gert Poettering, et la Chancelière allemande, Angie Merkel, sur la "Dignité Humaine" au coeur des "Valeurs de l' Europe" moderne. Ce qui fait qu'" avec un Elargissement sans fin", même vers la Turquie, c.a.d. "sans Frontières, l' Europe Politique, l' Europe des Valeurs et l' Identité européenne" ne peuvent pas exister, comme a dit aussi le Président francais, Nicolas Sarkozy, recemment à Berlin.

    Fait important : Cette observation de Fillon a été faite le jour-même que le Comité des Ministres du Conseil de l'Europe à Strasbourg concluait une semaine de réunion semestrielle sur les Droits de l'Homme, qui a examiné un grand nombre d'affaires des pires Violations (pex. Tuéries scandaleusement non elucidées, Persecutions et privations arbitraires de Liberté, personnes portées "Disparues", Tortures et "traitements inhumains et degradants", Usurpations illégales des Maisons et Patrimoines privées de Réfugiés, etc., pour lesquelles la Cour Européenne a condamné la Turquie dans plusieurs jugements, dont on attend toujours l' application)...

    - "C'est pourquoi un Elargissement sans fin de l' Europe ne peu pas être un objectif en soi. Parce qu'il ne peut que diluer l' élan européen, et detruire l' Idéntité Européenne"

    -" Voilà pourquoi nous disons, très sereinement, que nous ne sommes pas favorables à l' adhésion de la Turquie dans l'UE", conclua le Premier Ministre de la France; largement applaudi par des gens qui soulevaient le drapeau européen.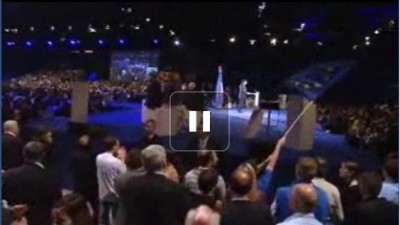 "Ce n'est pas un Slogan de meetings. Ce n'est pas la marque une "Hostilité" au régard de cette grande Nation (i.e. la Turquie), qui doit être étroitement associée à l' UE", pex. par un partenariat priviliegié, ou une autre formule adaptée.

    - "Mais il lui faut des Frontères à l' Europe, il lui faut des Frontières stables, qui lui permettent de renforcer son Unité et son Identité", a-t-il expliqué.

    - "Alors, c'est au nom de cette Europe charnelle, que je m'engage avec vous. Mais, cette Europe-là, ne peut avancer qu' à une seule Condition : celle de l' Europe Politique".

    "Nous avons longtemps douté qu'elle soit possible : Aux années 1970, Henri Kissinger (le notoire ex- Secretaire d'Etat Américain aux affaires etrangères, consideré, à tort ou à raison, comme chef d'orchestre du renversement du Président Allende en Chili, de l' invasion militaire de la Turquie à Chypre, etc), disait, avec une ironie blaissante : - "Ah, l' Europe ? : Quel numero de Télephone ?..." Pendant les 6 mois de la présidence française de l'UE, (7-12/2008), Henri Kissinger n'aurait aucune difficulté de rejoindre l' Europe !", observa-t-il en suscitant des nouveaux applaudissements nourris.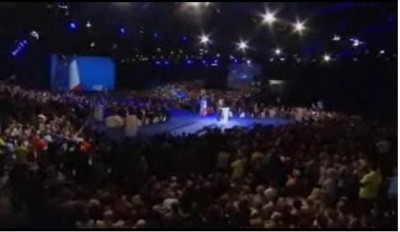 "J'au vu l' Europe Politique se dresser, et prendre ses responsabilités : L' Europe Politique c'est celle qui agit sans délai, et avant les Etats-Unis, pour stopper des faillites Bancaires qui s'enchaînent, qui nous auraint plongés dans une Depression pire que celles des années 1929. L' Europe Politique est celle qui, maintenant, doit mettre un fin à un Capitalisme Financier, qui a perdu sa boussole. L' Europe Politique est celle qui a réussi d'etablir le règles les plus ambitieuses au Monde dans la lutte contre le rechaufement Climatique. Samedi, nous celebrons l' anniversaire du debarquement de la Normandie, où nos amis Américains ont pris une part décisive à nôtre libération. Mais, en décembre 2009, à la Conference (Mondialle) de Copenhague, c'est nous les Européens, qui allons leur montrer le chemin vers cet avénir commun" pour la sauvegarde de l'Environement naturel. L' Europe Politique c'est celle qui, en août 2008, lorsque la Guerre faisait rase entre la Russie et la Géorgie, s'est interposée pour imposer la Paix. Et c'est elle qui doit, maintenant, se doter des moyens Militaires de se défendre par elle-même, pour elle-même", ajouta-t-il en évoquant clairement la création d'une Défense Européenn Autonome.
    "L' Europe Politique c'est celle qui doit bâtir des grands champions Industriels Européens, comme nous avons fait, auparavant, pour (l'avion) Airbus ou (la fusée) Ariadne. C'est celle qui doit exiger la Reciprocité dans les rlations Commerciale avec nos grands partenaires", sans Dumping Social ou Environmental, ni autre Concurrence Deloyale. "C'est celle qui doit se doter comme objectif d'être "le Continent de l'Esprit", réunissant les plus grandes Universités du Monde, en multipliant les Connexions, entre Scientifiques et étudiants."

    "Nous respecterons nos engagements, jusqu'au dernier", souligna le Premier Ministre de la France, peu après que les candidats-eurodéputés de la coalition Gouvernementale (UMP : Mouvement pour la Majorité Présidentielle) ont signé solennement, devant plusieurs milliers des Citoyens, une spectaculaire pancarte-géante avec "7 engagements" pour les Elections Européennes du 7 juin, auxquels figure aussi l'engagement de "s'opposer à l' adhésion de la Turquie dans l'UE".

     - "Parcque ce respet des engagements est une exigence si nous voulons rétablir la Confiance entre les Responsables Politiques et les Citoyens", conclua Fillon, la veille de ces Elections Européennes de juin 2009, après les Abstentions Majoritaires de 1999 et 2004, suivies de 3 "NON" à 3 Euro-Réferenda dépuis 2005, (dates auxquelles, quelques gouvernements du Passé, avaient donné le statut d'un "Candidat" et commencé des "Négotiationa d'adhésion" avec la Turquie, suivies d'un blocage sans précedent de l' édification européenne)..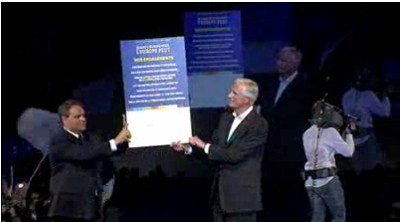 "Nore Europe n'est pas n' importe quelle Europe : L' UE Technocratique n'est pas la nôtre. ... L' UE sans Frontières n'est pas la notre. L' UE desincarnée n'est pas la notre". "Nous portons une idée de l'Europe" qui "n'est pas celle des Statistiques et des Bureaux(crates). L'Europe ce n'est pas qu'une Monnaie. Ce n'est pas qu'un Marché. économique".

- "L' Europe c'est d'abord une Culture. L'Europe c'est une Histoire", a-t-il dit, largement applaudi.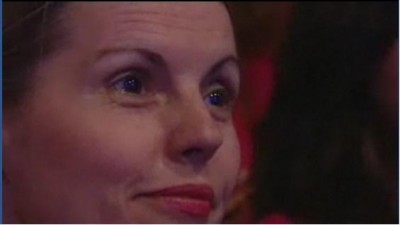 "L'Europe c'est une rencontre entre des Nations qui sont Millénaires et qui sont Brillantes. L'Europe c'est Paris. C''est Madrid. C'est Prague. C'est Londres. C'est Rome. C'est Varsovie. C'est Berlin. C'est Vienne. C'est Athènes : Quant on énonce ces Villes, alors on "sent" nos Héritages et nos Cultures entremelées qui circulent dans nos veines".

    - "Je suis Européen, parcque profondément Français, je sais ce que je dois aux influences de l' Atlantique et de la Méditerannée. J'aime ces Traditions qui offrent à chacun des nos Nations leur éclat. .. J'aime ses saveurs, ses paysages divers. Ils sont également miens, ou, plus précisement, je suis également fait d'eux. Je suis Européen, car, Français, j'aime l' Europe ouverte vers l' Amérique, vers l'Orient, vers l' Maghreb. J'aime les quais de Vénise, ceux d'Amsterdam. J'aime les quais de Thamise où sont vénues pendant des siècles s'amasser les richesses et les nouveautés du Monde. J'aime l' Europe curieuse. L'Europe qui rêve des lointains : L' Europe de Vasco de Gama, de Magelan. de Bougainville, de Charcot, de Monot... Cette Europe qui, aujourd'hui, s'élance vers l' Espace. Je suis Européen parce que Français, j'aime l' Europe qui prospère et qui invente. J'aime l' Europe des Trains à Grande Vitesse. J'aime l'Europe des Satellites et des Fusées. L'Europe de la Mode et des Atéliers d' Artistes. L'Europe des Grands Laboratoires, des Ingéniers. des Entrepreneurs, des Grands Architèctes, des Traditions Ouvrières. Comme rançais, j'aime l' Europe qui dit "NON" à la Tyrannie et qui se soulève à l'appel de la Liberté", a-t-il dit en

 
"Je me sens lié à ces femmes et ces hommes sans nom, qui ont levé la tête, et qui ont sécoué le joug sous lequel .. on les avait fait pliér", dit-il en évoquant pex.. la Révolution Française de 1789, le Siècle des Lumières, l'appel du Général de Gaulle contre l'Occupation NAZI, et les pires heures obscures qu'un  "Fascisme" ou "Communisme" devoyés, suivies de la Guerre Froide avaient plongé l'Europe au Passé.

"Ils sont des millions, ces Héros Anonymes de notre temps, que nous croisons sans le savoir dans nos rues et nos places. Et je ne peux pas concevoir l'Europe sans eux, et sans tous ceux qui poursuivent leur combat contre l'arbitraire et le fanatisme", ajouta Fillon. Faisant pex. rappeler un récent Film allémand, primé au Festival de Vénise, qui décrivait la vie d'un cadre à l'époque d'un régime oppressif, qui avait été chargé d'espioner la vie privée et familiale d'un couple soupçonné d'être dissidents politiques, mais, ému par leur honnêteté humaine et leur sacrifice pour sauver d'autres, a preferé risquer sa place et sa propre liberté pour les sauver, sans même qu'ils le sachent, condamné dépuis à faire un bas boulot d'anonyme perdu dans la foule..


"Quand je vois l'Europe moderne, je vois les résultats de l' Audace de ces hommes qui ont brisé les traditions de conflit et de violence. Je vois des nations soudées autour d'une monnaie unique et protectrice. Je vois 27 jeunesses appelées de grandir ensemble, sans défiance. Je vois 27 peoples unis, qui nous interdisent de jouer les blazés ou les indifférents".

Jettant "un régard lucide sur les errements de la construction européenne", Fillon a observé que "l' Europe n'a pas bésoin d'être idélisée pour être ce qu'elle est ; Cad. une aventure humaine, avec ses faiblesses et ses forces".

"Vous voulez que l' Europe agisse ? Fixez-lui des objectifs clairs. Vous voulez la Démocratie ? Agissez en Citoyens. Vous rédoutez la prétendue Bureaucratie des Bruxelles ? Alors renforcez, par votre Vote, les instances élues au Parlement Européen" qui sont chargés de la contrôler.

- "Si nous voulons faire vivre "le Rêve Européen", .. alors nous avons tous le dévoir de l' engagement", a-t-il conclu, appelant de "engager pour le drapeau tricolore et le drapeau étoilé, car ils symbolisent tous les deux la fierté de nôtre nation et la force de nôtre union".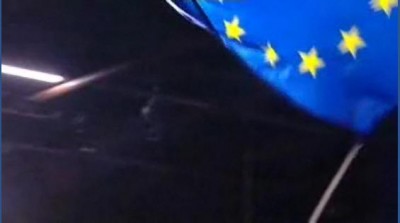 Polls