Αρχική

newsitems

Famous AntiMafia Judge Di Pietro to EuroFora on blacklisted Turkish Banks + Mafia in EU Politics ?
Famous AntiMafia Judge Di Pietro to EuroFora on blacklisted Turkish Banks + Mafia in EU Politics ?
Tuesday, 25 October 2011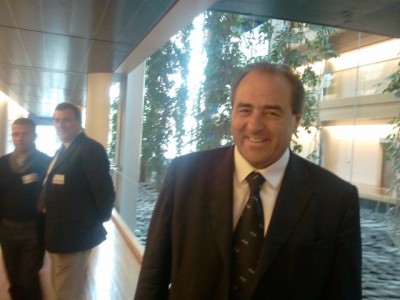 Famous and succesful Anti-Mafia Judge Di Pietro from Italy, currently Leader of the "Values"' party and long-time MEP, replying to an "EuroFora question on FATF's June 2011 decision to "Blacklist" all Turkish Banks because of their reluctance against EU Rules on Gurantees against Money Laundering, f.ex. by Mafia-like organized Crime, etc, stressed the importance of such a.o. measures in order to face the present need to fight efficiently against reportedly growing risks of Foreign Mafias, particularly related to EU's Enlargement, to infiltrate EU's borders and even set up links to EU's Political world, as he warned :
------------------------------------------------
    Di Pietro's move was made in a special Press Conference, together with the President of EU Parliament's Liberal Group, former Prime Minister of Belgium, Guy Verhofstadt, on the occasion of the adoption by EU Parliament, earlier today, of a new Report on "Organized Crime", drafted by Italian Liberal MEP Sonia Alfano, who had earlier spoken to the Press together with other MEPs from various other Political Groups, (such as ChristianDemocrats/EPP, Socialists, Left and Conservatives). This "Report is dedicated to all those, Judges, etc. who were killed by Mafia and those who still fight to eradicate this scourge", as it was anounced.

    - Verhofstadt highlighted from the outset that Alfano's Report got "an enormously large Majority, with some 500 MEPs voting for, only about 25 or so abstaining, and I didn't see any Red Light, so that this sends a Strong Message" from EU Parliament, as it's required by the fact that "Organized Crime and Mafia are not only Italian today, because they don't care about Borders", as he said.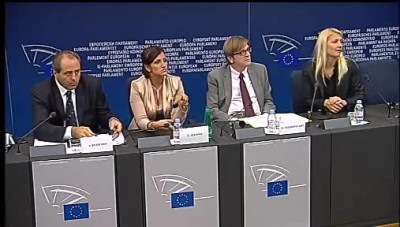 - "EuroFora" observed, in our 1st Question, that  Di Pietro had "spoke(n) about Money Laundering, Bank Accounts and (Mafia) activities that go beyond Borders, i.e. well beyond Italy, also in other EU Countries".

- In addition, "other experienced "People have spoken, already a long time ago but also recently, about Overseas' Mafia, as, f.ex., Colombian and others, threatening to establish links inside the EU", we reminded.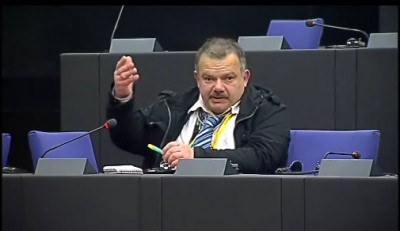 - In relation to that, "what does it mean to "Blacklist" some Banks, for not giving enouph Guarantees again Money Laundering ?", we specifically asked.  Because, "recently, since June 2011, it was anounced (including by the latest EU Commission's Report on Turkey, published earlier this month, on the 12/10/2011) that all the Banks of a whole 3rd Country, Turkey, were Blacklisted by FATF (who works closely together with OECD in Paris and the CoE in Strasbourg), in order to oblige them (Ankara's Government) to adopt the required Guarantees. What is the real importance of such measures" in order to prevent Mafia spreading inside the EU, and "how do you think that it could help, in concrete terms ?", we asked Di Pietro.
--------------------
 - "Certainly !",  replied positively the experienced Judge Di Pietro to "EuroFora"s question on Turkish Banks' blacklisting for lack of guarantees against Money Laundering. Because "this is the very Heart of the matter", he stressed.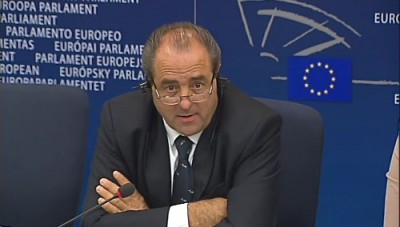 - That's why "we hope that EU Commission and the EU" as a whole "will be able to come up with a specific Directive, in order to make sure that the Banking System can be Transparent, and can guarantee Transparency in Financial transactions. Otherwise, it should be established that they may not operate in the EU", Di Pietro explained.

- "Banks, of course, want to maintaint their Banking Secrecy, and (they) refer to the fact that the Criminal Origins of the Money has not, perhaps, been proved, and there's got to be more done in that sense. One of the Phenomena here is the use of Straw-Men, because the Banking System is interested into maintaining such a thing, and, in every Bank, such Middle-men know who the Real final Beneficiary are", he pointed out.

- "Thus, we want to establish Cooperation so that the Judicial Authorities in the (EU) Member States can have a Guarantee that this Information is made available to them. This is very Important in combatting Money Laundering", Di Pietro concluded on this measure.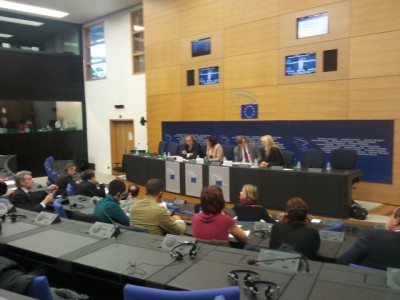 + "EuroFora" afterwards invited Di Pietro to explain further what exactly he had in mind when he earlier warned that Mafia moing beyond Borders throughout the EU, now risks even to set up "Links" wih our (EU) Political world" (Comp. supra) :

- Today, "there are several on-going Investigations, also Judicial, not only Journalistic, which highlight connexions between the Political and Criminal Systems, inside and outside of the EU, concerning even 3rd Countries external to the EU,  as f.ex. Turkey, and others related mainly to EU Enlagement. A Majority of this Criminality stemming particularly from Eastern Countries, is closely connected to the Political system", Di Pietro revealed in his reply to the 2nd "EuroFora" question.

=> Often, "this Extremely Powerful Mafia, searches to establish links to the Politicians of our (EU) Countries", the experienced Di Pietro warned.

Famous from his investigations and trials which had discovered links between Mafia and mainstream Italian Politicians such as the former Head of the Socialist party Craxi, several former Christiandemocrats, etc., Di Pietro didn't mention explicitly EU Commissioner Fuhle's recent founding that FATF has blacklisted Turkish Banks for lack of guarantees against Money Laudering an/or funding terrorism, (revealed by the Octover 2010 Annual EU Report on Turkey), but obviously included such facts in his overall critical view about EU Enlargement, 3rd Countries of the East, and alleged attempts by Mafia-like networks to penetrate the EU and get hold of several EU politians, (comp. supra).
On the contrary, Turkey's political life has been shaken several times recently by discoveries of close links between Mafia (mainly of drugs), Police/Army and Politicians, as f.ex. in the famous Scandals of "Susurluk" (cited even by ECHR), or "Ergenekon", etc. 
***

(NDLR : "DraftNews", as already sent earlier to "EuroFora"s SUbscribers/Donors. Watch out for a possible Final Version, more accurate and complete, asap).

***
BRIEF NEWS
00:00 - 22.01.2013

00:00 - 28.11.2012

00:00 - 19.10.2012

00:00 - 17.10.2012

00:00 - 21.09.2012

00:00 - 01.09.2012

00:00 - 03.08.2012

00:00 - 05.06.2012

00:00 - 03.05.2012
Statistics
Επισκέπτες: 4426233
Archive
Login Form
Other Menu
Δηλώσεις Επιτρόπου ΕΕ για Ενέργεια, αντιΠροέδρου πολιτικής Ομάδος σ ΕυρωΒουλή,
Σουηδού Υπουργού Εξωτερκών, τ. αντιΠροέδρου Διεθνούς Δικαστηρίου, κα.

ΑΠΟΚΛΕΙΣΤΙΚΕΣ (Μαγνητοφωνημένα κείμενα)
-------------------------------------------------------
* Στρασβούργο/ΑΚΜ/+ 18/19 Δεκεμβρίου 2008/-
-----------------------------------------------------------------
    Αρχισαν ήδη διάφορες αντιδράσεις Ευρωπαικών προσωπικοτήτων εναντίον των
παρενοχλήσεων Νορβηγικών συμφερόντων πλοίων από Τουρκικά πολεμικά κι απειλές
Αγκυρας για "κρίση" σ απόπειρα εκφοβισμού και παρεμπόδισης της Κύπρου να
ερευνήσει κι αξιοποιήσει πιθανά κοιτάσματα πετρελαίου/γκάζ στα χωρικά ύδατα της
χώρας, μετά κι από συμφωνίες μ Αίγυπτο, Λίβανο κα χώρες :

    - "Η εκμετάλλευση φυσικών πόρων έγκειται στην κυριαρχία κάθε Κράτους. Η
Κύπρος, Κράτος-μέλος της ΕΕ, έχει κυριαρχία, κι ότι κάνει είναι σύμφωνο με το
Διεθνές Δίκαιο. Ετσι, κανείς δεν θα έπρεπε να προξενεί πρόβλημα", μας απάντησε
ο Ευρωπαικός Επίτροπος αρμόδιος για Ενέργεια, Αντρας ΠΙΕΛΜΠΑΓΚΣ, σε σχετική
ερώτησή μας.

    - ¨"Για την ΕΕ, σαν θέμα γενικής αρχής, οποιαδήποτε διαφορά σχετικά με
Φυσικούς πόρους, πρέπει να λύεται με ειρηνικά μέσα, όπως πχ. με συμφωνίες,
διαιτησία, ή με προσφυγή στο Διεθνές Δικαστήριο του ΟΗΕ στην Χάγη", μας
απάντησε εξάλλου, πάνω στο ίδιο θέμα, κι ο εκπρόσωπος για Τουρκία κι Εξωτερική
πολιτική, αντιΠρόεδρος της Σοσιαλιστικής Ομάδος ΕυρωΒουλής, Ολλανδός
ευρωβουλευτής Γιάν ΒΙΡΣΜΑ.

    - "Πιστεύω ότι είναι καλύτερο να λυθεί αυτό το θέμα στη βάση του Διεθνούς
Δικαίου", μας απάντησε προηγουμένως κι ο Υπουργός Εξωτερικών της Σουηδίας, Κάρλ
ΜΠΙΛΝΤ, που προήδευε του Συμβουλίου Ευρώπης μέχρι Νοέμβριο 2008, και θ αναλάβει
την προεδρία ΕΕ από Ιούλιο 2009.
    "Εστω κι αν δεν εναπόκειται σ εμένα να πώ ποιός παραβιάζει το Διεθνές Δίκαιο",
πρόσθεσε επιφυλακτικά, κάνοντας έμμεση αναφορά σε κάποιον Νομικό οργανισμό
αρμόδιο να επιληφθεί παρόμοιων θεμάτων.

    - "Πράγματι, το Διεθνές Δικαστήριο (International Court of Justice) μπορεί να
χειριστεί παρόμοιες διαφορές για φυσικούς πόρους".
    Αντίθετα απ την Τουρκία, που απειλεί με βία, "διάφορα (άλλα) Κράτη, που θέλαν
να εμποδίσουν ένα τρίτο Κράτος να χρησιμοποιήσει φυσικούς πόρους, για διάφορους
λόγους, προσέφυγαν στο Διεθνές Δικαστήριο. Ετσι, έχουμε κάμποσες υποθέσεις, είτε
για προστασία εθνικών φυσικών πόρων από υφαρπαγές (κλοπή), είτε όταν ένα Κράτος
ζητά να εμποδιστεί ένα άλλο Κράτος να κάνει κάποια χρήση των φυσικών του πόρων,
για κάποιο λόγο", μας είπε ο έμπειρος Καθηγητής Ρεημόν ΡΑΝΖΕΒΑ, τέως
αντι-Πρόεδρος του Διεθνούς Δικαστηρίου (ΙCJ).

    Ετσι, η Τουρκία, υποψήφια για ένταξη στην ΕΕ, κινδυνεύει να φανεί ...
χειρότερη κι από Λατινο-Αμερικανικά Κράτη, που. αντί ν απειλούν με βία, όπως
κάνει η Αγκυρα, αντίθετα προσέφυγαν στο ΔΔ, σε παρόμοιες διαφορές για φυσικούς
πόρους.

    - "Οταν ένα Κράτος ασκεί βία για φυσικούς πόρους, έχουμε ορισμένα απ τα
βαρύτερα παραδείγματα παραβιάσεων κι Ανθρωπίνων Δικαιωμάτων, πχ, μ εισβολές,
κατοχές, διώξεις προσφύγων, μαζικές εισροές ξένων εποίκων, κπα", μας είπε,
επιπλέον, κι η Πρόεδρος της Αφρικανικής Επιτροπής Ανθρωπίνων Δικαιωμάτων, Κα
Σανζί Μοναγκενγκ.
            (../..)
-------------------------------------------------------
* Στρασβούργο/ΑΚΜ/+ 18/19 Δεκεμβρίου 2008/-
==================================

Polls