Haupt

newsitems

EU stimulus plans equal to Obama's, but faster, says Devedjian to EuroFora after capitals' tour
EU stimulus plans equal to Obama's, but faster, says Devedjian to EuroFora after capitals' tour
Thursday, 19 February 2009
EU Economy boost plans equal to Obama's US plan, but faster, says French Minister Devedjian to "EuroFora" after capitals' tour


* World-record breaking, 600 km/h High Speed innovative Train TGV, produced at Strasbourg's outskirts, became a Symbol for EU Economy revival, after French key Minister Devedjian's statements to "EuroFora" that the "addition" of "coordinated" EU stimulus plans is "equal" but "faster" to new US President Obama's plan, while Stock markets were still wondering which way to go.

Revealing the main results of a fast-track trip to 4 EU Capitals before a series of crucial EU and Global Summits, Devedjian stressed "Mutual Support and information", "TransNational Measures" and a "global European Policy", as agreed ways to add the "complementary" effects of national recovery plans. So that EU's comparatively faster moves, lesser debt and strong Savings can equal USA's impressive plan, and, taken all together, incite economic actors to move swiftly in order to seize a chance to "anticipate" and be ahead.

Speaking shortly after US President Obama unveiled in Denver his plan to boost Fast Trains, (including $1·3bn for Amtrak, and $8·4bn for high speed passenger rail projects), Devedjian said SNCF, the French Rail company's 2008 Benefits from new Strasbourg High Speed line of the already existing TGV, made it possible to "anticipate" and start working from early February 2009, on new projects for "rail renovation" even before one € arrives from the Government's stimulus plan, voted at the end of January...
------------------------
In reply to "EuroFora"'s question if, after his tour of the biggest EU capitals and EU-chair, the Czech Republic, he hopes that sufficient Stimulus' measures will be taken and that the forthcoming EU Economy Summit, at the 1st of March, will be succesful, the French Minister looked upbeat :

    - "We went to London, Berlin, Prague and Rome, together with Minister for EU affairs, Bruno Le Maire" this week, he noted in his first statements after the unprecedented move, made at the initiatiative of French President Nicolas Sarkozy, at the eve of a G8's EU Members Summiy hosted by Chancelor Angie Merkel in Berlin on Sunday.

    - "Everybody" among EU's 27 Member Countries "is starting to deal with (Economy) Recovery Plans, including f.ex. the (small) Czech Republic, which is launching a 2,5 Billion € plan, even if it hadn't initially foreseen to do so".

    - "The main aim of our trip wasn't to interfere into government policies", since "recovery plans have, first of all, National aims"', "but mainly to establish a Coordination between the existing Stimulus plans".

    The move was welcomed by new German Economy Minister, Karl-Theodor zu Guttenberg, who reportedly "called for a Coordinated European action against the Crisis", while meeting with Devedjian, earlier this week.

    - "Because we have many Stimulus plans which all point at the same direction : Create activities there where there isn't any, create jobs there where is unemployment". So that national "measures can be Complementary" to each other'', added Devedjian in his reply to "EuroFora"'s question.¨   
- "Thus, we established some Rules, with these four countries :"

"1) We inform each other on all measures under consideration by each one, and we provide mutual support  to implement the measures thus decided by each country."

"2) We try to establish together some Trans-national measures : F.ex. in Railroads, car Highways, Energy and electricity or Gas transport, etc., where we can take Common measures"

"3) Last (but not least), we would like to formulate a real global European recovery policy, in particular by adding the effects of all stimulus measures".
------------- 
    "F.ex. the (French) President of the Republic, (Nicolas Sarkozy) has just anounced 2,6 Billion € measures for recovery in favor of the most vulnerable People exposed to the economic Crisis. Some critics claim that it's not enough. But this is added to other measures of the same kind, which had been already decided : "


(../..)

 (../..)
"F.ex., a) At the beginning of April, we shall distribute an advance for the "active solidarity revenue" (RSA) of  3.800.000 persons ; b) The "prize to crash" (old cars) is also a stimulus for car sales ; c) The RSA, from July, will represent 1,5 Billion € more than what they initially had with RMI, and d) the Social Transferts (alias : "automatic stabilisators") augment in 2009 for 17 Billions €  in favor of the most exposed People".

"Obviously, all those measures are added together : "

-  "In every (EU) Country there are various recovery measures of this kind, and, when we compare with what is going on in the US, with the Obama Plan, which has not started yet, while ours is already being implemented, f.ex. I've just inaugurated the 1st rail wagon of SNCF's recovery plan : Our Stimulus Plan is starting. While, in the US it will have to pass now through each one of the States, once it's adopted at the Federal level. And similarly in Germany, where it must passs through each one of the Landers. Thus, it's implementation is obviously longer."

- "The Idea is to show to everybody, that when Europe adds all Stimulus measures it has already or is currently taking, then, (regardless of numbers, which evolve from day to day), our (EU) plan is perfectly equivalent to the US efforts".

-"Indeed, the Economic recovery Actions are considerable, and should incite Economic Actors to be more optimist"

This goes even more when France's, Germany's, and the rest of Europe's Debts are certainly important, but less than USA's sky-rocketing Debt, While both France, Germany and several other EU Countries also have "very strong Savings".

    So,"it's important to boost projects which are ready to start. Anticipate and accelerate is crucial in order to be more competitive, attractive and ahead" of others, Devedjian stressed.
-----
    An example was given by Strasbourg's local General Council (Department of lower Rhine), the 1st in France to adopt a "Local Stimulus Plan to generate more than 775 million € in 2009", according to his President, Guy-Dominique Kennel. Devedjian was welcomed by Kennel and his councillors in his superbe riverside building, glad to have already made the same fast-track move as US President Obama, to condition funds to projects' ability to start working in a few Months, "until June".

- "We don't ignore the difficulties. But we want to face them, confident in our capacity to understand and act" for "positive effects to start to be felt from the next weeks", said Kennel. "Have trust : Don't wait for Banks. Invest !", was Kennel's advise to Alsace, the 2nd richest area of France, after that of Paris.

- "We are all United when it comes to Economic recovery", because fighting against Crisis is a common cause, stressed from the outset Devedjian, when Kennel introduced him to a "Socialist" local politician, Jean-Jacques Gsell, observing that "despite that, he voted for our recovery plan". Gsell took it for granted, and joined Journalists in asking Devedjian to fund 3 local projects, getting immediately a first Ministerial answer for 2 of them.
----------------------------------
    But, when it comes into "anticipating" and "accelerating", what's best than Fast Trains' symbolic actuality ?

Until now, before Obama's big move (See supra), all US Administrations had so much neglected High Speed Trains, by focusing only on cars and planes, that USA's ranking in the World on fast rail was astonishingly  ....below Turkey's (!)  On the contrary, core EU countries as France, closely followed by Germany, are competing with Japan for World's record 1st place...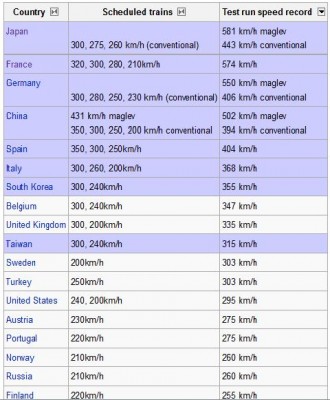 Meanwhile, a brand new High Speed Train "AGF" (TGV's successor) was unveiled by Alstom in 2008, at the presence of President Sarkozy, with an innovative Motor Architecture allowing passengers' space gains and a 360 km/h speed in established links.                
                                                                                                                                                                                                                                                                                                                                                                                                                                                                                                                                                                                                                                                                                                                                                                                                                                                                                                                                                                                                                                                                                                                                                                                                                                                                                                                                                                                                                                                                                                                                                                                                                                                                                                                                                                                                                                                                                                                                                                                                                                                                                                                                                                                                                                                                                                                                                                                                                                                                                                                                                                                                                                                                                                                                                                                                                                                                                                                                                                                                                                                                                                                                                                                                                                                                                                                                                                                                                                                                                                                                                                                                                                                                                                                                                                                                                                                                                                                                                                                                                                                                                                                                                                                                                                                                                                                                                                                                                                                                                                                                                                                                                                                                                                                                                                                                                                                                                                                                                                                                                                                                                                                                                                                                                                                                                                                                                                                                                                                                                                                                                                                                                                                                                                                                   On February 2009, SNCF, TGV's Railroad company, anounced a strategic, pioneer freight link from France to ..China, able to transport merchandises at a 12.000 kms' long railroad through France, Germany, Poland and Russia before 2011.Cheaper than Airplane, Rail is also faster than Ship transport : Instead of 6 Weeks, to arrive from Chinese to European Seaports, SNCF aims only 10 Days...

But the way leading to the 2009 spectacular InterContinental strategic move, had been paved by Franco-Germano-Russian Summits in Paris since 2005, "EuroFora" remembers well... Another topical example of "anticipating" key European projects, which add now succesful decisions opening to EU economy big new Horizons preparing 2011...
BRIEF NEWS
00:00 - 08.05.2019

00:00 - 23.04.2019

00:00 - 01.04.2019

00:00 - 04.03.2019

00:00 - 29.01.2019

00:00 - 08.12.2018

00:00 - 09.07.2018

00:00 - 31.05.2018

00:00 - 26.12.2017
Statistics
Besucher: 33420879
Archive
Login Form
Other Menu
(Opinion)
Paris - Bruxelles - Strasbourg, 2 septembre 2008





Le spectaculaire succès du Président français, Nicolas Sarkozy, (en tête de l'UE jusqu'a décembre), à obtenir de suite un cessez le feu inattendu entre la Russie et la Georgie, immédiatement après sa visite aux Présidents Medvedev et Saakashvili, au pire moment de tensions et heurts violents meurtieurs, qui avaient tué plusieurs innocents et provoqué le deplacement forcé de réfugiés par milliers, lui donne incontestablement une stature vraiment européenne :

A ses liens personnels bien connus avec l'Hongrie, la Grece, l'Italie ou l'Espagne, en sus de son amitié avec la chancelière allemande Merkel, son souhait d'essayer d'attirer l'Angleterre au jeu européen, etc, s'y ajoute, maintenant, une réussite, fragile certes, mais importante, au combat pour la Paix dans la "grande" Europe du général De Gaulle, "jusqu'a l'Oural", qui inclut naturellement la Géorgie, l'Arménie et d'autres pays, et ne peut exister qu'avec rapports de confiance et partenartiat stratégique avec la Russie.

Apres avoir réussi à debloquer la situation au Liban, (pays avec liens culturels historiques en Europe), lors du Sommet pour la Méditerranée à Paris, juillet dernier, (comme atteste maintenant le prémier accord d'echange d'Ambassadeurs avec la Syrie), Sarkozy activa maintenant une présidence française de l'EU bien entreprenante, à l'autre bout de l'Europe, à Moscou, où, contrairement à Napoléon, il a été reçu avec soulagement par le nouveau président russe, ami de l'experimenté Vladimir Poutine.

Cet homme politique rélativement nouveau au plan politique européen, avec une vision souvent critique ou même critiquée, à tort ou a raison, mais ambitieuse et concrete a la fois, qui aime s'adresser aux "Européens", comme il dit, n'est-il pas bien placé pour stimuler le fameux débat sur l' "Identité de l' Europe", qu'il a proposé au Parlement Européen récemment à Strasbourg, moins d'un an avant les Elections européennes de 2009 ?

En 2007, il a réussi à faire monter spectaculairement la participation citoyenne aux élections présidentielles en France, obtenant des récords historiques :

N'est-ce pas, justement ce que l' Europe a bésoin, apres 2 abstentions majoritaires sans précedent aux Elections de 1999 et 2004, et 3 "Non" aux réferenda pour ses institutions en 2005 et 2008, pendant une décennie trouble 1999-2008, (marquée surtout par la demande controversée de la Turquie d'entrer dans l'UE eclipsant les avancées de la Monnaie unique et de la liberté de circulation à l'espace Shengen, avec consequences mal-ressenties par la majorité des citoyens, bien au-délà des clivages du passé), qui a failli stopper l'integration européenne ?

Et cela, au moment même ou une globalisation galopante met l'Europe devant un choix crucial entre saut qualitatif en avant, apte à valoriser une occasion historique exceptionelle à se développer résolument, après les vaines destructions, querelles et tensions des guerres "chaudes" ou "froides" qui lui ont couté son rang dans le Monde, ou réculer définitivement en décadence...

Alors, que certains de nos amis à la Commission en Bruxelles, lui laissent au moins un peu d'espace de mouvement, et qu'ils l'aident à tenter d'insufler de l' oxygène frais et vivifiant aux rapports entre les citoyens et une Europe qui a manifestement bésoin et mérite de retrouver d'urgence un nouveau dynamisme populaire, avec un souci de réalisme mais aussi une vision passionante pour son avenir !

Après tout, les Etats Unis d' Amérique ne se sont pas faits à coups de bureaucratie, nécessaire et utile, mais manifestement insuffisante : Sans l'impulsion d'hommes politiques originaux, d'intellectuels vraiment engagés, et, surtout, sans l'enorme énergie émanant de la conscience d'enjeux à la fois pratiques et grandioses, bien resentis par des millions de citoyens, stimulant leur adhésion active comme pioniers d'un nouveau avenir commun à construire, ils seraient encore une ex-colonie périphérique, affaiblie par stériles divisions, passif et impuissant spectateur des convulsions tragiques d'un Monde à la dérive...

Que les vrais "européens" ré-lisent au moins les fameux discours historiques sur l' Europe d'un Sarkozy bien inspiré à Strasbourg, aussi bien avant qu'après avoir gagné les élections françaises, le 21 février et le 2 juillet 2007, après son 1er sommet des Bruxelles, qui a adopté le nouveau Traité de l'UE en conclusion de la presidence allémande : Bonnes lectures pour cet été 2008, afin de préparer l' avenir qui s'ouvrira (ou fermera) à partir des élections européennes de 2009.
Peut-etre revelera-t-il plus, en ce sens, lors de ses 2 discours-debats prochains avec les eurodeputés, prévus lors des sessions plenières du Parlement Européen a Strasbourg en octobre et décembre 2008...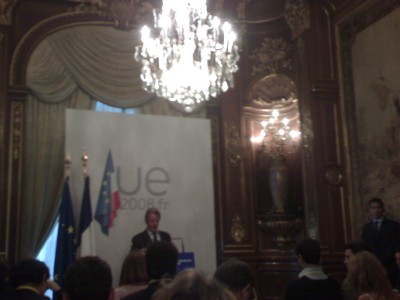 Foreign Minister Bernard Kouchner had already unveiled President Sarkozy's intentions, during a particularly "hot" Press Conference in Paris, where he faced some's insistance for "sanctions", with a call for "a common EU stance". In the meanwhile, he was consulting "all these days" most of his EU, Russia and Georgia counterparts, (as Sarkozy's Spokesman, P-J. Henin confirmed to "EuroFora"). This allowed him to obtained the desired result, as EU Chairman, at a short, exceptional EU Summit in Brussels, afterwards.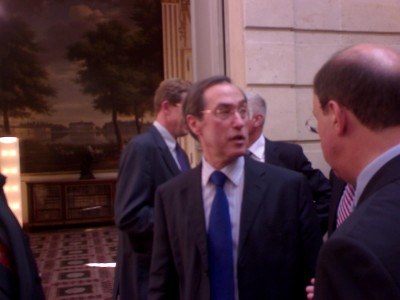 But, Sarkozy's No 1 official, Presidential palace's Secretary General Claude Gueant, active at Elysee during the 2008 Ambassadors' Conference, (together with his Top Diplomat, the experienced David Levitte), is well known for having an overall view : A link with 2009 EU Elections at the horizon ?
Polls