Pagina principale

newsitems

Czechs Vote pro-Babis' Majority, But Late Count +Health Issue try to Undermine it...
Czechs Vote pro-Babis' Majority, But Late Count +Health Issue try to Undermine it...
Sunday, 10 October 2021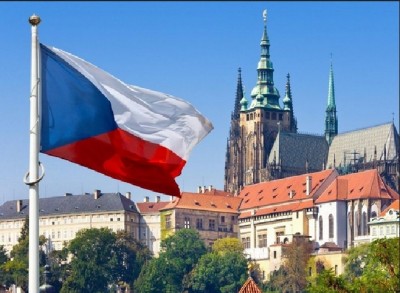 *Strasbourg/Angelo Marcopolo/- In what might probably be marked as a Record-High Bad Faith in Establishment's Medias, Vote Counting, and Strange Health Care services, Prague, at Europe's Heart, Before Chairing the EU Next Year (2022), gave, in Fact, a Landmark Popular Support to the Main Ideas and Values Supported by its embattled Prime Minister Andrej Babis, who, (against False Appearances), practicaly Succeeded into stimulating Almost an absolute Majority of 54% among the Voting People !
This was Against a distand Minority with Not even 44% of Votes, in a dispersed Opposition, hastily and clumsily set up in some Shaky pseudo-"Coalitions", among Even Opposed or Heteroclite, various Small Parties, (Including with ...Pro-Babis' Ideas in certain cases : See Infra), which attempt to Hide the Fact that those who are Mainly Opposed to the current Prime Minister on Topical Key Issues, Lost badly, being the most Rejected by the People (Ibid)...
Spectacularly United, in Public, Together with the Prime Ministers of Hungary, Victor Orban, and Slovenia's Janos Jansa (currently EU President-in-office for 2021), as well as USA former Vice-President Mike Pence, at Budapest's Castle recent Heads of State/GovernmentSummit for Europe's "Demography", and Against Replacement by a Massive Immigation, from Non-European Foreign Countries, mainly Islamic, wihOut any Cultural Integration in the History and Values of the Host Country, some Days ago, Babis, (already a Critical, Outsider element in EU Politics), was Suddenly Hit, at the Last Minute Before the Election 2021, by unproven allegations Against his personal Integrity by Mediatic so-called "Pandora" Papers, where some Accused him to have, Reportedly, a link to ..."a Castle in France', through Czech off shore Companies, Bought ...Since 2009" (sic !) ...i.e. about 12 (Twelve) Years Earlier, (which, at any case, Already Belonged to Other Czech Companies Also Before that)...
Babis immediately Denounces Fake "Slandering", and observes that this is "Not any International" move, But Only something pushed by a "Mafia" in his own Country, Czechia, which seeked Revenge for his Anti-Corruption Fight, during Many Years, Since 2013, (See Infra). However, Despite the Fact that Even "Wikipedia", (which has an Extensive Record of Many and Various Accusations against him) does Not Publish that rocambolesque Claim Hitting him, Nevertheless, a Few Days Before the Vote, Only the Words : "Babis ...  Pandora Papers ...Chateau in France" (sic ! ) Repeated by a lot of Establishment's Medias without Explanations, reportedly Might have Misled some Voters, serving as a Pretext for an (Otherwise Suspect) Blow up of Opposition's Bulletins OverNight, and/or a Simultaneous Exceptional "Disappearance" of some pro-Babis Candidates' usual Bulletins, Dissuading eventual Denonciations of Last Minute "Fraud" in favor of his Opponents at the Late Night Counting, (almost as f.ex. at the Infamous "Biden v. Trump" Row on the Results mainly of Controversial Postal/Absentees' and/or Electronic Votes OverNight on November 2020)...  
So, his Competitors, echoed by most Establishment's Medias, Hurry up to Claim an alleged Tight "Victory" for them, at the Last Minute, ...Even if a Careful Analysis of the Votes, on the Contrary, Reveals a quite Strong Popular Support for pro-Babis' Political Views by a clear Majority of Czech People, and several Converging Facts provoke legitimate Suspicions of probable Electoral Fraud Against him, (See Infra) !
Indeed, all the First Indications on the Electoral Date, when the Ballot Boxes Closed, was that Babis was clearly Winning the race, with his Big Party "ANO" (means "Yes !") coming clearly 1st, with Slightly Less than 30% of the Votes, and most probably due to Govern anew.
+ This was Expected to be done, with the conditional Cooperation, inter alia (See Infra), Also of an Atypical New Rightist Party, credited with about 10% of the Votes : that of "Freedom and Direct Democracy", (Created by Japan-Origin Tomio Okamura, mutatis-mutandis, as Also mainstream "PanEuropa" movement Founder, Coudenhove-Kallergi, Born at Tokyo by a Japanese Mother and a European, Austro-Hungarian Father), as well ns with a smaller and atypical, Old "Social-Democrat" Party. In fact, Prime Minister Babis had Succeeded to broker an Original Alliance between atypical Rightist and Leftist Parties ! (See Also Infra).
That's why he was Already Supported Even by an Historic "Communist" (sic !) Party, to which were Expected to be Added, this time (from 2021 Elections) Also Many Other Small Parties, particularly New ones :  Such, as, f.ex., of the "Oath", just Created by the former Attorney who had Denounced a Large Corruption in a Governing Party Back on 2013, Against which Babis Entered Politics for the 1st Time, Created his own Party ("ANO"), and Became Deputy Prime Minister, and Finance Minister, (i.e. a Potential new Ally, who Succeeded Now to Arrive 1st among All Small Partis !). As well as probably Supported and by anOther Small Party, which had just managed to Double its Voters : the "Free Citizens" Party, of an Atypical Right, until recently Member of Nigel Farage's Group of MEPs in EU Parliament. Perhaps Backed also by the Small Rightist Party "Free Block" or "Sovereignity", which has just Tripled his Votes between 2013 and 2021, (etc).
---------------------------
Facing them was Not Any Big Party at all, But Only 2 Coalitions, both composed from Various Medium or rather Small Parties, often of quite Different Orientations :
    - F.ex. the 3 Parties' Coalition "Together", with Two Center-Right Parties : The "Christian-Democrats", and  "Tradition" (alias "TOP 09"), as well as the Conservative "ODS" ("Civic Democratic") Party, whose Joint Results Approached Babis' Party Result.
    - Most Probably Allied to the Heteroclite "Pirates" and "various Mayors" (sic !) Coalition, simply Named "Pirates and Mayors" (re-sic !!), Expected to score a Little-bit More than the Above-mentioned Rightists of "Freedom and Direct Democracy", Babis' Allies (Comp.Supra).
+ But these Dispersed Opposition Parties had Obviously Exhausted their Political Forces on 2021, withOut Hope to Attract Any Eventual Ally among various Smaller Parties, (Except, perhaps, of the "Greens", who Fell Now Down to Less than Only ...0,9% (sic !) of the Votes, Becoming Irrelevant)...
----------------------------------------------
=> Finally, (and Even taking into Account those Last-Minute Changes, UnExpectedly made by Late Counting and that Suspicious Last-Minute Slandering of Babis, with Fake Accusations : Comp. Supra + Infra), the Results of the Czech People's Votes were the Following :
- Leaning FOR Prime Minister Babis : His own Party "ANO" ("Yes") 27,13% (First in MPs : 72), + Atypical Rightists of "Democracy and Direct Democracy" 10%, New Party "Oath"  4,68%, "SocialDemocrats" 4,65%, "Communist" Party 3,60%, "Free Citizens" 2,76%, "Sovereignity/Free Block" 1,33%, etc. => i.e. a Total of an Absolute Majority of Czech People's casted valid Votes at about 54 % !
- Opposition AGAINST him : Coalition "Together" 27,79% (But Second in MPs: 71), Coalition "Pirates + Mayors" 15,61%, "Greens" 0,9%, etc. => I.e. a Total of an obvious Minority of People's Votes at about Only 44%...
---------------------------------------------------------------
>>> Nevertheless, a strange Late Counting of Ballots, Suddenly seems to have Systematicaly Altered, at the Last Minute, OverNight, severalé Initialy much More "pro-Babis" Czech People's Vote Results, (Comp. Supra), Pushing towards an Astonishingly Harsh Elimination of Many such Votes and Even of Too Many Small Political Parties, Old and New, Favorable to the current, embattled Czech Prime Minister :
- In Fact, ALL Small Parties which would Cooperate with Babis, Suddenly saw the Number of Ballots giving them Votes, Systematicaly Slashed, Reduced, Cut and Thrown Lower than the Crucial Threshhold of 5% Needed in order to have any MPs in the Parliament, as NEVER BEFORE in the History of the Country !
Indeed, f.ex., the "SocialDemocrats" (Part of Babis' Government) were thus Excluded from the Parliament, for the 1st Time since 1990 (i.e. practically Since the Fall of Berlin Wall) !... And the "Communist" Party of Czechia, (which Supported Babis' Government), was Also Excluded from the Parliament, for the 1st Time (Since the Liberation from the NAZIs) on 1945-1948 ! Even The Frontrunner, New and Biggest among All Kinds of Small Parties, the "Oath", (Created Now by the Attorney Famous for having Revealed the Largest Governemental Corruption in the Country, back on 2013 : Comp. Supra + Infra), was Excluded in an Identical way... Same Methods Abused also OverNight in order to Exclude anOther 2 or 3 pro-Babis' Small Parties, Old or New, (Comp. Supra).
=> Thus, a Total of More than 915.307 valid Votes casted by Czech Citizens, (Almost 1 Million of People), in a Country like Czechia, with just 10 Millions of Inhabitants, ie. the Equivalent of More than 17% of the Votes, something Like the 3rd Biggest Political Party in that Country, were Entirely Wiped Out of the Democratic System, just by that Strange, Last-Minute OverNight re-Counting of the Ballots, (a Notoriously too "Easy" Moment for Eventual Fraud)...
-----------------------------------------------------------------------
    + Remains, as Last Resort, the traditional and Crucial Decision of atypical and popular President Milos Zeman, on Whom he is Now going to Give an Official Mandate to try to Form the New Government of the Country.
    A Meeting between Zeman and Prime Miniser Babis had been Scheduled for Sunday, October 10. Popular President Zeman has Already given to Others and to Babis himself a Mandate to try to forge a Government Even with a Minority, at the Beginning, and has Vowed to Always choose the Head of the Biggest Party in the Parliament : I.e. Now too Babis' "ANO" ("Yes !"), which has Just Got the Biggest Number of MPs (72, instead of 71 for "Together"), and is a real Autonomous Party, Instead of a Mere Coalition of Smaller Parties, as those of the Opposition, (Comp. Supra).
    >>> But, Suddenly : - AnOther Last-Minute Patatrak ! The President of the Country, reportedly, is obliged to Enter in a Hospital, with his Health Suddenly Affected by UnKnown yet Events, for This precise Moment ! And Rccently, Suspecting a kind of Sympathy, between Zeman and Babis, the Opposition, and particularly the "Pirates", had Asked to Give a part of that Competence to Name a Prime Minister, instead, to the Speaker of the Parliament...
-----------------------------------------------------------------------------------
+ Meanwhile, however, it's Also the main Political Choices, made by the Czech People's Votes, which Reveal anOther Crystal-clear pro-Babis' positions Preference, by Droping his Most Fiercely Opposed Adversaries :
>>> Indeed, Even Among the Various Components of that Opposition's 2 Coalitions (Comp. Supra), the "Pirates", who were, Notoriously, the Most Aggressive Against Babis' Counter -  Massive Non-European, mainly Islamic Migration Policy, and were Accused by him to Push for LGBT Lobby Interests, "Same Sex" Marriage between Homosexuals, Drugs' Legalisation, and even to "Destroy the Visegrad Group" Alliance with Hungary, Poland, Czechia, Slovakia, etc., Surprizingly Lost an Auful Lot of Votes and MPs, Falling Down to Only ... 4 MPs, (Instead of the 22 MPs they had Before), i.e. Losing - 18 MPs Less ! To the point that, If they were Not in Coalition with Various "Independent Mayors", they Might Even have been Excluded from the Parliament, (as having become a Too Small Party)...
+ In Addition, among the 3 Participants in the Other, "Together" Coalition of the Opposition, it's Not the 2 Center or "Center-Right" (EPP) Parties, But Only the "Conservative" Party of "ODS" (alias "Civic Democratic" Party), with its Anti-Mass Migration, Critical vis a vis the EU, and pro-Cultural Integration Policies, who Won the 1st Place. "ODS" is Also reportedly Favorable to a Cooperation with "ANO", in case Babis withdraws.
++ Moreover, the FrontRunner Party of the Opposition is Not Just Anyone : "ODS" (alias "Civic Democracy"), Indeed, was Governing the Country during ...the Biggest and Wider-Spread ever Scandal of Corruption in the whole History of Czechia, Back on 2013, when Even the Then Prime Minister himself, Together with Many Ministers, other Top Politicians, etc., had been Obliged, by a Growing Series of Damning Revelations and Scandalous Findings, to Quit, one after another, Until an Entirely New Governing Team was Elected to Replace them All, while Many had Already been Detained into Prisons, as profoundly Corrupted, in an alleged Plot to Influence the State for their Personal Enrichement... In the Meantime, about 400 Policemen had Raided the Government's Offices, and of various Top Lobbyists, Confiscated  Tens of Kgs in Gold, etc., as several Security Officers (even of the Military) were Accused for "Abuse of Power" and "Corruption", including for having Bribed MPs, Manipulated the Prime Minister's Wife, etc. Andrej Babis, originaly a Businesman, had notoriously Entered in Politics then, and Created his succesful Party "ANO", in order to, precisely, Fight against such kind of Widespead State Corruption (Comp. Supra).                                                             
=> In Consequence, (and given Also a Growing Number of various New Small Parties in Czechia, More radically Opposed to Mass Migration, EU Bureaucracy, LGBT, etc., that "Eurofora" had Not even the Time to Mention here), the Question seems Raised, Whether those who obviously Strived to Undermine Babis' Government, (Comp. Facts cited Supra), Might, Eventually, Soon Find themselves at an Even "Worse" Situation for their Interests, Than Before...
(../..)
("Draft-News")
--------------------------------------
BRIEF NEWS
00:00 - 02.06.2021

00:00 - 18.10.2020

00:00 - 19.06.2020

00:00 - 18.05.2020

00:00 - 20.04.2020

00:00 - 02.02.2020

00:00 - 09.12.2019

00:00 - 27.11.2019

00:00 - 16.11.2019
Statistics
Ospiti: 55527622
Archive
Login Form
Other Menu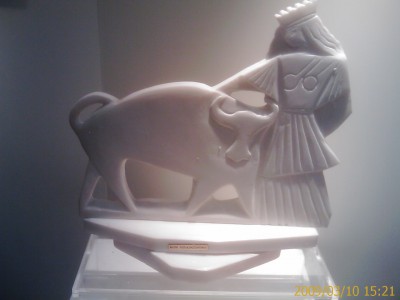 Renew Europe's Historic Legend with Parthenon's pure white marble at the eve of crucial 2009 EU Elections, was the ambition of an interesting Art Exhibition, with more topical Symbols than expected, organized by EU Parliament's 1st vice-President Rodi Kratsa-Tsagaropoulou and MEP Marie Panayotopoulos- Cassiotou, Chair of the Inter-group on Family policy, during March A session in Strasbourg.     
According to the Ancient Legend, God Zeus, charmed by young Girl Europe, was trasformed into a strong Bull with Wings, and when she tamed him with Human affection, they flew over the Sea to live together in a New Land with large, fertile landscapes.  

- "There, they saw the Continent with a "Large Front" ("Eureia -opse" in Greek => Eur-opse => Europe)", reminded the Sculptor, Mary Papaconstantinou, of the European Women Association, honored by awards in Paris, Athens and Strasbourg.

    Thus, Europe's Legend combines Symbols of Energy and Strength, with caring Human personality, to bring towards New, large Horizons :

    - "Modern Art for this Ancient Greek Legend here in Strasbourg reminds that Europe, placing Human dignity at its heart, always finds the strength to overcome any Crisis towards New achievements. And EU Parliament offers Citizens a chance to artfully interact", said MEP Panayotopoulos-Cassiotou.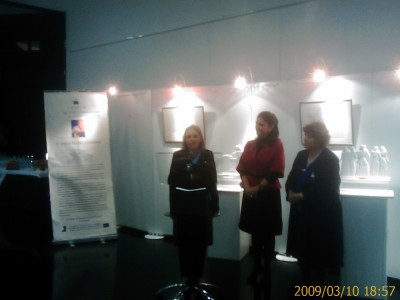 Structured like some Rembrand's pictural sequences, Europe's sculptural exhibition forms a series of many statutes, sized and flat as a PC screen, representing many scenes inspired from the original Legend, "according to Moschos' text, a Writer of the 2nd century B.C.", said Sculptor Mary to "EuroFora".  
    Made by sparkling pure white Marble full of Symbols, they incite to think but also to act, as in front of a Book with half of its pages full of written text, but another half, free to write on white paper..
    While several EU politicians think that one of the most important characteristics of the 2009 EU Elections is that from their outcome may depend Europe's Identity and Future, Culture Minister of Greece, Antonis Samaras (a former MEP) send the message that, precisely, such modern Art linked to Historic legends may help "EU Citizens search the origins of Europe's Identity".
     - "The Legend says that they founded a New City, Thebes, and that reminds us that Europe is always a project of Invention and Creation", added EU Parliament's vice-President, Rodi Kratsa - Tsagaropoulou.
    Sculptor Mary Papaconstantinou said that she "tried for years to find the same White Marble from Penteli Mountain that was used by Praxitelis and all those who created Parthenon", symbol of Democracy and one of the 7 wonders of the World.
    - "By shaping this millenary Greek Marble to revive Europe's Ancien Legend with Modern Art, it reminds that Europe is a Hope for a better Future after Crisis, combining Energy for Development, with care for the Human person", said the sculptor's compatriot from Chios island, famous from French artist Delacroix's historic painting, MEP Panayotopoulos - Cassiotou.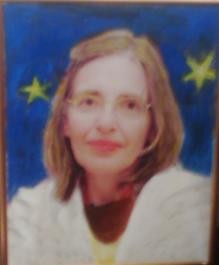 She now lives with her Family close to Rhine river, at EU's heart, near Bonn, where had started to work for the first time on European issues the new EU Parliament's Secretary General, Klaus Welle :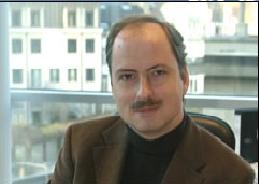 By a symbolic coincidence, Europe's legend built anew with Parthenon's marble, marked for ever the beginning of young and energetic Welle's duties as new head of EU Parliament's administration, since he saluted the retiring, out-going S.G., the experienced Harold Rohmer, shortly afterwards, at another gathering on the same floor of Louise Weiss' superb building in Strasbourg...
    Organisers of both events said that it was a pure coincidence. People are free to believe them, or hope otherwise...
**********************   
They disagree in almost everything, except from one thing :

- EU Parliament's Art unites even opposed politicians in a common belief for Europe : Cyprus' example...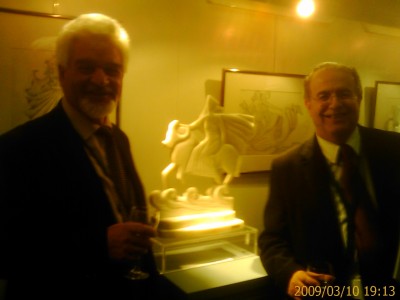 Rarely united together, but posing for "EuroFora" with the statute of Europe and Zeus flying over the Sea, ChristianDemocrat/EPP's MEP Yannis Kasulides, a frontrunner Presidential candidate in 2008, former Foreign Minister and Government Spokesman, and EuroLeft's MEP Kyriakos Triantafylides, Chairman of EU - Palestinian Council delegation, from the governing party AKEL (new Left) of the elected President, disagree on almost everything, except from their common claim that Europe of the Ancient Legend, when she flew with God Zeus from Ancient Phynecia to the West, must have crossed the island of Cyprus !

Hard to prove the contrary, 3.000 years later...
Polls