Globaly Growing on-line Cyber-Attacks on Media and Journalists, reach also Eurofora
Tuesday, 23 August 2016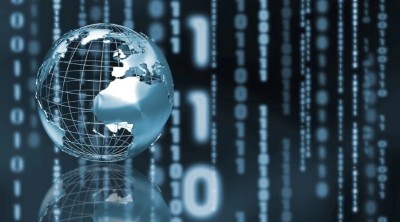 *Strasbourg/Angelo Marcopolo/- While PanEuropean CoE prepares a Landmark International Conference on its "Cyber-Crime" Convention of Budapest, later this Autumn, between the Estonian and Cyprus' rotating Presidencies of the 47-Member Countries' strong Organisation of Strasbourg, (Timely preceded by a "Freedom of Expression at the Internet" Euro-Atlantic Conference on September, organized Together with the OSCE), Alarming Reports about a New Wave of Politicaly-motivated Hackers' Attacks Targetting Media and Individual Journalists surfaced these Days both in the USA, Russia and Other Countries accross the World, strongly Denounced also by the Latest, 2016 Annual Report of Global "Committee to Protect Journalists", including also several News WebSites, from Australia to the Franco-Germano-Swiss area's "Eurofora", which, after a 2O15 "Defacement" Cyber-Attack, amidst a Long Series of Intermittent Attempts of "Account HiJacking" between late 2012 and August 2016, surprisingly Faced Now also a Brutal Peak in various Attempts to Hinder necessary Website UpDates, between 2012-2016, but also Steal Passwords and/or Block Access, amidst a sudden, Unprecedented Internet Harassment, as that which is Denounced by CPJ's Latest Report, in various Cases of Individual Journalists that some Politicaly-Motivated Attacks and/or Threats, often Hiring Criminal Hackers and/or "Trolls", attempt to Censor, Intimidate or Muzzle, for UnMentionable real Reasons, (See Infra).

-------------------

A new "Series of Cyber Breaches Targeting Reporters", was Denounced these Days by North American Media, which pointed f.ex. "at the New York Times and Other US News Organisations", revealed by "US Officials" now, but already "Detected in Recent Months" and "Investigated by the FBI and Other US Security Agencies".
Alarming Press Reports Focused on Internet "Hackers ... Targeting News Organisations", which Face "Intrusions" and Other Cyber "Attacks".

In Fact, Individual "Reporters were Targeted", but Not the Company's "Internal Systems", as a "Times"' Spokesperson reportedlty stressed".

These "Breaches...are Part of an apparent Surge in Cyber Attacks in the Past Year" (2015-2016), in "a Series of Recent Intrusions", where "US Intelligence Officials Believe" that, probably, Foreign "Spy Agencies are Using a Wave of Cyber Attacks ... to Gather Intelligence ...into the US Political System", CNN and other mainstream Media reported.

>>> "News Organizations are considered Top Targets, because they can yield Valuable Intelligence", f.ex. "on Reporter Contacts in the Government, as well as Communications and UnPublished Works with <<Sensitive>> Information".

While it's not excluded that at least some Aspects of those Latest Press Reports might, eventualy, be more or less Biaised by a current Dispute about Russia, between Hillary Clinton and Donald Trump, in their Competition for the Forthcoming US Presidential Election of November 2016, as even CNN warned in fine, Nevertheless, it's also a Fact that, already, a Wider Spectrum of Recently Aggravated Cyber-Atacks against various Journalists and Media around the World, had been already Denounced Earlier :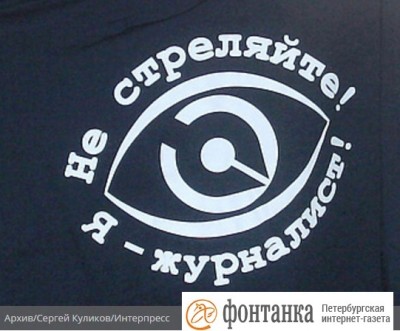 In fact, the Issue about "Multiple Attempts to Spy on Journalists" and other "Cyber Attacks on Oppositionist Activists, goes Much Further than Recent Complaints, f.ex. by a Russian Journalist of Saint Petersburg's Internet Newspaper "Fontanka" to be allegedly a "Victim of a Cyber Attack to Steal his Personal Information", for which he reportedly Suspects a pro-regime "Billionaire" whom he had "mentioned" in "several Articles" that he had written recently.

--------------------------------

Experienced Press Freedom Watchdog, New York based, Global "Committee to Protect Journalists" (CPJ  : with which "Eurofora"s co-Founder had Succesfuly Cooperated already as Early as since 2004 on a thorny Affair pending at ECHR in Strasbourg about the Cold-Blood Murder of a Dissident Journalist, K. Adali, whose Wife had vainly Denounced that she was Threatened and Pressured to Drop her Complaint, until EuroJudges were Alerted and promptly Decided to hold a Public Audience, Resulting in a Landmark case Condemning Turkey's Authorities for blatantly Failing even to Investigate the Killing of that Journalist who was Criticizing Ankara's Policies, despite being a Turkish Cypriot living in the Occupied Territories of Cyprus held by Turkey's Military since the 1974 Bloody Invasion),  had  Warned against such a Growing Trend since 2013 :


 - "We have seen  (such) Attacks against Individual Journalists and against individual News Outlets Increasing over the last few years," the CPJ's F. deputy Director, Robert Mahoney, had Warned. This may occur even by Paying some e-Thugs : Indeed, Recently, it has become "very Cheap to Hire Criminal Hackers to mount such a(n)... Attack", so that, Nowadays, "Digital Security, Information Security is Vital," Mahoney told Journalists. "We have Reports ...of Journalists coming Under Attack, ...there were Attacks against News outlets (and)... We have seen whole Newspapers brought Down ... Because there's been an Attack", he Denounced.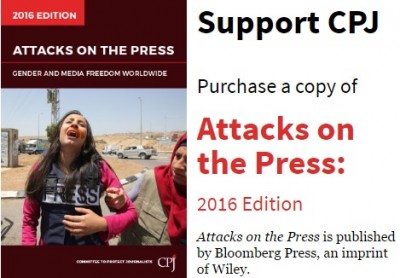 >>> In Fact, it's mainly Because "Criminal Hackers provide a Cheap and easy Way of Censoring the Press", that "Cyber Attacks against Journalists and Media ...have Increased", CPJ has observed.

+ In the Latest, 2016 Edition of CPJ's "Attacks on the Press" Annual YearBook, Published earlier this Summer,  Elisabeth Witchel, a Consultant for CPJ, who had also launched the Indepêndent Press Freedom NGO's  "Global Campaign Against Impunity", observes that "for Journalists, it's "easier said than done", when it comes to Face various Harrasments on the Web : Because, f.ex., "according to U.S. Journalist and Founder of (a specialized NewMedia Website) "Michele Ferrier ; ....- "If your Job is being Public as a Journalist, you canNot Avoid" that, including on "Social Media", (such as "Twitter" of "Facebook", Internet "Forums", etc), since "it's Expected to be OnLine in Many Capacities. Or if you are an independent OnLine News Provider, who are you going to call to step in for you?", she Wonders. Moreover, "Ignoring ... Threats can be Risky", while "There is No Safe Space OnLine, and Limited Recourse to just ... get Off the Computer".

-----------------------------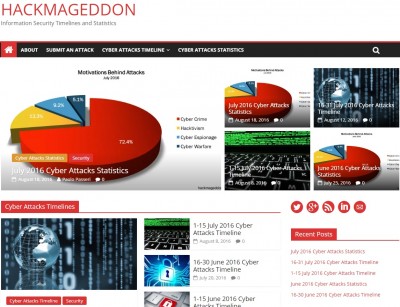 Recently, such Incidents reportedly included also "2 News WebSites, based in Australia, belonging to Fairfax Media, the Digital Age Editions, and Sudney Morning Herald" Newspaper, which have reportedy been "Hacked" on May 2016, resulting in a Lot of "EMail ... Accounts ...Being "Leaked OnLine", according to Specialized "Information Security" Global Website "HackMageddon"'s (founded by Italian Systems Expert Paolo Passeri in London) recent "Cyber Attacks Timeline" List.

On July 2016, "Single Individuals" come 4rth, and "News" Organisations 8th, among a large List of 18 Groups of "Targets" (Headed by Industry and Government Organizations) of "Cyber Attacks", in terms of Quantity of reported Incidents, according to the Latest Report of "HackMageddon"'s Monthly "Time Line", just Published in Mid-August.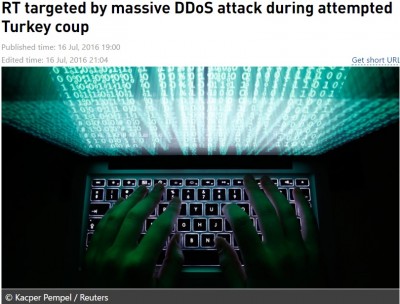 >>> But, in fact, famous News WebSite "Russia TV.com", and Press-feeding International "Wikileaks" Internet Activists, are among the Main Highlights of Cyber-Attacks' Targets, according to that Latest Report for the 2nd Half of July 2016, just Published by "HackMageddon", who points at Issues such as the Coup in Turkey and other Turkish Goverment Documents, as well as on the US Democratic Party's current leaks, while also, Top News-Surfing GOP US Presidential Candidate Donald Trump is also reportedly "always a Compelling Target" for some "quite Active" "Hactivists"...

- HM observed "Multiple Cyber attacks carried on in the wake of the foiled Coup in Turkey",  "such as the DDoS  Attacks against Wikileaks and RT.com," but also ... Wikileaks was Crippled while leaking  295,000 emails allegedly hacked from AKP the Turkey ruling party", i.e. "the so-called <<Erdogan's E-Mails>>", whose "Publication" triggered another Serious Cyber-Attack, whose Mechanism is yet "UnKnown".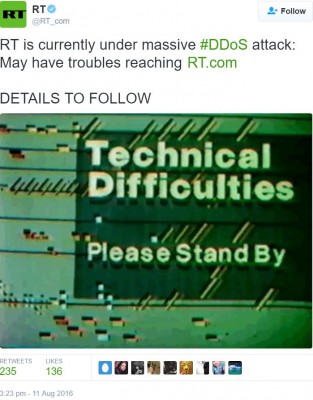 Meanwhile, "RT" has Denounced even More Recent "Series of DDOS Attacks" also during August, - perhaps Linked with "Wikileaks"' (itself hit not only on July, but also in August,  by a reportedly very Nasty Cyber Attack) well known Anouncements on several forthcoming "revelations" about Hilary Clinton's hidden "private" emails..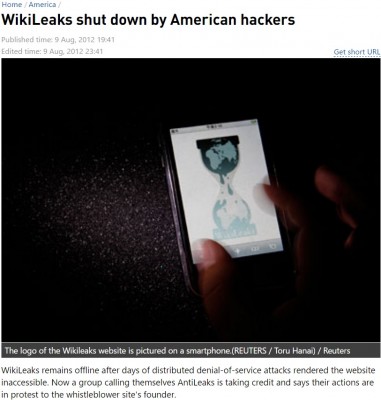 The Latest relevant "Statistics" show "a Peak of Activity during the 2nd Week" of July 2016 for various such Attacks on the Internet, with "Cyber-Crime" ranking "on the Top of the Motivations behind Attacks chart", for the Second Time in a Row : 69% in June, it went Up to 72,4% on July 2016, (while "Cyber-Espionage" remains "Stable", at a 3rd Rank with almost 10%), according to HM's "Cyber Attacks Statistics" Monthly Publication.

    "Accounts Hijacking" Tops that List, in July as on June 2016, while "DDos", "Targeted Attacks" and "Defacement" come 3rd, 4rth and 5th, among a Total of 14 Ways to Breach Cyber Security.    "Politics" clearly Top that "Cyber Landscape", Followed by "Finance", "Culture"-"Sports", and "Terrorism", among 9 Categories, the Latest "HM" Publication confirmed.

-----------------------------------------------

=> For the Author of an upcoming (2016) Book on "Cyberactivism and Citizen Journalism" cases, and CPJ's Advocacy Director, Courtney Radsch, "the Best course of action for Journalists Under Attack, will be a Combination of Monitoring and potentially Responding to the Threats, and Reporting to (Internet) Platforms and/or Authorities".
In fact, "The artificiality of the online/offline dichotomy for ... journalists in the Digital Age, highlights the Need for a range of Solutions to addressing (also) OnLine Harassment and Abuse" :

- F.ex., "although ...people are learning what Tools could be effective When someone becomes Targeted, ..(-nevertheless), "If there is a large pool of people who Hate you, but others are interested in Swatting or Stalking or physically Abusive Attacks, ...make you Unaware of these Threats could put you at greater Risk", she observes, cittingTom Lowenthal, aC PJ's Technologist.

A "Journalist used to Deal with Trolls", Russia and Ukraine writer Lokurt, reportedly "said her co-Editor .. gets... Attacks aimed at him (which) .. Focus more ... on his Political position".

But, "only about 40 % of Journalists who were Harassed OnLine chose to Respond, and only about Half of them Confronted the Person OnLine", found a 2014 "Pew" Research Survey of OnLine Harassment in the US.

An "Independent Journalist ...who covers the Middle East" Hot Issue, and wrote a "Times"' Article, Nazish, reportedly  "Chronicled the Range of Threats and Violence ...Journalists ... Face" in certain Internet-related cases, , including her own story of "Intimidation during an Investigation on a Security-related Issue", "Following the Publication" of which, "she Faced a Barrage of Social Media Hate", including "Threats", some of which, "were really Specific" and "used specifically to Intimidate me".
In fact, "it is not always ... Strangers who Harass .. Journalists OnLine", since "some comments come (even) from ... Collegues and Sources who engage in ...(what) Exacerbates the Attacks".

 - Thus, f.ex., "Tracking down" those "posting Threats on (Web) pages", "and sending Screenshots" of their Wrongdoings at the Internet, was "an Australian Journalist's" way "to Combat ... Threats OnLine".  

- But, "Going Public", "Can Bring down even Greater OnLine Wrath and escalate into Violence", "as it has been the case with ...(a) Controversy in the US, which has caught .. Journalists Covering ... Violent OnLine" Thugs "who have Soughty to Destroy their Careers, and Pursue them OffLine", resulting in "a Harassment Campaign ...that included Attacks against Journalists ...Covering ..Threats of ..Death that Accompagnied the Vitriol".

However, another "Journalist ... who... was the Target of OnLine Attacks" just a few years ago, and "Continued to Receive Periodic Hate Messages, ..said Going Public made it Easier for her to Deal with it, on a Personal AND Professional level", CPJ's Book notes.

"One prominent Obstacle in getting ...Reporters to Talk about their Cases", f.ex. "about Threats to ..;Journalists", is, nevertheless, also the Fact that "Journalists who Speak out" about that, sometimes "are Publicly Humiliated, Harassed by Supporters of Politicians and the Establishment". Even "their Families and Collegues often Suffer along with them" in such cases.

"In many parts of the world, including countries that have special mechanisms to address online abuse, law enforcement Officials are Rarely Prepared to deal with these types of complaints". So that, "a Common Refrain among Journalists around the World" is that "the Police had No Idea how to Deal with these Attacks".

"In the US", Internet "Users can file Complaints with the <<Internet Crime Complaint Center>> (IC3), while elsewhere, "one of the few Legal Avenues available to Victims ...of On-Line Attacks", "Requires Victims to Send Copies of Offending Photos to the Authorities".

Indeed, among "Steps for Protection against OnLine Threats", are "Includ(ed) Saving Records of them, and Reporting Abuse to the Authorities".

 - "Interviews with Journalists and Increasing Controversy ...indicate that some Managers of Electronic and Social Media Platforms are Aware of the Need to Do More to Empower Users to Combat OnLine Abuse, But there is Disagreement over Whether the Intermediaries should play a More Proactive role - and, if so, How", while "all of the Major Platforms have been Criticized for Lack of Transparency on Reporting and Redress".

In several cases, "Reporting Abuse via a Social Media platform often Feels Futile, as Requests for Help go UnAnswered and Unacknowledged, say Journalists interviewed" by the CPJ "and who have Spoken Out on this topic".

- "Law Enforcement oOcials often suggest that Journalists facing OnLine Threats stay Off" the Internet, "But most Journalists consider this an ImPractical and InSufficient response", because "Journalists are Public Figures who Depend on Social Media both for Researching and Disseminating the News, as well as for Engaging with their Audience and Building their Public Profile. Responding to Attacks by Vacating their Social Media Space can actually Amplify the Abuse, which may then go UnRebutted, and have (even) Economic Repercussions for the Journalist".

"Few Statistics have been compiled about the Scope of OnLine Harassment and Threats", "but such Problems are Widespread according to Numerous Studies, including a ...Survey (co-Authored) by ... the International International News Safety Institute, as well as the work of the Association for Progressive Communications, and Extensive Anecdotal Evidence", observes CPJ's 2016 Annual Report published this Summer.

"Efforts to Combat and Address OnLine Abuse and ...Violence often emanate From the Developed World", "the study by a Best Practices Forum on Online Abuse and ...Violence" against certain Minorities, "at the 2015 Internet Governance Forum concluded."

"An IGF-sponsored Study ...on How to Counter Abuse OnLine", "Found that such Abuse as well as ...Violence <<Impede>> the Victims'  <<Right to Freedom of Expression, by creating Environments in which they do Not feel Safe to express themselves." Moreover, "Journalists who are also Minorities, or who are Foreign to the Countries in which they work, may face Additional Threats or Violence."
=> Indeed, "many ...Journalists who Face such Attacks feel Compelled to self-Censor", since their "Publishers do Not Always Respond" in the way, f.ex., of a "Newspaper (which) ... Publish(ed) a Supportive Editorial, and Provided ...with a Car to Transport ...To and From the Office" one of its Journalists who had been "Attacked OnLine for an ...Article that she Wrote ... while Working as Staff Reporter".

"After giving up Freelancing", that Journalist "began Working as a Staff Writer", and "said her Editor is Aware of what happened". Nevertheless, she "added : <<It still makes me Think Twice before I pitch an Article that talks about"some "Hot" Issues, but "That shouldN't happen."

+ Moreover, "among the Repercussions of the OnLine Attacks was that Editors Stopped accepting her Work. "I caN't work as a freelancer Anymore," she said to CPJ. "The OnLine Attackers Stripped her of that Livelihood".

=> On the Contrary, "Media Compagnies (should) Realize (that) it is really Essential that they Back up the People Working for them, whether they are Freelancers, or Not", the affected Journalist urged.

Speaking at "a Session" of Global "Internet Governance Forum" (IGF) in Brazil, on November 2015, former "Freelancer" Journalist Freitas, reminded that, initialy, "although her (1st) Editor Praised the Quality of (her) Article", nevertheless, "the Newspaper Declined to Publish it", so that "she Ended up Publishing the Article on (Bloggers' Website) "Huffington Post - Brasil"...

"Immediately" after that, she "received Vicious Threats on social Media. Her "Personal information was put OnLine, (known as "Doxxing"), ...and she received packages filled with worms at her house. She Left Home for several weeks out of Fear for her, and her Family's Safety."

----------------------------

"Eurofora" had initialy Faced Various such sly Cyber-Aggressions and other Internet-relatred Harassment since the 2nd Half of 2012, while several Hackers' Sly Attacks and other Web-related Incidents "Exploded" from the Beginning of 2015, becoming quite Dangerous in the Middle of this Summer 2016, (Comp. f.ex. Facts cited Supra).


In this regard, "Eurofora" was Invited to Participate in an Annual Conference of French Authorities, Scientists, Legal and Web Experts, held some Years ago in Strasbourg, (See, f.ex. :...), followed by another, more Recent Invitation also by a Private "Cyber-Security" Company at Meetings organised with SME Businesses during a Digital Technologies Mega-Event held near EU Pariiament's premisses here, as well as by an exceptional Invitation in an Important EU Conference on Internet Security at Lille City, held earlier this year (2016) with Key-note Speaker the EU Commissioner for Digital Economy and Society, Günter Oettinger, from Germany, (to which it became, unfortunately, practicaly Impossible to Attend, due to an Overlaping with EU Parliament and CoE Assembly's Plenary Sessions those Same Days).


(../..)


-------------------------------------------------------------------

***

("DraftNews", as already send to "Eurofora" Subscribers/Donors, earlier. A more accurate, full Final Version, might be Published asap).

***

(NDLR : Headline PICTURE = from "HackMageddon" Cyber-Security News Website's Latest Report for July 2016 incidents' "TimeLine", just published on Mid-August : Comp. Supra).

---------------------------------------------------------------------------------------
BRIEF NEWS
00:00 - 26.12.2017

00:00 - 26.05.2017

00:00 - 30.01.2017

00:00 - 14.10.2016

00:00 - 24.09.2016

00:00 - 27.07.2016

00:00 - 03.07.2016

00:00 - 01.06.2016

00:00 - 12.02.2016
Statistics
Посетителей: 27144819
Archive
Login Form
Other Menu
(Opinion)
Paris - Bruxelles - Strasbourg, 2 septembre 2008





Le spectaculaire succès du Président français, Nicolas Sarkozy, (en tête de l'UE jusqu'a décembre), à obtenir de suite un cessez le feu inattendu entre la Russie et la Georgie, immédiatement après sa visite aux Présidents Medvedev et Saakashvili, au pire moment de tensions et heurts violents meurtieurs, qui avaient tué plusieurs innocents et provoqué le deplacement forcé de réfugiés par milliers, lui donne incontestablement une stature vraiment européenne :

A ses liens personnels bien connus avec l'Hongrie, la Grece, l'Italie ou l'Espagne, en sus de son amitié avec la chancelière allemande Merkel, son souhait d'essayer d'attirer l'Angleterre au jeu européen, etc, s'y ajoute, maintenant, une réussite, fragile certes, mais importante, au combat pour la Paix dans la "grande" Europe du général De Gaulle, "jusqu'a l'Oural", qui inclut naturellement la Géorgie, l'Arménie et d'autres pays, et ne peut exister qu'avec rapports de confiance et partenartiat stratégique avec la Russie.

Apres avoir réussi à debloquer la situation au Liban, (pays avec liens culturels historiques en Europe), lors du Sommet pour la Méditerranée à Paris, juillet dernier, (comme atteste maintenant le prémier accord d'echange d'Ambassadeurs avec la Syrie), Sarkozy activa maintenant une présidence française de l'EU bien entreprenante, à l'autre bout de l'Europe, à Moscou, où, contrairement à Napoléon, il a été reçu avec soulagement par le nouveau président russe, ami de l'experimenté Vladimir Poutine.

Cet homme politique rélativement nouveau au plan politique européen, avec une vision souvent critique ou même critiquée, à tort ou a raison, mais ambitieuse et concrete a la fois, qui aime s'adresser aux "Européens", comme il dit, n'est-il pas bien placé pour stimuler le fameux débat sur l' "Identité de l' Europe", qu'il a proposé au Parlement Européen récemment à Strasbourg, moins d'un an avant les Elections européennes de 2009 ?

En 2007, il a réussi à faire monter spectaculairement la participation citoyenne aux élections présidentielles en France, obtenant des récords historiques :

N'est-ce pas, justement ce que l' Europe a bésoin, apres 2 abstentions majoritaires sans précedent aux Elections de 1999 et 2004, et 3 "Non" aux réferenda pour ses institutions en 2005 et 2008, pendant une décennie trouble 1999-2008, (marquée surtout par la demande controversée de la Turquie d'entrer dans l'UE eclipsant les avancées de la Monnaie unique et de la liberté de circulation à l'espace Shengen, avec consequences mal-ressenties par la majorité des citoyens, bien au-délà des clivages du passé), qui a failli stopper l'integration européenne ?

Et cela, au moment même ou une globalisation galopante met l'Europe devant un choix crucial entre saut qualitatif en avant, apte à valoriser une occasion historique exceptionelle à se développer résolument, après les vaines destructions, querelles et tensions des guerres "chaudes" ou "froides" qui lui ont couté son rang dans le Monde, ou réculer définitivement en décadence...

Alors, que certains de nos amis à la Commission en Bruxelles, lui laissent au moins un peu d'espace de mouvement, et qu'ils l'aident à tenter d'insufler de l' oxygène frais et vivifiant aux rapports entre les citoyens et une Europe qui a manifestement bésoin et mérite de retrouver d'urgence un nouveau dynamisme populaire, avec un souci de réalisme mais aussi une vision passionante pour son avenir !

Après tout, les Etats Unis d' Amérique ne se sont pas faits à coups de bureaucratie, nécessaire et utile, mais manifestement insuffisante : Sans l'impulsion d'hommes politiques originaux, d'intellectuels vraiment engagés, et, surtout, sans l'enorme énergie émanant de la conscience d'enjeux à la fois pratiques et grandioses, bien resentis par des millions de citoyens, stimulant leur adhésion active comme pioniers d'un nouveau avenir commun à construire, ils seraient encore une ex-colonie périphérique, affaiblie par stériles divisions, passif et impuissant spectateur des convulsions tragiques d'un Monde à la dérive...

Que les vrais "européens" ré-lisent au moins les fameux discours historiques sur l' Europe d'un Sarkozy bien inspiré à Strasbourg, aussi bien avant qu'après avoir gagné les élections françaises, le 21 février et le 2 juillet 2007, après son 1er sommet des Bruxelles, qui a adopté le nouveau Traité de l'UE en conclusion de la presidence allémande : Bonnes lectures pour cet été 2008, afin de préparer l' avenir qui s'ouvrira (ou fermera) à partir des élections européennes de 2009.
Peut-etre revelera-t-il plus, en ce sens, lors de ses 2 discours-debats prochains avec les eurodeputés, prévus lors des sessions plenières du Parlement Européen a Strasbourg en octobre et décembre 2008...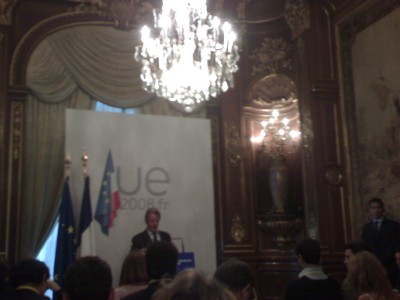 Foreign Minister Bernard Kouchner had already unveiled President Sarkozy's intentions, during a particularly "hot" Press Conference in Paris, where he faced some's insistance for "sanctions", with a call for "a common EU stance". In the meanwhile, he was consulting "all these days" most of his EU, Russia and Georgia counterparts, (as Sarkozy's Spokesman, P-J. Henin confirmed to "EuroFora"). This allowed him to obtained the desired result, as EU Chairman, at a short, exceptional EU Summit in Brussels, afterwards.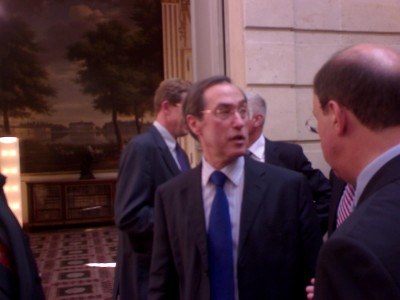 But, Sarkozy's No 1 official, Presidential palace's Secretary General Claude Gueant, active at Elysee during the 2008 Ambassadors' Conference, (together with his Top Diplomat, the experienced David Levitte), is well known for having an overall view : A link with 2009 EU Elections at the horizon ?
Polls