Globaly Growing on-line Cyber-Attacks on Media and Journalists, reach also Eurofora
Tuesday, 23 August 2016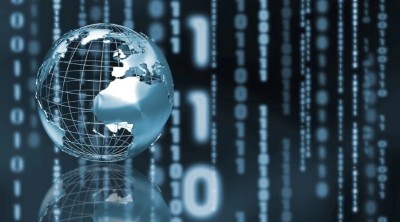 *Strasbourg/Angelo Marcopolo/- While PanEuropean CoE prepares a Landmark International Conference on its "Cyber-Crime" Convention of Budapest, later this Autumn, between the Estonian and Cyprus' rotating Presidencies of the 47-Member Countries' strong Organisation of Strasbourg, (Timely preceded by a "Freedom of Expression at the Internet" Euro-Atlantic Conference on September, organized Together with the OSCE), Alarming Reports about a New Wave of Politicaly-motivated Hackers' Attacks Targetting Media and Individual Journalists surfaced these Days both in the USA, Russia and Other Countries accross the World, strongly Denounced also by the Latest, 2016 Annual Report of Global "Committee to Protect Journalists", including also several News WebSites, from Australia to the Franco-Germano-Swiss area's "Eurofora", which, after a 2O15 "Defacement" Cyber-Attack, amidst a Long Series of Intermittent Attempts of "Account HiJacking" between late 2012 and August 2016, surprisingly Faced Now also a Brutal Peak in various Attempts to Hinder necessary Website UpDates, between 2012-2016, but also Steal Passwords and/or Block Access, amidst a sudden, Unprecedented Internet Harassment, as that which is Denounced by CPJ's Latest Report, in various Cases of Individual Journalists that some Politicaly-Motivated Attacks and/or Threats, often Hiring Criminal Hackers and/or "Trolls", attempt to Censor, Intimidate or Muzzle, for UnMentionable real Reasons, (See Infra).

-------------------

A new "Series of Cyber Breaches Targeting Reporters", was Denounced these Days by North American Media, which pointed f.ex. "at the New York Times and Other US News Organisations", revealed by "US Officials" now, but already "Detected in Recent Months" and "Investigated by the FBI and Other US Security Agencies".
Alarming Press Reports Focused on Internet "Hackers ... Targeting News Organisations", which Face "Intrusions" and Other Cyber "Attacks".

In Fact, Individual "Reporters were Targeted", but Not the Company's "Internal Systems", as a "Times"' Spokesperson reportedlty stressed".

These "Breaches...are Part of an apparent Surge in Cyber Attacks in the Past Year" (2015-2016), in "a Series of Recent Intrusions", where "US Intelligence Officials Believe" that, probably, Foreign "Spy Agencies are Using a Wave of Cyber Attacks ... to Gather Intelligence ...into the US Political System", CNN and other mainstream Media reported.

>>> "News Organizations are considered Top Targets, because they can yield Valuable Intelligence", f.ex. "on Reporter Contacts in the Government, as well as Communications and UnPublished Works with <<Sensitive>> Information".

While it's not excluded that at least some Aspects of those Latest Press Reports might, eventualy, be more or less Biaised by a current Dispute about Russia, between Hillary Clinton and Donald Trump, in their Competition for the Forthcoming US Presidential Election of November 2016, as even CNN warned in fine, Nevertheless, it's also a Fact that, already, a Wider Spectrum of Recently Aggravated Cyber-Atacks against various Journalists and Media around the World, had been already Denounced Earlier :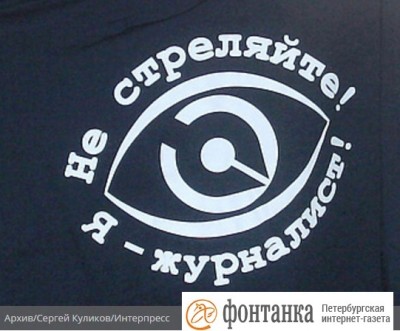 In fact, the Issue about "Multiple Attempts to Spy on Journalists" and other "Cyber Attacks on Oppositionist Activists, goes Much Further than Recent Complaints, f.ex. by a Russian Journalist of Saint Petersburg's Internet Newspaper "Fontanka" to be allegedly a "Victim of a Cyber Attack to Steal his Personal Information", for which he reportedly Suspects a pro-regime "Billionaire" whom he had "mentioned" in "several Articles" that he had written recently.

--------------------------------

Experienced Press Freedom Watchdog, New York based, Global "Committee to Protect Journalists" (CPJ  : with which "Eurofora"s co-Founder had Succesfuly Cooperated already as Early as since 2004 on a thorny Affair pending at ECHR in Strasbourg about the Cold-Blood Murder of a Dissident Journalist, K. Adali, whose Wife had vainly Denounced that she was Threatened and Pressured to Drop her Complaint, until EuroJudges were Alerted and promptly Decided to hold a Public Audience, Resulting in a Landmark case Condemning Turkey's Authorities for blatantly Failing even to Investigate the Killing of that Journalist who was Criticizing Ankara's Policies, despite being a Turkish Cypriot living in the Occupied Territories of Cyprus held by Turkey's Military since the 1974 Bloody Invasion),  had  Warned against such a Growing Trend since 2013 :


 - "We have seen  (such) Attacks against Individual Journalists and against individual News Outlets Increasing over the last few years," the CPJ's F. deputy Director, Robert Mahoney, had Warned. This may occur even by Paying some e-Thugs : Indeed, Recently, it has become "very Cheap to Hire Criminal Hackers to mount such a(n)... Attack", so that, Nowadays, "Digital Security, Information Security is Vital," Mahoney told Journalists. "We have Reports ...of Journalists coming Under Attack, ...there were Attacks against News outlets (and)... We have seen whole Newspapers brought Down ... Because there's been an Attack", he Denounced.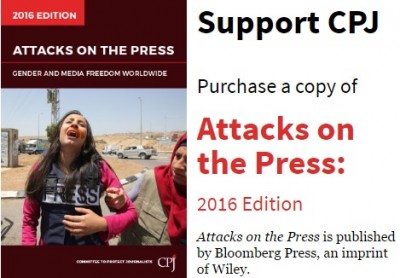 >>> In Fact, it's mainly Because "Criminal Hackers provide a Cheap and easy Way of Censoring the Press", that "Cyber Attacks against Journalists and Media ...have Increased", CPJ has observed.

+ In the Latest, 2016 Edition of CPJ's "Attacks on the Press" Annual YearBook, Published earlier this Summer,  Elisabeth Witchel, a Consultant for CPJ, who had also launched the Indepêndent Press Freedom NGO's  "Global Campaign Against Impunity", observes that "for Journalists, it's "easier said than done", when it comes to Face various Harrasments on the Web : Because, f.ex., "according to U.S. Journalist and Founder of (a specialized NewMedia Website) "Michele Ferrier ; ....- "If your Job is being Public as a Journalist, you canNot Avoid" that, including on "Social Media", (such as "Twitter" of "Facebook", Internet "Forums", etc), since "it's Expected to be OnLine in Many Capacities. Or if you are an independent OnLine News Provider, who are you going to call to step in for you?", she Wonders. Moreover, "Ignoring ... Threats can be Risky", while "There is No Safe Space OnLine, and Limited Recourse to just ... get Off the Computer".

-----------------------------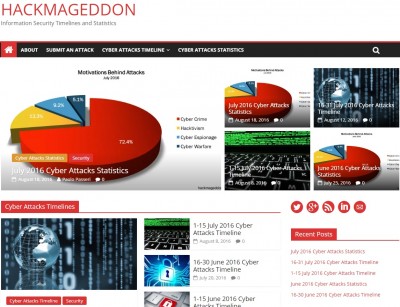 Recently, such Incidents reportedly included also "2 News WebSites, based in Australia, belonging to Fairfax Media, the Digital Age Editions, and Sudney Morning Herald" Newspaper, which have reportedy been "Hacked" on May 2016, resulting in a Lot of "EMail ... Accounts ...Being "Leaked OnLine", according to Specialized "Information Security" Global Website "HackMageddon"'s (founded by Italian Systems Expert Paolo Passeri in London) recent "Cyber Attacks Timeline" List.

On July 2016, "Single Individuals" come 4rth, and "News" Organisations 8th, among a large List of 18 Groups of "Targets" (Headed by Industry and Government Organizations) of "Cyber Attacks", in terms of Quantity of reported Incidents, according to the Latest Report of "HackMageddon"'s Monthly "Time Line", just Published in Mid-August.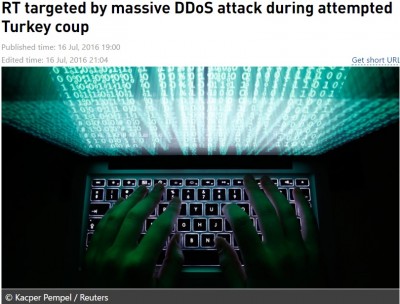 >>> But, in fact, famous News WebSite "Russia TV.com", and Press-feeding International "Wikileaks" Internet Activists, are among the Main Highlights of Cyber-Attacks' Targets, according to that Latest Report for the 2nd Half of July 2016, just Published by "HackMageddon", who points at Issues such as the Coup in Turkey and other Turkish Goverment Documents, as well as on the US Democratic Party's current leaks, while also, Top News-Surfing GOP US Presidential Candidate Donald Trump is also reportedly "always a Compelling Target" for some "quite Active" "Hactivists"...

- HM observed "Multiple Cyber attacks carried on in the wake of the foiled Coup in Turkey",  "such as the DDoS  Attacks against Wikileaks and RT.com," but also ... Wikileaks was Crippled while leaking  295,000 emails allegedly hacked from AKP the Turkey ruling party", i.e. "the so-called <<Erdogan's E-Mails>>", whose "Publication" triggered another Serious Cyber-Attack, whose Mechanism is yet "UnKnown".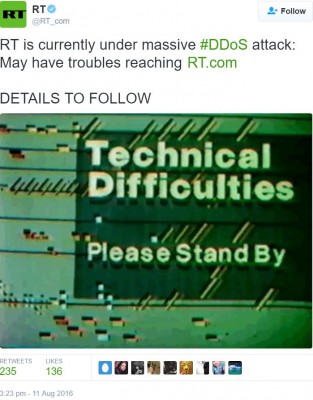 Meanwhile, "RT" has Denounced even More Recent "Series of DDOS Attacks" also during August, - perhaps Linked with "Wikileaks"' (itself hit not only on July, but also in August,  by a reportedly very Nasty Cyber Attack) well known Anouncements on several forthcoming "revelations" about Hilary Clinton's hidden "private" emails..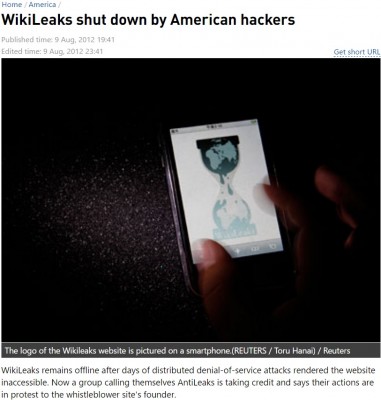 The Latest relevant "Statistics" show "a Peak of Activity during the 2nd Week" of July 2016 for various such Attacks on the Internet, with "Cyber-Crime" ranking "on the Top of the Motivations behind Attacks chart", for the Second Time in a Row : 69% in June, it went Up to 72,4% on July 2016, (while "Cyber-Espionage" remains "Stable", at a 3rd Rank with almost 10%), according to HM's "Cyber Attacks Statistics" Monthly Publication.

    "Accounts Hijacking" Tops that List, in July as on June 2016, while "DDos", "Targeted Attacks" and "Defacement" come 3rd, 4rth and 5th, among a Total of 14 Ways to Breach Cyber Security.    "Politics" clearly Top that "Cyber Landscape", Followed by "Finance", "Culture"-"Sports", and "Terrorism", among 9 Categories, the Latest "HM" Publication confirmed.

-----------------------------------------------

=> For the Author of an upcoming (2016) Book on "Cyberactivism and Citizen Journalism" cases, and CPJ's Advocacy Director, Courtney Radsch, "the Best course of action for Journalists Under Attack, will be a Combination of Monitoring and potentially Responding to the Threats, and Reporting to (Internet) Platforms and/or Authorities".
In fact, "The artificiality of the online/offline dichotomy for ... journalists in the Digital Age, highlights the Need for a range of Solutions to addressing (also) OnLine Harassment and Abuse" :

- F.ex., "although ...people are learning what Tools could be effective When someone becomes Targeted, ..(-nevertheless), "If there is a large pool of people who Hate you, but others are interested in Swatting or Stalking or physically Abusive Attacks, ...make you Unaware of these Threats could put you at greater Risk", she observes, cittingTom Lowenthal, aC PJ's Technologist.

A "Journalist used to Deal with Trolls", Russia and Ukraine writer Lokurt, reportedly "said her co-Editor .. gets... Attacks aimed at him (which) .. Focus more ... on his Political position".

But, "only about 40 % of Journalists who were Harassed OnLine chose to Respond, and only about Half of them Confronted the Person OnLine", found a 2014 "Pew" Research Survey of OnLine Harassment in the US.

An "Independent Journalist ...who covers the Middle East" Hot Issue, and wrote a "Times"' Article, Nazish, reportedly  "Chronicled the Range of Threats and Violence ...Journalists ... Face" in certain Internet-related cases, , including her own story of "Intimidation during an Investigation on a Security-related Issue", "Following the Publication" of which, "she Faced a Barrage of Social Media Hate", including "Threats", some of which, "were really Specific" and "used specifically to Intimidate me".
In fact, "it is not always ... Strangers who Harass .. Journalists OnLine", since "some comments come (even) from ... Collegues and Sources who engage in ...(what) Exacerbates the Attacks".

 - Thus, f.ex., "Tracking down" those "posting Threats on (Web) pages", "and sending Screenshots" of their Wrongdoings at the Internet, was "an Australian Journalist's" way "to Combat ... Threats OnLine".  

- But, "Going Public", "Can Bring down even Greater OnLine Wrath and escalate into Violence", "as it has been the case with ...(a) Controversy in the US, which has caught .. Journalists Covering ... Violent OnLine" Thugs "who have Soughty to Destroy their Careers, and Pursue them OffLine", resulting in "a Harassment Campaign ...that included Attacks against Journalists ...Covering ..Threats of ..Death that Accompagnied the Vitriol".

However, another "Journalist ... who... was the Target of OnLine Attacks" just a few years ago, and "Continued to Receive Periodic Hate Messages, ..said Going Public made it Easier for her to Deal with it, on a Personal AND Professional level", CPJ's Book notes.

"One prominent Obstacle in getting ...Reporters to Talk about their Cases", f.ex. "about Threats to ..;Journalists", is, nevertheless, also the Fact that "Journalists who Speak out" about that, sometimes "are Publicly Humiliated, Harassed by Supporters of Politicians and the Establishment". Even "their Families and Collegues often Suffer along with them" in such cases.

"In many parts of the world, including countries that have special mechanisms to address online abuse, law enforcement Officials are Rarely Prepared to deal with these types of complaints". So that, "a Common Refrain among Journalists around the World" is that "the Police had No Idea how to Deal with these Attacks".

"In the US", Internet "Users can file Complaints with the <<Internet Crime Complaint Center>> (IC3), while elsewhere, "one of the few Legal Avenues available to Victims ...of On-Line Attacks", "Requires Victims to Send Copies of Offending Photos to the Authorities".

Indeed, among "Steps for Protection against OnLine Threats", are "Includ(ed) Saving Records of them, and Reporting Abuse to the Authorities".

 - "Interviews with Journalists and Increasing Controversy ...indicate that some Managers of Electronic and Social Media Platforms are Aware of the Need to Do More to Empower Users to Combat OnLine Abuse, But there is Disagreement over Whether the Intermediaries should play a More Proactive role - and, if so, How", while "all of the Major Platforms have been Criticized for Lack of Transparency on Reporting and Redress".

In several cases, "Reporting Abuse via a Social Media platform often Feels Futile, as Requests for Help go UnAnswered and Unacknowledged, say Journalists interviewed" by the CPJ "and who have Spoken Out on this topic".

- "Law Enforcement oOcials often suggest that Journalists facing OnLine Threats stay Off" the Internet, "But most Journalists consider this an ImPractical and InSufficient response", because "Journalists are Public Figures who Depend on Social Media both for Researching and Disseminating the News, as well as for Engaging with their Audience and Building their Public Profile. Responding to Attacks by Vacating their Social Media Space can actually Amplify the Abuse, which may then go UnRebutted, and have (even) Economic Repercussions for the Journalist".

"Few Statistics have been compiled about the Scope of OnLine Harassment and Threats", "but such Problems are Widespread according to Numerous Studies, including a ...Survey (co-Authored) by ... the International International News Safety Institute, as well as the work of the Association for Progressive Communications, and Extensive Anecdotal Evidence", observes CPJ's 2016 Annual Report published this Summer.

"Efforts to Combat and Address OnLine Abuse and ...Violence often emanate From the Developed World", "the study by a Best Practices Forum on Online Abuse and ...Violence" against certain Minorities, "at the 2015 Internet Governance Forum concluded."

"An IGF-sponsored Study ...on How to Counter Abuse OnLine", "Found that such Abuse as well as ...Violence <<Impede>> the Victims'  <<Right to Freedom of Expression, by creating Environments in which they do Not feel Safe to express themselves." Moreover, "Journalists who are also Minorities, or who are Foreign to the Countries in which they work, may face Additional Threats or Violence."
=> Indeed, "many ...Journalists who Face such Attacks feel Compelled to self-Censor", since their "Publishers do Not Always Respond" in the way, f.ex., of a "Newspaper (which) ... Publish(ed) a Supportive Editorial, and Provided ...with a Car to Transport ...To and From the Office" one of its Journalists who had been "Attacked OnLine for an ...Article that she Wrote ... while Working as Staff Reporter".

"After giving up Freelancing", that Journalist "began Working as a Staff Writer", and "said her Editor is Aware of what happened". Nevertheless, she "added : <<It still makes me Think Twice before I pitch an Article that talks about"some "Hot" Issues, but "That shouldN't happen."

+ Moreover, "among the Repercussions of the OnLine Attacks was that Editors Stopped accepting her Work. "I caN't work as a freelancer Anymore," she said to CPJ. "The OnLine Attackers Stripped her of that Livelihood".

=> On the Contrary, "Media Compagnies (should) Realize (that) it is really Essential that they Back up the People Working for them, whether they are Freelancers, or Not", the affected Journalist urged.

Speaking at "a Session" of Global "Internet Governance Forum" (IGF) in Brazil, on November 2015, former "Freelancer" Journalist Freitas, reminded that, initialy, "although her (1st) Editor Praised the Quality of (her) Article", nevertheless, "the Newspaper Declined to Publish it", so that "she Ended up Publishing the Article on (Bloggers' Website) "Huffington Post - Brasil"...

"Immediately" after that, she "received Vicious Threats on social Media. Her "Personal information was put OnLine, (known as "Doxxing"), ...and she received packages filled with worms at her house. She Left Home for several weeks out of Fear for her, and her Family's Safety."

----------------------------

"Eurofora" had initialy Faced Various such sly Cyber-Aggressions and other Internet-relatred Harassment since the 2nd Half of 2012, while several Hackers' Sly Attacks and other Web-related Incidents "Exploded" from the Beginning of 2015, becoming quite Dangerous in the Middle of this Summer 2016, (Comp. f.ex. Facts cited Supra).


In this regard, "Eurofora" was Invited to Participate in an Annual Conference of French Authorities, Scientists, Legal and Web Experts, held some Years ago in Strasbourg, (See, f.ex. :...), followed by another, more Recent Invitation also by a Private "Cyber-Security" Company at Meetings organised with SME Businesses during a Digital Technologies Mega-Event held near EU Pariiament's premisses here, as well as by an exceptional Invitation in an Important EU Conference on Internet Security at Lille City, held earlier this year (2016) with Key-note Speaker the EU Commissioner for Digital Economy and Society, Günter Oettinger, from Germany, (to which it became, unfortunately, practicaly Impossible to Attend, due to an Overlaping with EU Parliament and CoE Assembly's Plenary Sessions those Same Days).


(../..)


-------------------------------------------------------------------

***

("DraftNews", as already send to "Eurofora" Subscribers/Donors, earlier. A more accurate, full Final Version, might be Published asap).

***

(NDLR : Headline PICTURE = from "HackMageddon" Cyber-Security News Website's Latest Report for July 2016 incidents' "TimeLine", just published on Mid-August : Comp. Supra).

---------------------------------------------------------------------------------------
BRIEF NEWS
00:00 - 26.05.2017

00:00 - 30.01.2017

00:00 - 14.10.2016

00:00 - 24.09.2016

00:00 - 27.07.2016

00:00 - 03.07.2016

00:00 - 01.06.2016

00:00 - 12.02.2016

00:00 - 09.12.2015
Statistics
Besucher: 19597641
Archive
Login Form
Other Menu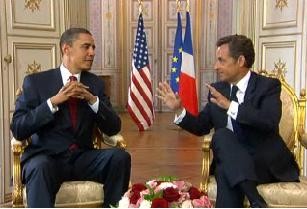 La Turquie, test-clé d'Independance de l'Europe face aux USA, les aménant de chercher en commun des nouvelles idées pour se mettre d'accord ?  
 Le débat, amical mais clair, entre les Présidents Américain et Français, Obama et Sarkozy,  la veille des elections européennes du 7 juin 2009, a montré que la question controversée sur la démande de la Turquie d'entrer dans l'Europe est actuellement le point central et le test le plus pertinent de l' indépendance de la France et de l'Europe par rapport aux Etats Unis.   
 Les electeurs européens, aussi bien en France qu'ailleurs en l'UE, auront une seule chance à trancher, ce dimanche 7 juin 2009, en choisisant leurs eurodéputés pour la période 2009 - 2014, car après ca risque d'être trop tard, vu que tous ceux qui suivent les affaires européennes dépuis des décennies savent qu'en réalité, le moment des décisions sur la Turquie viendra au plus tard en 2013, date rétenue dépuis longtemps pour une importante révision des "Perspectives Financières" de l'UE qui reflètent des choix Politiques fondamentaux.

    Le Président français, (récement encore représentant de l'UE, dans laquelle il joue un rôle important, ensemble avec la chancelière allemande Merkel, et autres leaders européens, ayant une influence notable auprès des Citoyens Européens, comme les derniers sondages montrent), réagissant à la repétition, par le nouveau Président Américain de la vieille position traditionelle de l'Washington poushant toujours vers la démande de la Turquie d'entrer dans l'Europe :

     - "Je ne peut pas laisser détruire l'Europe, (qui) est un élément de stabilisation du Monde", réponda Sarkozy. "J'ai dit au Président Obama que pour moi il était très important que l'Europe ait des Frontières", a-t-il souligné, confirmant la position Franco-Allemande commune, récemment rappellée ensemble avec la Chancellière Merkel.

    - "Il y a une différence (entre France/EU et les USA)...  sur les modalités. La position traditionnelle des Etats-Unis d'Amérique, c'est l'intégration" de la Turquie au sein de l'UE. "C'était la position du Président Bush, du Président Clinton, de tous les présidents américains".     
- "La mienne vous la connaissez : Ce n'est pas l'intégration dans l'Union Européenne. Mais j'ai proposé que nous réfléchissions, l'Europe, la Russie, la Turquie à la création d'un Espace Economique et de Sécurité en commun", a ajout Sarkozy rappelant son invitation de créer quelque chose de neuf et mieux adapté.

    Mais, "cela ne veut pas dire qu'il faut repousser la Turquie dans les ténèbres. La Turquie est un allié dans l'OTAN, (et) une Passerelle entre 2 Mondes, voilà quelle est la meilleure modalité. C'est cela dont nous avons parlé", revela-t-il. Si "nous avons une Différence sur les Modalités, nous n'avons pas une différence sur l'Objectif : Faire de la Turquie un élément de Pont entre l'Orient et l'Occident", Sarkozy assura Obama.

    - "Laissez-nous au moins une légère divergence sur un sujet, cela vous permettra de bien réfléchir pour les prochaines échéances", ajouta Sarkozy en réponse à un journaliste de l'opposition Socialiste qui avait soulevé la question de la Turquie, en la melant (comme un lobby turc notoirement essaie de faire pour exploiter la manipulation de quelques Arabes, la Civilisation Historique desquels fût pourtant detruite par l'ex-empire Ottoman-Turc) avec une question tout à fait différente : celle de la voile islamique (!), avec laquelle elle n'a rien à voir.

    - "Sur la Turquie, Monsieur, vous appartenez à un journal ...qui a appelé à voter, au moment de la présidentielle, pour mon adversaire.... Quel était votre argument à ce moment-là ? Vous disiez : « Attention, Nicolas Sarkozy va trop s'aligner sur les Etats-Unis d'Amérique », et je vois que deux ans après vous dites : « Ah, il y a un sujet sur lequel le Président Obama et le Président Sarkozy ne sont pas d'accord » Cela devrait vous rassurer, Monsieur" , réponda-t-il, en faisant sourire même le président américain, (et laissant entendre que trancher définitivemen la controverse sur la Turquie pourrait être au coeur de l' Elections Présidentielle  en France pour 2012 )
-------------------
    - "Ce que les Etats-Unis peuvent faire, c'est encourager ....TOUT PROCESSUS qui permettra à la Turquie d'être convaincue qu'elle a des amis, que ce soit la France, les Etats-Unis ou l'Europe", réponda Obama, apparamment n'excluant pas, a priori, le point de Sarkozy sur la création d'un espace commun d' économie et sécurité entre l' UE, la Turquie et la Russie (v. supra).

    "Les Etats-Unis ne sont pas membres de l'Union Européenne, nous ne pouvons pas dicter si un pays quelconque adhère ou n'adhère pas à l'UE"; Obama a admis, parlant de la "Turquie, (sur laquelle) le Président Sarkozy et moi nous sommes entretenus sur ce dossier avant".  "Maintenant le Président Sarkozy représente un Etat membre de l'Union Européenne et il a une position différente", opposée à démande turque d' entrée dans l'UE.    
 "La Turquie par contre est un allié de l'OTAN très important. ...La Turquie a fait connaître son intérêt à une intégration croissante avec l'Europe et nous (USA) encourageons cette attitude. J'ai souvent dit que l'adhésion de la Turquie à l'Union européenne serait importante".     
"Mais, (en tout cas) je crois qu'il est important de noter que le Président Sarkozy appuie fortement le travail que la Turquie fait au sein de l'OTAN et je crois qu'il s'intéresse à une intégration économique plus intense avec la Turquie". (Ce qui pourrait se faire, justement, avec un "parténariat privilegié" adéquat et/ou l'idée de créer un espace commun EU - Turquie - Russie  : V. supra).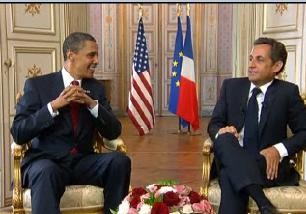 Est-ce que l'effort du Président de la France, soutenu par la chancelière Allemande et l'opinion publique de la plupart des Citoyens Européens la-dessus, de trouver un accord entre l' Europe et l' Amérique sur la Turquie, en proposant de sortir des chemins battus et créer du neuf, en etablissant "un Espace Commun d' Economie et Sécurité" (v. supra), suffira de calmer un lobby traditionaliste à quelques bureaucrates de Washington DC, datant dès l'époque de l' ex-"Guerre Froide", beaucoup plus ancien que le nouveau Président vénu de l' oxygen des "grands lacs" près de Quebec du Canada : Chicago, connu comme "la ville du vent" nouveau ?
-----------------------------------------------------------------------
Le Prémier Ministre Fillon appele à "faire vivre le Rève Européen"
------------------------------------------------------------------------  
 Seul l'avenir le dira. Mais, entre-temps, l' Europe ne peut plus attendre et perdre encore plus du temps et d'energie vitale sur la démande controversée de la Turquie, qui a notoirement menacé d'arrêter l'édification européenne dépuis 1999-2005 :

    Comme le Premier Ministre François Fillon a clairement dit, un peu plus tôt cette semaine, dans un discours éloquent sur les enjeux de l' Election Européenne de ce juin 2009 (V. résumé envoyé aux adhérents d'"EuroFora"),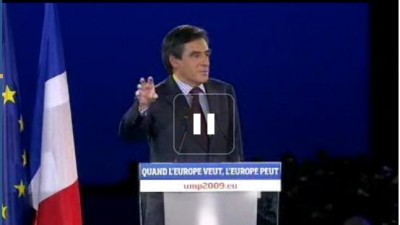 - "S' abstentir, c'est laisser à la Technocratie le pouvoir de dominer" la vie des Citoyens européens, qui devraient prendre l' Europe en branle le corps", et commencer d'agir par toutes les voies politiques démocratiques, prennant conscience que "l' Europe c'est Nous, (i.e. les Citoyens), et "Pas eux !" (i.e. les Technocrates), selon une image symbolique.

    - "Je me souviens de l' Europe obligée de faire Silence, (au Passé), quand "les Grands" décidaient de son sort", rappela Fillon.  "Je me souviens de l'Europe divisée, de l' Europe dominée" par d'autres, '"de l'Europe appauvrie""Je me souviens de Berlin occupé, muré, divisé comme un butin qu'on tire aux dès. Je me souviens du Silence de Varsovie. Je me souviens du Silence de Prague"..   
 - "Nous, les Européens, nous avons bien failli sortir de l' Histoire, et dévenir, pour du bon, les dès d'un jeu joué par d'autres".     
- "C'est pourquoi je ne peux pas concevoir une Europe qui ne serait pas Souveraine, une Europe qui ne serait pas Maitresse d'êlle-même", aujourd'hui et démain, martella-t-il. "Le Monde s'est habitué trop longtemps à une Europe faible, que l'on pouvait traiter avec condescendence".  
 - "Le moment est venu de rélever le défi : Le moment est vénu de montrer que, nous les Européens, avons décidé d'être débout, et d"être nous-mêmes".     
"Dépuis 2 ans (i.e. dès les Elections Présidentielles de 2007), avec Nicolas Sarkozy, nous avons oeuvrer pour relever notre Identité Nationale (de la France), dont nous sommes fiers. Et bien, l'' Identité Européenne mérite tout autant, elle qui prolonge les Génies de nos Nations".


    - "Je crois à la présence d'une Civilisation Européenne", déclara Fillon, largement applaudi par des milliers de personnes ayant entendu une série des Musiques entremelées characteristiques de differents pays européens, et des images lumineuses géantes avec des extraits symboliques de Goethe, de Victor Hugo, de Shakespeare, et d'autres auteurs italiens, espagnols etc celebres à travers l'histoire.

    - "L' Humanisme, la tolerance, la Liberté de la Conscience. La Solidarité. L' Etat de Droit. La confiance placée dans la Science, l' Innovation, le progrès. Toutes ces Valeurs, elles disent clairement où commence et où s'épanuit cette Europe" que nous voulons, observa-t-il.

    En harmonie avec les positions soutenues par le Président du Parlement Européen, eurodéputé allemand, Hans Gert Poettering, et la Chancelière allemande, Angie Merkel, sur la "Dignité Humaine" au coeur des "Valeurs de l' Europe" moderne. Ce qui fait qu'" avec un Elargissement sans fin", même vers la Turquie, c.a.d. "sans Frontières, l' Europe Politique, l' Europe des Valeurs et l' Identité européenne" ne peuvent pas exister, comme a dit aussi le Président francais, Nicolas Sarkozy, recemment à Berlin.

    Fait important : Cette observation de Fillon a été faite le jour-même que le Comité des Ministres du Conseil de l'Europe à Strasbourg concluait une semaine de réunion semestrielle sur les Droits de l'Homme, qui a examiné un grand nombre d'affaires des pires Violations (pex. Tuéries scandaleusement non elucidées, Persecutions et privations arbitraires de Liberté, personnes portées "Disparues", Tortures et "traitements inhumains et degradants", Usurpations illégales des Maisons et Patrimoines privées de Réfugiés, etc., pour lesquelles la Cour Européenne a condamné la Turquie dans plusieurs jugements, dont on attend toujours l' application)...

    - "C'est pourquoi un Elargissement sans fin de l' Europe ne peu pas être un objectif en soi. Parce qu'il ne peut que diluer l' élan européen, et detruire l' Idéntité Européenne"

    -" Voilà pourquoi nous disons, très sereinement, que nous ne sommes pas favorables à l' adhésion de la Turquie dans l'UE", conclua le Premier Ministre de la France; largement applaudi par des gens qui soulevaient le drapeau européen.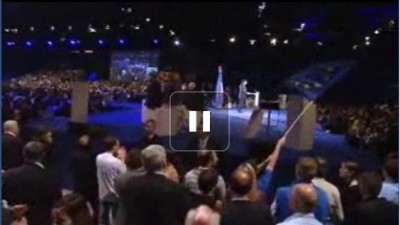 "Ce n'est pas un Slogan de meetings. Ce n'est pas la marque une "Hostilité" au régard de cette grande Nation (i.e. la Turquie), qui doit être étroitement associée à l' UE", pex. par un partenariat priviliegié, ou une autre formule adaptée.

    - "Mais il lui faut des Frontères à l' Europe, il lui faut des Frontières stables, qui lui permettent de renforcer son Unité et son Identité", a-t-il expliqué.

    - "Alors, c'est au nom de cette Europe charnelle, que je m'engage avec vous. Mais, cette Europe-là, ne peut avancer qu' à une seule Condition : celle de l' Europe Politique".

    "Nous avons longtemps douté qu'elle soit possible : Aux années 1970, Henri Kissinger (le notoire ex- Secretaire d'Etat Américain aux affaires etrangères, consideré, à tort ou à raison, comme chef d'orchestre du renversement du Président Allende en Chili, de l' invasion militaire de la Turquie à Chypre, etc), disait, avec une ironie blaissante : - "Ah, l' Europe ? : Quel numero de Télephone ?..." Pendant les 6 mois de la présidence française de l'UE, (7-12/2008), Henri Kissinger n'aurait aucune difficulté de rejoindre l' Europe !", observa-t-il en suscitant des nouveaux applaudissements nourris.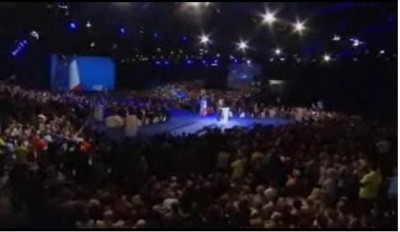 "J'au vu l' Europe Politique se dresser, et prendre ses responsabilités : L' Europe Politique c'est celle qui agit sans délai, et avant les Etats-Unis, pour stopper des faillites Bancaires qui s'enchaînent, qui nous auraint plongés dans une Depression pire que celles des années 1929. L' Europe Politique est celle qui, maintenant, doit mettre un fin à un Capitalisme Financier, qui a perdu sa boussole. L' Europe Politique est celle qui a réussi d'etablir le règles les plus ambitieuses au Monde dans la lutte contre le rechaufement Climatique. Samedi, nous celebrons l' anniversaire du debarquement de la Normandie, où nos amis Américains ont pris une part décisive à nôtre libération. Mais, en décembre 2009, à la Conference (Mondialle) de Copenhague, c'est nous les Européens, qui allons leur montrer le chemin vers cet avénir commun" pour la sauvegarde de l'Environement naturel. L' Europe Politique c'est celle qui, en août 2008, lorsque la Guerre faisait rase entre la Russie et la Géorgie, s'est interposée pour imposer la Paix. Et c'est elle qui doit, maintenant, se doter des moyens Militaires de se défendre par elle-même, pour elle-même", ajouta-t-il en évoquant clairement la création d'une Défense Européenn Autonome.
    "L' Europe Politique c'est celle qui doit bâtir des grands champions Industriels Européens, comme nous avons fait, auparavant, pour (l'avion) Airbus ou (la fusée) Ariadne. C'est celle qui doit exiger la Reciprocité dans les rlations Commerciale avec nos grands partenaires", sans Dumping Social ou Environmental, ni autre Concurrence Deloyale. "C'est celle qui doit se doter comme objectif d'être "le Continent de l'Esprit", réunissant les plus grandes Universités du Monde, en multipliant les Connexions, entre Scientifiques et étudiants."

    "Nous respecterons nos engagements, jusqu'au dernier", souligna le Premier Ministre de la France, peu après que les candidats-eurodéputés de la coalition Gouvernementale (UMP : Mouvement pour la Majorité Présidentielle) ont signé solennement, devant plusieurs milliers des Citoyens, une spectaculaire pancarte-géante avec "7 engagements" pour les Elections Européennes du 7 juin, auxquels figure aussi l'engagement de "s'opposer à l' adhésion de la Turquie dans l'UE".

     - "Parcque ce respet des engagements est une exigence si nous voulons rétablir la Confiance entre les Responsables Politiques et les Citoyens", conclua Fillon, la veille de ces Elections Européennes de juin 2009, après les Abstentions Majoritaires de 1999 et 2004, suivies de 3 "NON" à 3 Euro-Réferenda dépuis 2005, (dates auxquelles, quelques gouvernements du Passé, avaient donné le statut d'un "Candidat" et commencé des "Négotiationa d'adhésion" avec la Turquie, suivies d'un blocage sans précedent de l' édification européenne)..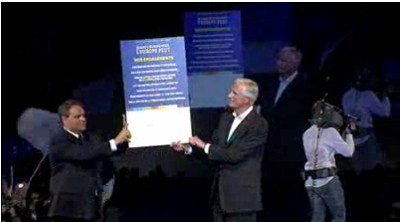 "Nore Europe n'est pas n' importe quelle Europe : L' UE Technocratique n'est pas la nôtre. ... L' UE sans Frontières n'est pas la notre. L' UE desincarnée n'est pas la notre". "Nous portons une idée de l'Europe" qui "n'est pas celle des Statistiques et des Bureaux(crates). L'Europe ce n'est pas qu'une Monnaie. Ce n'est pas qu'un Marché. économique".

- "L' Europe c'est d'abord une Culture. L'Europe c'est une Histoire", a-t-il dit, largement applaudi.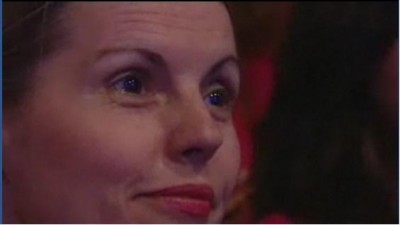 "L'Europe c'est une rencontre entre des Nations qui sont Millénaires et qui sont Brillantes. L'Europe c'est Paris. C''est Madrid. C'est Prague. C'est Londres. C'est Rome. C'est Varsovie. C'est Berlin. C'est Vienne. C'est Athènes : Quant on énonce ces Villes, alors on "sent" nos Héritages et nos Cultures entremelées qui circulent dans nos veines".

    - "Je suis Européen, parcque profondément Français, je sais ce que je dois aux influences de l' Atlantique et de la Méditerannée. J'aime ces Traditions qui offrent à chacun des nos Nations leur éclat. .. J'aime ses saveurs, ses paysages divers. Ils sont également miens, ou, plus précisement, je suis également fait d'eux. Je suis Européen, car, Français, j'aime l' Europe ouverte vers l' Amérique, vers l'Orient, vers l' Maghreb. J'aime les quais de Vénise, ceux d'Amsterdam. J'aime les quais de Thamise où sont vénues pendant des siècles s'amasser les richesses et les nouveautés du Monde. J'aime l' Europe curieuse. L'Europe qui rêve des lointains : L' Europe de Vasco de Gama, de Magelan. de Bougainville, de Charcot, de Monot... Cette Europe qui, aujourd'hui, s'élance vers l' Espace. Je suis Européen parce que Français, j'aime l' Europe qui prospère et qui invente. J'aime l' Europe des Trains à Grande Vitesse. J'aime l'Europe des Satellites et des Fusées. L'Europe de la Mode et des Atéliers d' Artistes. L'Europe des Grands Laboratoires, des Ingéniers. des Entrepreneurs, des Grands Architèctes, des Traditions Ouvrières. Comme rançais, j'aime l' Europe qui dit "NON" à la Tyrannie et qui se soulève à l'appel de la Liberté", a-t-il dit en

 
"Je me sens lié à ces femmes et ces hommes sans nom, qui ont levé la tête, et qui ont sécoué le joug sous lequel .. on les avait fait pliér", dit-il en évoquant pex.. la Révolution Française de 1789, le Siècle des Lumières, l'appel du Général de Gaulle contre l'Occupation NAZI, et les pires heures obscures qu'un  "Fascisme" ou "Communisme" devoyés, suivies de la Guerre Froide avaient plongé l'Europe au Passé.

"Ils sont des millions, ces Héros Anonymes de notre temps, que nous croisons sans le savoir dans nos rues et nos places. Et je ne peux pas concevoir l'Europe sans eux, et sans tous ceux qui poursuivent leur combat contre l'arbitraire et le fanatisme", ajouta Fillon. Faisant pex. rappeler un récent Film allémand, primé au Festival de Vénise, qui décrivait la vie d'un cadre à l'époque d'un régime oppressif, qui avait été chargé d'espioner la vie privée et familiale d'un couple soupçonné d'être dissidents politiques, mais, ému par leur honnêteté humaine et leur sacrifice pour sauver d'autres, a preferé risquer sa place et sa propre liberté pour les sauver, sans même qu'ils le sachent, condamné dépuis à faire un bas boulot d'anonyme perdu dans la foule..


"Quand je vois l'Europe moderne, je vois les résultats de l' Audace de ces hommes qui ont brisé les traditions de conflit et de violence. Je vois des nations soudées autour d'une monnaie unique et protectrice. Je vois 27 jeunesses appelées de grandir ensemble, sans défiance. Je vois 27 peoples unis, qui nous interdisent de jouer les blazés ou les indifférents".

Jettant "un régard lucide sur les errements de la construction européenne", Fillon a observé que "l' Europe n'a pas bésoin d'être idélisée pour être ce qu'elle est ; Cad. une aventure humaine, avec ses faiblesses et ses forces".

"Vous voulez que l' Europe agisse ? Fixez-lui des objectifs clairs. Vous voulez la Démocratie ? Agissez en Citoyens. Vous rédoutez la prétendue Bureaucratie des Bruxelles ? Alors renforcez, par votre Vote, les instances élues au Parlement Européen" qui sont chargés de la contrôler.

- "Si nous voulons faire vivre "le Rêve Européen", .. alors nous avons tous le dévoir de l' engagement", a-t-il conclu, appelant de "engager pour le drapeau tricolore et le drapeau étoilé, car ils symbolisent tous les deux la fierté de nôtre nation et la force de nôtre union".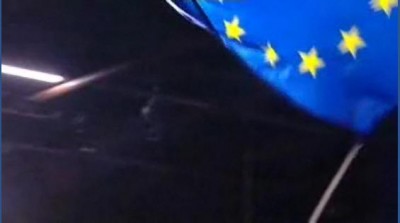 Polls