Home

newsitems

Turkish Elections' Legitimacy Challenged by CoE+OSCE: Bad Changes impact on Vote Results
Turkish Elections' Legitimacy Challenged by CoE+OSCE: Bad Changes impact on Vote Results
Monday, 17 December 2018


*Strasbourg/Angelo Marcopolo/- The critical Findings of a joint Report adopted both by Pan-European CoE and Trans-Atlantic OSCE this Week-End, Challenge the Legitimacy of Turkish Elections, including those of 2018, on which are based the current Government and President of Turkey, also because of Last-Minute Changes impacting the Vote's Results.

Decided by slightly more than only 2% or 3%, those Presidential and Parliamentary Elections had been already accused by the EU, OSCE a.o. for UnEqual Conditions, exceptional Restrictions to Freedom of Expression and/or Assembly, under State of Emergency, etc., to which, NGOs and Medias had also added alleged "Stuffing" of Ballots, particularly in certain key areas, etc.

Now, the 61 Member States' strong (including EU Countries, Russia, Brazil, Magbreb [Algeria/Tunisia/Morocco], Korea, Brazil, Mexico and USA, i.e. 1,6 Billions of People) CoE's body of Top Legal Experts on Democracy and Human Rights through Law, known as "Venice Commission", together with OSCE's, 57 Member States strong, specialized ODHIR Office, focused mainly on "Last-Minute" Changes in Turkey's Electoral Laws, suddenly introduced by Ankara's Government on March and April 2018, i.e. shortly before the "Early" Presidential and Parliamentary Elections of June 2018.

- Even if "Venice Commission"'s Reports usually concern Future moves by the concerned States, nevertheless, in the Exceptional Circumstances of this Turkish case, they inevitably concern also that Recent Event, CoE body's Head on Elections, Pierre Garrone from Switzerland, confirmed, speaking to "Eurofora".

Significantly, the move responded to an Official Demand made by CoE Assembly's (PACE) "Monitoring" Committee, on the Honouring of Obligations and Commitments by CoE's Member States, initiated by PACE's Co-Rapporteurs on Turkey's Obligations, (Marianne Mikko from Estonia and Nigel Evans from the UK), and transmitted by that Committee's President, Sir Roger Gale, from the Governing Brittish Conservative party, with an Official Statement of the Majority of MEPs, expressing "Deep Concern", and Warning that the recent Situation in Turkey "will Impede ... genuinely Democratic Elections", so that, "the overall Legitimacy of these Elections is at Stake", asking "to Postpone" them !

- Turkey has to "Abide" by "CoE's Fundamental values, including the holding of Free and fair Elections", stressed the Statement of that key body of CoE's Assembly, from whose "Green Light" practically Depends EU's decision to hold, or Not, Pre-Accession Negotiations with a Candidate Country, which have recently been practically Stalled with Turkey, and Nowadays face even an Explicit Call inside EU Parliament to Officially "Freeze" them asap, while the Majority of EU Citizens in several Important EU Countries (including France and Germany, etc) notoriously Want to bring Ankara's controversial and unpopular EU bid to a clear End.

-----------------------------

PACE's Monitoring Committee had already expressed its "Deepest Concern", (since April 2018), for the holding of those "Early" Elections, (on June 2018), in the Conditions currently existing in Turkey.

The main Findings of the joint Report adopted Now by CoE and OSCE (comp. Supra), focus on "Amendments (which) Substantialy Change the Rules", and were "adopted ...only 1 Month prior to calling ...Snap Elections", unusually "Early" : "1,5 Years Ahead of Schedule", and "on the Same Day (that was) approved the ...Extension of the State of Emergency", as PACE's "Monitoring" Committee had already deplored previously, expressing "its Deepest Concern", both because "Changing the Election Rules 3 Months Before Election Day" "Contrary to International Standards", "in a Hasty and Non-Inclusive way", as well as since "it is Impossible to hold genuinely Democratic Elections under the State of Emergency", added even to still "on-going Security Operations in South-East Turkey"'s predominantly Kurdish population regions.

- "Serious Questions" are raised, on "several" of these Last-Minute Changes of Rules, "about Election Security, Transparency and possible Interference of the Executive" in those Votes, PACE's Committee had Warned, pointing, f.ex., on "the possible presence of Police forces in polling Stations, which could have a Deterrent effect on Voters", and on "the decision to Accept Non-Stamped Ballot Papers", which risks Stuffing Ballots, etc.

- Already, such "Late Amendments" to Electoral Law (Comp. Supra) "raise 4 Concerns" : 1) They "may Undermine ... a Fair and Stable Framework ... providing... an Equal playing ground". 2) "In particular, if they are Rushed, may be Detrimental to an ...Inclusive ...process". 3) "Might be perceived, ...as politically Biased, that is as Intended to (Dis)Advantage some Political Parties and Candidates", "Undermining Trust" in such Elections. 4) "Diminish the opportunity... to become Informed, ...and Limit the needed Time for ... Preparations, including (administrative) Training and Voter Education". CoE and OSCE point out.

- Such Late Changes were normaly Excluded by the Turkish Constitution, (which required at least "1 Year" before the Elections), but this was Modified in the 2017 Constitutional Reform. However, even the latest's, Shorter Time "Deadline" : "6 Months", was "Significantly Exceeded" by those March-April 2018 Changes to June 2018 Elections...

- This became a fortiori problematic since Many of those "Late Amendments" touched upon "Fundamental Elements of the Electoral System", provoking "particular Concern", CoE and OSCE critically observe :

1) "One" was the "Introduction" of Parties' "Alliances ... in relation to the 10% Electoral Threshold", "very High in Turkey", which "regulates the Transformation of Votes into Seats", and "Impacts a Fundamental Element" : "At the (Late) Time of its Adoption it was Clear ... that this ... could have a Significant Impact on the Electoral Results", and, "indeed", it had "a Direct Impact, ...as it Allowed the junior Partner in the (Nationalist) Opposition Coalition, the (New) <<Good Party Iyi>>, to Meet the Threshold and thus be Represented in Parliament", (while, on the Contrary, the pro-Peace and Democracy, pro-Kurdish "HDP" Party, was attributed Less MPs than otherwise expected).

Moreover, that exceptionally High 10% Threshold had been, in the Past, tolerated in the case of Turkey, mainly on the Pretext to form "Stable" Governments, but Now, after the recent Introduction of a Presidential regime where it's the President who forms any Government (2017), there is "No longer" any "major Justification" for that, and it should be "Reconsidered", CoE and OSCE found.

2) Those "Amendments" also "Changed the Composition and Leadership of the Ballot Box Committees", "by Introducing (Government-Controlled) Civil Servants", including for their "President"; "while, Previously, (only) Party-Nominees were BBC Presidents". Another "Fundamental" point. Particularly when, "due to the perceived Lack of Independence of Turkey's Civil Service from the Political Powers, it's Hard to see how ...BBCs can be considered Impartial, as Required by the Code of Good Practice in Electoral Manners".

In Addition the Turkish Supreme Board of Elections (SBE), ("a Powerful State Organ, which, in addition to Organising elections, also makes final Decisions in electoral Disputes and on the electoral Result, withOut possibility of judicial Review"), and is composed mainly by "Judges", became "Extremely Problematic" on "Independence" after the 2017 "Constitutional Reform" which allows the Turkish President to Control Judges and Prosecutors Directly and/or via its Parliamentary Majority, CoE and OSCE found.

3) Evenmore, "Several Important Safeguards, for Transparency and ...Security, were Affected by the ... Amendments..., which may Undermine the Integrity of Elections". F. ex. :

- "Allowing Ballots that have Not been Stamped by the BBCs to be considered Valid".

"This increases the Risk of Ballot (or Envelope) Stuffing", the Report Denounces. Indeed, "Other safeguard Measures, such as the WaterMark on Ballots, ... are Not a Guarantee that it wasn't Brought in from Outside the Polling Station", and "this Undermines the Voters' Right to an Accurae Assessments of the Ballot's Results". On the Contrary, "Stamping the Ballots or Envelopes is ... a Safeguard that a person is Not able to put More than 1 Ballot into the Ballot Box simultaneously, by Ensuring that Additional Ballots canNot be Brought into a Polling Station". But the Turkish Amendments "do Not ... establish a Procedure", neither "Clear and Objective Criteria" on "Whether an "UnStamped Ballot was ...due to Negligence, or ...Fraud, leaving room for Arbitrary application".

Indeed, alleged "Widespread Stuffing", (mainly in favour of pro-Government Extremist "MHP" Party), impacted these Turkish Elections, particularly in the South-East, also according to Data cited in a "Washington Post" Article, as reported by a reference noted by "Wikipedia", among others.


- "The possibilities" :
* "for (Central Government-Controlled)) Governors and Presidents of provincial Electoral Boards (Comp Supra) to request Moving or merging Polling Stations", under "Security" pretexts.

This "raises additional Concerns about ImPartiality", CoE and OSCE Warned, considering also that this "Legislation does Not include Strict, Clear, Objective Parameters for its application", speaking Only about "Security", with a "Wide Margin of Appreciation, which could be Abused, and Lacks Transparency". "ReLocation of a Polling Station may make it Difficult for Voters to exercice their Rights", and it "was Extensively Used in the 2018 Elections", triggering "Claims" that it "Limited Access to the Vote of the Kurdish Population", while "Numerous formal Complaints were lodged".

* even "for Voters living in the Same Building Address, to be assigned to Different Polling Stations";

Turkish "Authorities" claimed that it "protected the Secrecy of Vote", but Others "were Concerned that" this "allowed Fraudulent Voting ...(e.g. Deceased Votes to be Registered)" and a "Difficulty for Parties, Voters and Observers to Control the Voting Lists", in Addition to "the Distance of Voters from Polling Stations".

* as well as for "the SBE to Determine the Number of Voters per Polling Station", which is "No Longer" Fixed by Law :

A "Discretion" which "may lead to OverCrouding or Discrepancies between Polling Stations, Denying in practice the Right to Vote in some areas" : F.ex., "give Advantages to Majority political parties if More polling Stations are set up in the regions with wider Support for them, while Fewer polling stations are set up in regions where the support is wider among Opposition parties", etc. "Moreover, Voters should be Informed, well in Advance", and "Distance and Transport means ...considered". CoE and OSCE are for "Equality in the Size of Polling Stations", with "a Maximum Number of Voters" to be provided by Law.

* and for "Any Voter to request Law-Enforcement presence in Polling Stations", ("in Violation" of International Standards); as well as the "Increased Access for Law-Enforcement Personnel to Buildings housing Polling Stations"; But this may "Disrupt the Voting process by repeated and Unwarranted calls for Security Forces", while "a high level of Unreasoned presence of Police officers in the Polling Stations could Hamper a smooth Voting free from Intimidation", CoE and OSCE Warned.

A fortiori when Amendments also "Restrict" the "Ballot Box Area" only "to the <<Room, Section or Place>> in which a Ballot Box is placed", while, "Before" that, BBArea "also Included a 100 metre Radius Around the Polling Station" : But, by "Narrowing the BBArea", this "also" Extends a possible "presence of Security Forces", "Allowing" it even "in the immediate Vicinity of the Polling Station, including in Hallways of the Buildings that House" them, "where Voters are Queuing", and this "could have an Intimidating effect".


* "the Introduction of Mobile Ballot Boxes", (officially due to help Handicaped persons,"unable to be physically present at Polling Stations"), "should" be placed "under Strict Conditions, Avoiding all Risks of Fraud", according to International Standards, and "defined ... in the Legislation, to provide ...Stabiity, ...Predictability; ...Transparency and ...Trust", the Report found.

(Etc.+)

- "Adding to (CoE + OSCE's) Concerns"; such "Amendments were adopted in a Hasty manner, withOut proper Consultation ..(of) the opposition Parties and Civil Society", "moreover made in a State of Emergency, Limiting ...Democratic Debate and the Free Expression of a Plurality of Views", despite the fact that they "may have Significant Consequences for the exercice iof Suffrage Rights" and "the Electoral Result".

=> In Consequence, "Taken Together", all those Late and "Significant Amendments" (Comp. Supra), "their Timing and Process",

(added to the pre-existing Lack of Judicial Review of the decisions of the Supreme Board of Elections [SBE],including on Final Election Results", and to a "system of Seat Allocation to Constituencies, which results in a significant Differential in the Number of Votes per parliamentary seat, ... Inconsistent with ... Equality of the vote"),

=> "Challenge the Legitimacy of Turkish Electoral legislation", CoE and OSCE concluded.

-------------

+ All these Findings are Added, according to CoE Assembly's "Monitoring" Committee's earlier official Statement mentioned above (Comp. Supra), also to the well Known Fact that "the State of Emergency has, since July 2016, led to Disproportional measures and Unacceptable Restrictions of fundamental Freedoms - in particular freedom of Expression, Media, and Assembly. It has Affected Negatively and disproportionally Oppositional and critical Voices", while "No Progress was achieved since then" : A significant number of Parliamentarians from the opposition (10), Journalists (about 150) and Human Rights Defenders remain in Detention, while Many Other face legal cases on Terror-related Charges. Many NGOs were Closed down. Numerous Media have also been Closed down, or Bought up by pro-Government businessmen. A newly adopted Law has Tightened the control of On-Line broadcasting", (etc).

- Even "Repeated" previous Denonciations, by CoE's Assembly and CoE's Anti-Corruption Watchdog "GRECO", related to "Media Coverage, and Funding of Electoral Campaigns and Political Parties" in Turkey, still remain "UnAdressed", "Regretted" PACE's Monitoring Committee.

-----------------

=> That's why PACE's Monitoring Committee's official Call to "Postpone" those Turkish Elections (Comp. Supra) had been adopted already as Early as since April 2018, i.e. 2,5 Months Before the Date Scheduled for the controversial Votes of 24 June 2018, and it's obviously in order to Support this move, that MEPs had asked  CoE's "Venice Commission" Top Legal Experts to examine also those Last-Minute Changes to Turkey's Electoral Law, (f.ex. at their Meeting of 21-22 June 2018).

>>> But, curiously, "Venice Commission"s reaction was Delayed, for unknown yet reasons or pretexts, (particularly in order to Publish the Full Text of its Report), up to ... 17 December 2018 !

However, this CoE's latest Critical Publication almost Coincides with a renewed outbreak of Turkish Government's threats against Syrian Kurds (EU + USA's Allies against ISIS' Islamist Terrorists cowardly Targetting even Civilian People), provocations vis a vis Cyprus and Greece, Interferences in France's internal affairs, and a Trend to Augment the Number of Irregular Migrants/Mass Asylum Seekers send to Europe by Turkish Smugglers, (despite more than 3 Billions € wasted by the EU in a controversial attempt to convince Ankara to prevent that), which are Raising EU, USA's and Other Countries' Concerns.

Meanwhile, the Dates for the Next CoE Assembly's Plenary Session, on January 2019, and for EU Parliament's debate and vote on a New (and more Critical) Report on Turkey's controversial and unpopular EU bid, shortly Before the forthcoming May 2019 European Elections, are Approaching.
(../..)

----------------------------------


***


(NDLR : "DraftNews", as already send, Earlier, to "Eurofora"'s Subscribers/Donors. A more accurate, full Final Version, might be Published asap).
***
BRIEF NEWS
00:00 - 08.05.2019

00:00 - 23.04.2019

00:00 - 01.04.2019

00:00 - 04.03.2019

00:00 - 29.01.2019

00:00 - 08.12.2018

00:00 - 09.07.2018

00:00 - 31.05.2018

00:00 - 26.12.2017
Statistics
Visitors: 34810956
Archive
Login Form
Other Menu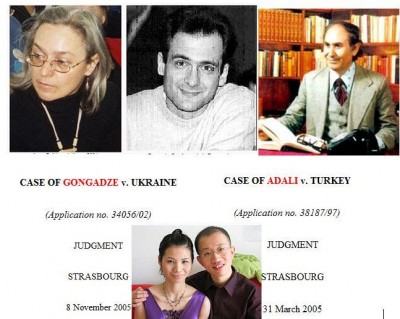 Hu Jia's prize brings SAKHAROV's wife to "EuroFora" on murders of Journalists Politkofskaya, Gongadze and Adali :
- Elena Bonner : "All Journalists' murders must be fully investigated", without Double Standards.                                                                                    

During a special Mega-Event to celebrate 20 Years of SAKHAROV Prize for "Freedom of Thought", attributed in 2008 by EU Parliament to jailed Chinese Cyber-Dissident Hu JIA, the move was reinforced by strongly criticizing the persisting impunity in three cases of Journalists' Murders, such as POLITKOVSKAYA in Russia, GONGADZE in Ukraine, and ADALI in Turkish-occupied part of Cyprus.

Any bureaucratic doubt about whether Cyber-dissidents like Hu JIA might have, or not, a right to be protected as all Journalists must be, particularly when they take risks to search, find and publish original and critical News on issues of general interest to the society, could not resist to the emotion provoked by the message of his Wife, Zeng JINYAN spectacularly transmitted at a big screen in EU Parliament's hemicycle :

- "The most important and most interesting thing he did was to ... say the Truth :.. to write about the phenomena he observed... He never stopped Publishing.. on websites, so that the Public could learn about the reality .. and understand it.  In my view, this has been his greatest contribution", stressed the young wife of the jailed man, eager to cite also the cases of other critical journalists who faced various kinds of "harassment".

 - "Welcoming all those who have suffered for defending Human Rights", EU Parliament's President, German MEP Hans Gert POETTERING, who had invited to Strasbourg all former Sakharov prize-winners from various Countries throughout the World, said that "China needs Europe, and Europe needs China : A great nation" with which "we want to have a good relationship", "association and ..friendship". "But we are never going to stop our fight for Human Rights, and No Government can expect this from us".

    - "It's impossible  to achieve goals of Peace, if Human Rights are left out. In fact, Peace and Human Rights are intrinsequaly linked", added POETTERING.

    It's in this spirit that MEPs adopted, on Thursday, a Resolution denouncing that "the criminal
investigation and trial following the murder of (a) Journalist ...raises serious concerns with regard to transparency and respect for the rule of law", when a "brutal killing has not yet been fully investigated and solved in a satisfactory way".

    The text refered to dissident Journalist "Anna POLITOVSKAYA", a critic of Tchechen conflict, killed some years ago in Moscow, where Russian Authorities have found, arrested and are currently judging two executants, while also searching to arrest also a 3rd one, allegedly escaped in Belgium. But they have not yet found the instigators.
     Similar texts were adopted recently also on dissident Ukranian Journalist Georgiy GONGADZE's murder, for which Ukranian Authorities have at least found, arrested and condemned 2 executants to 12 and 13 Years of jail, but not yet the instigators. For that purpose, they recently accepted an International Experts team to participate to the investigations.     
But, it's only for the Murder of dissident Turkish Cypriot Journalist ADALI, in the occupied territories of Cyprus, that Turkey has NOT yet found ANYONE responsible, and even claimed recently inside CoE that it would be "impossible" to do so !    
These astonishing differences exist despite the fact that ECHR condemned alike Ukraine and Turkey with 2 Judgements on the same year : 2005, for the murders of  Journalists GONGADZE and ADALI, strong critics of Corruption in Ukraine, and of Ankara's policies on mass-influx of Turkish Settlers in the Occupied Territories of Cyprus, respectively.    
Regarless of that, CoE's Committee of Ministers, who is entrusted with the duty to supervise execution of ECHR's judgements, has just asked Ukraine's Government to reply to further questions on Gongadze's murder before March 2009, while Turkey, curiously, got a longer postponement for answering questions on Adali's murder, until June...   
A comparison of these cases, raises serious questions about Double Standards :
------------------------
On TRANSPARENCY :
--------------------------
    On Gongadze's murder, CoE's body speaks even about the participation of
"an INTERNATIONAL group of Experts" in the Investigation, (f.ex. of "Tape Recordings"), accepted by Ukraine.
    On the contrary, on Adali's murder, CoE is obliged to repeatedly ask (for a 2nd
time) Turkey whether, at least, it informed the victims' Family, or not...
------------------------------
- On EFFICIENCY :
-----------------------
On Gongadze's murder, CoE formally "recalls that the Committee (of Ministers) ..URGED the Ukranian authorities.. to TAKE ALL NECESSARY INVESTIGATIVE STEPS TO ACHIEVE CONCRETE and VISIBLE RESULTS in the INVESTIGATION, aimed at the Identification of the INSTIGATORS and Organisers of the Murder", and "STRONGLY INVITED the Ukranian Authorities to provide information on the PROGRESS IN THE INVESTIGATION", before MARCH 2009.

But, on Adali's murder, on the contrary, CoE's body merely .. "took note" of the "arguments presented by" Cyprus, which denounce the absence of any proof of new "investigation" by Turkey. Following Turkey's own suggestion (!), it simply "noted" that there is "no limitation period" for "any new element" to "lead potentialy (sic !) to a Re-Opening of the Investigation". Without saying who might find any such "new" fact, since Turkey stoped searching... It also POSTPONED the issue until .. JUNE  !
-----------------------
 - On the PUNISHMENT OF THOSE RESPONSIBLE :
----------------------
 -  On Gongadze's murder case, Ukranian Authorities already arrested and condemned, at least 2 suspects, to 12 and 13 Years of jail. And on Politkovskaya's murder at least 2 suspects are judged, and a 3rd one "wanted".

On the contrary, on Adali's murder case, the Turkish authorities simply claim that "it had not been possible to obtain new .. information .. on the basis of which criminal charges could be brought against ANY person" !...

Moreover,  a LETTER sent by Turkey ...2 Years after CoE's 2006 call to re-investigate anew Adali's murder case, is totally EMPTY of Facts ! As Cypus' Delegation denounced earlier, Turkey's Letter ONLY CLAIMS that a "New Investigation" was made without any result, but does NOT even cite ANY FACT to prove it :

F.ex.,on the crucial issue of the "MOTIVATIONS" behind Adali's murder, noted by ECHR, Turkey MERELY CLAIMS that "all allegations  were investigated; without result", but OMITS ANY FACT TO PROVE IT !..(It doesn't even remind which were these "allegations").. .

+ On ECHR's astonishment that the Turkish Occupation regime didn't produce any "BALLISTIC REPORT" on the Shots which murdered Adali, Turkey again repeats, 12 years later, that, still, even until now, "it  was not possible to obtain the BalisticReport"...

- As for the astonishing absence of key-WITNESSES' Testimonies, denounced by ECHR, Turkey agains repeats various pretexts avoiding to reveal anything, (Fex. that a person "left" the Occupied Territories  "on 2002", or that another witness was heard, but without revealing nothing of what he said, etc).

Turkey obviously "FAILS TO MEET THE CRITICISM made BY THE COURT" for lack of any efficient Investigation in Adali's case, concluded Cyprus' Government.
---------------------------------------------
Replying to our Question which COMPARED these 3 outstanding cases of "JOURNALISTS MURDERS", Adali, Gongadze and Politkovskaya, in order to avoid "Double Standards" by asking from Ukraine and Russia more than what is asked EU candidate Turkey, many European personalities were critical /

They criticised Ankara's recent claim at the CoE to stop investigating, because it would be "impossible to find anyone" responsible for the 5 bullet shots which killed Kutlu ADALI in front of his Family Home, contrary to the other two Journalists' murders, where Ukraine and Russia at least arrested the executants, searching now for the instigators :
----------------------------------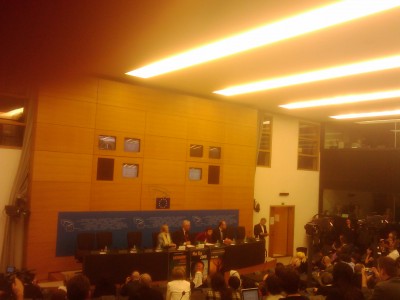 - "Where was that ? In Turkish Occupied Cyprus ? WITHOUT ANY DOUBT : Any murder of Journalist should be investigated in full ! All these Murders must be investigated !", replied the famous SAKHAROV's wife, Elena BONNER to our question on Adali's case, compared to Gongadze and Politofskaya.

    Elena Bonner spoke us EXCLUSIVELY shortly after being honored by the President
of EU Parliament on the occasion of 20 Years of her husband's SAKHAROV Prize.

    A strong personality, Sakharov's wife even had to struggle against an anonymous EU staffer who, astonishingly, tried to stop her speaking when h heard our question on "Turkey" (!) : - "Please, let me translate, she continues
speaking, don't stop us !", had to cry Sakharov's daughter, (a Journalist
herself), who was translating her mothers' reply, (obliged to speak louder to
make her voice heard despite the harassment).. (= + Audio Proof !)

    Earlier, Elena Bonner also fustigated "Double Standards" at another case, on
Western countries' attitude vis a vis Kosovo and the Kurds : -F.ex. "You have
recognized a few 400.000 Kosovars as an "independent" country, but you still
deny that to 30 millions of Kurds in Turkey !", she denounced.
-----------------------------
    - "This (ADALI's murder) is an issue which should be pursued by the Committee
for Human Rights. That's why we have one, and it's its duty to examine cases of
Journalists' murders as the one you referred to. You should bring the case in
front of that Committee", suggested in reply to our question on Adali, EU
Parliament's President, German MEP Hans Gert POETTERING.

    - "It's impossible  to achieve goals of PEACE, if HUMAN RIGHTS are left out :
in fact, Peace and Human Rights are intrinsequaly linked", added POETTERING.
--------------------------------------
    + "For us (European/International Federation of Journalists) it's clear :
Whenever a Journalist is Murdered, the Investigation should continue until
those Responsible are found !", replied earlier to another question on ADALI
EFJ/IFJ's Secretary General, Aidan WHITE.

    Speaking as a matter of General Principle, White asked us for "concrete data"
on the execution of ECHR's judgement on Adali case, in order to "look at it in
depth" and "make a formal statement", in comparison with the other Murdered
Journalist case, also pending at CoE's  Ministers for completing its execution,
on Ukranian Gongadze.
----------------------------------------------------
     From EU Rapporteur on Human Rights, vice-President of EU Parliament Liberties' Committee, MEP Giusto CATANIA, we were told that, since there is an ECHR judgement in both Adali and Gongadge's cases, "Turkey must naturally execute the judgement and make a full and efficient investigation, until those responsible for the Journalist's murder are found and punished".

    Even if "we (Catania's "EuroLeft" Group) support Turkey's EU perspectives, this does not mean that Ankara should not behave properly. On the contrary, it means that they have to meet tough conditions, particularly on Human Rights", was added on the occasion of Adali's murder case.

    Moreover, "since you raise the issue of Mr. Adali's muder as a part of a Series of Journalist's murders, including fex. Gongadze, Politkovskaya, ao., tthen we (EU) could also act together with CoE's Commissioner on Human Rights, Thomas HAMMARBERG, it was suggested.

    - "We (EU) must step up efforts against the problem of IMPUNITY : Real Peace cannot exist without Justice",  stressed also this week at EU Parliament in Strasbourg, French Minister on Human Rights, Mrs Rama YADE.
------------------------
                     

Polls