Αρχική

newsitems

CoE President-i.o. Danish Prime Minister Rasmussen to EF: For Europe's Unity and Human Rights
CoE President-i.o. Danish Prime Minister Rasmussen to EF: For Europe's Unity and Human Rights
Τετάρτη, 24 Ιανουάριος 2018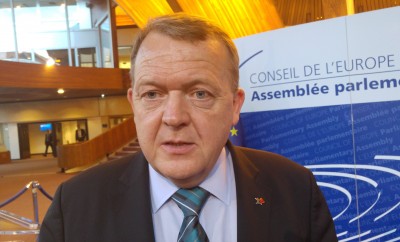 *Strasbourg/CoE/Angelo Marcopolo/- Well Conscious of the current Need to protect Europe's Unity, but also of the Importance of Human Rights, appeared the current President-in-office of the CoE, during the Period of 11/2017 - 5/2018, twice Prime Minister of Denmark, Lars Lokke Rasmussen, in a Balanced Reply that he gave to an "Eurofora"'s Question, during an improptu Press-point at the CoE, just after his Speech and Public Debate with MEPs, at Strasbourg's PanEuropean Parliamentary Assembly's plenary session for the Winter 2018 :

- "Eurofora", who reminded the Fact that we had also covered the Previous Danish Chairmanship of the CoE, a Long Time ago, (Comp. then, Statements that gave us the Danish Foreign Minister, punlished at "TCWeekly"), had asked Rasmussen if he believed that he would manage to Safeguard Europe's Unity, during his Presidency, particularly as far as it concerns the well known current Controversies  around Poland and Hungary, but also Russia, etc.

  - "Yes, I think we should do our Outmost to Ensure the Unity of Europe" nowadays, the PanEuropean CoE's President-in-office, Positively Answered a relevant "Eurofora"s Question.  

- "Hopefully", this should concern not only "Visegrad" Countries, such as, f.ex., Poland, Hungary, etc., but also "Russia", observed Prime Minister Rasmussen, who will Chair the CoE also during an Important, forthcoming Top Level Meeting of CoE Assembly's "Ad Hoc" Committee, with the participation of 2 Russian Representatives, next March 2018, in Paris, (See : ..., etc).

+ "But, in doing so, as you know, we (CoE) Need also to Emphasize that Decisions taken at European level should be fulfilled at National Level, and that all (CoE's) Member States should Live up to the Standards of the European Convention on Human Rights", he added, as a matter of Principle.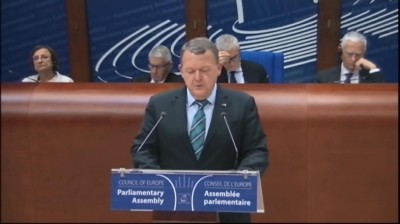 + In this regard, during his Speech at CoE's Plenary, Earlier Today in Strasbourg, Prime Minister Rasmussen had critically observed that, recently, "there is a Significant Challenge of Inadequate National Implementation" of ECHR's Judgements, "in particular in relation to Serious, Systematic and Structural Human Rights Problems in some States". (i.e. a Record notoriously kept, usually, by Turkey, while also concerning, at Various Levels, mutatis-mutandis, more or less, several Other among the PanEuropean CoE's 47 Member Countries).

Yesterday, the Danish Foreign Minister Anders Samuelsen, had, smiling, Warned the CoE, that, on May 2018, the Danish Presidency was preparing to Host a PanEuropean CoE Committee of Ministers' session at the very "Castle of Hamlet", where Shakespeare had reportedly attributed his World-Famous "Existential" Question : - "To Be, or Not to be"....

I.e. something that the Recent CoE's (and/or EU's) upheavals have notoriously brought recently at a High Level of Intensity, (Coimp., f.ex., also : ..., etc).  
(../..)


-----------------------
BRIEF NEWS
00:00 - 04.03.2019

00:00 - 29.01.2019

00:00 - 08.12.2018

00:00 - 09.07.2018

00:00 - 31.05.2018

00:00 - 26.12.2017

00:00 - 26.05.2017

00:00 - 30.01.2017

00:00 - 14.10.2016
Statistics
Επισκέπτες: 31116053
Archive
Login Form
Other Menu
Υπόθεση ΟΡΑΜΣ : Ο Πρόεδρος ΕΔΑΔ απορρίπτει ισχυρισμό Εκθεσης Κομισιόν ΕΕ για Κατοχική "Επιτροπή" περιουσιών προσφύγων

    (Οι περισότερες δηλώσεις Προέδρου ΕΔΑΔ ακολουθούν κατόπιν σ άλλο άρθρο)
-------------------------------------------------------------
* Στρασβούργο/ΑΚΜ/ 16 Οκτωβρίου 2008/-
---------------------------------------------------------------
    Εντελώς ανακριβή κρίνει η ηγεσία ΕΔΑΔ τον επικίνδυνο ισχυρισμό Νομικής Εκθεσης από Κομισιόν ΕΕ που παρουσιάστηκε στο ΔΕΚ στο Λουξεμβούργο στη γνωστή υπόθεση εκμετάλλευσης γής ΕΚων προσφύγων ΅ΟΡΑΜΣ" σύμφωνα με τον "Πολίτη", ότι το ΠανΕυρωπακιό Δικαστήριο του Στρασβούργου θα είχε, δήθεν, ήδη κρίνει κατ αρχήν αποδεκτή την αμφιλεγόμενη "Επιτροπή Αποζημιώσεων" που έστησε η Τουρκία στα κατεχόμενα

    - "ΟΧΙ, ΟΧΙ, Δεν ελήφθη ακόμα απόφαση γι αυτό", και "δεν μπορούμε να πούμε από τώρα ποιά θα είναι η κατάληξη σ αυτό το θέμα, που μένει ανοικτό. Θ αποφασίσουμε σε λίγο καιρό", μας απάντησε ο Πρόεδρος ΕυρωΔικαστηρίου Ανθρωπίνων Δικαιωμάτων, Ζαν-Πώλ ΚΟΣΤΑ, σε σχετική ερώτησή μας για το αν αληθεύει ο πιο πάνω ισχυρισμός πως το ΕΔΑΔ θα είχε ήδη κρίνει σαν κατ αρχήν "αποτελεσματικό μέσο" προστασίας την αμφιλεγόμενη "Επιτροπή" των Κατεχομένων.

    - "Αυτά είναι απλές φαντασιώσεις. Μάλλον κάποιος παρεξήγησε την απόφαση Ξενίδης Αρέστη, Στην πραγματικότητα τίποτα δεν έχει αποφασιστεί ακόμα, Εμείς (το ΕΔΑΔ) ετοιμαζόμαστε να εξετάσουμε τις πρώτες 8 υποθέσεις "τεστ" για την εν λογω "Επιτροπή" (Κατεχομένων), όπου εγείραμε κάποιες ερωτήσεις, στις οποίες μόλις λάβαμε Απαντήσεις που αναλύουμε, για να δούμε άν θα μπορούσε να κριθεί σαν αποτελεσματικό ένδικο μέσο, ή όχι, Αν βρούμε σοβαρές ελλείψεις, τότε θ αγνοηθεί εκτός άν μπορέσουν να κάνουν όλες τις απαραίτητες αλλαγές", μας πρόσθεσε, επίσης, κι ο έμπειρος Διευθυντής της Ολομέλειας ΕΔΑΔ, Βινσάν ΜΠΕΡΖΕ, (που ήταν τ. υπεύθυνος του Τμήματος για ΕΚους πρόσφυγες, ότταν εξέδωσε τις αποφάσεις Ξενίδη Αρέστη, Δημάδη, κα).

    Τόσον ο Πρόεδρος του ΕΔΑΔ όσο κι ο Διευθυντής της Ολομέλειάς του μας μίλησαν την ημέρα εξαιρετής, σημαντικής συνάντησής τους στο Στρασβούργο με τον αντιΠρόεδρο Επιτροπής ΕΕ, αρμόδιο και για θέματα Ανθρωπίνων Δικαιωμάτων, Ζακ ΜΠΑΡΩ.

    Ο ίδιος ο Μπαρώ μας είπε δε ότι "δεν γνώρίζε" για την αμφιλεγόμενη Εκθεση Κομισιόν στην υπόθεση ΟΡΑΜΣ στο Δικαστήριο Ευρωπαικών Κοινοτήτων (ΔΕΚ) στο Λουξεμβούργο, υποδεικνύοντας ότι μάλλον ήταν υπάλληλοι απ τον Φιλανδό Επίτροπο Ρέν, αρμόδιο για Διεύρυνση που ίσως παρέμβησαν σχετικά (βλ, προηγούμενη Είδηση).
'
    Σημειωτέον ότι πρόσφατα ο Ταλάτ στο Στρασβούργο απέκλεισε ΠΛΗΡΗ αποκατάσταση της περιουσίας ΕΚ προσφύγων με την εν λόγω "Επιτροπή" των Κατεχομένων, μιλώντας μόνο για "ΜΕΡΙΚΗ αποκατάσταση, αλλαγή ή αποζημίωση", ενώ, αντίθετα, η Επιτροπή Υπουργών ΣτΕ μόλις έχει ζητήσει απ την Τουρκία να εξηγήσει γιατί αρνείται την πλήρη επιστροφή της περιουσίας της Τίνας Λοιζίδου..

    Εξάλλου, απαντώντας έμμεσα σε πρόσφατες προκλητικές δηλώσεις ΤΑΛΑΤ στο Στρασβούργο που παρομοίασε τους ΕΚους πρόσφυγες μ ανυπόμονους που "δεν είναι ικανοί να περιμένουν τη λύση του Κυπριακού", που αργεί 35 χρόνια απ την Τουρκική Εισβολη 1974, το ΕΔΑΔ έκρινε, σ άλλη υπόθεση που αφορούσε εταιρία εγγεγραμμένη στην Κύπρο, ότι, από θέμα Γενικών Αρχών ΑΔ, είναι "υπέρμετρη" και δυσανάλογη η επιβολή σε ιδιώτη της υποχρέωσης να στερηθεί της χρήσης περιουσίας του για πάνω από 12 χρόνια περιμένοντας την λύση ενός πολύπλοκου προβλήματος, ακόμα κι αν υπήρχε δημόσιο συμφέρον γι αυτό.


Polls