Αρχική

newsitems

PanEuropean AudioVisual Observatory Experts to "EF" 25 Years After: Focus on Web NewsMedia +Video OD
PanEuropean AudioVisual Observatory Experts to "EF" 25 Years After: Focus on Web NewsMedia +Video OD
Παρασκευή, 03 Νοέμβριος 2017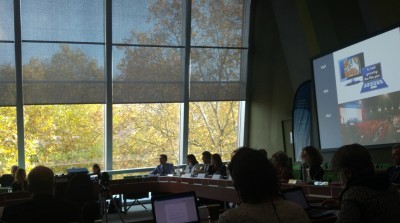 *Strasbourg/CoE/Angelo Marcopolo/- PanEuropean, 41 Member-States strong (including Russia, etc), CoE's Observatory for AudioVisual works (EAVO), which was Created on 1992, when Cinema Films' production and Exports' Global Competition was Shaking the World AV Markets by a "European Cultural Exception" clause in Trade Deals, celebrating Today in Strasbourg its 25th Anniversary (1992-2017) by an Exceptional Conference at CoE's Headquarters, revealed mainly that the Focus is Now much More on Internet Digital Medias, including for Political News, as well as for Fast-Evolving "Video-on-Demand" (VOD) Web Services, as it was also Hghlighted to "Eurofora" by some among its Key Experts, with certain Topical concrete Examples :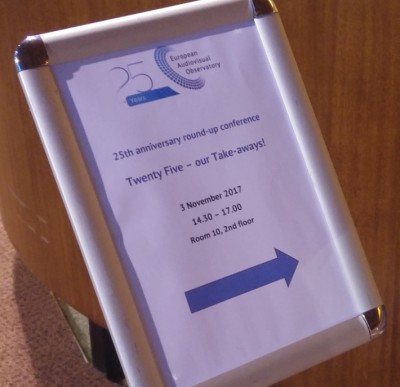 - The Times have Gone since Long, when EAVO's Chief Economist, the experienced André Lange, (present also Today), was responding to "Eurofora" co-Founder's pioneer then Questions about New, Digital Medias, just with a Kind : - "It may Arrive soon !", and, Afterwards, with their First Mention in a Brand New, but Small, specific Chapter, placed at the Margins of EAVO's Annual Reports...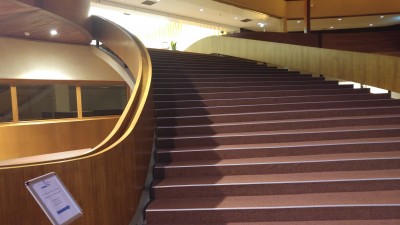 Nowadays, on the Contrary, this is Right at the Frontpage Headline News and keeps a Growing Central place : Many Key Experts' exchanges, artfully monitored during Today's Conference by EAVO's Executive Director, Suzanne Nikolchev, (an experieneced former Legal Analyst), clearly proved it :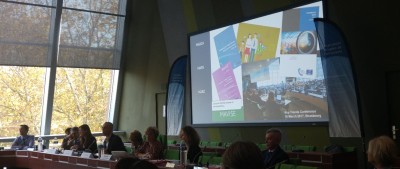 - F.ex., it's mainly the Fast Increasing Influence of various "On-Line Media News", which was a Main reason for EAVO's Exceptional Decision to Launch, for the 1st Time, a Wide-ranging, Comparative Analysis on the "Legal Framework" of "Media coverage of Elections" throughout Europe this Year 2017, considering also the Rare Fact that during 2016-2017 Many Elections (Parliamentary, Presidential, Local/Regional, Referenda, etc) were due to be organized in about 24 and 25 CoE's Member States, respectively, which is More than Half of their Total Number (47).

 - Thus, the Co-Head of the Legal Experts who Drafted that EAVO's 2017 New Report, Francisco Cabrera, speaking to "Eurofora", observed, in particular, that, while Broadcast (RadioTV) Medias were Traditionaly subject to quite Heavy Regulations, and the Print Medias (Newspapers, Magazines, etc) had Less Regulations to observe, but generally fairly Monitored, on the Contrary, Many Questions were Nowadays Raised about the various OnLine Medias, (WebNews Sites, etc, f.ex. also on so-called "Self-Regulatory" commitments, a.o.), particularly, also because of their, technically, "Global" nature :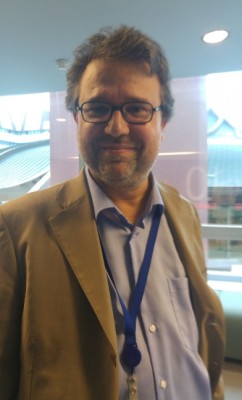 - F.ex., during the 2017 Presidential Elections in France, where Publishing Polls is Prohibited at the Eve of the Vote, many People had a Look at relevant Polls Legally Published in Belgium, where it's allowed up to the Last Minute (as also in the UK, etc), just a "Cliq" away... Also during the Latest 2016 Parliamentary Elections in Spain, where Last-Minute Polls are Prohibited too, People were, nevertheless, bombarded by a lot of Polls Published until the Last Hours of the Vote, by a Website News located at Nearby Andorra (on the Pyrenee Mountains, between France and Spain), where they barely Masked their Electoral Estimations by a ...Colorfull Artefact which pictured each Political Party in the Colors of a ...Fruit or Flower (sic !), corresponding to its Real, Official Presentation, in a way that Everybody understood easily who was who, CoE's Officer told "Eurofora"...


+ An even More Important recent Development, particularly for the PanEuropean Audio-Visual Observatory's specific area of activities, is also the Fact that, as anOther EAVO's Expert stressed Today, the On-Line/VOD Networks of Films' Distribution, are already ByPassing the Classical, Cinema Rooms- based, Film Distribution Networks, and, since, at least for the Time being, the Overall Films' Market is rather Atonic yet, this has Provoked a much More Intense Competition, nowadays, between those 2 Networks...

++ Almost at the Same Time, EAVO's Experts have Found that, while Not Only the "Public Funding for Audio-Visual Services", but Also the "Advertising-Financed TV Market", are in "Stagnation", on the Contrary, "Pay-TV" marks, at least, a "Limited Growth", and the "Pay On-Demand AudioVisual Services" mark even a quite "Rapid Growth".

+++ EAVO's Expert for Both "Television" and "On-demand AudioVisual Services", Agnès Schneeberger, told "Eurofora" that such Issues were Discussed, Earlier Today, also by the PanEuropean body's Top Governance : its "Executive Council", which had convened at the CoE during the Morning, including in order to have a First OverLook and Debate on its foreseable Future, (i.e., practically, its ...Next 25 Years !).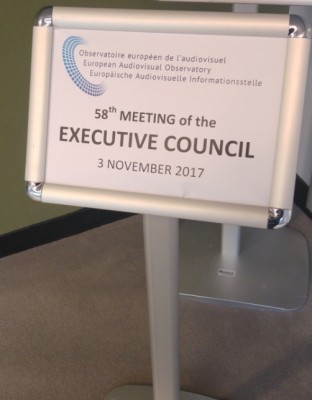 EAVO has already announced its intention to Focus on "Video on Demand" ("VOD", i.e. Digital/Internet Communication Technologies) and its "Impact on the Exploitation of Films", during its Annual Conferences at Cannes' International Film Festival, (which are, reportedly, Attended by a Huge and Growing Number of People) each May.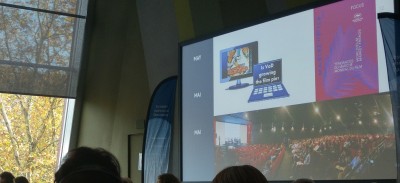 ++++ indeed, Despite USA's  Cinema Film Production Industry's persisting Global predominance, via "Hollywood" etc, (See Infra), the American Film Market-place appears to be Less Important than Europe's Film Market-place, annually accessible at Cannes' prestigious International Film festival, each Spring, where EAVO's Regular Presentations usually Attract a Large Audience, right "at the Heart of Global Film Industry", as EAVO's Marketing specialist, Markus Booms, boasted enthousiastically...

-----------------------------------------

Last, but Not Least, an EAVO's "Birthday Party" withOut a Film even on that Big, 25 years old, "Baby" itself, being, naturally, inconveivable, CEO Nikolchev projected, in Fine, an Original Short Film, precisely, with various CoE's Political and/or other European AudioVisual Industry, Market or Experts' groupings, presenting their Best Wishes for the Future :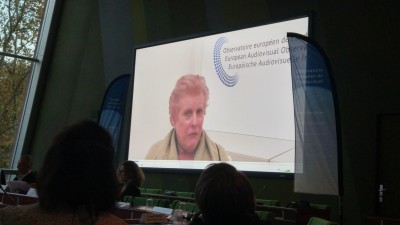 - Pictured there, was naturally, the Historic former Mayor of Strasbourg, and Long-Time f. MEP, as also former Minister of Culture, currently in charge of the Development of European and Other Big Infrastructures in this City, Catherine Trautmann, at the 1st Place : Trautmann had Already said, Earlier, to "Eurofora", that, when she had Decided to actively support the very Creation of the PanEuropean AudioVisual Observatory, Back during  the 1990ies, in fact, her Main Aim was to Boost a Strong Audio-Visual News pole in Strasbourg, Together with ARTE's Franco-German RadioTV, (the Only European RTV Media to be Head-Quartered near the EU Parliament's and CoE's main Buildings), etc., in order to Help make MEPs' work even More Attractive and Efficient, as well as Closer to European Citizens.

Something which, certainly, has Not yet been done, but Could, eventually, be achieved in the foreseable Future, if one added also a New Dimension in line with "Eurofora"s Original Project, (which could gradually Start, logically, with the Preparation of the Forthcoming, May 2019 EU Elections).

"Eurofora" has recently Highlighted that issue, also with the Director of Stasbourg University's Digital "Video-Conferences a.o. Internet Communication brand New Technologies, who appeared genuinly interested.

------------------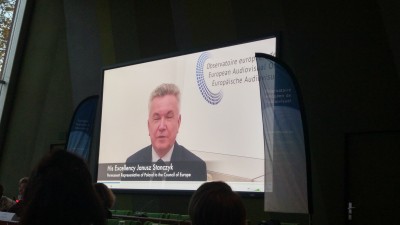 EAVO is currently Chaired, during 2017, by World-Famous Film-Director, Andrei Wajda's Country : Poland, whose Ambassador/Permanent Representative to the CoE was Present at this Exceptional Conference.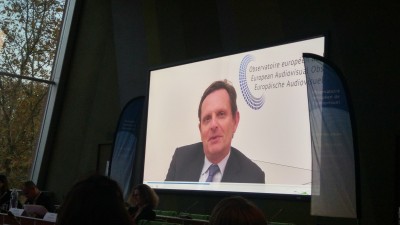 As well as that of France, which will Chair all the CoE on 2019, and has the Biggest Number of Screens in the EU Nowadays, closely Followed by Italy, Germany, the UK and Spain, while Poland, and afterwards the Netherlands, Sweden and the Czech Republic, also Distance the Other EU Member States.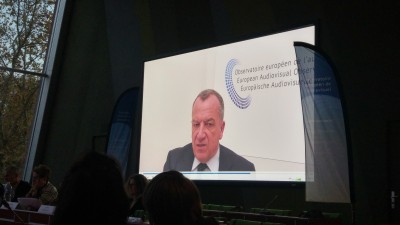 He was Joined also by his Collegue from Italy, (Comp. Supra), as well as from Denmark, (Incoming CoE's Chairman from Mid-November 2017 up to May 2018), Bulgaria (which will Chair the EU from January 2018), Switzerland, and Other European Countries.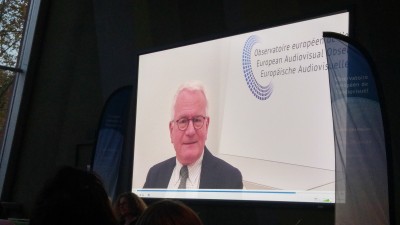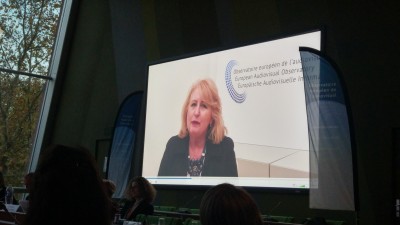 ________________________________


Inside the EU, France holds also the, comparatively, Biggest Share in its National AudioVisual products Market, with almost 36% of the Total, closely Followed by the UK, with about 35%, Afterwards Italy : more than 29%, Germany : about 23%, distancing Spain with 18,5%, and Russia : almost 18% too, etc.

The overall Average for all "European Films"' Market Share in the entire EU is almost 27%.

But the USA hold... about 94% of their AV Market Share, India 85%, Japan 63%, and China more than 58%, South Korea almost 56%, etc., according to EAVO's Latest available Figures..., showing that Global Competition is still Harsh...

The Extreme Counter-Example among Developed Nations, seems to be Australia and New Zeland, who hold Only ... about 9% of their Market Share !
(../..)

-----------------------------------
Διεθνείς ειρηνευτικές δυνάμεις, ή Τουρκική "εγγύηση" ?

>>> Στήριξη από ΚΣΣΕ σε κριτική Χριστόφια έναντι Τουρκικής "κόκκινης Γραμμής" για μονομερή Στρατιωτική "Εγγύηση" Αγκυρας :

- "Και βέβαια είναι πολύ καλύτερο" να υπάρξει Διεθνής, αντί Τουρκική "εγγύηση", "χωρίς παρέμβαση κανενός γειτονικού κράτους", μας τόνισε ο Πρόεδρος της Σοσιαλιστικής ομάδας στην ΚΣΣΕ, Ελβετός ευρωβουλευτής Αντρέα Γκρός.

+ Υπέρ Διεθνών Ειρηνευτικων Δυνάμεων κι η Γαλλική Προεδρία ΕΕ, ενώ το Ευρωπαικό Σώμα Στρατού γιορτάζει τα 15χρονά του στην έδρα του στο Στρασβούργο : - "Είμαστε έτοιμοι .. και για την Κύπρο", μας τόνισε ο Εκπρόσωπος και Διευθυντής Γραφείου Τύπου του ΕUROCORPS, Ραούλ Σουέβος
-----------------------------------------------------
* Στρασβούργο/ΑΚΜ/ 4 Οκτωβρίου 2008/---------------------------------------------------------
Αρχισαν θετικές αντιδράσεις σε ΠανΕυρωπαικό χώρο μετά την κριτική που άσκησε ο Πρόεδρος της Κύπρου Δημήτρης Χριστόφιας, νωρίτερα αυτή την εβδομάδα στο Στρασβούργο, ενάντια στην άρνηση της Τουρκικής πλευράς να συζητήσει καν την αντικατάσταση μονομερούς Τουρκικής στρατιωτικής "εγγύησης" από Διεθνή :
- "Απαράδεκτες είναι κι άλλες "Κόικκινες Γραμμές" απ την Τουρκία !", μας απάντησε ο Πρόεδρος Χριστόφιας, σε Διασκεψη Τύπου στην ΚΣΣΕ, σ ερώτησή μας για την αντικατάσταση των "εγγυήσεων" που επέβαλε η παλιά Συνθήκη Λωζάνης, με Διεθνεις Ειρηνευτικές δυνάμεις ΟΗΕ, "Λενε ότι γι αυτους ε'ιναι κόκκινη γραμμή, αλλά που ειναι, τότε οι κοινές γραμμές ?"
" Η Τουρκια εκμεταλεύτηκε την παλιά αυτή ρήτρα για να εισβάλει στην Κύπρο μετά το πραξικόπημα με πρόσχημα την αποκατάσταση της Συνταγματικής ταξης, αλλά 40 χρόνια μετά την επάνοδο του Μακαρίου και την αποκατάσταση του Συντάγματος, συνεχίζει την Κατοχή, φέρνει κι άλλους Τούρκους Εποίκους, και ζητά ξεχωριστό Κράτος, κατήγγειλε ¨Ελπίζω τωρα να σεβαστούν και την Ασφάλεια όλου του Κυπριακού λαού", πρόσθεσε,

Ο Πρόεδρος της Κύπρου κατεληξε εκφράζοντας την πεποίθηση ότι ο Κυπριακός Λαός είναι σημερα αρκετά ώριμος για ν αναλάβει ο ιδιος την ασφάλειά του, ενώ είμαστε ευγνώμονες και στην βοήθεια που μας δίνει κι ο ΟΗΕ, έστω κι αν ελπίζουμε να μπορέσουμε κάποτε να τον απαλλάξουμε, τελικά, απ αυτό το βάρος.

Αυτά είπε σ απάντηση ερώτησής μας όπου υπενθυμίζαμε κι ότι ο Γάλλος Πρόεδρος ΣΑΡΚΟΖΗ έχει προβάλει τις Ειρηνευτικές Δυνάμεις ΟΗΕ, συμπεριλαμβανομένης και της Κύπρου, στη Συνάντηση Κορυφής Αρχηγών Κρατών/Κυβερνήσεων για τη Μεσόγειο, το καλοκαίρι στο Παρίσι, με συμμετοχή ΓΓ ΟΗΕ Μπαν Κι Μοον, Την ετοιμότητά του σε περίπτωση συμφωνίας για την Κύπρο μας έχει εκφράσει δε κι ο νέος βοηθός ΓΓ ΟΗΕ επικεφαλής Διεθνών Ειρηνευτικών επιχειρήσεων, Αλέν Λε Ρουά (Γάλλος).

- "Και βέβαια : Αυτό θα ήταν πολύ καλύτερο", μας απάντησε ο Πρόεδρος της Σοσιαλιστικής Ομάδας στην ΚΣΣΕ, Ελβετός βουλευτής, Αντρέα Γκρος, σ ερώτησή μας για Διεθνή Ειρηνευτική δύναμη για εγγύηση συμφωνίας στο Κυπριακό, αντί για Τουρκική μονομερή.

"Κανονικά τα μέλη της Διεθνούς Ειρηνευτικης δύναμης) θα πρέπει να μην προέρχονται απο γειτονικές Μεσογειακές χώρες" πρόσθεσε, αποκλείωντας ξεκάθαρα την Τουρκία.

- "Αν συμφωνήσουν τα ιδρυτικά Κράτη. το Ευρωπαικό σώμα στρατού θα μπορούσε να συμβάλει σ εγγύηση Ειρηνευτικής συμφωνίας και στην Κύπρο", μας ειπε πρόσφατα κι ο Αρχηγός του "EUROCORPS", στρατηγός Πιτάρχ, που εορτάζεi επέτειο 15 ετών απ την ίδρυσή του, στην έδρα του στο Στρασβούργο.

- "Σήμερα είμαστε πλέον έτοιμοι κι απόλυτα ικανοί να εκπληρώσουμε οποιαδήποτε Ειρηνευτική επιχείρηση μας ανατεθεί απ την πολιτική ηγεσία, ΄πχ. στην Κύπρο, εφόσον μπορούμε να οργανώσουμε πάνω από 60,000 στρατιώτες ή/κι άλλα στελέχη (πχ. για κατασκευές υποδομών, απονάρκωση, τήρηση τάξης, διευκόλυνση Εκλογών, κπα), κυρίως σε ξηρά, αλλά συνδυάζοντας και θαλάσσιες ή/κι εναέριες δραστηριότητες", μας τόνισε ο Εκπρόσωπος και Διευθυντής Γραφείου Τύπου του ΕUROCORPS, Ραούλ Σουέβος

Με συμμετοχή Γαλλίας, Γερμανίας, Ισπανίας, Βελγίου και Λουξεμβούργου (που συμβάλει οικονομικά και μ αξιωματικούς-συνδέσμους), κι άλλων χωρών-μελών ΕΕ (όπως κι Ελλάδα, Αυστρία, κα), κι ακόμα κι έναν αξιωματικό απ την Τουρκία, το ΕUROCORPS πρόκειται να διευρυνθεί στις αρχές 2009 και με την Ιταλία, Πολωνία και Ρουμανία, ενώ αναμένεται κι άφιξη ΗΠΑ, μ ειδικό καθεστώς.

- "Το ΕUROCORPS μπορεί να εξελιχθεί σαν εργαλείο μιας σύγχρονης Ευρώπης που θέλει εξασφάλιση Ειρήνης κι Ανάπτυξης μετα από δεκαετίες πολέμων και καταστροφών, κι ενεργό υπεράσπιση αρχών κι αξιών Ανθρωπίνων Δικαιωμάτων, Δημοκρατίας, συμφιλίωσης κι Ειρηνικής συμβίωσης, όπως συμβολίζει ιστορικά και το Στρασβούργο", τόνισε ο αρχηγός του ΕυρωΣώματος Στρατού, Ισπανός στρατηγός Πιτάρχ, σε λόγο του σε δημόσια εκδήλωση για την 15ετή επέτειο του ΕUROCORPS στην κεντρική πλατεία του Στρασβούργου το Σάββατο απόγευμα , 4 Οκτωβρίου.

Polls