Home

newsitems

China applies CoE BioEthics Treaty Condemning Heritable Gene Editing, but Global Ban is still wanted
China applies CoE BioEthics Treaty Condemning Heritable Gene Editing, but Global Ban is still wanted
30. 12. 2019.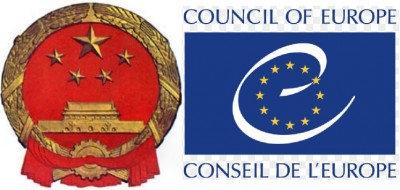 *Strasbourg/Angelo Marcopolo/- In a move looking as a Christmas/New Year's Eve Gift to Humanity, China practicaly applied these days CoE BioEthics Convention which Outlaws Heritable Gene Editing. It certainly isn't just because CoE's 850 Millions-strong and China's 1,3 Billion-strong entities have just celebrated Both their 70th Anniversary, reaching the Same Respectable Age since their Birth (1949-2019)... But rather because such Crucial Issues have become Urgently Global. However, the current Lack of a crystal clear Global Ban is still Dangerously looming around...
--------------------------------------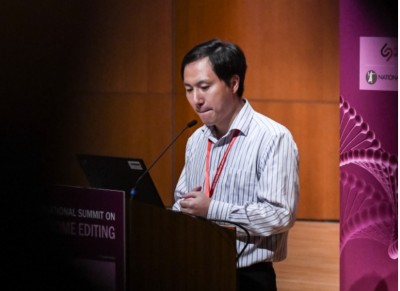 Back on November 2018, the Announcement -made at a Hong Kong International Conference, by a Dr. of Chinese origin, but Educated, Funded, and still Networked through, and Cooperating with some USA's "Socialist"/Liberal Technocrats from the period of former US President Barack Hussein Obama, himself abudantly Funded by -and fanatic Fan of - "Big Pharma" Bio-Tech. Lobby, (See Facts at :  http://www.eurofora.net/newsflashes/news/heritablegenemaniptrumpxihumanity.html , etc) - that 2 Babies had been just Born with Genetic Manipulations Transmissible to Future Generations, by the "CRISPR/Cas9" Editing Technology, had stunned the World.   
If the Usual Vows to "Cure Cancer", and/or various "Rare" Genetic Affections, often added to some Other Health Problems, routinely repeated by Backers of Genetic Manipulations' BioTech Lobby, Nowadays might leave many People Indifferent, or at least Sceptical, after so many Hopes Betrayed by Failed Plans, already since Nixon from 1971 against Cancer, and particularly Following Obama's 2009+ Decade of Human Embryos' Genetic Manipulations, etc, withOut Any Tangible Result, Neither Medical Beakthrough, but, on the Contrary, even an Augmentation of the overall Number of Cancer illness Worldwide, Nevertheless, Critical QuestionMarks, UnCertainties, very Probable Risks, or even Obvious Dangers, able to Affect very Big Issues for all Humankind's foreseable Future, suddenly, started to comme, inevitably at the Forefront :
F.ex., inter alia, possible Errors irreversibly DeStabilizing the overall Human Genome, Fabrication of "Dr. Frankenstein"-type "Monsters", or Man - Animal "Chimeras", Invention of various New Type "Alien" Species or Mutants, "Enhanced" Men aside Diminished Beings, Emergence of real New "Races" Developing Separately in an "ppart-Heid" way, which could Obviously Threaten to provoke the End of Humankind in a foreseable Future, (as several Philosphers, Writers, etc, have Warned, already, even since the Beginnning of the 20th Century), etc, are inevitably among the Many "Hot" Questions withOut Ready yet Answers, in this New Area...    
=> That's why, already, CoE's landmark "Oviedo" Convention, on Human Dignity and Human Rights in Biology and Medicine, -alias CoE's "BioEthical" Treaty- had OutLawed any Intervention made with the purpose to Modify the Human Germ-Line Affecting many Generations, Since 1998, (at the Same Moment that Human Persons' "Cloning" had been Banned), by Strasbourg's PanEuropean Organisation, just After an Important CoE Summit of Heads of State/Government, here, on 1997.      
So that, when, on 2018, Dr. Jiankui's radical Genetic Manipulation (reportedly, Later nick-named "Dr. Frankenstein" by many critical Chinese People, at the Internet...), was Clearly Denounced as Both "UnEthical" and "illegal", by an Official Representative of the Chinese Government, several People's Legitimate Concerns were, momentarily, Alleviated, at First Sight, - before becoming, soon afterwardsé, Aware that, in fact, such a Critical Public Statement had been made only by an obscure Vice-Secretary of State for Trade...
=> Thus, it was, naturally, Ensuring to See, Now, this December 2019, that, at least, a Chinese Court has just Judged this case and Found Jiankui and 2 of his Accomplices Guilty, Condemning him to 3 Years in Prison, and a Fine of 3 Millions (Yuan = USDollars 430.OOO), the 2 Accomplices getting 18 Months in Prison, and 2 Years Jail sentence Suspended, added to Fines, for illegal practice of medicine. Jiankui was Earlier "Fired" by the Southern University where he had been working as a Researcher, and, meanwhile, he had been assigned to residence.
Prosecutors found that the 3 were "Not Qualified to Work as Medical Doctors", and had "knowingly Violated Regulations and Ethical Principles" of the Country, by Gene Editing in Reproductive Medicine, having also "Forged a Certificate of (Fake) Ethical Review".
For their Tests, Not Only 2 (as initialy announced) but 3 Genetically Modified Babies had been Born, in not only 1 but 2 Pregnacies, after having Recruited not 1 but ... EIght (8) Couples, presented as "Volunteers", "Implanting Genetically-Engineered Embryos into the Womens"' womb, and impegnating 2 of them, who have Birth to the 3 Babies.
In order to Hide his activities, Jiankui had taken an UnPaid Leave from the Chinese University, conducted his Research Outside of the Campus, Received only Private Funding, (probably largely from Abroad), included in his Team also "Overseas" Members, and was Assisted by a North American Doctor from the USA, member of the above-mentioned Lobbies, (Comp. Supra).
The 3 Culprits acted "in the pursuit of Personal Fame and Gain", having also Seriously "Disrupted Medical Order", found the Court, after they Pleaded Guilty. An Earlier Report by the Health Commissio of China denounced also the fact that Jankui had "Defied Government Bans", and  had been "Deliberately Evading OverSIght" of "the illegal project".
The Fact that for such kind of Technocrats the so-called "Health" Target often is Only a Hollow Pretext, (the Real Aim being to Take Control of Tools allowing to exert Influence upon Human Beings), became Recently Obvious in the Parallel case of Russian Molecular Biologist Denis Rebrikov, who had reportedly Announced Plans to Implant Gene-Edited Embryos into Women, and aimed to use CRISP to Target the Gene CCR5 to act against HIV virus, like his Chinese Competitor : Later, when he learned what happened in the case of Jiankui, he Changed course and Focused, instead, to Gene GJB2, linked to  ...Hearing Loss !
+ But, Meawhile, it was Revealed that, in fact, Jiankui had even Failed to fully reach his Target : Indeed, on HIV virus, the Results were "Similar", but NOt "Identical", to what had been expected, leaving Room for various Other Interpretations.  Moreover, it seems that the Operation had Also provoked some Other Alterations in the DNA, whose Consequences were Not yet known, as it was Recently revealed by the Publicaton, at an MIT Researcher's Blog,  of Jiankui's own personal Notes... As such Problems had been already Found Also at Various Other cases of Gene Editing, Criticism naturally Grew further.
- What was done in this case, "was Extremely Irresponsible", Denounced, f.ex., Today, Zhou Canquan, from the First Affiliated Hospital of Sun Yat-sen University in China, according to State-backed "Xinua" News Agency.
- (A) From 1 Side, Heritable Gene Editing interventions are still Accused for "Ignorance of Health Risks", according to Zhou.
+ (B) But from anOther (more Fundamental) Side, it is Also Denounced for Tresspassing even the "consensus in the medical community to conduct research with Moral Principles", he added.
=> In Both cases, "What they (Dr. Jieankui's Team) did constitutes serious Violations of the country's Laws and Regulations," said Professor Chen Xingliang of Law School with Peking University, according to "Xinhua".
- "Health Risks regarding Gene-Editing are yet to be Evaluated", Critically Observed  Zhou Qi, an academician with the Chinese Academy of Sciences, (ibid), concerning the 1st Point.
+ And "Technological, Societal and Moral aspects should be taken into consideration", he Added, on the 2nd, and most Fundamental, point.
>>> Given also the Fact that, "If the Edited Genes go into the Human Gene Pool, the Impact will be Irreversible," (for Generations), the Chinese Academician Warned.
=> That's why "We Hope that every Doctor can Stick to Moral Principles, and Respect Laws and Regulations," stressed Qiao Jie, with the Chinese Academy of Engineering, also referring to the 2nd, most Crucial point.
+ Moreover, concerning this same point which affects all Humankind, Academician Zhou Qi, "suggested Improving the country's Laws and regulations, and (even) Enhancing Punishment for Violations", given the particular importance of that matter for all Humankind.
Interestingly, this call Concludes the Observations published by State-Backed "Xinhua" News Agency in China, Today.      
--------------------------------------------      
 - On the Contrary, anOther Group, (mainly from a Part of USA's "Socialist"/Liberal pro-BioTech Lobbies, dating particularly from Obama's era : Comp. Supra), pushes Only for a Time-Limited Postponment of Heritable Gene Editing, f.ex. during just the next "5 Years" or so, (f.ex. USA's "National Institutes of Health" Chief, Francis Collins, a Genetician, Head of the "Human Genome" project, naturaly Appointed by Barack Hussein Obama !), some evoking even "as Soon as possible", for "Guidelines on Research and Applications", (as, f.ex., China's Academy of Medical Science" : Not to Confuse with - but to Distinguish from - China's "Academy of Science" in general, which Includes Also Law, Philosophy, History, Sociology, Morals and Ethics, etc, obviously Lacking here)...
=> Ad Absurdum, such a thing could be Practically equivalent into merely ...Waiting for ... Dr. JianKui to get Out of Prison, in 3 Years, i.e. just on Time in order to Prepare himself for another round of Heritable Gene Editing, that time under the auspices of Mr. Barack Hussein Obama's and other unscrupulous Bio-Tech Lobbies' pals...     

Meanwhile, their pathway would be paved and timely prepared by "Tests" on Mamal Animals, the Nearest possible to the Human Race, particularly Monkeys, as those Baby Macaque, who were, at first, Inoculated by a Gene provoking an Atrocious Brain Damage, afterwards Cloned (with the Same Procedures as the in the notorious World-Banned and Failed case of "Dolly the Sheep"), and led (through Heritable Gene-Editing") to Artificial Births of Sick (rather Poisoned) Babies to "Study" by a Shanghai-based "Chinese" Labo, by a "Coincidence" just Shortly After Dr. Jankui's experiments on Human Babies were Condemned, i.e. around the Beginning of 2019... (By the way, such and various other Atrocious Genetic "Tests" on Mamal Animals, Recently Multiplied, seem to be a Leading Cause for Many People's sudden U-turn towards several ...Political Parties for the Protection of Animals, curiously Winning Unusually Many Votes in Recent Elections throughout manifold Countries, in Europe and elsewhere in the World).
Obviously, such Restrictive, Short-Term, Micro-"Bans", merely Postponing for a while the Heritable Gene Editing interventions on Humans, might, Perhaps, Fit to some Attempts to Overcome Only the 1st (and Comparatively less Dangerous) Problem : I.e. that of Facing various probable Health Risks that might be Provoked by some UnControlled or UnExplored yet Gene Modifications almost automatically triggered during such an intrusion inside the Human Genome (Comp. Supra).    
>>> But, naturally, this has Nothing to do with the 2nd, and much More Important Problem concerning Heritable Gene Editing, which Affects also Crucial Social and/or Ethical Key aspects of Humankind's present and foreseable Future, (Comp. also Supra), which does Not depend on Small Time Deadlines, but on core Content and main Substance !
=> And This is, precisely, what Motivates, Recently, a Lot of "Viral" Public Debates, particularly at the World Wide Web, Sparked by such Topical Controversies over possible Risks of Abuse via Genetic Manipulations, as many Medias have Noticed and pointed out :
- F.ex., among others, also China's "Global Times" Medias have Often written, Recently, about concrete cases where "Most of the Netizens have Expressed their Worry" over the "Harms" that Genetic Modifications "may cause to Humans", holding the "Belief that Genetic Engineering is Against the Laws of Nature", and/or could provoke "Horrible" Consequences,  Opposed to "a Comparatively Smaller Group of Supporters ..(of)... Genetic Modifications", as they found. Or that "Many" People "are Concerned that the (Genetic) Technology May bring lots of Social Disturbances in the Future", while Only a Minority of "Others" claim to merely "Appreciate" its alleged "Benefits", (etc)...
+ Moreover, at an Important Recent CoE's Conference on BioEthics in Strasbourg, the President of France's National Ethics Committee, Professor Jean-Francois Delfraissy, Denounced the existence of several "Too Important GAPs" between the People and Public Authorities, in Some Controversial Issues where "there is a Problem", "to be Decided at the Highest Levels of the State", After a Public Consultation at the Internet which Revealed that phenomenon (Obvious even in relevant Graphics on its Conclusions), Focused, precisely, around Artificial Medical Interventions on Human Births, (f.ex. in order to Artificially Provoke a Birth ordered by a Couple of Lesbians, etc), as he Later Told to "Eurofora", ( See: http://www.eurofora.net/newsflashes/news/coebioethicsdebatechildrenforlesbiansandheritablegenemanip.html, etc). Interestingly, that Public Consultation had taken place juste a few Months Before the November 2018 Scandal on the 1st Heritable Gene Editing by US-linked Dr. Jiankui, (See: http://www.eurofora.net/newsflashes/news/heritablegenemaniptrumpxihumanity.html), so that the Consulted People who would be Now Against any Artificial Medical Interventions on Human Births which Might, Eventually, Abuse of such Methods, should, normally, have become Even More Numerous !)...
=> So that, from the point of view of Society and Humanity's foreseable Future (Comp. Supra), Obviously, the main Question is Not about some Short Time Deadlines, merely Postponing the Controversial Heritable Gene Editing, until its Technology might be somehow finetuned, as Some Claim, (Comp. Supra), But, on the Contrary, about how to Prevent it Urgently, and Find Substantial Solutions to the Main, Core-Issues that it raises for Humankind.
- In this regard, WHO's Recent 2019 Call to "Halt all work on Genome Editing",  while, at the Same Time, it Launched a "Global Registry" to Track any Research on that area, Worldwide, seems well to be a Practicaly Useful 1st Step in the Good Direction.     
+ Subsequent 2019 Calls by Top MEPs in EU Parliament in Strasbourg to establish a "Global Ban" against Heritable Gene Editing, (See, f.ex. : ..., etc), Similar to CoE's previous Global Ban call against Human "Clonning" since 1998, Open to Signature by Any Country in the World, (mutatis-mutandis, Also as UNO's Declaration against Clonning, adopted at New York on 2005), are Naturally the Next Step to take asap, on this level, in one way or another.     
++ But, Meanwhile, (and, at Any Case, even Later-on), several More Concrete Measures have Now Become Necessary in Real Practice. F.ex., Urgently Needed Scientific Research and Technological Development also on :
- How to Spot Timely any eventual Heritable Gene Editing eventually committed on a Human Embryon which has Faced any kind of Artificial Medical Intervention (f.ex. so-called "Fertility" Treatment, IVF, etc), that could, Perhaps, have Affected its Genome.
Nobody can Forget, indeed, the Fact that even Dr. Jiankui acted in Secret, Hidden from any Oversight, (Comp. Supra).
And, Unfortunately, Recent Controversial Attempts by some Lobbies to Push, (Curiously at the Same Time !), for various UnPrecedented and UnPopular Medical Interventions on Artificial Births, f.ex. concerning Homosexuals (Lesbian couples, "Surrogate Mothers" for Gay couples, etc), Risk Obviously to Multiply the Number of Cases Risking, Nowadays, for several People to Fall Victims of some Shady Technocrats' possible Abuse.
- How to, eventually, at least Stop a Transmission to Future Generations, of a Heritable Gene Editing Spoted Nowadays, Before it Spreads Widely.
- How to, eventually, Reverse a Heritable Gene Editing, if it is Spoted on Time, (f.ex. Before a 1st Birth).
ETC.+...
These are Some among the Technological Inventions that Conscious and Well-Intentioned Scientists, Defending Humanity, would have to Realize, sooner or later, in the foreseable Future, and/or all Humans themselves, at any case, would have to Strive to Solve, if needed, by their own Means, in one way or another, if they doN't want to practically Disappear from Earth's History in the Future as a Species (Comp. Supra)...
----------
+ Meanwhile, Now that China's State took some Concrete Measures, between Christmas and New Eve, to Defend the UNBORN Child, (an Issue sharply Facing All Humanity, Nowadays, and Not Only Christians, as such), USA's new President Don Trump should, at last, Advance towards a Positive TRADE Deal with Chinese President Xi Jiping asap., for the basic Peaceful Benefit of Both People.
Let some "Socialists"/Liberals and/or other Lobbies of Abusive Technocrats, on Both Sides, attempt to play the "Trouble-Makers", Alone...
(../..)
("Draft-News")
-----------------------------------------
BRIEF NEWS
00:00 - 02.06.2021

00:00 - 18.10.2020

00:00 - 19.06.2020

00:00 - 18.05.2020

00:00 - 20.04.2020

00:00 - 02.02.2020

00:00 - 09.12.2019

00:00 - 27.11.2019

00:00 - 16.11.2019
Statistics
Posetioci: 55513710
Archive
Login Form
Other Menu

Pierre Pflimlin's visionary line : Honouring the Memory of the man who wanted to build Europe on the Mountains, based on Spirit !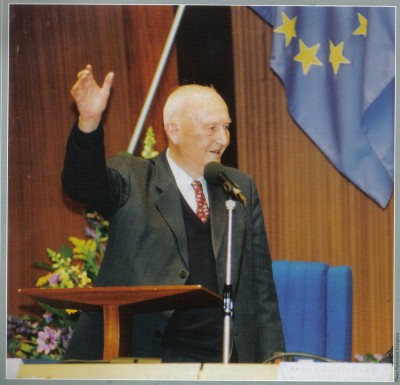 One of EuroFora's best inspirators is naturally Pierre Pflimlin :

We had a chance to personally meet the dynamic and experienced former President of both EU Parliament and CoE's Assembly, France's Prime Minister and Strasbourg's Mayor, only at his 90th anniversary, during an Historic speech at the Council of Europe, exceptionally full of people.

But his energetic figure looked more like a youngster of 19 years old, eager to win the Olympic games !..

Visionary, 2P was, from many points of view :

His daughter, Antoinette, Artist-decorator, and Senator Jung, President of a group of friends, confirmed us an Historian's revelation, that Pflimlin had initially the idea to build all European institutions (EU Parliament, Council of Europe, European Court of Human Rights, etc) at the spectacular heights of Oberhausbergen hills, with an eye-catching view of both French Vosges and German Black Forest Mountains, in the midst of a Forest : A real vision to create a brand New European Headquarters with a big ambition !
But, it seems, that "someone in Brussels" found that picture, precisely, too big for his taste, and threw a spanner on the works...
Pflimlin stroke back a Decade ago, at his Historic 1997 farewell speech :
He urged Europeans to find another, more substantial way, to lift Europe to more important Heights in Future :
- "On which basis can we imagine the birth of a great Europe ?", he asked.
"Certainly an Economic basis ! A solid market economy, meeting also the needs of social justice. A Political basis : Europe must become a strong Political Power, able to influence World's changes, naturally for Peace."
"But I believe that the essential foundation of a greater Europe should be of Spiritual nature : .... The great pacific Revolutions were Spiritual Victories" : They expressed "People's main motivation to live in a society with our Values of Liberty, Democracy, respect for Human Dignity".
"Then, the roadmap is ready : Yes, the foundation of the unity for a large Europe is the spiritual heritage, inspired by Christian Humanism and the Humanism of Renaissance, of Enlightenment, from which emerged a Civilisation focused on the Human person".
"Here is the task to be accomplished. It's very difficult".
"The Time approaches when I'll have to pass over the torchlight. God willing, this torch should enlighten the path of those who are going to build, tomorrow, the great Europe, marked by this Spirit".
(Extract from the Book "Pierre Pfilmin : Alsacian and European", 2007. Texts by Senator Louis Jung, by the long-time f. Director of Strasbourg's Newspaper DNA, Alain Howiller, and by f. EU Parliament's Press Director, Paul Collowald : See dedications, hand-written by the authors, the day the book for Pflimlin's 100th Aniversary was launched at Strasbourg's Press Club and European Parliamentary Association's headquarters, 13 April 2007).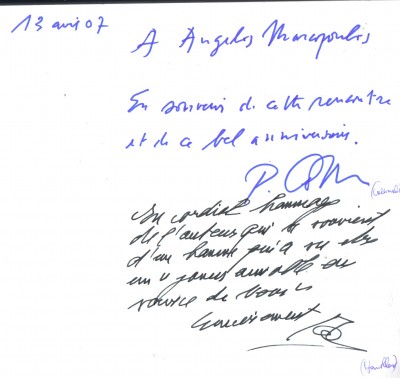 Polls