Accueil

newsitems

Berlin Islamic Terror Massacre=Attempt to OverShadow Russian Ambassador Murder by Turkish Policeman?
Berlin Islamic Terror Massacre=Attempt to OverShadow Russian Ambassador Murder by Turkish Policeman?
Wednesday, 21 December 2016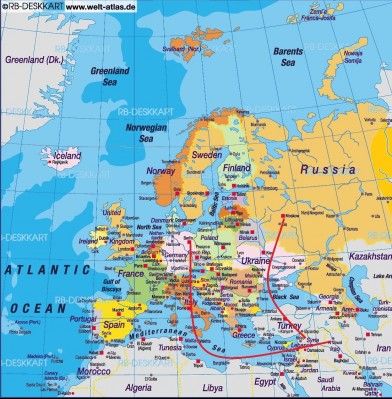 *(Investigative, Factual News-Viewpoint).- The Biggest Massacre of innocent Civilian People committed in Germany until now by Islamic Terrorism, which Killed 12 Victims and Wounded about 50 more, (a Dozen in a Life-Threatening situation), at Berlin's Christmas Market, might have been also an Attempt to OverShadow in International Media the unprecedented Murder of Russia's Ambassador in Ankara by a Turkish Policeman, in an Exceptionaly Important Context and Moment, earlier that Same Day.
Inter alia, the astonishing Fact that Berlin's Mass Killer used to Visit (even Before and After that Terrorist Attack) a Turkish Mosque controlled by the Government of Ankara, where the Russian Ambassador was Murdered by a Turkish Policeman, in Addition to that Same Mosque's reputation to serve mainly ..."ISIS" Terrorists' fans (See Infra), obviously adds also a possible Direct Link in real Practice between those 2 Tragic Incidents.

-------------------------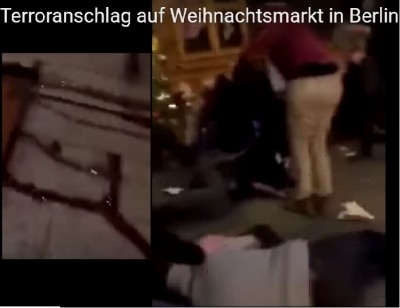 Berlin's Massacre, committed near one of the Biggest Railway Stations in the Capital of Germany, (and for a Long Time in the Past, the No 1), and in front of the Famous, Unique Christian Church kept as it had been Damaged by World War II Air Bombings, close to prestigious Hotels visited also by Foreign Politicians, hadn't, indeed, any obvious Reason in order to be committed in that specific Date, against the Biggest EU Member Country, at all. Apparently, from the point of view of Islamic Terrorism, it could have been done at any other moment, Earlier or Later, there or elsewhere, or even not at all.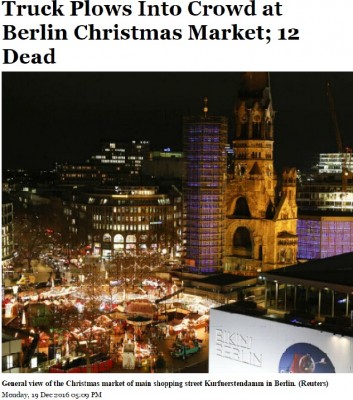 Moreover, even some German Establishment's Newspapers' (as f.ex. "Zeit", etc) curious Stance to publish Earlier Front-Page Headlines claiming that ..."Aleppo has Fallen" (sic !), instead of "Aleppo was Liberated" from Islamist Terrorist Gangs, including "Al Queda"'s affiliates, etc., obviously did Not Help at all to be paid back with not even the slightest "sympathy" from Islamist Terrorists, as Facts proved... 
-------------------------

On the Contrary, the Murder of the Russian Ambassador to Turkey, (the Only one to be a Shameless Brutal Killing, openly committed in an obviously Provocative way, since the 2 World Wars' period of a remote Past, with the Exception of a probably Covert Killing of another Russian Ambassador in the 1990ies, elsewhere, but again in relation also to Turkey, apparently Disguised in a Strange "Accident"), was obviously Targetted, from Many Points of View.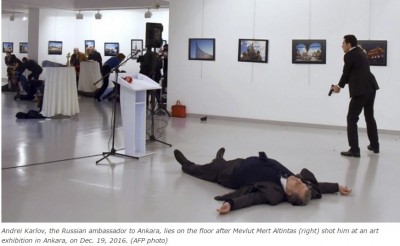 F.ex. :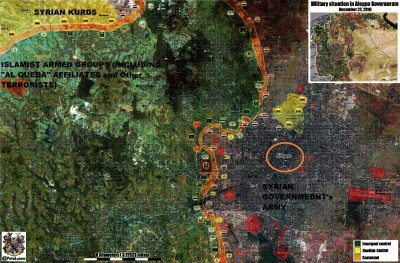 - Syria's 2nd Biggest City, Aleppo, was, then, notoriously in the process of being Entirely Liberated from various Armed Gangs of Extremist Islamists, supported by several Foreign States, including Turkey, after a Decisive Offensive of the Syrian Government's Army, helped by Russian aviation, Lebanese and Iranian Chiites volunteers, etc. (The Murderer himself loudly cried several threats against that Important Development, after Cowardly Killing the unarmed Ambassador with a Turkish Policeman's revolver from behind, during a Cultural event).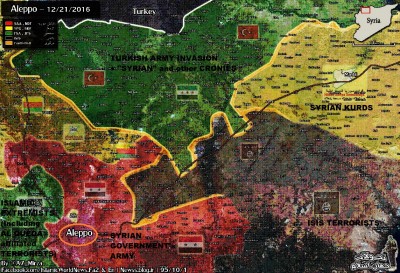 - That Murder occured just Before 2 Crucial and Unprecedented Political Meetings on Syria's Present and foreseable Future : One at Moscow, between Foreign Ministers, and another scheduled subsequently at Kazakhstan, between representatives of the Syrian Government and Oppositional Groups, on the Total  Evacuation of Aleppo by Militants, etc., towards Idlib and/or Turkey, Exceptionaly Organized only with the Participation of Russia and Iran, to which was added also Turkey, (for the 1st Time Alone, without its usual sponsors on the Syrian Conflict, of Saudi Arabia, Qatar and USA, etc., i.e., comparatively in a Weaker situation than what it was accustomed in the Past).
 ------------------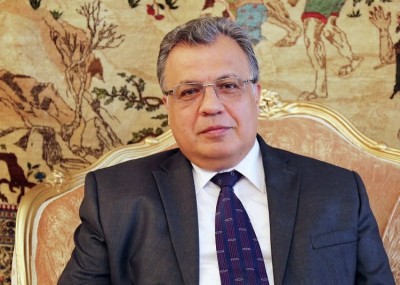 - Ambassador Andrey Karlov held a Unique Experience on Foreign Interferences in the Bloody Syrian Conflict, particularly around open and/or covert Support to several Islamist Terrorists by Foreign Countries, with Funds and/or Weapons, etc, since he had been appointed to Turkey since 2013, i.e. when ISIL's Beheaders of civilian People had started to gain ground, including the Unprecedented Killings, by Turkish Airplanes and Gunmen, of 2 Russian Pilots Fighting against ISIL's Islamist Terrorists, and the recent Syrian Government Advances for Aleppo's Liberation from various Islamic Extremist Armed Gangs, (including Al Queda's regional offspring, and another ISIL-inspired Group, etc), all of which have their Leaderships hosted inside Turkey, at the other side of the Nearby Borders, (whose notorious Complicity, particularly vis a vis the ISIL, was largely unveiled also after that 2 Killings of Russian Airmen, etc).

+ Moreover, Karlov had personaly also a very Rare Experience of another, particularly "Hot" Global GeoPolitical Issue : that of Korea, after having Served there as a Diplomat for Many Years, (mainly at the North, but also in the South), knowing even the Korean Language, etc).
--------------------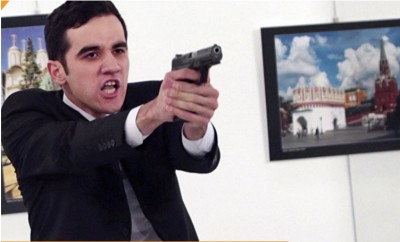 - The most Scandalous Fact is that he was Shamelessly Murdered in Cold Blood, in front of a lot of People, by a provocative Turkish Policeman, who was supposed to Protect him, abused of his Trust and that of others by pretending to be a Guard, but, on the contrary, shot his Victim with a revolver 9 times behind his back and killing him like a Coward, (while Crying Aloud various Vociferations against the Liberation of Aleppo from Islamist Terrorists, etc). 

An initial Attempt by Turkish Medias to Claim that the Murderer would have merely been a "Gullenist", already Fired and prosecuted by Ankara's Government recently, after that Short-lived, 6 Hours-long, Strange "Coup" Attempt of July 2016, which notoriously served (and is still Exploited for that, also Nowadays) as a Pretect for Massive Persecutions against various kinds of Political Dissidents, rapidly Failed :

- Indeed, that sly Killer was still in Posession of a Professional Card of Turkish Policeman, (that he had shown in order to be allowed to Enter the Room where an Exhibition was due to be Inaugurated by the Russian Ambassador, and even to Stand right Behind him, without having ever been Checked at the Entrance, while equiped with a loaded Revolver.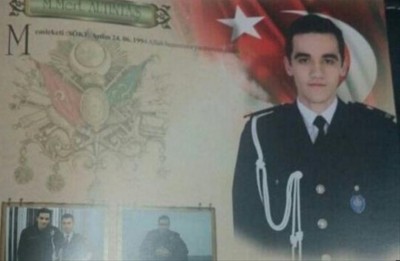 + In Addition, he had even served at least 8 Times to Protect the Turkish President Erdogan himself during various events recently, After the July 2016 alleged "Coup" Attempt, (as Russian Media Denounced, when "Hurriyet" revealed those uncontested Facts).

Moreover, the Killer even repeatedly ...Posed, provocatively, pointing his Revolver over the Head of his Victim lying Dead at the Ground, in front of the Camera of a Turkish Photographer, Hired by USA Press Agency "AP", at whom he was curiously Looking Straight on his Eyes, (as several Published Photos reveal)...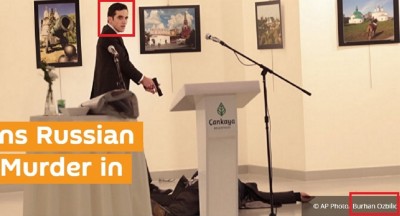 (Etc).

=> So that, shortly after, even if controversial Turkish President Erdogan and Foreign Minister Cavusoglou persisted on their "Gullen" Story, (as Erdogan had recently done also with his "Coup" Claim, pretending that the 2 Killed Russian Airmen would have fallen Victims of "Putchists" Lobby), at least, the Initial Claim that the Murderer of the Russian Ambassador would have been "Fired" because of "Gullen" links, was later Droped.

Turkish Prime Minister Binali Yildirim reportedly phoned to Russian Prime Minister Dmitry Medvedev after the Murder, who Denounced "an Extraordinary situation in International relations", while Yildirim "expressed Condoleances". The Russian Prime Minister also launched a "Call ... to Find and Punish the Organizers behind the Attack", while its Turkish counterpart Limited his Reply only into simply noting that "an Investigation" was just "Starting", promissing to "personally oversee that case". Turkish Foreign Minister Cavusoglou "Decided to Press on" and Take Part into a Russian - Iranian "Meeting in Moscow" about Syria, confirming that "a Committee" will attend the Enquiry with some Russian representatives, and Claiming that the Turkish Policemen had Murdered the Russian Ambassador "in order to Harm Turkey"'s profitable relations with Russia.
---------------------------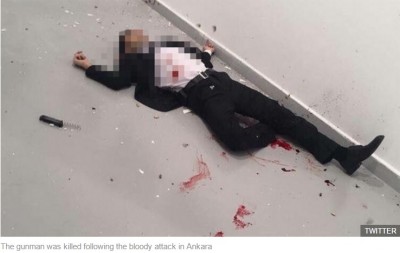 But, at least for the Time being, there was Nothing to Find from the Murderer himself, an armed Turkish Policeman, since he would have been "Neutralized", (alias Killed), by his Collegues, i.e. other Turkish Policemen. Thus, the Turkish Government limited itself into simply "Arresting" all the Family and the Landowner of that Turkish Policeman's House...

During an astonishingly Long Series of recent Mass Deadly Attacks against Defenseless Civilian People committed in Turkey, (some more recent Attacks Targetting the Army and/or the Police being, comparatively, a Small Minority), Starting by a Massacre of Kurdish Students, Young Boys and Girls, during a Feast just Before their Scheduled Departure for the Syrian Kurdish martyr City of Kobane, in order to Plant Trees and Help Re-Build it, after a Destructive Invasion by ISIL's Islamist Terrorists, closely Followed, since Early Octover 2015, by the Biggest still Mass Massacre of more than 100 Civilians among Political Dissidents (Kurdish, Leftists, etc) Civilians Dancing and Singing for Peace in Ankara, icluding Many Women among the Victims, as well as a Grouped Killing of German Tourists at Istanbul (Constantinople), and/or at the International Section of its Airport, (etc.), Nobody was yet Found, Nor Punished, among the Istingators and Organizers of those cowardly Massacres targetting Civilian People, routinely attributed to Islamic Terrrorists, (despite iSIL's and other Armed Gangs' notorious Links to the Turkish Deep State), Always leaving the Instigators and Organizers UnhPunished.

------------------------------

 + Later-on, Arabic Medias published, according to mainstream Russian Press (widely cited by Many and various Medias from several Countries accross the World), a Revendication of the Ambassador's Murder by a New Islamic Extremist Gang of "Jaish al-Fatah", which has included particularly "Al Nusra"'s Terrorists, i.e. the local affiliates of "All Quaeda".
The News were reportedly published f.ex. by the well-known Egyptian News Website and printed Newspaper "Al-Youm  Al-Sabea", which exists at least since 2008, and is Cited by "Reuters", "Tass", "The Guardian", and other Mainstream Medias, being the Most Visited News-Site in Egypt, according to "Wikipedia", and reportedly named as the Middle East's "Top OnLine Newspaper" twice by the prestigious "Forbes" magazine.
It was, on the contrary, Criticized mainly by Islamist Extremists, particularly related to the "Muslim Brotherhood", whose Leaders live notoriously Exiled in Turkey. 

That Revendication of Andrey Karlov's Murder was a Written Document in Arab Language,  reportedly in the Usual Format of "Jaish Al-Fatah"s Anouncements, which was Re-Published at the Web in Full.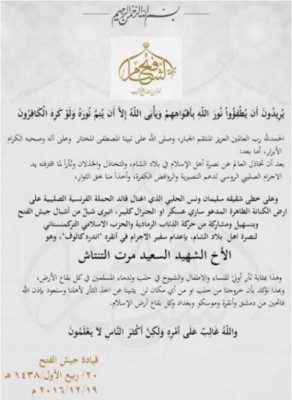 "Al Nusra" had already Launched, since October 2016, clear Calls to Attack "Russian People" in retaliation of Moscow's Help to the Syrian Government, while "Rockets hit the Russian Embassy at Damascus".

Idlib City, at the North of Aleppo, and widely considered as the most Probable Next Target of the Syrian Government - Russia - Iran - Lebanon Coalition, (as Syrian President Assad himself recently Confirmed), is the main Stronghold of Jaish al-Fatah (including mainly Al-Quaeda's local affiliate : "Al Nusra"'s Terrorists). Idlib currently hosts an over-Concentration of about 50.000 Jihadists, and is the Nearest Rebel City close to Turkey, from where Armed Gangs notoriously receive Money, Recruits and/or Weapons from Foreign donors, as USA's main Press Agency "AP" warned just a few Days ago.

All these converging Facts, obviously Belied Erdogan Government's claims that the Murder of the Russian Ambassador in Turkey by a Turkish Policeman, would be only a sly move by Gullen, (a former Ally of the Turkish President, who has afterwards quarelled with him, and stays self-Exiled in the USA).

----------------------
Erdogan's Newspaper tries to Deny...
-------------------------------------

However, After that, a Turkish Media, "Daily Sabah", - which exists only Since 2014, is notoriously "Pro-Government" (of Erdogan), and "frequently called a Propaganda outlet for the ... Ruling ... Party (AKP)", as even "Wikipedia" observes - tried to Deny all that : It Claimed that another "Jaish Al-Fatah" Member would have Accused the previously Published "Revendication" to be "a Fake", basing its allegations Only to an obscur "Tweet"... Repeating also Erdogan's claim that the Turkish Policeman who Murdered the Russian Ambassador would have been only a "Gullen" Secret Agent (See Above), that Pro-Government Turkish Media, nevertheless, Failed to find anything more as alleged "Proof", but Only a mere ...2 Days Leave demand, back on July 16-18, i.e. Shortly After that Strange, Short-lived, 6-Hours long "Coup" Attempt of July 15, 2016, (that it pictures in a Web Copy of a relevant Authorisation, Signed at main Kurdish City of Diyarbakir, ...but curiously Hidding its own Date !)...

But that Turkish Newspaper's Claim was Only re-Published, (in a Strange, 100% "Copy and Paste" Total Imitation) by some UnKnown Websites such as "Middle-East eye", an outlet allegedly Registered in the UK, but Hidding any Address and/or Name whatever (not even an Email !), which Claims to have just been Created After 2014 (i.e., by an Astonishing Coincidence : Exactly at the Same Time as that pro-Erdogan's Newspaper "Sabah", and during ISIS' greatest Extension towards Establishing a "Khaliphat" in Syria/Iraq), and "Targets" Middle-East Readers, thanks to a Local Network of "Freelancers" located in the Middle-East. (I.e. Probably Similar f.ex. to that Sly Militant who had notoriously made a Fuss in some Western Establishment's Media, with a Photo of a Sad Child in Islamist Terrorist-Held Eastern Aleppo, but was Found, afterwards, to have also Video-Filmed the Atrocious Be-Heading of anOther, Syrian Child, by a Gang of Islamist Terrorists holding many Aleppo's Civilians as "Human Shields" and "Hostages", according even to UNO's International Agents' recent Denonciations).     

Moreover, as mainstream "Voice of America" (VoA) Media recently observed, "Jaish al-Fatah" is, in Fact, an often Divided Conglomerate of more or less InFighting and Disparate Armed Groups, so that Contradictory Statements among Different Tendencies was a Frequent phenomenon, as far as those vartious Jihadists' Armed Gangs were concerned.

---------------------------

    => The Worst for such Shaky Claims by the current Turkish Government and its Pals, was, However, the Fact that, almost Immediately after the First News broke out on the Murder of the Russian Ambassador by a Turkish Policeman, Many Strong Denonciations of that Odious Crime Started to Arrive from a Fast-Growing Number of Top Political Leaders, Government Officials of Various Countries accross the World, (the New US President-Elect, Don Trump and Germany's Chancellor Angie Merkel included, as well as even the UNO, etc.

    >>> And the available Time was, then, largely Enough for Both TV-News of that Evening, as well as for the Daily Newspapers which would be Published and Circulate from Next Morning, Everywhere accross the Whole World, to be Fully Focused on that Unprecedented Murder of Russia's Ambassdor by a Turkish Policeman in Ankara, naturally making a lot of Publicity to that Horrible Incident, which was obviously Ready to Captivate the most Attention of the World-wide Community, just one Day after...

       This goes even more when one takes into account also Turkey's notoriously Bad Reputation about various Links to Islamist Terrorists, its Controversial Military Invasions inside both Syria and Iraq, as well as its Recently very UnPopular, Negative and Growingly Conflicting Tensions with EU Parliament, even CoE's PanEuropean Organisation, and Europe in general, as well as nearby UN Human Rights' bodies in Geneva, but also at UN New York Headquarters, (particularly about all those Unprecedented Massive Gross Violations of Human Rights by Mass Dismissals of Judges, Teachers, Soldiers, Policemen, Elected MPs and Mayors, Journalists and Medias, Kurds, etc., many Thousands of whom were notoriously Closed to Prison and/or Prosecuted, from various Areas of the Socio-Political landscape, Targetting Dissidents of any kind, in an obviously Excessive Way, (as Recently Condemned by several EU/CoE bodies, including "Venice Commission" of the PanEuropean Strasbourg's Organisation, etc., under Pretext of a Strange, Short-lived, Only 6 Hours-long, Failed "Coup Attempt" on July 2016, but, in Fact, even already Before that.

    Therefore, at least from the point of view of Turkey's Interests, as well as of those Islamist Extremist Armed Gangs (incuding ISIS, Al Queda's local affiliates, etc), which have notoriously used that State as a Corridor for Money, Jihadists and Weapons in Syria and/or Iraq, added to their Sponsors inside Saudi Arabia, Qatar, USA and some other Western Countries, Obviously, it was Urgent to Find a Way to Prevent a Growing Public OutCry against Turkey's controversial Links with Islamic Terrorism, which Could Really Become Threatening for their Shady Interests served through Ankara's UnPopular policies, after that Cold Blood Murder of Russian Ambassador Andrey Karlov by a Turkish Policeman in Ankara...

-----------------------------------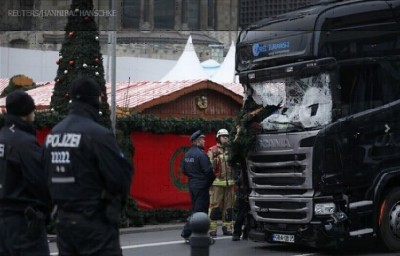 In that Exceptional Context, the Sudden Massacre of 12 Civilian People in Berlin's Christmas Market, which also Wounded some 50 more Victims, undeniably came at a very ...Timely moment, for the above-mentioned purpose, since it Immediately made such a Big Fuss in all Medias accross the World, (both Mainstream and Alternative), that it practically Covered Up what had been previously the "No 1" News of that Day, about the Murder of the Russian Ambassador !

Indeed, the Attack in Berlin broke out about 3,5 Hours After the Murder in Ankara, (i.e. Between, approximately 4.50 p.m. and 8.20 p.m., in Local Paris/Berlin Time, for Each Incident's initial Report at the Media).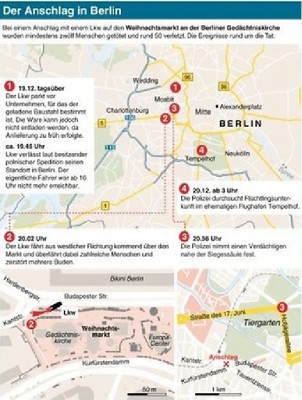 The Polish Driver of the Truck, (who was Afterwards found Murdered), hadn't Phoned back to his Company since After 4 p.m., approximately, and on 7h.45m that Truck Drove Away, withOut any Normal Reason, (since its Driver should have taken a Night Rest, then, after having Travelled from Italy to Germany), and after, curiously, Ommitting even to Deliver its Load of Heavy Structural Steel, Contrary to what had been Scheduled. The Distance between that Parking and the Christmas Market on which it Crashed, just a Few Minutes later-on, was rather Short, since those 2 Locations were situated not so far away inside Berlin, but towards the Same Side of the City.

Moreover, according to various Reports, it seems that the Murder of the Russian Ambassador was rather a Prepared and Planified Attack, (probably as also that of Berlin's Massacre, against a Famous Down-Town, Central Location, at one among the most Symbolic "Christmas Markets" of Europe, which had been already Targetted by Islamic Terrorists, as several Police Reports had Warned in various EU Countries many Weeks Earlier), so that the eventualy inter-related Perpetrators had, in Fact, Enough Time to objectively Coordinate, or, at least, Sequence their respective Actions.

In Addition, that unfortunate Polish Driver had reportedly made Previously a Round Trip to Berlin with that Truck, just a Few Days Earlier, and used to Eat in a "Bistro" (from which he send a "Selfie" Photo of himself, to his Family Business Headquartered at Nearby Poland, only a Few Hours before the Massacre, later in the Evening of that Same Day), before Parking and Delivering at apparently a Similar or even the Identical German "Company". It's also a fact that Both the main Suspect from Tunisia and the unfortunate Polish Truck Driver had Various Relations with Italy and Germany, (See Above) so that this could Facilitate things in practice.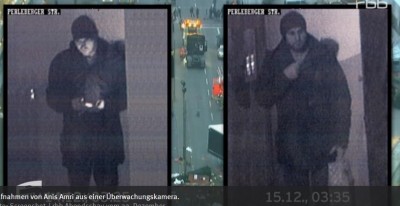 + Even more Important : The main Suspect had been seen, (and even his Photo cought on CCTV), just a few Days Before the Massacre (on December 14 + 15, etc), to repeatedly Visit a Muslim Mosque in Berlin's Moabit District, "at Perleberger street", reportedly Located Near the Truck's Parking, in front of ThyssenKrupp Company, which could be Easily Observed from there...
--------------------------------------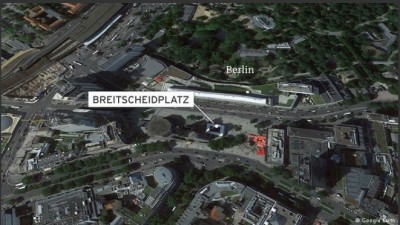 => So that, for any Gang which might have Simply Followed the Polish Driver, (and the real Murderer seems to have been "Supported by a Local Shell" of Islamist Extremists, according to Experts cited by mainstream Medias), it would, normaly, be quite Easy to Kidnap him and his Truck, so that the Killer could Throw it, Soon afterwards, against the Nearby Located Christmas Market, which was very easily Accessible from the adjacent Roads and large Avenues, withOut Any Protective Barrier, (as MAPs published in German Medias clearly show).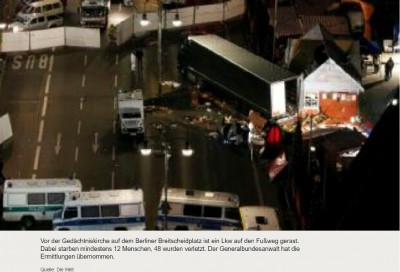 + Perhaps, the Most Important :  To that purely "Technical" Feasibility of 2 eventually Coordinated, or, at least, Inter-Related Attacks, during the Lapse of approximatively 3,5 Hours' Time, as Briefly Described Above, are also Added certan Other relevant Facts, of Socio-Political Significance :
First of all, the main Suspect used reportedly to Visit a ...Turkish Mosque in Berlin, (both a few Days Before and even immediately After that Massacre), which belonged to "DITIB", i.e. the "Turkish - Islamic Union for Religious Affairs", which "is a branch of the Presidency of Religious Affairs in Ankara". That is to say "an Arm of the Turkish State",  according to "Wikipedia" 

I.e., Not at all an Independent, Local Religious Community of People who live in the Country which Hosts it, (unlike all Other Religious bodies), but only a Tool Directly Subordinated to a Foreign Government, that of controversial Turkish President Mr. Erdogan ! Indeed, f.ex., "the Imams and the religious teachers are Sent (f.ex. to Germany) from Turkey", which Trains, Selects and Appoints them, controlling everything from Abroad.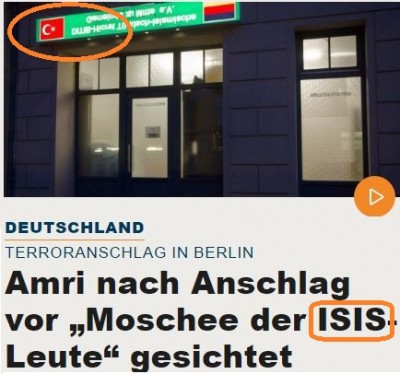 => Thus, if anyone inside Turkey's "Deep State" might, eventualy, want something to be done in Berlin by those who are inside such a "DITIB"'s Turkish Mosque, (as that where used to go the main Suspect of the Massacre, at Berlin's Moatib District), he had just to press a button on his Phone... 

In Addition, that precise Turkish Mosque, (called "Fussilet 33"), which was repeatedly Visited by the main Suspect of Berlin's Massacre, was, Notoriously, well known to be "The Mosque of the ISIS People in Berlin,"  (as many German Medias observed) ! 
So that the Existence of a possible Direct Link between the Berlin Massacre and the Murder of the Russian Ambasador in Turkey's Capital, Ankara, in undeniable in the present case...
-----------------------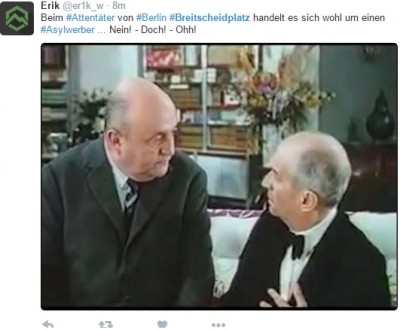 ++  Moreover, the main Suspect, a Tunisian irregular Migrant, (who came to Northern Germany on the occasion of the 2015-2016 Mass Influx from Turkey, and, even is his Asylum Demand was Rejected and he was Found to be Dangerous, nevertheless, he Scandalously ..."Ping-Ponged" between 2 Socialist-governed Regions, of NRW and Berlin, without being Expulsed, because of purely Bureaucratic reasons !), with a Petty Criminal Background (f.ex. already Condemned in Italy also for Violent acts, known in Germany for Drug deals, etc), had emerged from an Extremist Islamic Personal Context :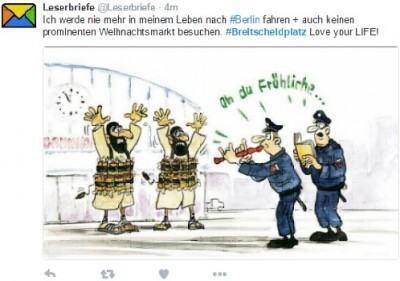 Indeed, he reportedly stemmed, according to a Tunisian Expert cited by the German Press, from an Area (Near a Famous, Historic Muslim Stronghold in Tunisia, since the Ottioman Invasion/Occupation times : Kerouin) which is Located close to the Border with Libya, and Known for its particular Links with the Armed Islamist Terrorist Group of "Ansar al-Sharia" :

   That Same Armed Gang which has been Suspected to stand Behind the Unprecedented Brutal Killing of US Ambassador Stevens and other 3 American Servicemen at Benghazi, back on September 11, 2012, immediately After having met with a Turkish Diplomat, (an Incident often said to be Related with alleged illegal Arms Smuggling by Ship towards Syria-located Islamist Terrorists). "Ansar al-Sharia" reportedly had also a Similar Political Agenda as "ISIL"s Deadly Terrorists and atrocious BeHeaders even of innocent Civilian People, (i.e. mainly about Applying by Force a "Sharia Law" in a Trans-National "Islamic State", etc). It has been Cited, by various converging Mainstream Sources, as having even been Linked somehow, Partialy, to the very Creation, Emergence and/or Development of "ISIL" itself, to which, at least, it's Not Opposed, according to an US-Based NGO's 2015 Report on Islamic Armed Groups in Syria/Iraq, (many of whom are usually Funded also by Saudi Arabia, Qatar and/or Turkey). Finaly, it is usualy Located, in Northern Syria, Near to the Turkish Border.

  I.e. close to Aleppo, Idlib, etc, which were notoriously Mentioned, Earlier that Same day, by the Turkish Policeman who Murdered the Russian Ambassador in Ankara...

   => In Brief, to put it in a Nutshell, in Other Words, converging Facts indicate that the main Suspect for this Unprecedented Massacre Targetting Civilians in Berlin, may, eventually, be even Politicaly Related (through Common Islamic Terrorism Links, as cited above) also with that Turkish Policeman who Murdered the Russian Ambassador in Ankara, 3,5 Hours Earlier that Same Day !

     The fact that ISIL later Revendicated the Berlin Massacre, does Not Oppose such a Possible Link. On the Contrary : the Exact Wording Chosen now by ISIL, - f.ex. "a Soldier of the Islamic State", who was "Inspired by the Call to Target the People of those States which are part of the (US-led) International Coalition" supposed to Fight against ISIL, - has been notoriously used in various cases of Individuals who might loosely Gravitate Around ISIL, and/or be Influenced by its Messages, even withOut Being fully-fledged Members, Nor have any Concrete, Immediate and Direct Operational Link to that precise Terrorist Group. And, at any case, Both "Ansar al-Sharia" and "ISIL" are Opposed to any European Action (be it from an EU Country or Russia, etc) to Help an International Fight against Deadly Islamist Terrorism in Syria/Iraq, etc.

    All these astonishing Facts and Logic reasons, clearly indicate that Investigations on these 2 Differend Islamic Terrosist Attacks against the two Biggest European Countries of Germany and Russia, should Better be also Coordinated somehow, in the most Adequate, Simpler and Efficient way - and, at Least, Never Lose Sight of the main Findings in Both these Parallel and almost Synchronous Cases - if Europe and the World really want to have a Chance to Discover all the Truth about what might be Hidden Behind such 2 Unprecedented Deadly Violent Incidents, openly Targetting Defenseless Civilian People the Same Day.
    Unless such Tragic, Horrible Events, at last Stimulate all European and other Well Intentioned People's Firm Will to really Start Taking Together Efficient Action in order to put a Full Stop to such a Deadly Islamist Terrorism cowardly targetting unarmed Civilians, not only in Europe, but also Worldwide, as f.ex. the New US President-Elect, Don Trump, has just Denounced, by slaming these 2 Brutal Incidents as "Attacks against Humanity".
(../..) 
***
(Partly UPDATED)
***

BRIEF NEWS
00:00 - 30.01.2017

00:00 - 14.10.2016

00:00 - 24.09.2016

00:00 - 27.07.2016

00:00 - 03.07.2016

00:00 - 01.06.2016

00:00 - 12.02.2016

00:00 - 09.12.2015

00:00 - 14.10.2015
Statistics
Visiteurrs: 19487174
Archive
Login Form
Other Menu

They voted to "freeze" UK Government's draft to put People in jail for 42 Days on "anti-terrorist" suspicion without charge, or they abstained. Don't they look suspect ?
-------------------------
CoE's debate on UK controversy stirs PanEuropean check of anti-terror suspects' imprisonment


Former Leftists of the Sixties would boil in hot water if they heard PACE's debate on the controversial 42 days detention without charge, currently drafted by the British Government :
A "Socialist" Government, a Socialist PACE Rapporteur and a Socialist Chair of PACE's Legal Committee, opposed a .. "Conservative" amendment (supported by .. Liberals, Democrats, etc), to freeze the measure, in order to protect Citizens' Freedom, by "waiting" until CoE's Venice Committee checks its conformity with Human Rights' principles.
"Left"'s support to Conservative-Lib.Dem's criticism, wasn't enough to obtain a majority, nor to make things as they were back in the good old days, when "Left" and "Right" had a clear meaning, as "liberty" and "restrictions"...

Conservatives and most Democrats were joined by the Left in voting for the "freeze", as well as Liberal Paul Rowen, while Socialist MEP Ivan Popescu, an experienced MEP from Ukraine (PACE Member since 1996-2008) abstained. But most Socialists, added to a few Liberals and EPP's Right, voted against.

Fortunately, someone inside PACE had the wise idea to shorten the Debate for less than 1 Hour, and put it on the Agenda only at the end of an exceptionally busy day, towards the end of the Evening, when most MEPs had already gone to taste wins and foods at various Receptions all around Strasbourg's "European" area : As a result, not even 42 MEPs weren't present..

Socialist Lord Tomlinson accused the leaders of the PanEuropean Assembly, in its highest body : the "Bureau", to "lack wisdom" by deciding to hold a Debate on an issue that neither the Socialist Chair of the Legal Committee, nor its Socialist "reluctant Rapporteur", did "not want to do", ...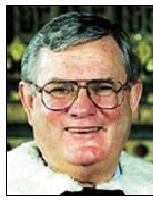 Finally, everybody (critics and supporters alike) was happy to agree, in substance, that the controversial measure "may" gravely violate Human Rights, and therefore, PACE asked Legal Experts of Venice Commission to check UK Government''s plans.

But this might take more than .. 42 Days to do, since PACE's Rapporteur asked the Experts to enlarge their study in a PanEuropean comparison of all that is happening on "anti-terrorism" legislation in 47 CoE Member Countries, including Russia, Turkey and Azerbaidjan..

Bad lack : "The existing 28 days' detention without charge in the UK is, in comparison with other CoE member countries, one of the most extreme : In Turkey, the period is 7,5 days, in France 6 days, in Russia 5 days, and in .. the U.S. and Canada just 2 and 1 days respectively", denounced Democrat MEP Ms WOLDSETH from Norway..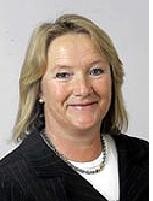 "Numerous respected human rights organisations, including Liberty and Human Rights Watch, have expressed serious concern" "The proposed legislation ...could easily lead to extensive abuses. ...Detention for 42 days means six weeks in which one is taken away from one's family, friends, home and livelihood only to be let off without being charged. That will destroy lives and isolate communities", she added.

- "3 years ago, the UK Government sought to increase the period of pre-charge detention from 14 days to 90 days. Not long before that, it had been only 7 days. There was a vigorous debate ...and a ...compromise was reached of 28 days. We have to ask whether there are proper safeguards in place to extend the period to 42 days. I suggest that there are fatal flaws", reminded British Conservative Clappison.

- "What sort of society holds someone in detention for 42 days and does not have to tell the person who is in prison why they are there, or explain the suspicions that arose and led to their detention? What sort of society believes that that is the way to treat its citizens? That is an appalling injustice, ...A 42-day detention period will not make the UK safer. Instead, it will be the first step to giving in to terrorists; it is saying that we are prepared to sacrifice our democratic rights and the principles for which we have stood for centuries", criticized British Liberal Michael Hanckock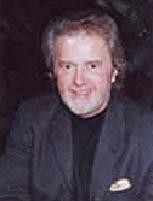 "Comments made ...by Norwegian delegates are unfortunate", replied British Socialist MEP Ms.Curtis-Thomas, accusing them to "besmirch the reputation of our police force, which is one of the Best in the World", as she said, believing that "there are significant safeguards ...to ensure that individuals are not subjected to unlawful detention"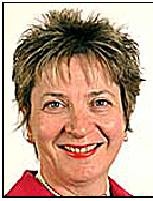 PACE "has serious doubts whether ...the draft legislation are in conformity with the ...case-law of the European Court of Human Rights. A lack of ..safeguards may lead to arbitrariness, resulting in breaches of ... liberty and ...right to a fair trial". PACE "is particularly concerned that: ..the judge ..may not be in a position to examine whether there exist reasonable grounds for suspecting that the arrested person has committed an offence;"; that "... representation by a lawyer may be inappropriately restricted or delayed;" that "information on the grounds for suspicion of a person ...may be unduly withheld.. ;" that this "may give rise to arrests without the intention to charge;", and; in general, that "prolonged detention without proper information on the grounds for arrest may constitute inhuman treatment", says Klaus De Vries' Report, adopted with 29 votes against zero.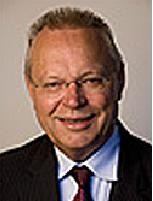 Records don't say if it took him 42 Days to draft his Report, but, at least, he knew why...


Polls