CoE : Bildt "against Volcanoes" !
Saturday, 10 May 2008


CoE Ministers' Swedish Chairmanship starts dealing with "delicate" PanEuropean issues : From Abkhazia, to ECHR judgements' implementation (and Turkey), up to Genetic Testing : - To "handle with care !"...

--------------------------------------------------

Council of Europe's New Chairman, Sweden's Foreign Minister Carl Bildt, was better inspired than he thought, when he stressed with emphasis in Strasbourg that "we (CoE) are against Volcanoes !"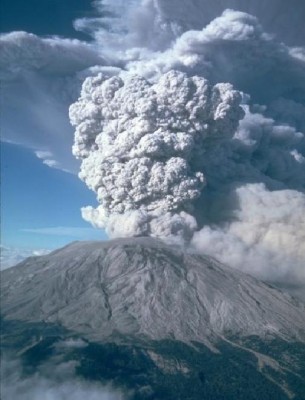 Bildt was refering to a reply given by CoE's Secretary General, Terry Davis, to a topical question on the row between Georgia and Russia on how to deal with the Abkhazian region :

- "We (CoE) used to call such kind of conflicts : "Frozen Conflicts". But, sometimes, a better description could be : .."Sleeping Volcanoes !" , Davis warned.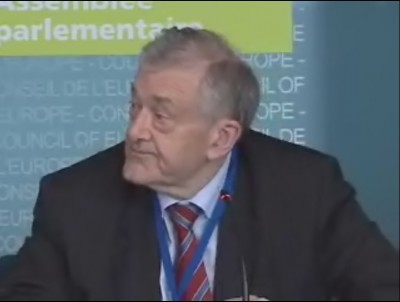 He was speaking the same week that the whole World was astonished by the unprecedented spectacle of a Chilean Volcano, which had been quietly "sleeping" for Thousands Years, but suddenly started to erupt, with Dangerous Giant Ash Clouds triggering a series of damages and threats...

Before Kosovo's unilateral declaration of independence, Vladimir Putin, former President and new Prime Minister of Russia, had warned that hasty moves might trigger a series of various other territorial issues concerning many differend ethnic conflicts in Europe's surroundings :

- "I wouldn't be surprised if now he said : - "I warned you !", a Slovenian diplomat told us.

In these conditions, naturally, Bildt's declared intent to prevent any "Volcanoes" from erupting in CoE's 47 Member Countries, as a matter of Pinciple, starting from the urgency of Abkhazia in Georgia, could only be welcomed...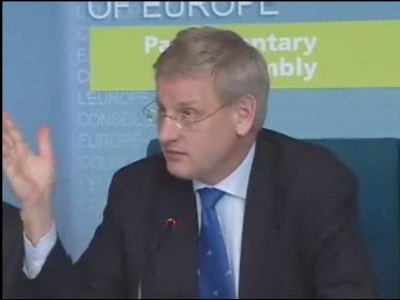 But this week's news proved that the most dangerous "sleeping volcanoes" might emerge by surprise, at unexpected areas, even there where no eruption ever took place for thousands of years...

And facts indicate, that other kinds of "sleeping volcanoes", might not be located so far away as .. Chile's Patagonia or Georgia's Abhhazia, but might emerge even at Europe's core, threatening to affect all its area, if nobody cares to take adequate measures on time :



Is it merely another "coincidence", that Bildt's declaration "against volcanoes" came just before he was questioned on another issue, less "spectacular", but bigger ?

- "EuroCourt's President, Jean-Paul Costa, warned this year that the problem of overload in pending cases is no more limited to the Court, (which notoriously faces for years a rising number of applications), but started to affect also CoE's Ministers, because many judgements are not implemented", EuroFora's question to Bildt began.

That's why, CoE's 2008 Ministerial Summit "stressed .. the need to actively .. enhance the effectiveness of the (European) Convention (on Human Rights)' control system". It found "important.. to ensure that the Convention is effectively implemented", "thereby contributing to a reduction in the workload of the European Court". CoE's No 1 priority for 2009 is "action to ensure the effectiveness of the implementation of the ECHR at National and European levels", with "measures to enhance implementation", a communique said.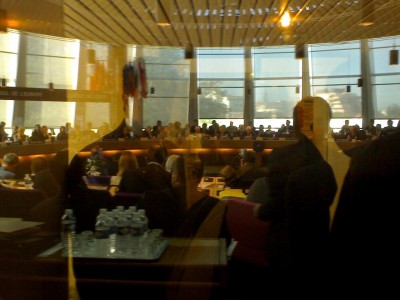 - But, "recent Statistics reveal that 1.400 condemnations by ECHR at the last Decade (1998-2007), mostly for Grave Human Rights Violations, concern one State : Turkey. And that's also a New Problem, because even at the end of 2007, more than 23% of non-executed ECHR's judgements concern also the same State. Is there any hope to use EU - Turkey Negotiations, or any other idea, in order to convince it to respect ECHR's judgements ?", Bildt was asked.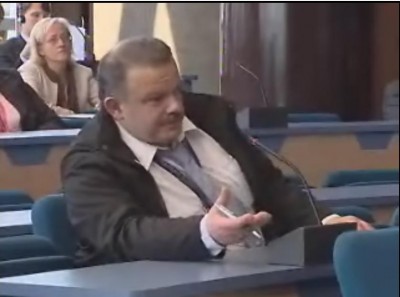 - "There is only one possible answer : Yes. Of course, we (CoE) are hoping that", started CoE's new Chairman, Swedish Foreign Minister's answer. Thus, "EU - Turkey accession negotiation" "will take its Time" and "there will be Challenges, that we are all aware of", Bildt warned Ankara in reply.

He went on to stress the "great importance" that has also the "resolution of Cyprus' issue" with a "reunification of the island" able to "ensure respect for Human Rights and Democracy in all parts of Cyprus", welcoming the "hopes" recently created by a "New Phase" in preparatory talks.

Bildt wasn't wrong when he decided to include Cyprus in his reply : ECHR has notoriously condemned Turkey for massive and "continuing" human rights' violations against Displaced persons' homes and properties, "Missing" People and their Families, etc.

But, Cyprus' related ECHR judgements, despite their importance, are only a ..tiny proportion out of nearly two Thousand condamnations of Turkey for human rights' violations, which concern also other issues (Torture, Arbitrary deprivation of Liberty, Unfair Trials, Enforced "Disappearances", oppression of Freedom of Speech, Kurds, impunity of abuses committed by Turkish security forces, etc).

Real stakes are huge : If some don't want for CoE to name the "Smoking Gun", responsible for a deadly threat against Europe's Human Rights protection system, then, it might end up as a ... "Smoking Volcano", threatening to cover with its dangerous ashes all CoE and its 800 Million Citizens !..

Some already started to speculate that EU might take over CoE's Ministerial Committee's task to "supervise execution" of ECHR judgements (according to CoE's Statute), provoking a gradual withering-away of the CoE, if it fails in its duties, an experienced CoE Expert told us..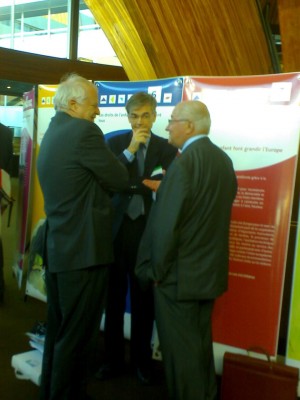 ECHR's President Jean-Paul Costa, and Head Register Erik Fribergh, with CoE's Human Rights Commissioner, Thomas Hammarberg, at CoE's 2008 Ministerial Summit : plotting a new way to implement ECHR's judgements ?
---

He obviously warned because he sincerely wished for his beloved organisation : the CoE, to wake-up on time, before it becomes too late in order to save its "life" from the dangers of such a huge "Sleeping Volcano" as the growing number of ECHR's non-executed judgements on grave human rights' violations...
A bad example, particularly for "new" CoE member-States, like Poland, Ukraine or Russia...

A new Report, currently prepared by CoE's Assembly, on implementation of ECHR's judgements, due to be debated in public and voted during 2008, may observe such risks.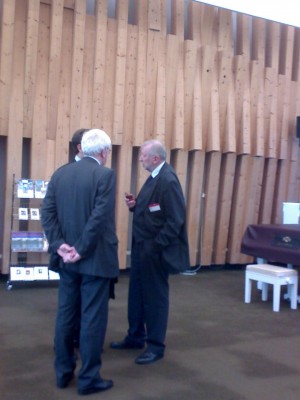 EU Chairman, Slovenian Foreign Minister dr. Dimitri Rupel, at CoE's piano : ready to help CoE play the Human Rights music ?
---
But this might not be the end of CoE's "Sleeping Volcanoes" :

You'll never find it in any fancy Radio-TV or sensational, mass-circulation Newspaper, but this doesn't mean that there is nothing inside CoE to inspire famous Cinema director, Steven Spielberg :

Nobody noticed, at the edge of an endless Catalogue of numerous Decisions taken by CoE's 2008 Ministerial Summit, (not immediately given to the Press), a bureaucratic reference to the "adoption of the Additional Protocol to the Convention on Human Rights and BioMedicine concerning Genetic Testing for health purposes".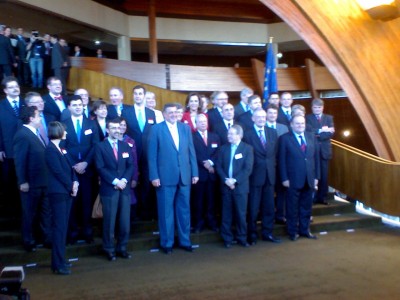 What's that ?
Simply something which might soon become much more important than the Georgia - Russia row over Abkhazia, the solution of Cyprus' issue, or even the execution of ECHR's judgements :

- The legalisation of "'Tests" on Human persons, at the age of Genetics, a Decade after deciphering all Human Genome, almost a Century after Aldus Huxley's world-famous "Brave New World" warning !

Naturally, CoE, which is alone in Europe and the whole World to forge Legally-binding Rules on Bio-Medicine and Human Rights, had to try to accomplish its duty to set Legal Standards able to facilitate the development of efficient and promising New Technologies, while also ensuring the respect of Human Persons' fundamental Rights, Freedom and Dignity.

But the right balance to find between these two important factors is notoriously a very delicate exercice.. And the eventual Dangers, in case of errors of loopholes, are obviously huge for all Humankind.

Did CoE's Experts succeed to overcome any serious risk, and strike the right balance ?

Are there some "gaps" to fil, (as it was also the case with CoE's basic International Convention on "Bio-Medicine and Human Rights", opened to signature at 1998 Oviedo Conference) ? Is it urgent to rectify or complete something ? How, and when might this be done ?

All these (and many other) Questions have to start being examined in enlightened Public Debate and full Transparency, now that CoE adopted the Protocol on "Genetic Testing".

Careful, Sweden's predominantly Christian-Democrat Government, even if the country has a "liberal" reputation on Genetics, didn't seem too eager to hastily hurry-up developments on this issue, perhaps in order to avoid an eventual World-wide "sleeping volcano"...

Wisely, Sweden decided to keep this file "freezed" during all its 6 Months CoE Chairmanship (May to November 2008). It promised to let the following, Spanish Socialist Government's chairmanship of the CoE, open to signature the "Genetic Testing" Protocol only on November 2008, when Madrid will take over.

By another "coincidence", the chosen Date comes immediately after USA Presidential Election, scheduled for the beginning of November.

CoE's International Convention on "Bio-Medicine and Human Rights", for obvious reasons, was open from the start to participation from all Countries in the World, and USA's Experts contributed in its preparation. Everybody knows that Bio-Ethics (and mainly restrictions against Genetic Tests destroying Human Embryos) was an issue for USA' President George W. Bush's "Veto" to some controversial bills of the American Congres, as he had promised to his voters in 2000 and 2004.

But nobody knows yet which "'volcano" might wake up after November 2008 ..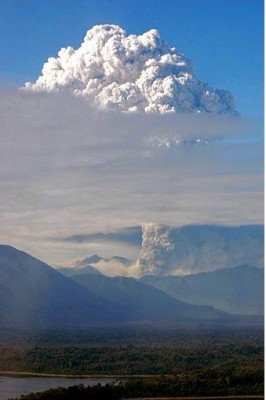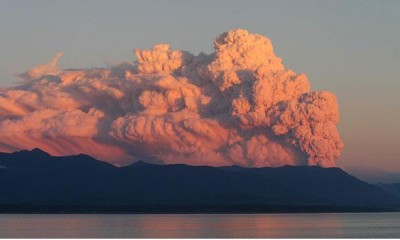 Meanwhile, EuroFora can't but wish "bon courage" to Carl Bildt's declared wish to act "against Volcanoes" during his 6 Months chairmanship of CoE's Ministerial committee.

All well-wishers are welcome to join, f.ex. by making good use of Carl Bildt's excellent Web-blog, where he astonishingly succeeds to note almost every move or project, at : http://carlbildt.wordpress.com
Bildt speaking to Journalists, under the careful eye of Swedish Ambassador Per Sjorgen, and the careful ear of CoE's Communication's Director, Seda Pumpyanskaya. 
--- 
Naturally, given all the delicate "hot" issues with which he has to deal, recently it become a ..Linguistic "Volcanoe" :

- Initially published in English (until 2007's end), recently, Bildt's interesting blog, wisely switched over to the ...Swedish language !

Got that handy Swedish dicco with you ?...

BRIEF NEWS
00:00 - 02.06.2021

00:00 - 18.10.2020

00:00 - 19.06.2020

00:00 - 18.05.2020

00:00 - 20.04.2020

00:00 - 02.02.2020

00:00 - 09.12.2019

00:00 - 27.11.2019

00:00 - 16.11.2019
Statistics
Посетителей: 52938924
Archive
Login Form
Other Menu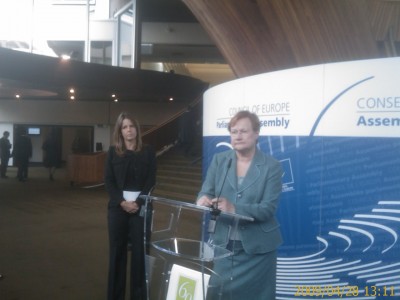 People in Europe and the World expect from CoE to make a succes of its "Monitoring" for Human Rights and Democracy, despite difficulties, said Finland's President Tarja Halonen to "EuroFora" at a crucial moment for the mecanism built 15 years ago by the paneuropean organization which celebrates its 60th Anniversary in 2009.
Halonen, known as "Mother" of CoE's "Monitoring" mecanism, a long-time MEP and former Foreign Minister before becoming Finland's President, holds a long experience in the mattter, after also serving twice as CoE and EU Chairwoman in the past. That's why she is well placed to judge how CoE's "monitoring" should deal today with some crucial issues of importance both to CoE and to the EU.
The move came just a Month before a crucial, last visit to Turkey, scheduled for June, by the President of CoE''s "Monitoring" Committee, Ukranian MEP Serge Holovaty, to finalize his Report on Ankara, the CoE Member State with the longest Monitoring procedure. From its results depends its overall credibility.
This is a Test-case, because, in fact, it's in order to avoid Sanctions threatened against Turkey by a CoE's Assembly's April 1995 Resolution for grave Human Rights violations, Democracy gaps, the continuing Military Occupation in Cyprus, the unresolved Kurdish problem, Aegean differend with Greece, etc., that MEPs decided to create, for the 1st time on April 1996, a "Monitoring" proces, allegedly destinated to check, without excluding Countries who did not fulfill all CoE's standards.
In the Past, the obliged withdrawal of Greece's Military regime and of its "Civil" cover-up out of the CoE had helped bring back Democracy in 1974. But, on the contrary, since April 1996, the idea was to "monitor" Human Rights' respect while keeping most concerned Countries inside the CoE. After Turkey's oldest example, this was extended also to several former "Eastern" European Countries, even if CoE's Assembly has imposed to some of them (fex. Ukraine, Russia, etc., after Belarus, Serbia, etc) various "Sanctions", that Ankara always avoided. Curiously more succesful even than .. USA itself, (a CoE "Observer" since 1995), which has been at least threatened with sanctions some years ago..
EU-effects of CoE's Monitoring process became obvious between 2001-2008, since the "closure" of this procedure, when CoE felt that a Country had met most of its Human Rights, Democracy and Rule of Law obligations, (i.e. the "Copenhagen Criteria" for the EU), helped trigger Negotiations with the EU for "Accession" or other closer relations : This occured already before the 2004 and 2007 EU Enlargements to former "Eastern" European Countries, as well as for the commencement of "accession" negotiations with Croatia, and of "open-ended" negotiations with Turkey in 2005.
    But a stricking new development are Holovaty's recent findings that on core Human Rights issues as Torture and Freedom of Expression, Turkey, even "5 Years after" CoE closed its "Monitoring", back in 2004, inciting EU to start accession Negotiations in 2005, still presents grave problems.
    His findings are of crucial importance after a 2008 CoE Resolution called, "if need be", to "seriously consider the possibility of Re-Opening the Monitoring procedure for Turkey" : A move which might affect Ankara's controversial EU bid, since EU Accession Negotiations are based on the Hypothesis that the Candidate fullfils the "Copenhagen Criteria" (See above)..
-------------------------
    Holovaty expressed his will to check  "Matters still Outstanding" and  those that he "didn't have an opportunity to discuss" at an earlier visit this year, "in order to discuss the more complex issues in greater depth", at his forthcoming New Visit to Ankara, before the December 2009 EU Summit.  This is all based on the 2004 CoE Resolution which stresses that, CoE "will continue.. post-monitoring Dialogue with the Turkish authorities,...in addition to a 12-points list,..and on any Other Matter that might arise in connection with Turkey's Obligations as a CoE member state".
    CoE's Resolution also asks  from Turkey "to secure the proper Implementation of Judgements, particularly in the Cyprus v. Turkey InterState case", of 2001, which concerns also the plight of many Hundreds of MISSING People. It adds Turkey's obligations to "execute" ECHR's Judgements in the Loizidou case,..and in particular adopt General Measures to avoid repetition or continuation of Violations found by the Court" to the detriment of Refugees.
    Nevertheless, Holovaty said to "EuroFora" that "MISSING" persons,"might be included" and cannot be excluded, but he has yet to examine the situation "to find out  which issues will be raised" to the Turkish Government.
    Therefore, "EuroFora" asked Halonen, as the Historic "Mother" of CoE's Monitoring mecanism, if she thought that, "whenever there are grave Human Rights Violations, as fex. "MISSING" persons, attested even by ECHR's judgements, they should be always checked by a Monitoring process. Or could they be forgotten ?"    
     - "We (CoE) must be, at the same time, Fair, Realistic, but not in the mind that "now we have Forgotten", etc., replied to "EuroFora"'s question Halonen, speaking as a matter of general principle.
    - "When we think of those People that are suffering from the lack of Democracy, of Human Rights, and of the Rule of Law", "we should find a base on how to deal with the (Monitoring) system more rapidly"', she stressed.
    - "Sometimes it's very difficult to combine Transparency and Effectivenes together, particularly in this specific case", she went on to say. But, "I have not found a (CoE Member) Country who could be insensitive in this sens", Halonen answered concerning grave Human Rights violations attested by the ECHR.
    - "I have no ready-made answer. I have the expectations that you, in the CoE, will, step by step, find the different types of the monitoring systems."
    Also "because this is a part of the UN's Post-Conflict system, (fex. when it comes to Cyprus' MISSING persons), and it's a more Global system". So that, "If we make a succes in Europe, the others will follow", throughout the World.  "But they expect that we (Europe) are this opportunity, this Opportunity to make a Succes", Halonen concluded.
    In addition, she advised to extend CoE's Monitoring to all its 47 Member States, "because, as long as we hear that, all these monitoring systems are "OK for the neighbor, but not for me", "it's very difficult" to understand. Something which could make easier to Compare...
    Finnish MEP Jaako Laakso, former CoE Rapporteur on the Occupied Territories of Cyprus and one of the 5 Signatories of the Historic CoE's call to create the "MONITORING" mecanism since 1996, was more specific :  - "We (CoE Assembly) have to find a way for the issue of Cyprus' MISSING People to be better followed", he stressed, anouncing his intention to "speak to Mr. Holovaty" about that. "There might be also other ways", added Laakso.
    - The 2008 "Year had been a very Bad one for Turkey with regard to Human Rights in general, and Freedom of Expression in particular", denounced, meanwhile, Holovaty's preliminary Post-Monitoringh Draft Report by Holovaty, published by the CoE on April 2009.
    "Amnesty International believes that freedom of expression is not guaranteed given the various articles of the Criminal Code that restrict it. .. "For example, 1,300 Websites are said to have been closed down by the (Turkish) authorities in 2008" ! While "the new Turkish Criminal Code was used to bring a total of 1,072 proceedings between June 2005 and April 2008, and led to the conviction of 192 people", for expressing views. "Representatives of the Özgür Gündem newspaper, which specialises in Kurdish affairs, ..complained about Numerous Attacks on their Freedom of Expression ...as was everyone who advocated a settlement to the question by means other than the intervention of the army" "According to their figures, 19 Newspapers had been suspended 43 times between 4 August 2006 and 4 November 2008" !...
    Moreover, on 2008,  CoE's "Ministers adopted its 4rth Resolution on the execution of the judgments of the ECHR, ...and outstanding issues regarding 175 Judgements and decisions relating to Turkey delivered between 1996 and 2008...  concerning Deaths resulting from the excessive use of force by members of the Security forces, the failure to protect the right to life, the DIisappearance and/or death of individuals, Ill-Treatment and the Destruction of property". CoE's " Ministers urged the Turkish authorities ...to ensure that members of Security forces of all ranks can be prosecuted without administrative
authorisation" for "serious crimes". Holovaty reminded.
"Nonetheless", Holovaty heard anew of "Several cases of Violence committed last year (2008) by the (Turkish) security forces". Amnesty International speaks of Many Cases of ill-treatment and Torture in the prisons and by the police". "Including, fex."'the death of Engin Ceber, a young man of 29 who died on October 2008 as a result of the TORTURE allegedly inflicted on him by police officers, prison staff and members of the gendarmerie. He was part of a group of people arrested on September 2008 during a demonstration and Press Conference in Istanbul'. Proceedings against suspects are "on-going" in this case.
- " I therefore noted an Obvious Contradiction between the Government's stated "zero tolerance" policy.... of Torture and other forms of ill-treatment, and the different testimonies given", denounced CoE's Rapporteur.  Turkish "authorities must make considerable efforts to guarantee that proper investigations are carried out into allegations of abuses by members of the security forces and that perpetrators are effectively punished" "In this respect, I have requested detailed Statistics on the number of Investigations, acquittals and convictions in cases involving allegations of abuse in order to show the positive impact of the measures taken to date", Holovaty said, repeating a permanently unsatisfied CoE's demand to Turkey since a Decade...
    - "The Political Crisis that shook the country in the spring of 2008 highlighted the Weaknesses of the (Turkish) Constitution", which comes from the Military regime of 1982, "and the Urgent Need of Reforms", stressed from the outset CoE's Rapporteur in 2009. In particular, "the ...Democratic functioning of state institutions, including the independence of the judicial system, are crucial", he observes.
    But, "the Electoral  system and the ways in which it is circumvented do not appear to give those elected complete Legitimacy, and tend to pervert the course of direct universal suffrage", denounces Holovaty, observing that, even 5 Years later, Turkey did not yet change the 10% nationwide Threshold for a party to take any seat, which is "far higher" than the "3%" maximum in Europe and already condemned as contrary to European Standards by the CoE.
    + Moreover, EU Parliament's 2009 Report on Turkey, drafted by Dutch MEP Ria Oomen-Ruijten and adopted in Strasbourg on March, expresses "Concern over the Failure of the (Turkish) Judiciary to prosecute cases of Torture and Ill-treatment, the Number of which is Growing". EU also "is concerned about continuing Hostility and Violence against Minorities" in Turkey. It also "calls on the Turkish Government to launch, as a matter of Priority, a Political Initiatve favouring a lasting Settlement of the Kurdish issue, (while "condemning violence.. and terrorist groups"). EU "regrets that No progress has been made on establishing full, systematic Civilian suprevisory functions over the (Turkish) Military".
    The final results of Holovaty's 2nd and last visit to Turkley will be known later this year, and, at any case, before EU's December 2009 Summit.
Polls