Home

In Brief

Spain: Jailed Turkish Terror suspect with Explosive,Drones,Chechen accomplices stirs Merah+ Burgas ?
Spain: Jailed Turkish Terror suspect with Explosive,Drones,Chechen accomplices stirs Merah+ Burgas ?
Friday, 03 August 2012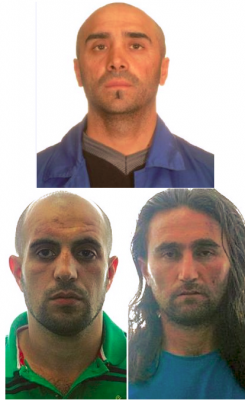 The Turkish Terrorism suspect with Explosives, Drones, Poison, Hide-out, etc. arrested Thursday in Spain, had "trained", equiped and hosted 2 Chechen "Independantists" accomplices heading towards France, who had Pakistani/Afghan links, similar to the Islamist Terrorist Merah, the Murderer of Jewish Children and their Father in Toulouse at crucial moment of the French Presidential Elections' campaign, as it was revealed after a Press Conference by Spanish Interior Minister Diaz, followed by relevant moves by French Minister Valls, convergent with relevant New developments even on the Bulgarian Deadly Terrorist case's investigation, (See Infra).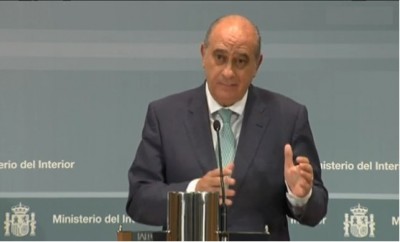 The Spanish incident with personaly linked Turkish and Chechen Terrorism suspects arrested after meeting together for many Days near Gibraltar, comes shortly after the  Burgas (Bulgaria), Toulouse (France), Nicosia (Cyprus), Damas (and other Syrian cities close to Turkey), Kirkuk (Iraq, near to Turkish borders),  and other recent Terrorist incidents, (directly or indirectly related to various Turkish links, areas of interest and/or stakes), most of which were strongly condemned by the EU, CoE and UNO leaders.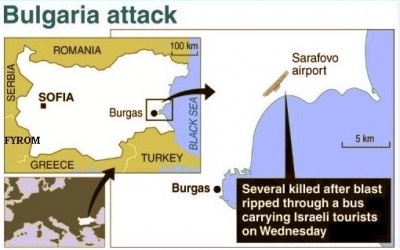 In a converging development, meanwhile, Bulgarian Authorities anounced that they have just arrested also a Turkish suspect wanted for Terrorism and a Chechen, shortly after Prime Minister Borisov, (a former Security Agent himself), denounced the fact that the Deadly Bombing which recently killed Israeli Tourists at Burgas, near the Turkish Borders, (See MAP), had been prepared "by Foreigners from Abroad", who had come and stayed in the Country for at least 1 Month before the Terrorist attack, but should have also some Local logistic accomplices, f.ex. in order to "assemble" on the spot the Device which triggered the Explosion destroying the Tourist Bus.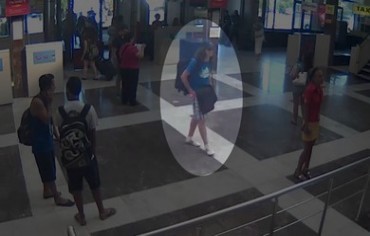 The Turkish Terrorism suspect arrested in Spain with Explosives, Poisonous substances, Remote-Controlled miniature AirPlanes (or Drones), etc. in a Hideout where he met and gave "Training" to 2 Chechen suspects, had been given a Job since a long time at the contested Brittish islet of Gibraltar (UK), and had a residence near a USA Military base in Mediterranean Spain, whose Police reportedly fears a plot against European a.o. countries.

------------------------------------------
French JHA Valls starts reacting on Merah Murders' Investigation
------------------------------------------------------------------------
    The 2 Chechen suspects linked to the Turk found in possession of "GunPowder" able "to Blow up a Bus" etc., were arrested after taking a Road in direction of France. One of them is "expert in Explosive and Poisonous substances", and another already "Wanted" by Foreign Services as a "Highly Dangerous Al Queda" member, that the arrested Turk said that he was helping them to get Asylum because they struggled for Chechnya's "Independence", (i.e. a frequently Violent Scissionism, to the detriment of Russia's sovereignity and Territorial Integrity).

    They had reportedly come to Spain from France about "2 Months ago", where they would have stayed during the recent Electoral Campaigns of February-June 2012, (crucial for Turkey's controversial and unpopular EU-bid), i.e. probably when the Deadly Islamist Terrorist Merah claimed that he had received Material Help "from abroad" in order to prepare and commit the Murders of 3 Jewish Children and their Father on March 19, after that of 3 unarmed French Soldiers, the same week of an exceptionaly important Speech scheduled by former President Nicolas Sarkozy on European policies, (including EU Enlargement) here in Strasbourg on March 22.
    Meanwhile, pro-Governmental Turkish Newspaper "Zaman"'s edition in English had published an Article ... blaming Sarkozy's notorious Opposal to Turkey's controversial and unpopular EU bid, as well as larger European People's and Politicians' views on "Civiliation", Historic and Cultural Identity, as well as other EU Values (probably including Democracy/Rule of Law/HumanRights, etc), that it accused to be ... Responsible for the Murders committed by Islamic Terrorist Merah, even threatening Sarkozy, France and Europe with Worse coonsequences in the Future, if they didn't change their stance on Ankara's EU ambitions. Such a blatant Interference in French Domestic affairs, was inevitably perceived as an attempt to Terrorise Sarkozy's Government in order to Hinder him from repeatind and/or developing further in 2012 his Victorious 2007 - 2009 crystal-clear Opposal to Turkey's controversial and unpopular EU bid, (which had succeeded to attract both Center and Rightist Voters, while also cimenting the Unity of the Governing UMP Center-Right Party's followers), so that he would loose, at least a part of his usual Popular Suppport this time, Dividing an existing Majority of Voters at the Right side of the political spectrum, by Fear to face more such Murderous Terrorist Attacks, if he Dared speak anew about "European Identity", "Civilisation", the "Incompatibility" between Turkey's controversial/unpopular EU bid and a Will to Build a Political Europe, strongly backed by its People, in the Future, etc. (See relevant "EuroFora"s NewsReports, published during those crucial Days of Politically relevant Terror, as, f.ex. http://www.eurofora.net/newsflashes/news/toulousechildrenmassacreandeurope.html + http://www.eurofora.net/newsflashes/news/sarkozyfranceforteeuropeforte.html ).

    Merah's Deadly Terrorism killed 7 People between 15 and 19 March 2012, before he was identified, but lurred and kept waiting the French Police out of a Building where he was hidden, Equiped with expensive Guns, Grenades, etc., until he finaly refused to surrender, and was put out of order to harm by French Police Gunmen the same Day that Sarkozy arrived in Strasbourg for his exceptionaly important and long awaited Speech on Europe, where he surprisingly ommitted any, even the slightest reference to Turkey's controversial and unpopular EU bid, thereby definitively sealing the loss of the 2012 Elections in a France scandalously subdued by Fear of Brutal, Deadly and Inhuman Terrorism, shamelessly exploited by explicit Turkish Threats even in public (See Facts reminded Supra)..

    The Killer of small Children and their Father at a Toulouse School, had visited earlier Pakistan, and was a personal acquaintance of individuals linked to an Islamic Extremist Network which had been sending Terrorism volunteers to Iraq through Turkey in recent years, (while his own Brother had lived in a Muslim community in Egypt, where he reportedly also had travelled via Turkey).

    => So, immediately after Developments in Spain were made Public, new French JHA Minister Manuel Valls (of Spanish origin himself : Comp. Valls' recent statements to "EuroFora", already sent earlier to Subscribers/Donors) decided on Friday to "declassify" most Secret Documents on the Murders committed by Islamist Terrorist Merah at Toulouse, on March 19, 2012, in order to transmit them to AntiTerrorist Judges Teissier, Le Vert and Poux, who are currently Investigating the Merah affair, particularly after he revendicated an Al Queda link, after his recent visit to Pakistan.

    Now that the Turkish links between Al Quaeda wanted Terrorism suspects, Explosives and Pakistan/Afghanistan, etc, as well as pathways repeatedly used even by accomplished Murderers and their pals (Comp. Facts Supra), in addition even to various possible Political Motives on crucial Dates, etc., were more widely and concretely revealed by the present Spanish Anti-Terrorist operation, (the 1st one which succeeded to arrest a Turkish Terrorist in possession of Explosives, etc., as Minister Diaz underlined), in close Cooperation also with various other EU Countries' competent Services, the Time has obviously come to, at last, Start seriously Investigating the Merah Horrible Terrorist Murders even of Helpless, small Children and their Father, in order to Find and Punish all those who stand behind, as Real Instigators and material "Facilitators" of such Horrible Crimes, (who currently still remain Dangerously Hidden and totally Unpunished)...
-------------------------------
    Explosives, poison and remote-controlled Planes' equiped Turkish Terrorist Cengiz Yalcin (pronounced : Tsengiz Gialtsin : pictured) had been offered a Job for more than "6 Years" (i.e. since Tony Blair's former "New Labour" Government of 2006) by UK registered Company "ProField Contractors", and previously even by UK's Defense Ministry according to Press sources, at the contested Brittish islet of Gibraltar, and was living near a USA Military Base in Mediterranean Spain.

    His Boss' business was in Construction, a notoriously frequent Turkish lobby area, i.e. in that Low-Tech but intensive, Low-Skilled Labour consuming Sector which is generally held as Responsible for the recent Gigantic "Crush" of the Spanish Economy during 8 Years of former Socialist Governments' reign, which Wasted Billions € in scandalously Empty, unoccupied Buildings all around the country, Depriving Spain from Productive Investments in High-Tech. Scientific Research and Innovative Technologies of the Future, which could have Developed its Productivity and Competitiveness, avoiding or alleviating the recent Financial and Unemployment Crisis threatening to affect all €uroArea by cascading effects today, unless the New, Rajoy Governmen succeeds to a radical Re-Orientation of Spain's Economic Strategy.

    Controversial Turkish Networks in various Construction businesses, have been also accused recently for Massive Fraud and Trafficks in France (by an official French National Assembly's Report), as well as for the Deadly Incident which killed many People at the Fall of a Public Piscine and big Sport and Super Market Buildings' Complex in Moscow, made by Turkish contractors under a controversial former Mayor dismissed by Poutine and Medvedev on 2010 for corruption, incompetence and nepotism, and even for the 1999 Deadly Earthquake's astonishingly selective Killings of more than 15.000 Poor People in Turkey, whose Houses, scandalously built without solid materials, were Destroyed at the same moment and at the sam area that Other Houses, of Richer People who had paid more Money to the Turkish Construction Business, remained even 100% intact and unaffected by the Quake, (etc). That astonishingly selective Tragic incident which killed mainly Poor People, had indirectly served on August 1999 to at least partly change the Image of the notoriously oppressive Turkish Establishment vis a vis EU Citizens, facilitating December 1999's Helsinki EU Summit's controversial decision in favor of Turkey's unpopular EU bid, unleashing previously blocked (under HumanRights/Democracy/International Peace and Law conditions, repeatedly voted by EU Parliament during the 1990ies), lucrative EU Funds given Every Year by Brussels to the Turkish Government since 2000/2001, even during the recent (2008-2012) Global Economic and Financial Crisis.

    "Profield Contractors", which seems to also deal with "Demolitions", is reportedly part of a Bigger Business conglomerate, the "MME Group", which includes Maintainance for Steel Structures, (such as in Ships, Airplanes, Bridges, Skyscrapers : f.ex. like the 9/11 destroyed New York's WTC, which was based on Metal, etc.), using, in particular, specific Technological Methods, f.ex.  as a "Specialist" on Metals' "Corrosion", etc.
    ------------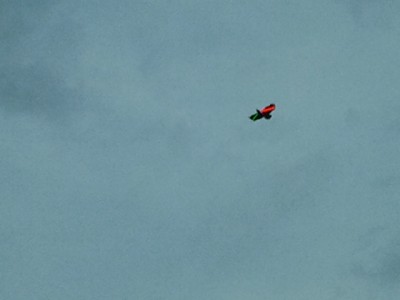 + A small, light, Remote-Controlled Plane or Drone (as those reportedly found with the arrested Turkish Terrorism suspect, who had also Explosives, Poisonous substances, etc), may pass unnoticed, as it can immitate the look of Bird, if seen from far away in the Sky, as "EuroFora" found, and can be equiped with Photo or Video machines, even carry tiny Explosives, etc., at a Distance of more than 1 km. around one or more individuals who Tele-guide it by Remote Control, using a small machine easy to hide inside a jacket or handsack, (See relevant, original Photos)...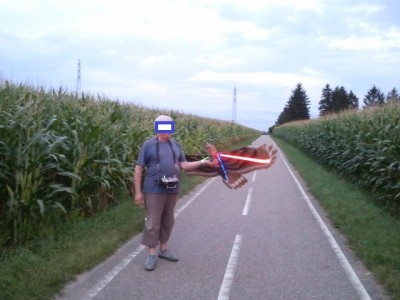 The Turk arrested by the Police, and afterwards Jailed by a Judge's decision, for Suspicions over Terrorism, reportedly admitted that he had several such Remote-Controlled miniature Airplans, even at Gibraltar, in addition to a "Hide out" found at his residence, that his wife had "cleared" just before the arrest, leaving behind, however, 150 gr. of GunPowder and a "Device" apparently able to Trigger an Explosion, while also another Airplane "Glider" had been given, inside a sac of Sport, by Yalcin (Gialtsin) to the 2 Al-Queda related Chechens, together with "Training" instructions, etc, Spanish Police found.

    Spanish Judges already found enough Material Evidence to send the Turkish Terrorism suspect in Prison, but they reportedly prolonged the Detention of his 2 Chechen pals and accomplices (of Russian Citizenship) until Sunday, waiting for the Police to add more Clues for them, in order to take an Imminent Decision on their fate, in a particularly complex Terrorism prevention case, where Foreign Diplomatic Pressure (f.ex. possibly from Ankara, etc) might risk to hastily stop Enquiries before having a chance to make more Findings in the middle of such secretive International Networks, (given also the obvious fact that someone might have eventually warned the wife of the main suspect to suddenly anounce that she had "cleared" the Hideout used by the 3 accomplices shortly before this triggered the Intervention of the Spanish Police, which had been following discretely the suspects, finding there "only" Gunpowder, a probably related Device, reportedly some poisonous substances, Remote-Controlled Drones/mignature Airplanes, and relevant Light Airplane "Training" of the 2 Chechens by their Turkish host, partly reminding the 9/11 big Airplane Hijackers, etc., at the eve of their departure towards France, etc). But even if eventually practical errors, ommissions, and/or external Pressure, etc., might, perhaps, Hinder a Full and Efficient Investigation of all probable Terrorism-related links concerning them, already, enough converging Factual indications have been recently revealed in order to at least Warn EU a.o. Officials to be particularly Careful and Vigilent about such kind of links.
ECHR has already asked Ankara to investigate Turkish State complicities with Murderous Thugs, revealed by the famous "Susurluc" Scandal, when, back on 1998, a Governemental coalition's MP was found dead in a Car Crash together with a convicted Murderer and Traffic Ring Leader, as well as with the Head of the local Police. This was corroborated also by various other, converging, Factual indications, resulting from many previous and posterior ECHR's judged cases of Human Rights' Violations by the Turkish Authorities, as EuroJudges denounced, already long before the current Turkish Prime Minister Erdogan starts to accuse a part of his political opponents to plot Violent activities in an attempt to overthrow him.
--------------------------------------

    Met earlier in Turkey, and already Wanted by several European Anti-Terrorist Services, the Chechen operational Accomplices of the Turkish "Logistics" go-between, in possession of the Explosives, Machines, etc., in Spain, (who had been given a Job at the contested Brittish islet of Gibraltar), reportedly admitted a visit to Afghanistan, and would be related to a Pakistani Group suspected for the Brutal, Deadly Attack against peaceful Tourists in Bombay (India) back on 2008, and apparently linked to Al-Quaida :

    The Extremist Islamist Organization founded by Osama Bin Laden, a former Businessman at Instabul (Turkey), to whom were attributed the September 11, Deadly Terrorist Attacks against the WTC in New York and the Pentagon, back on 2011, i.e. just one day before a crucial UNO Secretary General, then Koffi Annan, invitation to the then Cyprus' President Clerides and Turkish Cypriot leader Denktash, scheduled for the Next Day (September 12) at NY, which had been exceptionaly Refused by the Turkish side, explicitly backed by Ankara's Government (who risked to face EU Sanctions in result), that was cancelled at the last minute and reported sine die, because of the 9/11 WTC explosions, (Comp. "EuroFora" co-Founders' questions at 2 Press Conferences in UNO's New York Headquarters, during the September 2005 World Summit of Heads of State/Government on UNO's Reform at its 60th Anniversary, published then at TCW and other MM, and kept at UN Video/Audio Archives).    

    The Turkish establishment and even Government holds notoriously very close relations with their counterparts in Pakistan, whose Secret Services had reportedly close relations even with the 9/11 operational mastermind, Mohamed ATTA, a former Hamburg "Turkish Mosque" Teacher job holder in Germany, near the Northern Sea, facing the UK, Denmark and Norway),  who flew to and from Pakistan shortly before 9/11, on 1999 and 2000, by "Turkish Airlines", with stops always at Istanbul, (Turkey).

    Bin Laden's former business location, Istanbul in Turkey was the only city in the whole World where People photographed and filmed by mainstream International Media demonstrated in public, under the eyes of the Turkish Police, in support to a Monstruous squad of Tchechen Islamist Terrorists who had the cowardisse to aggress, kidnap and Kill many young School-Children, even aged just 5 years old, together with their Mothers, Fathers, etc., in the Russian School of Beslan, at nearby Ossetia, back on September 2004, by anotther coincidence shortly after Turkish Prime Minister Erdogan had anounced during that same Summer that Russia and France were the  2 UN Security Council Permanent Members that Ankara's Government had to convince to change their views on Cyprus a.o. important political issues notoriously affecting the EU, in addition to the well-known Russo - Turkish competition on Asian Energy Transport corridors towards Europe, (of which, one crosses Tchechenia, while another was planned through Turkey).

    Recently, ChristianDemocrat/EPP Government and President in neighbouring Bulgaria and Romania, respectively, who have been active  in preparing an Alternative, Faster, Cheaper and Safer, Direct Energy Transport link to the EU via the AGRI project to bring Liquefied Gas from Asia, through Black Sea's and Danube/Rhine Rivers' ships to Europe's Industial Franco-German heart near Strasbourg, (See several relevant Statements to "EuroFora", f.ex. by Romanian President Basescu, a Bulgarian MEP, the Georgian President, an Azeri Minister, etc), were suddenly hit by Deadly Terrorism which exploded at Burgas, near the Turkish Borders, killing many Jewish Tourists, women, old men and children included.

    + While, almost at the same time, Romania's President Basescu (a former Ship Captain very much personally committed at the Black Sea - Danube/Rhine Rivers EU - Asia Energy Transport alternative project : See many statements he made to "EuroFora"s co-founder between 2004 - 2011) was suddenly hit by an alleged anti-constitutional "Coup" by a controversial Socialist-Liberal makeshift coalition which vainly tried to suspend and impeach him, after taking over the Parliament and the Senate, hastily "Replacing" their Chairmen, as well as the Prosecutor General, the Anti-Corruption Prosecutor, even the Ombudsman, etc., threatening and restricting the Constitutional Court's Members and Legal competences, launching Penal Persecutions against 15 Opposition Leaders to muzzle their Criticism accused to "slander" the Authorities, etc., until both EU and CoE reacted strongly, asking for elementary Democratic, Human Rights and Rule of Law European principles to be respected, (Comp. relevant "EuroFora"s NewsReports : .... ). But the controversial Referendum against  President Basescu, (twice elected by the People on 2004 and 2009-2014), has just failed to gather not even 50% of Registered Voters, in addition to fears of Fraud.

    ++ In a strikingly "parallel" move, even Bulgaria's ChristianDemocrat/EPP Prime Minister, Borisov, suddenly faced, last week, an attempt by a Turkish Ethnic Minority Party pushing also the Socialist MPs, to exploit the recent Terrorist Killings at Burgas, close to the Turkish Border, in order to overthrow him with a No-Confidence Motion tabled at Sofia's National Assembly, which was largely defeated by a Majority of Bulgarian MPs firmly supporting Borisov.
-------------------------------------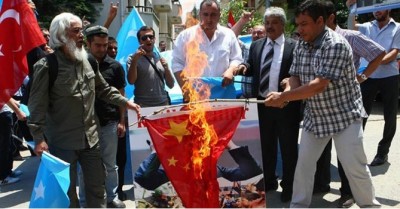 + Even China added now to the whole picture, when Demonstrators burned Chinese Flags in Ankara (Turkey), while the Beijing Government arrested and condemned for "Terrorism" some 15 Extremists among a Turkic-speaking Minority of Uighurs, who were reportedly found to "make Explosive Devices", promote "Separatism",  "Religious Extremism", and "Holy War", "plan Violent Terrorist activities", "carry out Test Explosions", etc., only a few years after a Turkish MP at CoE's PanEuropean Assembly in Strasbourg explicitly launched threatening warnings against China with Ankara's claims over the Uighur community in Asia, who gave pretext to 2009 Deadly Conflicts which reportedly left about 200 Dead, while certain Chinese Officials denounce Islamic Separatists, often "trained in Pakistan", searching to impose a so-called "East Turkestan".

Claims which notoriously coincide with old "Pan-Turkism" aims usually attributed to often violent Turkish Extremists "Gray Wolves", etc., who reportedly massacrated, back on August 1996, Greek Cypriot Anti-Foreign Military Invasion/Occupation Demonstrator Tassos Isaak, atrociously clubbed to Death by Dozens of Turks hitting him at the Head, while having fallen Helpless on the ground, in front of TV Cameras and UN staff, according also to the European Court of Human Rights which strongly Condemned Turkey (including for a Scandalous, total Impunuty of the Brutal Killers, which persists until today) in a Judgement rendered in recent years in Strasbourg, after a complaint lodged by the Family of the murdered Young Man who had participated in a Symbolic Demonstration of motorcyclists startiong from Berlin's fallen "Wall" and ending at Nicosia's still Dividing buffer line, which separates Ankara's Foreign Invasion/Occupation Military of 40.000 imported Soldiers, from the Security forces of Cyprus, where he fell and was Lynched by Extremist "Grey Wolves" imported from mainland Turkey in a World-famous, shameless Brutal Atrocity, whose Anniversary is Next Week (on August 11).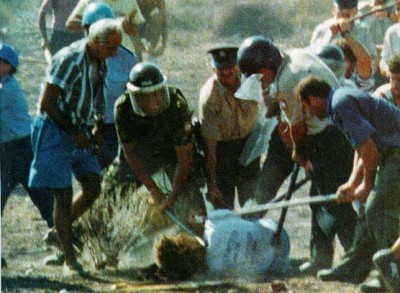 --------------------------------------------------------------
    A mass-killing Deadly Terrorist Attack which hit Madrid on 2004, usually attributed to Al-Quaida, had initially unblocked a previous Government's partial objections to a Draft EU Constitution, immediately exploited by some in order to push for the commencement of Turkey's controversial and unpopular EU Accession Negociations from 2004-2005.

    They were, nevertheless, stahled after provoking 3 Majority "No" to Popular EuroReferenda in France, the Netherlands, and Ireland, between 2005-2007, followed by Sarkozy's and Merkel's 2007 and 2009 Victories in National and EU Parliament Elections, which soon inspired also various other Political Movements in many other EU Countries, mutatis-mutandis also opposed to Turkey's controversial and unpopular EU bid, so that Sarkozy managed, at least, to broker an EU Agreement on a New, "Simplified", EU Lisbon Treaty, which entered into force on 2010.

    But, meanwhile, after the 2005 - 2010 EU Institutional-making Delay practically provoked by Turkey's controversial and unpopular EU bid (Comp. Supra), Europe was caught unprepared by the 2008-2009 Global Economic Crisis, and its Financial consequences vis a vis €uroZone on 2010-2011, currently provoking a Contradiction between the Need to Mutualize Sovereign Debt, and the practical impossibility to do so without a much Deeper Political Union, so that EU Heads of State/Government had to hurry-up to start building fast, both Financial and Political deeped Integration around €uroArea, first letting ECB to ease massive Low Interest Loans to Banks (from December 2011-January 2012, repeated recently), and by signining the March 2012 New €uroArea Treaty, afterwards followed by more Steps, particularly to prepare a path towards a Banking Union, etc., since the latest, June 2012, EU Summit, whose decisions the EU Parliament has just asked, in a Resolution adopted on July in Strasbourg, to be rapidly followed up and implemented asap, while also launching a relevant "Public Debate", with the active participation of EU Civil Society and EU Citizens, in order to resolutely advance towards a much stronger, real European Political Union.

(../..)
***
(NDLR :  - "DraftNews", as already sent, earlier, to "EuroFora"s Subscribers/Donors. A more accurate, Final full Version may be published asap).
****
BRIEF NEWS
00:00 - 09.12.2019

00:00 - 27.11.2019

00:00 - 16.11.2019

00:00 - 28.10.2019

00:00 - 08.05.2019

00:00 - 23.04.2019

00:00 - 01.04.2019

00:00 - 04.03.2019

00:00 - 29.01.2019
Statistics
Visitors: 35663334
Archive
Login Form
Other Menu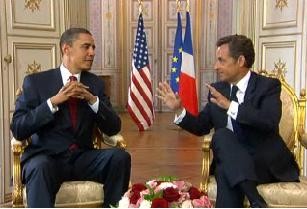 La Turquie, test-clé d'Independance de l'Europe face aux USA, les aménant de chercher en commun des nouvelles idées pour se mettre d'accord ?  
 Le débat, amical mais clair, entre les Présidents Américain et Français, Obama et Sarkozy,  la veille des elections européennes du 7 juin 2009, a montré que la question controversée sur la démande de la Turquie d'entrer dans l'Europe est actuellement le point central et le test le plus pertinent de l' indépendance de la France et de l'Europe par rapport aux Etats Unis.   
 Les electeurs européens, aussi bien en France qu'ailleurs en l'UE, auront une seule chance à trancher, ce dimanche 7 juin 2009, en choisisant leurs eurodéputés pour la période 2009 - 2014, car après ca risque d'être trop tard, vu que tous ceux qui suivent les affaires européennes dépuis des décennies savent qu'en réalité, le moment des décisions sur la Turquie viendra au plus tard en 2013, date rétenue dépuis longtemps pour une importante révision des "Perspectives Financières" de l'UE qui reflètent des choix Politiques fondamentaux.

    Le Président français, (récement encore représentant de l'UE, dans laquelle il joue un rôle important, ensemble avec la chancelière allemande Merkel, et autres leaders européens, ayant une influence notable auprès des Citoyens Européens, comme les derniers sondages montrent), réagissant à la repétition, par le nouveau Président Américain de la vieille position traditionelle de l'Washington poushant toujours vers la démande de la Turquie d'entrer dans l'Europe :

     - "Je ne peut pas laisser détruire l'Europe, (qui) est un élément de stabilisation du Monde", réponda Sarkozy. "J'ai dit au Président Obama que pour moi il était très important que l'Europe ait des Frontières", a-t-il souligné, confirmant la position Franco-Allemande commune, récemment rappellée ensemble avec la Chancellière Merkel.

    - "Il y a une différence (entre France/EU et les USA)...  sur les modalités. La position traditionnelle des Etats-Unis d'Amérique, c'est l'intégration" de la Turquie au sein de l'UE. "C'était la position du Président Bush, du Président Clinton, de tous les présidents américains".     
- "La mienne vous la connaissez : Ce n'est pas l'intégration dans l'Union Européenne. Mais j'ai proposé que nous réfléchissions, l'Europe, la Russie, la Turquie à la création d'un Espace Economique et de Sécurité en commun", a ajout Sarkozy rappelant son invitation de créer quelque chose de neuf et mieux adapté.

    Mais, "cela ne veut pas dire qu'il faut repousser la Turquie dans les ténèbres. La Turquie est un allié dans l'OTAN, (et) une Passerelle entre 2 Mondes, voilà quelle est la meilleure modalité. C'est cela dont nous avons parlé", revela-t-il. Si "nous avons une Différence sur les Modalités, nous n'avons pas une différence sur l'Objectif : Faire de la Turquie un élément de Pont entre l'Orient et l'Occident", Sarkozy assura Obama.

    - "Laissez-nous au moins une légère divergence sur un sujet, cela vous permettra de bien réfléchir pour les prochaines échéances", ajouta Sarkozy en réponse à un journaliste de l'opposition Socialiste qui avait soulevé la question de la Turquie, en la melant (comme un lobby turc notoirement essaie de faire pour exploiter la manipulation de quelques Arabes, la Civilisation Historique desquels fût pourtant detruite par l'ex-empire Ottoman-Turc) avec une question tout à fait différente : celle de la voile islamique (!), avec laquelle elle n'a rien à voir.

    - "Sur la Turquie, Monsieur, vous appartenez à un journal ...qui a appelé à voter, au moment de la présidentielle, pour mon adversaire.... Quel était votre argument à ce moment-là ? Vous disiez : « Attention, Nicolas Sarkozy va trop s'aligner sur les Etats-Unis d'Amérique », et je vois que deux ans après vous dites : « Ah, il y a un sujet sur lequel le Président Obama et le Président Sarkozy ne sont pas d'accord » Cela devrait vous rassurer, Monsieur" , réponda-t-il, en faisant sourire même le président américain, (et laissant entendre que trancher définitivemen la controverse sur la Turquie pourrait être au coeur de l' Elections Présidentielle  en France pour 2012 )
-------------------
    - "Ce que les Etats-Unis peuvent faire, c'est encourager ....TOUT PROCESSUS qui permettra à la Turquie d'être convaincue qu'elle a des amis, que ce soit la France, les Etats-Unis ou l'Europe", réponda Obama, apparamment n'excluant pas, a priori, le point de Sarkozy sur la création d'un espace commun d' économie et sécurité entre l' UE, la Turquie et la Russie (v. supra).

    "Les Etats-Unis ne sont pas membres de l'Union Européenne, nous ne pouvons pas dicter si un pays quelconque adhère ou n'adhère pas à l'UE"; Obama a admis, parlant de la "Turquie, (sur laquelle) le Président Sarkozy et moi nous sommes entretenus sur ce dossier avant".  "Maintenant le Président Sarkozy représente un Etat membre de l'Union Européenne et il a une position différente", opposée à démande turque d' entrée dans l'UE.    
 "La Turquie par contre est un allié de l'OTAN très important. ...La Turquie a fait connaître son intérêt à une intégration croissante avec l'Europe et nous (USA) encourageons cette attitude. J'ai souvent dit que l'adhésion de la Turquie à l'Union européenne serait importante".     
"Mais, (en tout cas) je crois qu'il est important de noter que le Président Sarkozy appuie fortement le travail que la Turquie fait au sein de l'OTAN et je crois qu'il s'intéresse à une intégration économique plus intense avec la Turquie". (Ce qui pourrait se faire, justement, avec un "parténariat privilegié" adéquat et/ou l'idée de créer un espace commun EU - Turquie - Russie  : V. supra).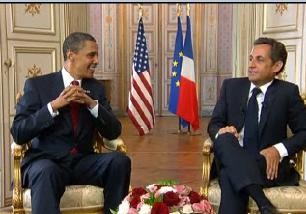 Est-ce que l'effort du Président de la France, soutenu par la chancelière Allemande et l'opinion publique de la plupart des Citoyens Européens la-dessus, de trouver un accord entre l' Europe et l' Amérique sur la Turquie, en proposant de sortir des chemins battus et créer du neuf, en etablissant "un Espace Commun d' Economie et Sécurité" (v. supra), suffira de calmer un lobby traditionaliste à quelques bureaucrates de Washington DC, datant dès l'époque de l' ex-"Guerre Froide", beaucoup plus ancien que le nouveau Président vénu de l' oxygen des "grands lacs" près de Quebec du Canada : Chicago, connu comme "la ville du vent" nouveau ?
-----------------------------------------------------------------------
Le Prémier Ministre Fillon appele à "faire vivre le Rève Européen"
------------------------------------------------------------------------  
 Seul l'avenir le dira. Mais, entre-temps, l' Europe ne peut plus attendre et perdre encore plus du temps et d'energie vitale sur la démande controversée de la Turquie, qui a notoirement menacé d'arrêter l'édification européenne dépuis 1999-2005 :

    Comme le Premier Ministre François Fillon a clairement dit, un peu plus tôt cette semaine, dans un discours éloquent sur les enjeux de l' Election Européenne de ce juin 2009 (V. résumé envoyé aux adhérents d'"EuroFora"),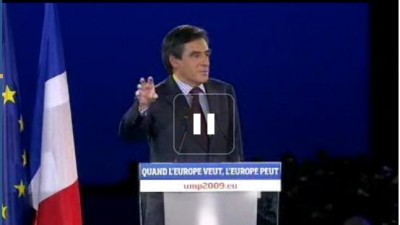 - "S' abstentir, c'est laisser à la Technocratie le pouvoir de dominer" la vie des Citoyens européens, qui devraient prendre l' Europe en branle le corps", et commencer d'agir par toutes les voies politiques démocratiques, prennant conscience que "l' Europe c'est Nous, (i.e. les Citoyens), et "Pas eux !" (i.e. les Technocrates), selon une image symbolique.

    - "Je me souviens de l' Europe obligée de faire Silence, (au Passé), quand "les Grands" décidaient de son sort", rappela Fillon.  "Je me souviens de l'Europe divisée, de l' Europe dominée" par d'autres, '"de l'Europe appauvrie""Je me souviens de Berlin occupé, muré, divisé comme un butin qu'on tire aux dès. Je me souviens du Silence de Varsovie. Je me souviens du Silence de Prague"..   
 - "Nous, les Européens, nous avons bien failli sortir de l' Histoire, et dévenir, pour du bon, les dès d'un jeu joué par d'autres".     
- "C'est pourquoi je ne peux pas concevoir une Europe qui ne serait pas Souveraine, une Europe qui ne serait pas Maitresse d'êlle-même", aujourd'hui et démain, martella-t-il. "Le Monde s'est habitué trop longtemps à une Europe faible, que l'on pouvait traiter avec condescendence".  
 - "Le moment est venu de rélever le défi : Le moment est vénu de montrer que, nous les Européens, avons décidé d'être débout, et d"être nous-mêmes".     
"Dépuis 2 ans (i.e. dès les Elections Présidentielles de 2007), avec Nicolas Sarkozy, nous avons oeuvrer pour relever notre Identité Nationale (de la France), dont nous sommes fiers. Et bien, l'' Identité Européenne mérite tout autant, elle qui prolonge les Génies de nos Nations".


    - "Je crois à la présence d'une Civilisation Européenne", déclara Fillon, largement applaudi par des milliers de personnes ayant entendu une série des Musiques entremelées characteristiques de differents pays européens, et des images lumineuses géantes avec des extraits symboliques de Goethe, de Victor Hugo, de Shakespeare, et d'autres auteurs italiens, espagnols etc celebres à travers l'histoire.

    - "L' Humanisme, la tolerance, la Liberté de la Conscience. La Solidarité. L' Etat de Droit. La confiance placée dans la Science, l' Innovation, le progrès. Toutes ces Valeurs, elles disent clairement où commence et où s'épanuit cette Europe" que nous voulons, observa-t-il.

    En harmonie avec les positions soutenues par le Président du Parlement Européen, eurodéputé allemand, Hans Gert Poettering, et la Chancelière allemande, Angie Merkel, sur la "Dignité Humaine" au coeur des "Valeurs de l' Europe" moderne. Ce qui fait qu'" avec un Elargissement sans fin", même vers la Turquie, c.a.d. "sans Frontières, l' Europe Politique, l' Europe des Valeurs et l' Identité européenne" ne peuvent pas exister, comme a dit aussi le Président francais, Nicolas Sarkozy, recemment à Berlin.

    Fait important : Cette observation de Fillon a été faite le jour-même que le Comité des Ministres du Conseil de l'Europe à Strasbourg concluait une semaine de réunion semestrielle sur les Droits de l'Homme, qui a examiné un grand nombre d'affaires des pires Violations (pex. Tuéries scandaleusement non elucidées, Persecutions et privations arbitraires de Liberté, personnes portées "Disparues", Tortures et "traitements inhumains et degradants", Usurpations illégales des Maisons et Patrimoines privées de Réfugiés, etc., pour lesquelles la Cour Européenne a condamné la Turquie dans plusieurs jugements, dont on attend toujours l' application)...

    - "C'est pourquoi un Elargissement sans fin de l' Europe ne peu pas être un objectif en soi. Parce qu'il ne peut que diluer l' élan européen, et detruire l' Idéntité Européenne"

    -" Voilà pourquoi nous disons, très sereinement, que nous ne sommes pas favorables à l' adhésion de la Turquie dans l'UE", conclua le Premier Ministre de la France; largement applaudi par des gens qui soulevaient le drapeau européen.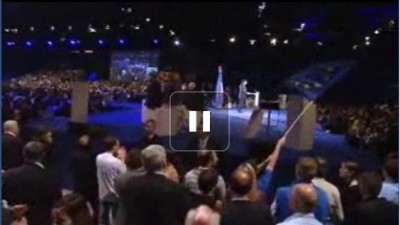 "Ce n'est pas un Slogan de meetings. Ce n'est pas la marque une "Hostilité" au régard de cette grande Nation (i.e. la Turquie), qui doit être étroitement associée à l' UE", pex. par un partenariat priviliegié, ou une autre formule adaptée.

    - "Mais il lui faut des Frontères à l' Europe, il lui faut des Frontières stables, qui lui permettent de renforcer son Unité et son Identité", a-t-il expliqué.

    - "Alors, c'est au nom de cette Europe charnelle, que je m'engage avec vous. Mais, cette Europe-là, ne peut avancer qu' à une seule Condition : celle de l' Europe Politique".

    "Nous avons longtemps douté qu'elle soit possible : Aux années 1970, Henri Kissinger (le notoire ex- Secretaire d'Etat Américain aux affaires etrangères, consideré, à tort ou à raison, comme chef d'orchestre du renversement du Président Allende en Chili, de l' invasion militaire de la Turquie à Chypre, etc), disait, avec une ironie blaissante : - "Ah, l' Europe ? : Quel numero de Télephone ?..." Pendant les 6 mois de la présidence française de l'UE, (7-12/2008), Henri Kissinger n'aurait aucune difficulté de rejoindre l' Europe !", observa-t-il en suscitant des nouveaux applaudissements nourris.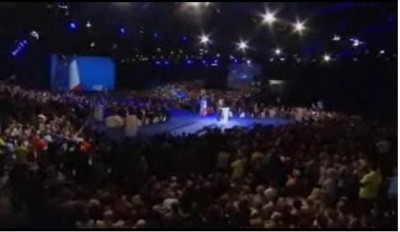 "J'au vu l' Europe Politique se dresser, et prendre ses responsabilités : L' Europe Politique c'est celle qui agit sans délai, et avant les Etats-Unis, pour stopper des faillites Bancaires qui s'enchaînent, qui nous auraint plongés dans une Depression pire que celles des années 1929. L' Europe Politique est celle qui, maintenant, doit mettre un fin à un Capitalisme Financier, qui a perdu sa boussole. L' Europe Politique est celle qui a réussi d'etablir le règles les plus ambitieuses au Monde dans la lutte contre le rechaufement Climatique. Samedi, nous celebrons l' anniversaire du debarquement de la Normandie, où nos amis Américains ont pris une part décisive à nôtre libération. Mais, en décembre 2009, à la Conference (Mondialle) de Copenhague, c'est nous les Européens, qui allons leur montrer le chemin vers cet avénir commun" pour la sauvegarde de l'Environement naturel. L' Europe Politique c'est celle qui, en août 2008, lorsque la Guerre faisait rase entre la Russie et la Géorgie, s'est interposée pour imposer la Paix. Et c'est elle qui doit, maintenant, se doter des moyens Militaires de se défendre par elle-même, pour elle-même", ajouta-t-il en évoquant clairement la création d'une Défense Européenn Autonome.
    "L' Europe Politique c'est celle qui doit bâtir des grands champions Industriels Européens, comme nous avons fait, auparavant, pour (l'avion) Airbus ou (la fusée) Ariadne. C'est celle qui doit exiger la Reciprocité dans les rlations Commerciale avec nos grands partenaires", sans Dumping Social ou Environmental, ni autre Concurrence Deloyale. "C'est celle qui doit se doter comme objectif d'être "le Continent de l'Esprit", réunissant les plus grandes Universités du Monde, en multipliant les Connexions, entre Scientifiques et étudiants."

    "Nous respecterons nos engagements, jusqu'au dernier", souligna le Premier Ministre de la France, peu après que les candidats-eurodéputés de la coalition Gouvernementale (UMP : Mouvement pour la Majorité Présidentielle) ont signé solennement, devant plusieurs milliers des Citoyens, une spectaculaire pancarte-géante avec "7 engagements" pour les Elections Européennes du 7 juin, auxquels figure aussi l'engagement de "s'opposer à l' adhésion de la Turquie dans l'UE".

     - "Parcque ce respet des engagements est une exigence si nous voulons rétablir la Confiance entre les Responsables Politiques et les Citoyens", conclua Fillon, la veille de ces Elections Européennes de juin 2009, après les Abstentions Majoritaires de 1999 et 2004, suivies de 3 "NON" à 3 Euro-Réferenda dépuis 2005, (dates auxquelles, quelques gouvernements du Passé, avaient donné le statut d'un "Candidat" et commencé des "Négotiationa d'adhésion" avec la Turquie, suivies d'un blocage sans précedent de l' édification européenne)..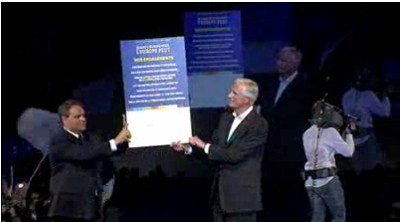 "Nore Europe n'est pas n' importe quelle Europe : L' UE Technocratique n'est pas la nôtre. ... L' UE sans Frontières n'est pas la notre. L' UE desincarnée n'est pas la notre". "Nous portons une idée de l'Europe" qui "n'est pas celle des Statistiques et des Bureaux(crates). L'Europe ce n'est pas qu'une Monnaie. Ce n'est pas qu'un Marché. économique".

- "L' Europe c'est d'abord une Culture. L'Europe c'est une Histoire", a-t-il dit, largement applaudi.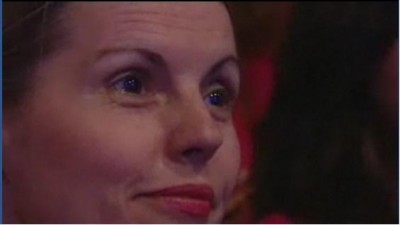 "L'Europe c'est une rencontre entre des Nations qui sont Millénaires et qui sont Brillantes. L'Europe c'est Paris. C''est Madrid. C'est Prague. C'est Londres. C'est Rome. C'est Varsovie. C'est Berlin. C'est Vienne. C'est Athènes : Quant on énonce ces Villes, alors on "sent" nos Héritages et nos Cultures entremelées qui circulent dans nos veines".

    - "Je suis Européen, parcque profondément Français, je sais ce que je dois aux influences de l' Atlantique et de la Méditerannée. J'aime ces Traditions qui offrent à chacun des nos Nations leur éclat. .. J'aime ses saveurs, ses paysages divers. Ils sont également miens, ou, plus précisement, je suis également fait d'eux. Je suis Européen, car, Français, j'aime l' Europe ouverte vers l' Amérique, vers l'Orient, vers l' Maghreb. J'aime les quais de Vénise, ceux d'Amsterdam. J'aime les quais de Thamise où sont vénues pendant des siècles s'amasser les richesses et les nouveautés du Monde. J'aime l' Europe curieuse. L'Europe qui rêve des lointains : L' Europe de Vasco de Gama, de Magelan. de Bougainville, de Charcot, de Monot... Cette Europe qui, aujourd'hui, s'élance vers l' Espace. Je suis Européen parce que Français, j'aime l' Europe qui prospère et qui invente. J'aime l' Europe des Trains à Grande Vitesse. J'aime l'Europe des Satellites et des Fusées. L'Europe de la Mode et des Atéliers d' Artistes. L'Europe des Grands Laboratoires, des Ingéniers. des Entrepreneurs, des Grands Architèctes, des Traditions Ouvrières. Comme rançais, j'aime l' Europe qui dit "NON" à la Tyrannie et qui se soulève à l'appel de la Liberté", a-t-il dit en

 
"Je me sens lié à ces femmes et ces hommes sans nom, qui ont levé la tête, et qui ont sécoué le joug sous lequel .. on les avait fait pliér", dit-il en évoquant pex.. la Révolution Française de 1789, le Siècle des Lumières, l'appel du Général de Gaulle contre l'Occupation NAZI, et les pires heures obscures qu'un  "Fascisme" ou "Communisme" devoyés, suivies de la Guerre Froide avaient plongé l'Europe au Passé.

"Ils sont des millions, ces Héros Anonymes de notre temps, que nous croisons sans le savoir dans nos rues et nos places. Et je ne peux pas concevoir l'Europe sans eux, et sans tous ceux qui poursuivent leur combat contre l'arbitraire et le fanatisme", ajouta Fillon. Faisant pex. rappeler un récent Film allémand, primé au Festival de Vénise, qui décrivait la vie d'un cadre à l'époque d'un régime oppressif, qui avait été chargé d'espioner la vie privée et familiale d'un couple soupçonné d'être dissidents politiques, mais, ému par leur honnêteté humaine et leur sacrifice pour sauver d'autres, a preferé risquer sa place et sa propre liberté pour les sauver, sans même qu'ils le sachent, condamné dépuis à faire un bas boulot d'anonyme perdu dans la foule..


"Quand je vois l'Europe moderne, je vois les résultats de l' Audace de ces hommes qui ont brisé les traditions de conflit et de violence. Je vois des nations soudées autour d'une monnaie unique et protectrice. Je vois 27 jeunesses appelées de grandir ensemble, sans défiance. Je vois 27 peoples unis, qui nous interdisent de jouer les blazés ou les indifférents".

Jettant "un régard lucide sur les errements de la construction européenne", Fillon a observé que "l' Europe n'a pas bésoin d'être idélisée pour être ce qu'elle est ; Cad. une aventure humaine, avec ses faiblesses et ses forces".

"Vous voulez que l' Europe agisse ? Fixez-lui des objectifs clairs. Vous voulez la Démocratie ? Agissez en Citoyens. Vous rédoutez la prétendue Bureaucratie des Bruxelles ? Alors renforcez, par votre Vote, les instances élues au Parlement Européen" qui sont chargés de la contrôler.

- "Si nous voulons faire vivre "le Rêve Européen", .. alors nous avons tous le dévoir de l' engagement", a-t-il conclu, appelant de "engager pour le drapeau tricolore et le drapeau étoilé, car ils symbolisent tous les deux la fierté de nôtre nation et la force de nôtre union".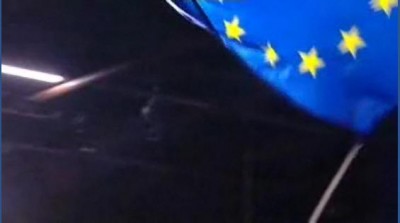 Polls