Home

In Brief

Cuba call by Pope Francis + Patriarch Kirill on Christians' Unity for Humanity's Future
Cuba call by Pope Francis + Patriarch Kirill on Christians' Unity for Humanity's Future
Friday, 12 February 2016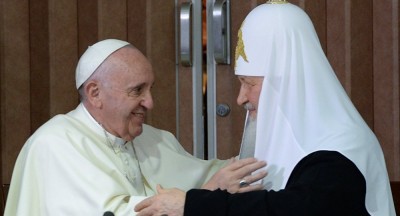 *Angelo Marcopolo/- In an Unprecedented in History Summit,  "at the Crossroads of North and South, East and West", i.e. "in Cuba"' Island,  at the eve and near USA's forthcoming Presidential Elections, full of various Topical BioEthic and Religion-relevant Political issues, Pope Francis and Patriarch Kirill, "meeting far from the longstanding disputes of the "Old World" of Rome and Moscow, during "2 Hours", launched a Vibrant Joint Call mainly for "the Future of Humanity", "much of" which "will depend on" All Christians"', Catholics' and Orthodox'+, "Capacity to give Shared witness to the Spirit of Truth, in these Difficult Times", "United not only by the Shared Tradition of the Church of the 1st Millennium, but also by the Mission to preach the Gospel of Christ ....Today", "Responding Together to the Challenges of the Contemporary World", as they noted.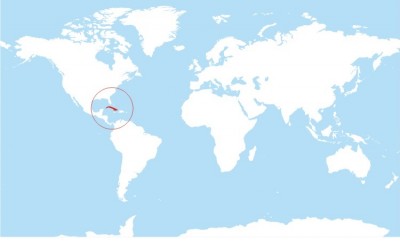 - In particular,"the Manipulation of Human Life represents an Attack on the Foundations of Human existence, Created in the Image of God", they stressed in Conclusion. Therefore, "Concerned about the development of BioMedical Reproduction Technology", they "Believe that it is (their) Duty, to recall the Immutability of Christian moral Principles, based on Respect for the Dignity of the Individual (Person), called into being, According to the Creator's Plan".

    => That's one more reason for which "Orthodox and Catholics share the Same Conception of the (Natural) Family", "Based on Marriage, ....between a Man and a Woman", "Consecrated in the Biblical Tradition, of Paternity and Maternity", "...as the Distinct vocation of Man and Woman in marriage is (currently) being Banished from the public Conscience", by "Other forms of Cohabitation (which) have been Placed on the Same Level": s(A Fact) that "We Regret", as they Denounced on the Controversial and UnPopular Same Sex Marriage in some Countries, including even Children submitted to Homosexuals' and/or Technocrats' Power for Artificial ReProduction of Human Beings, obviously Dangerous for all Humankind.

    - Because "Family is the Natural Centre of Human Life and Society", and, "Concerned about the Crisis in the Family in many Countries" Today, Christians "witness that it is a Path of Holiness, testifying to the Faithfulness of the Spouses,....their Openness to the Procreation and rearing of their Children", as well as to "Solidarity between the Generations and to Respect for the Weakest", as they reminded.

    => In this regard, f.ex., "the Emergence of so-called Euthanasia, leads Elderly People, and the Disabled begin to Feel that they are a Burden on their Families, and on Society in general". So that "Millions are Denied the very Right to be Born into the world. The Blood of the Unborn (Child) Cries out to God", (f.ex. in the recent Scandal of "Controlled Parenhood"'s acknowledgment that it Sells Human Parts of Unborn Children to Researchers throughout the USA, etc).

     - As a matter of a Wider and basic Principle, "Our Christian Conscience and our pastoral Responsibility compel us Not to remain Passive in the face of Challenges requiring a shared response",n because, Today, ""Human Civilization has entered into a period of Epochal Change", they stressed from the outset. Therefore, "Orthodox and Catholics must learn to give Unanimously Witness in those Spheres in which this is possible and Necessary", and for which "we experience, with a particular sense of Urgency the need for the Shared Labour", in order "to Combine our efforts" in "Responding Together to the Challenges of the Contemporary World".

- Based on the Historic Fact that "we Share the Same spiritual Tradition of the 1st Millennium of Christianity", which includes as "Witnesses" "the Most Holy Mother of God, the Virgin Mary, and the Saints we venerate", "among" which "are innumerable Martyrs (from the Era of the First Christians, who had notoriously Faced heavy Persecution and even Killings, obliging them to Hide in Catacombes, but had a Strong Spiritual Force, Energy and Enthousiasm, United Together), who have given witness to their Faithfulness to Christ and have become the "Seed of Christians", stimulating their original spread all over the World.

- That's why, "meeting Far from the longstanding Disputes of the "Old World" (Europe), and "Mindful of the persistence of many Obstacles", but "Determined to undertake all that is necessary to Overcome the historical Divergences we have inherited" from a part of the 2nd Millenium, Pope Francis and Patriarch Kirill expressed their , "Hope" that this "may contribute to the re–establishment of this Unity willed by God, for which Christ prayed", and "inspire Christians throughout the World" a "Renewed Fervour for the Full Unity", n a world which yearns not only for our Words but also for Tangible Gestures", as they pointed out.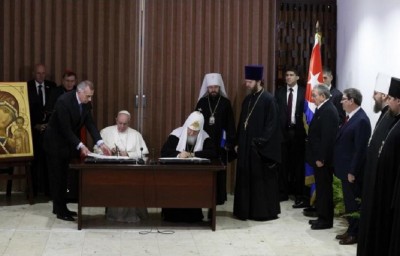 Europe, (but also the USA, etc) is at the Heart of the matter, in real practice :

- "We Call upon Christians of Eastern and Western Europe to Unite in their shared witness to Christ and the Gospel, so that Europe may preserve its Soul, shaped by 2 Thousand Years of Christian tradition", their Joint Declaration stresses.

    - Because, "while remaining Open to the Contribution of Other Religions to our civilization, it is our Conviction that Europe must remain Faithful to its Christian Roots", they underlined, touching upon a quite Popular issue nowadays.

    - In this regard, even if it's a Fact that "the process of European integration, which began after centuries of blood–soaked conflicts, was Welcomed by many with Hope, as a guarantee of Peace and Security", "Nonetheless, we invite Vigilance against an integration that is Devoid of respect for Religious Identities", as they denounced, critizing certain recent abuses by some.

    - Also because, despite a "current unprecedented Renewal of the Christian faith in Russia, as well as in many other Countries of Eastern Europe, formerly dominated for decades by atheist regimes", where, f.ex., "Thousands of New Churches have been Built over the last Quarter of a Century, as well as hundreds of Monasteries and Theological institutions", while "Christian communities undertake notable works in the fields of Charitable aid and Social development, providing diversified forms of Assistance to the Needy", "Orthodox and Catholics often work(ing) side by side",
   + nevertheless, "at the same time, we are Concerned about the situation in many Countries" (i.e. including in the USA, where even a Woman Democratical Elected as Senior Official, was Jailed for refusing to "Marry" personaly Homosexuals, while in France many Mayors were Threatened by Heavy Fines and/or Jail for a similar Pretext, etc), "in which Christians are increasingly confronted by Restrictions to religious Freedom, to the Right to witness to one's Convictions and to live in Conformity with them".

    - "In particular", "Grave Threat(s) to Religious Freedom" are observed during "the Transformation of some Countries into Secularized societies, Estranged from all reference to God". Because "there is a current Curtailment of the Rights of Christians, if not their outright Discrimination, when certain Political forces, guided by an often very Aggressive secularist ideology, seek to relegate them to the Margins of public life", they jointly Denounced.

    + At the same time, Pope Francis and Patriarch Kirill "Deplore(d) the hostility in Ukraine that has already caused many Victims, inflicted innumerable Wounds on peaceful Inhabitants" (mostly Civilian People), "and thrown society into a deep Economic and Humanitarian Crisis"

    => Therefore,. they "Invite(d) our Churches in Ukraine to work towards social Harmony, to Refrain from taking part in the Confrontation, and to Not support any further development of the Conflict". On the contrary, "All the parts involved in the conflict" are "Invited... to Prudence, to social Solidarity and to action aimed at constructing Peace".

------------------------------------------

    - But, in our troubled times, a Priority was given, in fact, on the current need to "Firstly turn to those Regions of the World where Christians are Victims of Persecution", (as also a recent EU Parliament's Resolution, adopted in Strasbourg, has strongly denounced, Comp., f.ex. : ....) :

    - In particular, "In many countries of the Middle East and North Africa whole families, villages and cities of our brothers and sisters in Christ are being completely Exterminated. Their Churches are being barbarously ravaged and looted, their sacred objects Profaned, their Monuments Destroyed. It is with Pain that we call to mind the situation in Syria, Iraq and other countries of the Middle East, and the massive Exodus of Christians from the land in which our faith was First Disseminated and in which they have Lived since the time of the Apostles, (i.e. 1st Century AC), Together with Other Religious communities"

    - "Thousands of Victims have already been claimed in the Violence in Syria and Iraq, which has left many other Millions withOut a Home or means of Sustenance". Thus, "We Bow before the Martyrdom of those who, at the Cost of their own Lives, have given witness to the truth of the Gospel, preferring Death to the Denial of Christ. ...these Martyrs of Our Times, who belong to various Churches but who are United by their Shared Suffering, are a Pledge of the Unity of Christians" Today.

    + At the same time, "in raising our voice in defence of Persecuted Christians, we (also) wish to express our Compassion for the Suffering experienced by the faithful of Other Religious traditions, who have also become Victims of Civil War, Chaos and Terrorist Violence", they added.

    => In consequence, Pope Francis and Patriarch Kirill "Call(ed) upon the International Community to act Urgently in order to Prevent the further Expulsion of Christians from the Middle East", and "Urge(d)" "to seek an End to the Violence and Terrorism and, at the same time, to contribute through Dialogue to a swift return to Civil Peace".

    In particular, "Large–scale Humanitarian aid must be assured to the afflicted populations and to the many Refugees seeking safety in Neighbouring lands", (i.e. Lebanon, Jordany, Turkey, and even ...Armenia, where many Christians have reportedly seeked Refuge in order to avoid Turkey's Camps, denounced as Dominated by an Oppressive "Islamist" Leadership, Similar to several Violent Aggressions that Christian Refugees faced even in some Dormitories in Europe, often controlled by Private "Security" Companies entrusted to Turkish-origin guards, as the German Press denounced). + On this occasion, they also "Call(ed) upon all those whose influence can be brought to bear upon the destiny of those kidnapped, including the Metropolitans of Aleppo, Paul and John Ibrahim, who were taken in April 2013, to make every effort to ensure their prompt Liberation", (speaking of an important City, near the Turkish Borders, which is currently close to return back to the Syrian Government's control, supported by Russian Aviation, after Years of occupation by various Armed Gangs and Terrorist Groups).

    ++ In "addressing, in a fervent appeal, All the Parts that may be involved in the Conflicts to demonstrate good will and to take part in the Negotiating table", Pope Francis and Patriarch Kirill also "ask(ed) for the return of Peace in the Middle East, ... so that Fraternal Co–Existence among the Various populations, Churches and Religions may be strengthened, enabling Refugees to return to their Homes, Wounds to be Healed, and the Souls of the slain innocent to Rest in peace"

    >>> +++ But, in parallel, "at the same time, the International Community must undertake every possible effort to End Terrorism", (as, f.ex., that of ISIL's atrocious Killers and BeHeaders even of Innocent Civilian People) "through common, Joint and Coordinated Action", the Ecumenical Cuba Declaration stresses timely, while also "call(ing) on all the countries involved in the struggle against terrorism to responsible and prudent action".

---------------------------

    ++++ Moreover, Advancing well Beyond all that, Pope Francis and Patriarch Kirill also Feel the Need, Today, to "Exhort all Christians and All Believers of God to pray fervently to the providential Creator of the world, to Protect His creation from Destruction, and Not permit a New (3rd) World War", as they Warn.

    => For that purose, "in order to ensure a solid and enduring Peace, specific efforts must be undertaken to ReDiscover the Common Values Uniting us", they pointed out.

    - Inter alia, "InterReligious Dialogue is indispensable in our disturbing times", because "Differences in the understanding of Religious truths must Not Impede people of Different Faiths to live in Peace and Harmony", specialy "in our current context", whenb "religious Leaders have the particular Responsibility to educate their faithful in a spirit which is Respectful of the convictions of those belonging to other religious traditions".

    => On the contrary, "Attempts to justify Criminal acts with Religious Slogans are altogether Unacceptable", also because "No Crime may be committed in God's Name".

    However, all this cannot make anyone disregard "the Growing InEquality in the distribution of material Goods", since many People are "facing Serious Difficulties, who live in extreme need and Poverty, while", on the ontrary,"the Material Wealth of Humanity Increases", augmenting also "the feeling of the InJustice of the International order", while "Christian churches are called to Defend the demands of Justice, ...and an authentic Solidarity towards All those who Suffer", Cuba Ecumenical Declaration stresses.

    - Last, but not least, they also "address Young Christians" : - "Do Not be Afraid of going Against the current, Defending God's Truth, to which contemporary Secular Norms are often Far from conforming", Pope Francis and Patriarch Kirill Encourage them, while also stressing that Young People have "the Task of ...Using all the Abilities God has given you, to confirm Christ's Truth in the world, incarnating in your own Lives the evangelical commandments of the Love of God and of one's Neighbour"

-------------------------------------------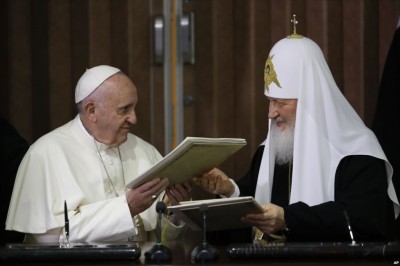 By a Coincidence, this Historic Top Move, was preceded also by a Humble Collective Meeting around Strasbourg Cathedral's community on Ecumenism's perspectives Today, where "EuroFora"s co-Founder mainly supported that, a much needed ReVitalisation could be inspired from the First Christians, who were  United Together and notoriouly Active and Enthousiast, despite Persecutions, while Today, a series of Challenges of Crucial Importane even for all Humankind, incite all like-minded Christians to Unite Together for Urgently needed Joint, Adequate and Efficient Responses, (from BioEthics up to Europe's identity and roots, as well as in order to Face Deadly and particularly InHuman Terrorism, etc.), a good part of which was also evoked by various other fellow participants, in several Converging ways.

    It was a great, and good Surprise, to find, soon afterwards, that most Key parts of those observations appeared Confirmed as more or less Just, by the present, Historic Joint Declaration of Pope Francis and Patriarch Kirill at Cuba...


(../..)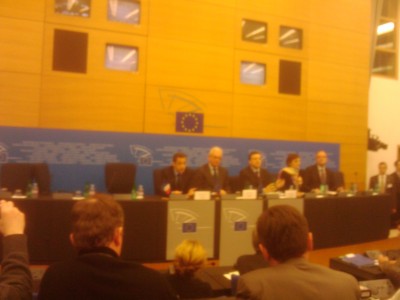 Recent developments proved that Europe can suceed to overcome challenges by aiming at great objectives, and this is needed also in 2009, said EU chairman, French President Nicolas Sarkozy.

    - "It's in the name of Great Ideas, Projects, Ambition and Ideals, that EU can overcome" challenges, stressed Sarkozy at EU Parliament in Strasbourg, in conclusion of a dense 7 months EU Chairmanship. "It's even easier for Europe to have Great projects, able to overcome national egoism, instead of limiting itself only to small projects" (unable to do alike), he observed.     
- "Europe must remain Ambitious and understand that the World needs her to take Decisions". "The World needs a Strong Europe", which "thinks on its own, has convictions, its own responses, its imagination" : "A Europe which does not limit itself into following" others, (as it did in the Past, when it followed USA, f.ex. on Bosnia). On the contrary, "Europe should undertake its own responsibilities", he said, after a series of succes in stopping the War between Russia and Georgia, and organizing the 1st EuroZone's Summit in Paris, which incited the Washington DC G-20 Summit to extend similar decisions World-wide.  

    - "When you sweep it all under the carpet, prepare yourself for hard tomorrows", he warned. "What hinders decisions is the lack of Courage and Will, the fading away of Ideals", he stressed before EU Parliament's 2008 debate on Human Rights and Sakharov prize on Freedom of thought attributed by MEPs to Chinese cyber-dissident Hu Jia, followed by an EU - Turkey meeting on Friday.

    - "I don't abandon my convictions" and "I will take initiatives" on EU level also in 2009, Sarkozy announced later. "France will not stop having convictions and taking initiatives" on Europe. + "It's an Error to wish to pass over the Heads of those who are elected in their Countries" : "It's an integrism I always fought against"', he warned.
---------------------
French EU Presidency faced 4 unexpected Crisis :

- An institutional crisis, with the Irish "No" to EU Lisbon Treaty, just before it started. A geopolitical crisis, wth the threat of War between Russia and Georgia risking to throw Europe back to Cold-war divisions, on August. A World-wide Financial and Economic crisis, arriving at a bad moment before crucial 2009 EU elections. And even a Strasbourg's mini-crisis, with EU Parliament's roof curiously falling down, from unknown reasons, in a brand new building on August, provoking an unprecedented transfert of the 2 September Plenary Sessions...

But it wasn't enough to stop Sarkozy ! On the contrary, it stimulated him...
---------------------------------------

- "The better way to deal with the recent problems of EU institutions (as the "3 NO" by France, the Netherlands and Ireland) is to take them as a "Test" in order to find solutions closer to Citizens' concerns", said later in Strasbourg Sarkozy's new choice as Ministe for EU affairs, Bruno Le Maire.

- On the Institutional front, Sarkozy gave Time to the Irish to think about it, and stroke on December a deal including a New Referendum after the June 2009 EU Elections, in exchange of a promise to keep the rule of "one EU Commissioner for each EU Member Country", and some opt-outs on Defence and Fiscal EU policies, Abortion, etc. If the Irish get a "Yes" Majority, then the institutional package could be completed in 2010 or 2011 on the occasion of Croatia's probable EU accession.

He was accused in Strasbourg to upgrade EU Council and downgrade EU Commision, but he replied that "strong Political initiatives by EU Council reinforce also the more technical role of EU Commission, under the political-technical leadership of its President", all 3 "working together with EU Parliament".


- But, meanwhile, Sarkozy energetically spearheaded an Historic 1st Summit of EuroZone's 15 Heads of State and Government at EU's core, exceptionally enlarged to a partial participation of British Prime Minister Gordon Brown, on October 12 in Paris' Elysee palace, which started to tackle succesfully the growing world Financial crisis.

    It also paved the way for its endorsement by a subsequent Brussels' 27 EU Member States' gathering, before it all come to Washington's G-20 Summit. And "Europe was united, it asked for the 1st G-20 Summit, and it will also organise the next G-20 Summit on April in London", he observed.   
 But a Conference with EU, Russia, African and other Developing Countries, hosted in Strasbourg shortly after Washington G-20 Summit by the French EU Presidency, took a Resolution asking to enlarge participation to Global Economic Governance. Many found, indeed, illogic and unacceptable that f.ex. states as Turkey were given a seat at G-20 level, while all African Countries, and even the African Union itself, representing the greatest Continent on Earth, were excluded...

    Meanwhile, even USA''s "Paulson No 3" Plan, was, in fact, inspired by Europe's No 1 Plan", Sarkozy observed, largelly applauded by MEPs.

    And "Europe showed Solidarity" by mobilizing some 22 Billion credit for Hungary, 1,7 billion for Ukraine, as we do nowadays for Baltic States, etc., he added.

    The move on Economy was extended on December by an EU stimulus' plan totalling some 200 billion Euros, including 5 Billions released by EU Commission for big Projects, as well as various parallel National plans for Economic revival, (fex. 26 billions in France alone). They might appear limited, compared to USA President-elect Obama's reported plan to boost the American economy with 800 billion $, but at least succeded to overcome Europe's divisions for the first time on Economic governance, opening new horizons.

- The French President stressed even harder the unique role of an active EU Council's chairmanship, when he moved swiftly and efficiently, at the beginning of August, to succesfully stop War between Russia and Georgia, at the last minute, which threatened to bring Europe back to Cold War division.

"We (EU) also wanted to avoid a situation like in Bosnia, in the Past, when EU was absent, so that our American friends took their responsibilitues, and EU only followed", despite the fact that the conflict took place in Europe. Now, it was the EU who took its responsibilities".

A roadmap towards a new PanEuropean Security policy, before which all unilateral moves to place new Missiles (from USA or Russia) would be freezed, was proposed by Sarkozy after a meeting with Russian president Medvedev, at the eve of Washington DC's G-20 Summit.

Ukraine's "European" character was stressed at a Sarkozy - Jushenko Summit, September in Paris, while EU adopted on December an "Eastern policy", in which, "I'm convinced that our (EU's) future is to find with our Neighbours the conditions for Economic Development. Peace and Security, by explaining them that.. they must respect (Human Rights') Values, and adopt behaviors different from the Past", explained Sarkozy in Strasbourg.

Meanwhile, the "Union for the Mediterranean" was created, since July's Summit if 45 Heads of State and Government in Paris, as "an organisation for a permanent Dialogue, that we need", mainly in order to tackle the Israeli-Palestinian conflict, by bringing together, for the 1st time, Israelis and Arabs, where "Europe must be present, in order to avoid a frontal clash".

- "If Europe doesn't take its part for Peace in the Middle-East, nobody else will do that in our place", Sarkozy stressed.
-----------------------
    Meanwhile, other EU Agreements were brokered during the French EU Presidency on Immigration, (fex. common Asylum rules, etc), and Climat- Energy :

    - On Climat-Energy, the 2007 German EU Presidency had fixed a triple 20% aim for 2020 (20% renewable Energies, 20% reduction of CO2 emmission, 20% energy efficience/economies), and the 2008 French EU Presidecny realized that, making the necessary compromises in order to modernize EU's industry, but without throwing some former Central-Eastern European Countries into abrupt Economic break down risking "social explosion".

    - Defence-Security EU policy was mainly postponed for April 2009, since both German chancellor Merkel and French president Sarkozy want to strike a deal with the new American president Obama in Strasbourg's NATO Summit.

    However, with all these 4 unexpected Crisis diverting attention to other urgencies, People wil wonder now, what happened to the famous deal proposed by freshly-elected French President Sarkozy on Turkey's controversial EU bid, back on August 2007, to continue EU - Turkey negotiations, but on the double condition that core chapters, intrinsequally linked with EU Membership, will be excluded, and that a collective Reflexion and Debate on Europe's future would start before the end of 2008.

    It was meant to reply to the crucial question : What kind of Europe do we want in 10 or 20 Years from now : A large Market, or a Political Europe, with a popular identity ? In Sarkozy's thinking, presented in his 2 landmark speeches on Europe in Strasbourg, shortly before and after the 2007 Elections, (on February and July 2007), Turkey's controversial EU bid would be incompatible with the second choice.

    It's true that EU Commision's Chairman, Jose Barroso, (who had notoriously declared, as former Portuguese Prime Minister, that he found "nonsense" the idea that Europe might become equal to the US), had repeatedly tried to avoid that Sarkozy's criticism on Turkey might start winning a larger audience in Europe, preferring a discrete "wismens' committee" work. And that most of the personalities later chosen in order to participate in a Committee on Europe's Future, are too much linked with Socialist parties and/or American policies, to be really critical of USA's notorious wish to impose Turkey to the EU, as Sarkozy had noted himself since March 2007..

     - "It's on EU Council's presidency to take political initiatives. EU Commission has other competences", stressed Sarkozy. The "European Ideal" is to "build Europe with the States, not against them". "Ask Europeans to chose between their countries and Europe won't work. You don't choose between your two parents : We must add them together".

    "France and Germany have an Historic Duty to work together, precisely because of what happened to the Past. We have to work hand by hand. We cannot be separated.It goes beyond me and Mrs Merkel today, Mr Schroeder and Mr. Chirac yesterday. It's not a choice, it's a duty to Europe and to the World".  "We need Germany, as Germany needs Europe". Compromise is inevitable, here as everywhere, and each one made some steps towards eachother's positions.

    But "it's true that Mrs Merkel didn't chose her Socialist partners, while I chose mine", Sarkozy said, in an indirect hint that the Socialist Minister of Finance in Germany might be a cause of minor past disagreements in Economy, which were overcome in recent negotiations.

    "We (France and Germany) have particular duties in Europe", but "in a Europe of 27 Member States, it's not enough for France and Germany to agree between them.

    "I always thought that Great Britain has a special role to play in Europe. ... Now, everybody "saw what it cost payed the UK for having been too exclusively open towards the US (and) Financial services. Europe needs the UK, but also the UK needs Europe" :- "We were able to face the hardest moment of the Financial crisis because the UK clearly chose Europe", stressed Sarkozy, reminding Gordon Brown's exceptional participation to the Historic 1st Heads of State/Government Summit of EuroZone, October 12 in Paris (See EuroFora's Reportage from Elysee Palace then).

     - "Some look at Europe with old glasses aged 30 years ago. While we must look at her in relation to what it will be in 30 years" in the Future, Sarkozy concluded.


Polls