Home

In Brief

Dégradation de la Turquie par S&P: la bulle financière de croissance artificielle risque à crever ?!
Dégradation de la Turquie par S&P: la bulle financière de croissance artificielle risque à crever ?!
Thursday, 03 May 2012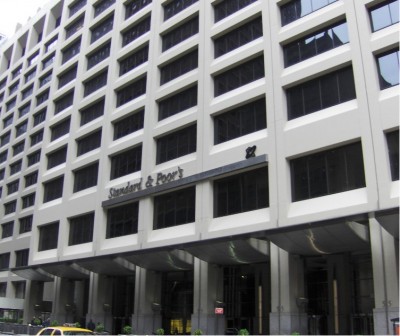 Ceux qui prêtent ou cherchent à exporter en Turquie risquent d'avoir des problèmes, car la prétendue "croisssance" Turque était, en réalité, une simple stimulation de la démande interne par des crédits obtenus d' emprunts à court-terme à l'exterieur du pays, exposé au risque d'une soudaine diminution de son re-financement externe, qui ferait ecrouler l'ensemble, revèle la récente décision de l' Agence Internationale de Notation "S&P" à dégrader le crédit d' Ankara, le descendant de "positif" à "stable" (comme actuellement en Grèce), et maintenant la note "BB" en devices, tandis que son PIB, qui, après avoir chuté environ -5% en 2009, devrait arriver, selon le Gouvernement Turc à + 4% en 2012, en réalité, sera seulement à +2% selon S&P, au même moment qu' une Inflation montante arriva à plus de +11% en avril...

    La Turquie dépend des financement extérieurs pour alimenter sa croissance, selon S&P, qui dénonce le fait que "la forte croissance des dernières années, ..."a été ......financé principalement par des Emprunts Extérieurs à Court-terme auprès des Banques".

    Ces crédits ont gonflé la demande intérieure, "contribuant à la croissance rapide du PIB", notamment par l'importation massive de biens de consommation. revèle un communiqué.

    Mais, maintenant, "des conditions commerciales qui se Dégradent (le prix des exportations comparé à celui des importations) ont, ....rendu plus délicat le rééquilibrage économique" de l' Economie Turque, qui affronte aussi une  Chute des Exportations avec "une demande extérieure moins ferme ".

     Vu aussi la "Dette Extérieure élevée" de la Turquie, "et la dépendance du budget de l'Etat aux impôts indirects", cela peut peser, selon S&P qui réaffirme la note de "BB" en devises, qui ne devrait pas évoluer avant douze mois. Cette note signifie que la Turquie fait "face à des Incertitudes Majeures actuellement, et est exposée à des conditions financières ou economiques adverses, qui pourraient provoquer une incapacité de faire face à ses obligations financières").

    La Turquie est, en effet, dévenue particulièrement vulnerable à un risque soudain qui pourrait affecter son réfinancement externe, et/ou à une sortie soudaine de flux financiers, avertit Standard & Poor.

    Une grave crise de l' Economie Turque en 1999 avait vu le Ministre des Finances sauter par la fenêtre, et la monnaie du pays plonger ensuite en bas, dans un "Krach" Monétaire en 2000-2001, d'où Ankara n'est pas sortie que seulement grâce à la réconnaissance, notoirement controversée et impopulaire, d'un statut de "Candidat à l' Adhésion" dans l'UE, qui lui assura un révenu régulier d'environ 850 Millions € chaque année, ainsi que des facilités d'emprunts, par l'UE, qui est, pourtant, de plus en plus contesté et ménacé, sinon de coupure ou suspension, au moins de réduction, pendant la présente période d' Economies Budgétaires dans toute l' Europe..

    En 2009, plongée dans la récession du fait de la crise mondiale, l'économie turque s'était contractée d'environ  - 5% en recession.  Le gouvernement turc prévoit une chute de +7% à seulement +4% en 2012, en nette baisse en raison de la crise, mais S&P table sur une moindre augmentation du PIB réduite à +2%....

    En plus,  le FMI a averti de faire attention à la hausse de l' Inflation, qui a été plus de + 11 % sur les prix de consommation seulement pour les 4 premiers mois de l' année (Janvier - Avril) 2012.

    Réagissant, le Prémier Ministre Turc, Tayip Erdogan, a accusé l' Agence de Notation Internationale d' être "absurde" (sic !), et a menacé de ..."ne plus reconnaître SP comme une institution" crédible d'évaluation financière....

    M. Erdogan réfuse déjà de réconnaître Chypre, pays-membre de l'UE, comme il déclara dépuis le 29 juillet 2005, ce qui provoqua une réponse officielle de l'UE en septembre 2005 et le "gel" de certains chapitres de Négoc iation dépuis décembre 2009, et ajoute le risque supplementaire de tensions accrues vis a vis l'UE, lorsque Nicosie assumera la Présidence tournante du Conseil de l'UE entre juillet et décembre 2012, tandis que les démandes de "suspension" des négociations UE - Turquie se multiplient, récemment, même au sein du Parlement Européen, alimentées par des soucis d' immigration illégale massive et/ou d'aggravation récente des violations des droits de l'homme particulièrement sérieuses, commises par les Autorités Turques.
 ***

BRIEF NEWS
00:00 - 22.01.2013

00:00 - 28.11.2012

00:00 - 19.10.2012

00:00 - 17.10.2012

00:00 - 21.09.2012

00:00 - 01.09.2012

00:00 - 03.08.2012

00:00 - 05.06.2012

00:00 - 03.05.2012
Statistics
Visitors: 4437017
Archive
Login Form
Other Menu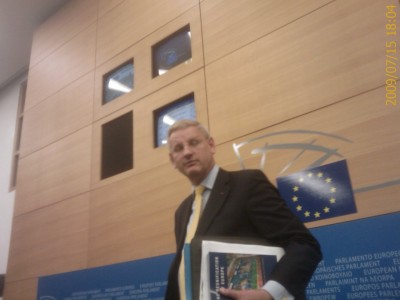 Swedish Foreign Minister, Carl Bildt, speaking  to "EuroFora", denied rumors on Turkey's attempts to avoid an EU check of its obligations on Cyprus on December 2009 by blackmailing Nicosia to either accept any deal with intransigeant Turkish claims contrary to EU values on the island's political issue, or face threats against the territorial integriy of the EU island, semi-occupied by Ankara's army.
On the contrary, the incoming EU President-in-office, speaking exclusively to "EuroFora", promissed that he will act for EU Council's decisions on December 2009 assessment of Turkey's commitments on Cyprus to be kept.

    Bildt was asked to react to Cyprus' President Christofias' denunciation, earlier this week, that some want to exert "pressure" on Cyprus in order for Turkey to escape from its obligations.

    Avoiding to mention any precise Deadline, Bildt, however, warned about "Consequences" in case of "failure" to reunite Cyprus, but without saying whose responsibility an eventual deadlock might be.  
 Asked by "EuroFora" if there is a risk for "Turkey's commitments to "be forgotten or downgraded", "despite crystal-clear EU Council decisions and EU Parliament's latest Resolution on the assessment to make at the end of this year on Turkey's obligations", according to rumours that, instead of pressing Turkey, on the contrary, there might be "pressure on Cyprus", even "blackmail", as Media reported and President Christofias denounced this week, Bildt denied :
- "No ! ", he clearly replied.

- On the contrary, invited by "EuroFora", to "reassure that the Swedish EU Presidency (7-12/2009) will keep a fair stance, based on principles",  Bildt promised that "we (Swedish EU Presidency) will be very clear on all of the decisions taken by the (EU) Council".

He added, however, that "we have very numerous decisions that have been taken" by EU Council, as if he warned, also, on something else.
- "'I am not aware of any sort of statements coming out today''", Bildt started to say, on our reference to Cyprus' President Christofias" denunciation of Turkish lobby's manoeuvers this week, replying earlier to 'another"EuroFora"'s question during a Press Conference at EU Parliament in Strasbourg.

 - '"I know the issues that you' are concerned with'", he added, remembering  the statements he gave us when Sweden was chairing the PanEuropean CoE on 2008.

- "But, obviously, .. I think that Cyprus' Peace negotiations are extremenly important".

- And "'I think that we are at a unique moment in History, in the sens that both (Cyprus') President Christofias and Mr. Talat (the Turkish Cypriot leader), are personally convinced of the need to overcome the division".

 - "It's 20 Years since the fall of Berlin Wal, but we still have a Capital in Europe (Nicosia) that's divided". ,

- 'I don't that we should loose any time in overcoming that"..

 - ''We should be aware of the fact that success will bring great benefits, but failure, will also have major consequences. There will not be Status Quo' " It's a question of seeking a solution, or entering another situation, which is somewhat difficult to see exactly how that could evolve", he warned.

- "That being said, this is a negotiation for Cyprus itself", Bildt admitted.

 - ''We (EU) can support, the (EU) Commission primarily, be technically helpful, and then, of course, there is a specific role for the UN, when it comes to the Cyprus' situation".  
- "At least so far. It might not be for ever'. Certainly not for ever, but for this period of time", Bildt added, skiping now any reference to concrete threats on UNO's Peace keeping force in face of more than 40.000 Ankara's soldiers, contrary to some Press claims, (See previous NewsReports).

     Replying to another "EuroFora"'s Question,  if anyone might attempt to "impose a Deadline for the conclusion" of Cyprus' Talks on December 2009, Bildt avoided to speak of any precise Time-frame, and indirectly evoked the fact that  35 Years of Turkish Invasion/Occupation obviously durated too long :

'- "If I was from Cyprus, I would say that the Deadline was Yesterday ! '",
Bildt concluded.
Cyprus' Government Spokesman, Stephanou, reportedly pointed out that "a settlement is possible on December if Turkey changes its stance", accepting a solution for the reunification of the island based on UNO resolutiona and EU principles.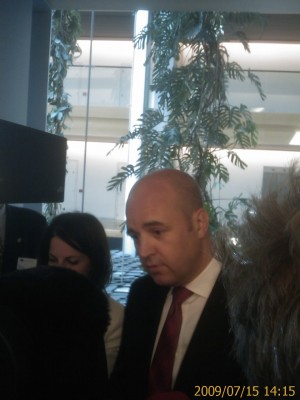 Earlier, EU Chair, Swedish Prime Minister Fredrik Reinfeld, highlighted an "historic opportunity" to "re-Unite" Cyprus according to EU's "basic Values"' (i.e. Human Rights) and 'Rules'", in a last-minute change of his draft speech to EU Parliament in Strasbourg.

    The initial Draft spoke only about "healing" the island.

    Significantly, Reinfeldt linked Cyprus' reunification with Turkey's obligations to respect EU's "Values" and "follow" EU's "common Rules" :

    - What is "called Membership Negotiations" should lead, "at- the end of the day", into "sharing a set of common Basic Values (i.e. Human Rights, Democracy, etc), and following common Rules", stressed Reinfeld from the outset.
    
    - "This is something that those on the Outside (of the EU), are now  contemplating", up "to Ankara", for "a solution" on "Cyprus", observed the EU Chairman, immediately afterwards..  
    - "Both sides of Cyprus have been granted a historic opportunity to together reach an agreement on a solution to re-Unite the island, that has been divided for far too long", said Reinfeldt, modifying his draft text.

-  "The Swedish Presidency will act ...in accordance with Commitments EU has made, on the basis of Criteria that apply", "as a Honest Broker", he promised.    
- "To those on the inside (of the EU), allowing the membership process to become an opportunity to solve protracted disputes, can be tempting", he added.

    "In such cases, we must find solutions that can benefit both sides, and open up a way forward. Otherwise, it would jeopardize the progress we have made towards EU integration", Reinfeldt said.


***
Polls