Home

In Brief

Source Conseil d'Europe à ERFRA: Debatre Liberté d'Opposants à Loi livrant Mariage+Enfants à Homos ?
Source Conseil d'Europe à ERFRA: Debatre Liberté d'Opposants à Loi livrant Mariage+Enfants à Homos ?
Friday, 21 June 2013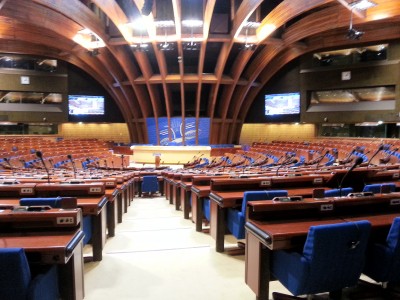 *Strasbourg/Conseil de l'Europe/- L'actualité et les développements récents sur les mésures policières contre les manifestants opposés à la loi controversée et impopulaire qui livre mariage et enfants aux Homosexuels par voie d'adoption, même par étrangers sans aucun lien avec leurs parents naturels, où aux denonciations de restrictions, jets de Gaz et autres brutalités jugées excessives, humiliations, arrestations et gardes à vue systématiques, etc., se sont ajoutées cette semaine aussi des "tentatives d'intimidation" selon les organisateurs, surtout suite à l' étonante condamnation à 4 mois de Prison, dont 2 mois ferme; d'un étudiant bien integré, Nicolas B., apparement ciblé comme un "méneur" et violement poursuivi par nombreux policiers même au 1e étage d'un restaurant, d'où il fut trainé au sol, manu militari et ménotté, avant de se trouver mains et pieds liés, jetté dans un cachot avec 5 criminels de droit commun, et condamné à être enfermé plus de 60 jours en Prison, pendant qu' appels au viol et autres ménaces fusent impunement contre la victime à l' Internet, provoquant une serie d'actions collectives de solidarité au "1er prisonier politique de France" moderne, selon les manifestants,

tout cela pourait encore faire l'objet d'un Débat d'actualité ou d'urgence la semaine qui vient dans la plenière de l' Assemblée Parlementaire du Consei de l'Europe (APCE), si une démande officielle est faite et soutenue "jusqu'à lundi matin à 8 h", a précisé aux "EuroFora" un représentant experimenté et haut placé de la Direction de l' Organisation PanEuropeanne des Droits de l'homme, Démocracie et Etat de droit, qui a 47 pays-membres, y compris la Ukraine, la Russie, etc.

La décision d'accepter, ou pas, est prise par le Bureau de l'APCE, qui est composé par son Président, Jean-Claude Mignon (UMP, du groupe Chrétien-Democrate/PPE), et plusieurs vice-Presidents, ainsi que des Chefs des divers Groupes Politiques (5), y compris l' Italien Luca Volonté, Président du plus grand Groupe : celui des ChrétiensDémocrats/EPP, qui se réuni le matin de Lundi, 24 juin 2013, et définivement acceptée (ou réfusée) par la Plenière de l'APCE elle-même dans un vote prévu le même jour, un peu plus tard, après 11 h.
Pour l'instant, il y a seulement 1 Débat d' Actualité (cad. 1 heure des discussions en séance Plenière), au sujet des révoltes aux banlieux Suèdois et la politique d'immigration, et 3 Débats d' Urgence (cad. avec Rapport et Résolution débatus et votés la semaine prochaine d'abord en Commission et après en séance pubique Plebière), sur divers autres sujets, allant des "persecutions réligieuses en Iran" (en partie déjà discutées auparavent), "la situation en Géorgie" (ibid), et "les protestations populaires en Turquie, par rapport auc libertés de manifester, publier et s'exprimer", déposée par le Groupe de Gauche.

- "Mais l' Assemblée" PanEuropéenne, "pourrait", si bésoin, considérer aussi d'ajouter à la dernière minute "plusieurs débats" d' Actualité et/ou d'Urgence, "le dernier délai" pour présenter une telle démande, étant fixé à "Lundi 8.h", a répondu aux "EuroFora" le responsable de l' APCE.  Il est, d'ailleurs, vrai que c'est une des raisons pour lesquelles plusieurs réunions entre eurodéputés et  leaders paneuropéens ont traditionellement lieu à Strasbourg au plus tard le Dimanche; y compris le Comité des Chefs des tous les Groups Politiques, suivi des Bureaux de chaque famille politique, etc.; jusqu' à tard le soir.

Ce qui serait dévenu, en pratique, encore plus Facile, maintenant, au moins du point de vue du Temps disponible dans l' Agenda de l'APCE, puisque la visite officielle et le discours prévu par le Président du Parlément de l' Union Européenne, (l' organisation-soeur des 27 Pays-membres de l'UE), eurodéputé Socialdemocrate Allémand Martin Schultz, initialement prévue pour le Mardi, 25 juin, fût, curieusement, annulée à la dernière minute, laissant, a priori, assez du Temps pour au moins un débat d'urgence de plus que prévu.

- En effet, comme il a été aussi rappelé aux "EuroFora"  par un autre Officiel de l'APCE, en principe, pour que l' Assemblée Parlementaire du Conseil de l'Europe s'exprime vraiment sur un sujet, il faut un Rapport avec une Resolution adoptés d'abord dans la Commission compétente en la matière, (ici, p.ex. celle des questions juridiques et des droits de l'homme, peut-être ensemble avec la Commission des affaires Politiques et de la Démocratie, ainsi que la Commission de Culture, Education, Medias, etc. qui s'occupe aussi des Réligions, etc), et ensuite débattus et votés en séance publique Plenière"...

Autrement, une rencontre de 45 minutes, qui a été déjà prévue, à ce sujet, sous les auspices du President du plus grand groupe de l'Assemblée, et déjà auteur d'une Question écrite à ce sujet, Euro-Deputé Italien Luca Volonté (ChrétienDemocrate/PPE); pour le Mercredi 26 juin 2013, à l'heure de l' interruption de la Plenière pour le dejeuner (1-1.45), n'est seulement un parmi 3 ou 4 "Side events" qui se tiennent tous au même moment, dans une salle qui ne peut contenir que seulement près d'une centaine de personnes, et, surtout, n'est pas encore integrée dans les travaux de l'APCE, (n'étant pas, p.ex. une "Audition" d'une Commission compétente pour élaborer un Rapport avec Résolution destiné à être votée ensuite par la Plenière, etc), ce qui n'est, d'habitude, suivi que seulement pas un pétit nombre d'eurodéputés, souvent etant classé sasns suite, (même s'il peut, parfois, offrir quelques occasions pour certains contacts utiles pour l'avénir aux personnes interessées, sans plus). Ainsi, a priori, le seul evenement qu'on peut attendre à cette seule occasion semble être la publication d'un Rapport du Centre pour la Loi et la Justice du celèbre Américain, Editeur, Universtaire et Idéologue Conservateur;  Pat Robertson, que son Bureau régional pour l' Europe a annoncé qu'il presentera alors sous la direction de Georg Pupnick, (avec "100 témoignages" parmi les plus de Mille Protestateurs déjà arrétés, selon les estimations de leurs Avocats), mais surtout une synthése actualisée de ce nouveau mouvement populaire, par la Présidente de la "Manif. pour tous", Ludovine de la Rochère, et de la Porte parole du "Printemps français", ainsi que d'autres témoins.

 + En tout cas, le même officiel haut placé du Conseil de l'Europe a, en plus, souligné, en réponse à la même question d' "EuroFora", que le "Débat Libre" prévu à la session Plenière de l' APCE plus tard dans le même après-midi du Lundi, 24 juin, en donnant à tout EuroDéputé une possibilité de parler de tout sujet d'actualité qu'il estime necessaire, pourrait aussi servir comme une tribune publique aussi pour des questions de ce genre, et attire déjà l'intérêt de plusieurs Membres de l' Assemblée PanEuropéenne, puisque, "plus de 50° EuroDéputés auraient été déjà inscrits...

Naturellement, parmi d'autres occasions lors de cette ultime session Plenière de l'APCE avant l' interval de l'été, pourrait être aussi la séance Plenière des Questions orales au Comité des Ministres du Conseil de l'Europe, actuellement présidé par le Ministre Arménien Edwad Nalbandian, (....), prévue pour le Lundi après-midi, entre 15 et 16 h., où; p.ex., des eurodéputés pourraient, éventuellement, s'interroger sur les étonants "vides" dans une réponse collective du Comité des Ministres (qui répresente les Gouvernements des Etats-membres du CdE) dans ladite Question ecrite du Président Volonté sur "les violences policières" contre les manifestants opposés à ladite loi controversée en France, pour demander p.ex. des explications sur les plusieurs autres incidents (bien documentés par Videos, Photos, Témoignages, etc), aussi bien avant que (surtout) après et indépendament aux 3 grandes manifestations du 13 janvier,  23 mars et 26 mai, lors des multiples autres protestations (la plupart entièrement pacifiques) qui continuent encore cette semaine aussi, face à des reactions de plus en plus oppressives, aux yeux des dissidents, qui risquent manifestement de provoquer un "spiral" dangereux.

Ce qui ne semble pas pouvoir être evité simplement en multipliant les patrouilles de policiers, gendarmes et/ou CRS armés jusqu'aux dents avec matraques, pistolet,s gilets pare-balles, etc., sous une chaleur suffocante, au millieu des familles, jeunes gens et touristes, surpris, qui se baladent aux rues piétoniers de la veille ville au centre de Strasbourg, de la Place Kleber jusque, même, près du Cathedrale, etc., surpris de se voir entourés, soudain, de tant de forces de l'ordre qu'on n'avait même pas vu lors des alertes serieuses du plan "vigipirate" face à des ménaces et/ou même attentats terroristes, ni a Paris, ni ici....

C'est dans ces conditions que le mouvement independant dit des "veilleurs", composé essentiellement de jeunes filles et garcons totalement Pacifiques, des mères de famille, des personnes agéesn etc., réunis sur le sol p.ex. d'une place, etc., pour réciter des poemes et/ou d'autres livres, réligieux ou philosophiqies, litteraires, etc., avec des bougies aluumées pendant la nuit, avant de se disperser calmement, en général tard le soir, aurait donné rendez-vous, ensemble avec une composante qui se proclame "Européenne", portant l'image de plusieurs Drapeaux, (celui de la Grande Bretagne 1er), donne rendez-vous exceptionellement à Strasbourg, la soirée du Mercredi, 26 juin, devant l' Ancienne Mairie à la Place Broglie, (près de l'Opera et de la Préfecture du Bas-Rhin/Alsace, cad. presque au milieu du chémin entre le Centre Historique de la Ville de Strasbourg, et son "Quartier Européen", lié par la Place de la Republique et l' Avenue de la Paix, etc), annoncant la participation de plusieurs EuroDéputés aussi, (malgré les travaux et autres rencontres de l' APCE qui se poursuivent tous les jours, dépuis 8h. du matin (Commissions, etc), jusqu' à tard le soir (diverses Receptions par les Representations Diplomatiques, etc), qui est, souvent, aussi le seul Temps que disposent certains Journalistes pour essayer d'ecrire quelques articles sur la base des Interviews et autres Reportages obtenus pendant ces journées notoirement surchargées, (la plupart desq cas en se privant de sommeil et/ou étant obligés de marquer du rétard dans leur travail et dévoir)...

Le lendemain, Jeudi 27, après le Débat d'Urgence (qui sera choisi parmi plusieurs options, le lundi matin : v. supra), la journée sera prise par un débat et vote d'un N-iéme Rapport contre "la Disrcimination pour motifs tenant à l' orientation sexuelle et à l' idéntité du "gender" (genre), préparé cette fois par l' Eurodéputé Norwegien socialiste Hakon Haugli avec la participation de la Porte-Parole de l' Elysée,  Ministre Najat Vallaud-Belkacem, l'après-midi, qui pourait, manifestement, tourner le débat ailleurs, (cad. le retourner encore vers la protection et les droits revendiqués par les Minorités LGBTI, qui ne semblent heureusement plus avoir de graves problèmes au moins pas en France, le détournant des Libertés et Droits Humains de tous Dissidents Politiques, ainsi que du respect dû à la Majorité du Peuple dans toute Démocratie digne de ce nom, où ceux qui dénoncent des brutalités, jets de gaz, humiliations, arrestations, même emprisonement, et/ou harcelements et autres tentatives d'intimidations, dont les dissidents opposés à cette loi controversée et impopulaire selon tous les sondages en France, seraient victimes, soulevent recemment plusieurs questions sans réponse).

Curieusement, il semble, pourtant, que la Ministre ne fera aucune conference ou point-Presse, même pas bref, au moins pas en l'etat actuel des choese, (ce qui est plutôt érange, s'agisant même d'une ex-porte-parole déjà lors de la campagne pré-electorale de 2012), mais elle participera entre 14-15.30 dans une téunion de sous-Commission (d' Egalité des Sexes, etc), tandis que, entre-temps, la plujpart des Journalistes qui suivent les questions Européennes seront, très probablement, attirés loin de Strasbourg, par le Sommet de l'UE à Bruxelles, notoirement organisé ce-même Jeudi après-midi, vers le Vendredi, 27-28 juin 2013...


(../..)

BRIEF NEWS
00:00 - 02.06.2021

00:00 - 18.10.2020

00:00 - 19.06.2020

00:00 - 18.05.2020

00:00 - 20.04.2020

00:00 - 02.02.2020

00:00 - 09.12.2019

00:00 - 27.11.2019

00:00 - 16.11.2019
Statistics
Visitors: 52949989
Archive
Login Form
Other Menu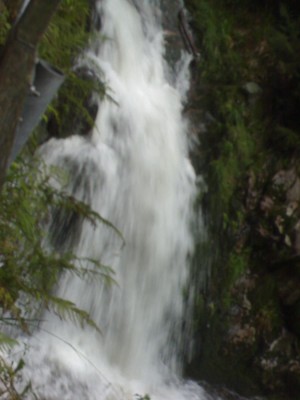 Benedict's "Source" to revitalize Europe : - "The World needs Hope", Pope says, calling to relaunch E.U. via Human Rights !
Paris - Lourdes - Strasbourg : 12 - 17 September 2008.

The vital need to re-launch Europe can be succesfully met by defending fundamental Human Rights of the People, said Pope Benedict XVI in his 1st speech in France, at his meeting with President Nicolas Sarkozy, who currently chairs the EU.

Sarkozy replied by welcoming Christian and other religions' contribution to indispensable Public Debates on crucial issues which affect Human Dignity, Europe, even Humankind, as BioGenetics.

- "When Europeans will see and personally experience that the inalienable Rights of the Human Person .., those of their free Education, their Family life, their Work, ..their Religious Rights, ..are respected and promoted, then, these Europeans will fully understand the greatness of the European construction and will be actively involved in it", Benedict XVI stressed.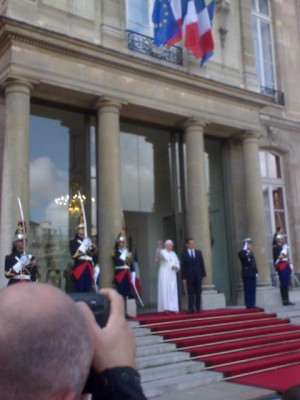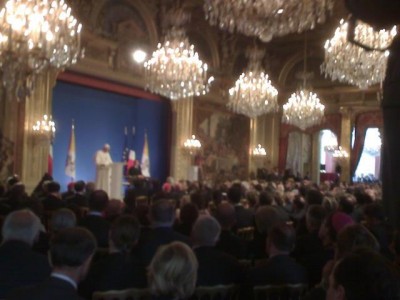 - "It's important that during France's EU Presidency, there is, indeed, a desire for the Church to contribute to protect Human Person's integrity, and I think that there is also a growing Conscience, beyond any polemics, to defend Human Rights, and, thus, contribute to ensure respect for Human Dignity", added to "EuroFora" the Pope's Spokesman, Vatican's Press Director Federico Lombardi.

- "Nobody really told us here that Lisbon Treaty was good for this or that reason to the People. They only told us that we "had" to ratify it, and tried to scare us, but failed", said 2 Irish pilgrims to "EuroFora", after 2 Majority Abstentions in 1999 and 2004 EU Elections and 3 "NO" to Referenda in France and the Netherlands in 2005, followed by the Irish "No" in 2008, during a Decade of EU Crisis since the controversial Turkey EU- bid (1999-2008).
More than .."224 cases of Murders, Torture, "Disappearancies" or Destructions" by "agents of Turkish Security forces", where all those responsible for so heavy Crimes still remain scandalously unpunished, despite regular condemnations of Ankara by Strasbourg''s European Court of Human Rights from 1996 to 2008, were examined the same week by CoE's Ministers, who decided to launch a fresh call "urging" the Turkish Authorities to end this dangerous "virtual Impunity" of criminals, without comparison to European countries.

- "Why not Ukraine, instead of Turkey ?", asked EuroFora a Journalist from "Kiev : the city where it's enough to cross the streets in order to realize that it's a European town", as Sarkozy recently said, before solemnly declaring this week, together with Ukranian President Jushenko and EU Commission's chair Baroso, EU's "recognition that Ukraine is a fully European Country, linked to Europe by culture and History".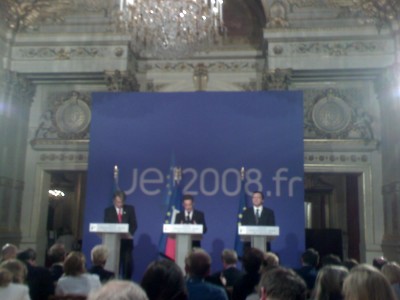 Europe's "Christian roots" and Values, with "openess and mutual respect" to other cultures and beliefs, were highlighted by Sarkozy in harmony with Benedict XVI.

The Human person should be protected "from his inception until his natural death", added the Pope, faithful to BioEthic principles defended by his predecessor and collaborator, John Paul II, of topical importance in France, Europe and the World today, as Sarkozy announced :

- "Fast and important progres in Genetic Science and procreation raise delicate BioEthical Questions to our Democracies", which "involve our view of Humans and Life, and can lead to Social Mutations. That's why they cannot remain only a business of experts", hestressed.

- "It's Politician's responsibility to set a proper framework for such Public Debates", as "France will do on BioEthics in 2009". "Religious and Philosophic traditions must take part, with their ideas and centuries' long experience : A positive Laicity is an open invitation to Dialogue", he said.

- "France engaged in Europe at another Debate on how to make Financial Capitalism more moral", and the "Social doctrine of the Church fits well what is at stake in modern Globalized Economy"

- "But, a "Real Dialogue is not for an elite of a Globalized world : It penetrates deep into the People : That's why Churches should actively participate : .. It's bringing New Oxygen to Public Debates", stressed Sarkozy.

- "Democracy must not be cut off Reason", which is "compatible with Faith", thanks to "the meeting between Christianism and Greek philosophy ", he added, referring to Pope's views. "It means to advance with logic arguments, search what's best and respect common principles of thinking :... It's an everyday need for Public Administration and the Political Debate", he added.
----------------------------
Pope Benedict's 1st visit to France looked like the start of a brillant, manifold demonstration that this was well-founded and could become true in the lives of the People : After its Theoretical foundations unfolded at a "speech to the world of Culture", inaugurating Bernadins' cultural centre, and its dogmatic instrument shaped at an address to the Clergy in the Historic Notre Dame' Cathedral, he started to resolutely reach out to the People :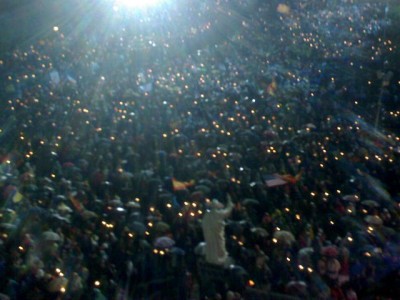 The move went upwards like Bach's music : Begining with a call to more than fifteen thousand enthousiastic Youngsters gathered at Notre Dame's parvis with overnight celebrations, it gained strength in an impressive open-air Mass at Paris'central Invalides'area facing Alexander III's bridge, attended by more than 150.000 people, French Prime Minister Fillon, many Ministers, Foreign Ambassadors, etc, and culminated in a series of pan-European Mega-meetings at Lourdes 150th anniversary, together with all French Bishops, EU Commission's vice-Chairman Barrot, and some 200.000 enthousiastic People from all over Europe and beyond : After a Sea of Lights astonishingly braved Saturday Night's rain, an open-air mass at riverside fields among Pyrenees' Mountains Sunday Morning, was followed on Monday by a Sea of "Compassion" to those facing Health or Life threats, surrounded by an endless gathering of People, whose gigantic dimensions obviously surprised the organisers..

Meanwhile, Benedict had the occasion to speak to the French Priests at Notre Dame of Paris, and with the Bishops at Lourdes, where they prepare a crucial November plenary meeting, due to take important decisions on imminent EU debates and choices about Europe's identity, BioEthics, etc.
-------
- "A new way of thinking about Laicity has become necessary", agreed the Pope with President Sarkozy at Elysee. While keeping the "distinction between Politics and Religion, to guarantee Citizens' Liberty", "religion is important for shaping Consciousness and contributing, together with others, to create a basic Ethical Consensus in society".

- "Searching Essential realities", (as "God" for christians), needs "Speech : "Logos" in greek, i.e. Reason", "able to shape a Community","with creative work transforming Human History". But "Dialogue" is instrumental for "Reason", because it's the way to "search" for Truth", in "Liberty", according to Greek Platonic Philosophy, with Socrates' dialectics. "Reason" implies "Spirit and Liberty", hence the polyphonic "Music" of "Dialogue", in a responsible, "well balanced" way, to avoid "destruction".

Starting with a "Dialogue between christians and intellectual or artistic movements" highlighted at Bernardins' Cultural Center. with former Presidents Chirac and Giscard d'Estain, UNESCO's chair Anastassopoulos, etc., as well as representatives of Muslim Communities, (including a separate Turkish), after contacts with Jews at Vatican's Embassy, the Pope turned towards the People :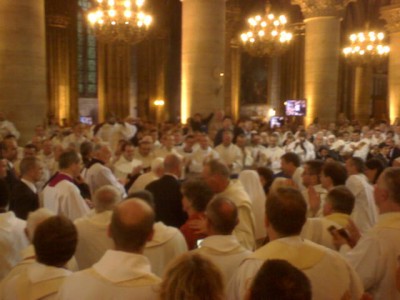 -------------------
To French Priests : "Church built on the rock" !
---------------------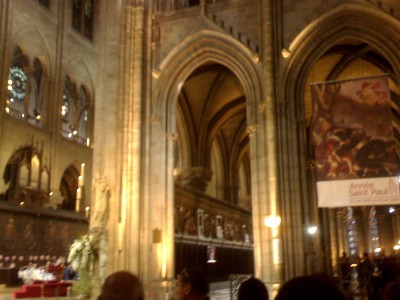 - Speaking to thousands of French Priests at Notre Dame's Cathedral, Benedict highlighted a solid "Church built on the Rock" of conscious and active persons, transmitting "a lively, energetic and sharp" "God's Speech, actively working on Human History".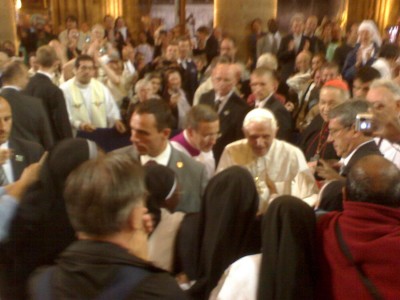 "Praying together" with "representatives of Christian Churches and ecclesiastic communities", (as Orthodoxes, Armenians, Protestants, etc), he called "to reinforce the Unity of the church", against "any form of Division", around Holy Spirit', "the Word","Christ's Justice", and "Love" to fellow- humans : Essentials which "resume all holy scripts", as he said.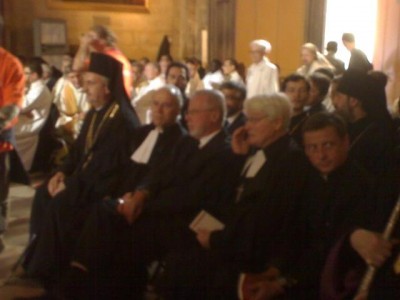 -----------------------
To Young People : "New Horizons"
------------------------
To some 15.000 enthousiastic Young People at Notre Dame's parvis, along Seine's river, Benedict spoke about "the Energy of the Holy Spirit" and "the Mystery of the Cross" : - "The Holy Spirit opens New Horizons to Human Intelligence .. and makes it conscious of the real greatness of Christ's sacrifice, dying and resurecting for World's life".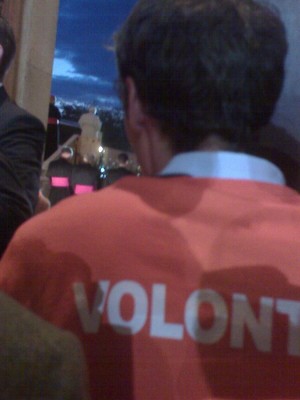 Some "may slander you as crazy, laugh at you, or even persecute you. But, "the Holy Cross is a symbol of God's love", and "givesmoral strength" : "Witness of People's pains, it's at the same time, a precious, unique expression of their Hopes", he told them at Paris' dawn.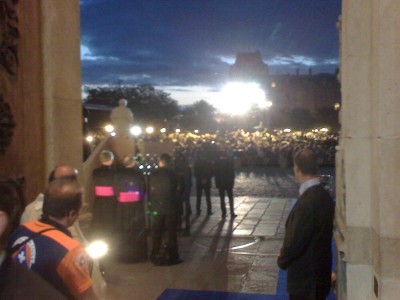 ----------------------------------
Invalides' plateau : "People chosen to become God's friends"
---------------------------------------
At the 1st open-air Mass in Paris' center area of Invalides, facing the Grand Palais, along the river Seine, during an impressive gathering of more than 150.000, French Prime Minister Fillon, Ministers Alliot-Marie, Bachelot, Dati, Jouyet, Assembly's President Accoyer, Senate's Chair Poncelet, former 1st Lady Bernadette Chirac, former Prime Minister Raffarin, many foreign Ambassadors, and other political personalities were present. (While earlier, from the Socialist opposition, Paris' Mayor Delanoye, artist Robert Hussein a.o. assisted at the Elysee meeting).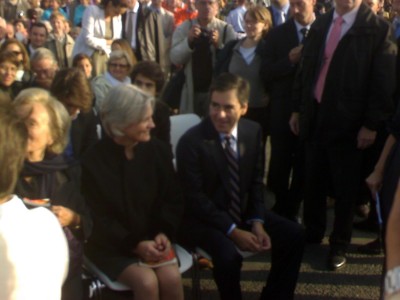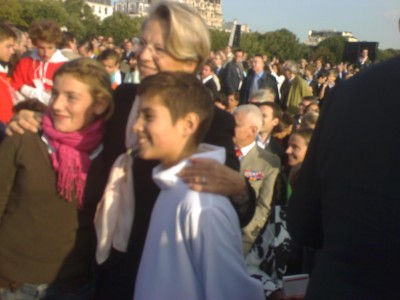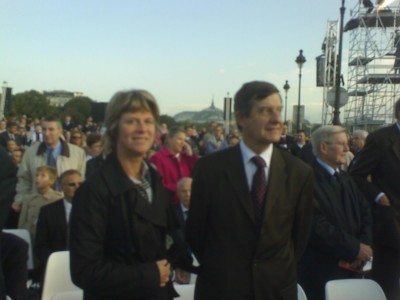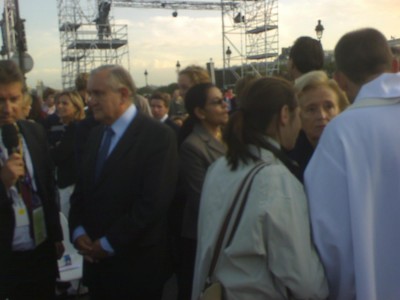 But the "Entry Song" focused on the "People chosen to become God's Friends". The September 11 mass was Dedicated to "Saint Chrysostomus, that great priest of Constantinople", with his "wonderful eloquence and great courage to face challenges", who "made out of despaired and godless people, a people of brothers", opening a possibility to "become all one complete entity", as Pope Benedict reminded.

- "Reason never enters in real contradiction with Faith", stressed Pope Benedict, who prepared his speeches for France during a short Summer rest at Brixen/Bressanone's Seminar, whose Library honors both "Faith and Science".. - "We must use not only our Reason, but also our Faith" : "Get away from Idolatry", "cupidity", "avidity for money, power or even knowledge deviating from essential aims", and other "falses appearances". and "build your Home on the Rock", "with the force that Holy Spirit gives to those who let it act in them", he said to the People of Paris.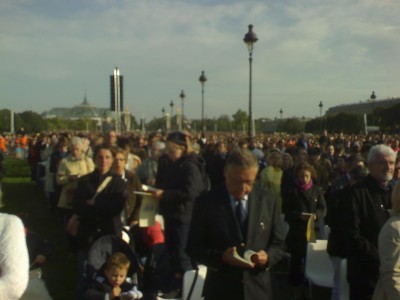 --------------------------------------------------
Benedict at Lourdes : - "Become Light (even) in the Dark !"
------------------------------------------------------------------
- "Our World needs Hope", stressed Pope Benedict, addressing an impressive TorchLight procession at Lourdes' sanctuaries, where a Sea of Lights held by Hundreds of Thousands of People gathered at Pyrenee's Mountains from all over Europe astonishingly kept their flames despite a heavy Rain at a windy Dark Night...

- "150 years earlier (1858 - 2008), ..here, in the cave, ... a simple young girl, Bernadette .. saw a Light". "The everyday life of her Family was, however, made of Misery, Sadness, Sickness, Misunderstandings, Rejection and Poverty... It was hard to live in Jail". Today, "we think to all Human Beings who suffer : The innocent Victims who face Violence, War, Terrorism, Hunger, Injustices, Catastrophes, Hate and Oppression, Violations of Human Dignity and of their fundamental Rights, of their Liberty to act and think. We also think to those who face Familial problems, sufferings from Unemployment, Sickness, Infirmity, Isolation, or their situation as Immigrants, without forgetting those who suffer and die for the name of Christ", he said.

- "But the Shadows of the Earth, did not hinder Sky's Light to shine : <<The Light shines in the Dark>>" ..."A Way full of Light opens in Human History even in its Darkest moments" : ..."As Night falls, Christ tels us : <<- Keep your Lamps alight !>>."Hold a Light while walking in the Night .. sums up our condition as Christians on their way : "We need light, and we are called to become Light !", Benedict stressed to People setting in motion Lights, Flags and Songs with enthousiasm.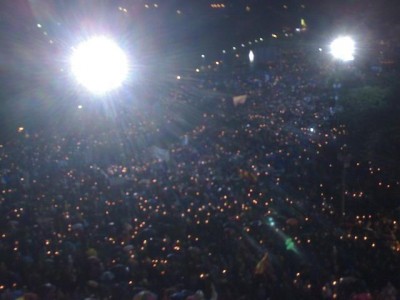 "<<- She looked at me as a Person, who speaks to another Person>>, the poor girl had noted."Light emerges from such a Dialogue", stressed the Pope : "A small Flame called Hope, Compassion and Tenderness dwells inside those who return after being moved by Lourdes' experience". "Christ .. entrusts us with the Mission to let the Light of Charity shine : To make of our Prayers an Act of Love to our brothers and to Fraternal Charity", he concluded.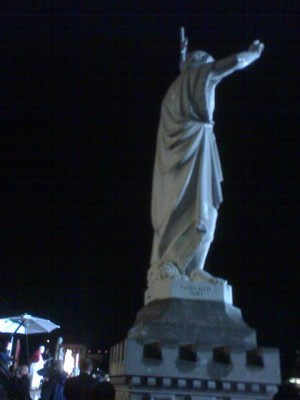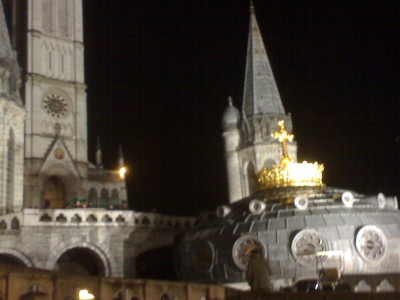 (../..)
Polls