Accueil

In Brief

ECHR f.Jurisconsult prof.V.Berger: Religious Freedom at Risk by Salles'Report on Sects+minors at CoE
ECHR f.Jurisconsult prof.V.Berger: Religious Freedom at Risk by Salles'Report on Sects+minors at CoE
Tuesday, 08 April 2014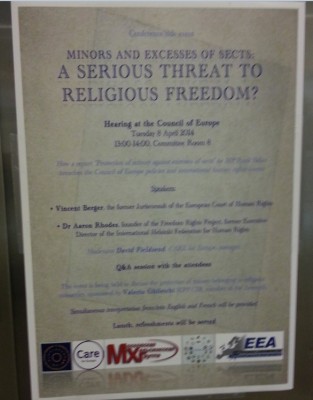 *Strasbourg/CoE/- Religious Freedom could be "undermined" and exposed to undue "Risks" because of several Controversial points contained at a Draft Report on Sects and Minors, prepared by MEP Salles, which is scheduled to be debated and voted at CoE's Parliamentary Assembly on Thursday, denounces the experienced ECHR's former Jurisconsult, Vincent Berger, professor at the European School of Bruges, in a CoE sidelines' event organized by the President of its PanEuropean Parliamentary Assembly's Social, Health and Development Committee, MEP Valeriu Gihletchi from Moldova, of the ChristianDemocrat/EPP Group. 
Exceptionaly, without endorsing any side's position without a thorough examination of the respective arguments at debate, but given the Timely proximity of Thursday's debate and vote at CoE's Assembly, "EuroFora" publishes Berger's critical presentation (that he read and discussed at a special Hearing in the CoE and kindly gave us) in full , so that all those interested at this issue can have a chance to form their final stance by taking into account also these Legal observations :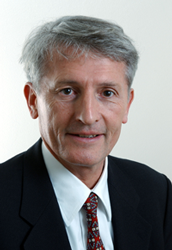 -----------------------------------------------------------
THE PROTECTION OF MINORS AGAINST EXCESSES OF SECTS:
THE SALLES REPORT1

Note by Vincent Berger2

(24 March 2014)



1. Obviously, the protection of minors is a legitimate concern in the democratic societies composing the Council of Europe. The Salles Report is however far from responding to this concern satisfactorily.

A. Diversion targets

2. Despite its title, the Salles report contains many passages which are of general scope and suggest that minors are used as a collateral or a pretext for an offensive against "sects" .

a) A specific target

3. The draft recommendation3 deals exclusively with the protection of minors. It therefore corresponds to the official purpose of the report.

b ) A general target

4. As to the draft resolution, it is aiming at a much larger target4. Indeed, half of its points do not refer to children and teenagers: they concern "religious and spiritual sectarian groups" (§ 6.3) , "sectarian excesses" (§ § 6.6, 6.7 and 6.8) and "cult phenomenon" (§ 6.6).

5. This is also the case with the explanatory memorandum, including important developments that have no relationships with minors (§ § 11-13 , 22-26 , 28, 35 , 37 and 42-44) .

6. The same applies to the summary of the responses by parliamentary delegations of Member States to the questionnaire sent by the Rapporteur (§ § 1 a) -d) and 2 b) - d)), which was also often of a general nature .

B. Unfounded premises

7. Salles report is based on premises whose relevance is questionable, whether explicit or implicit.

a) Explicit premises

8. A European approach is necessary to protect minors: this is far from obvious, to the extent that, according to the Rapporteur himself, many countries do not face serious cases of "sectarian excesses" affecting minors and that the vast majority of the States deem useless to legislate on this issue.

9. The " sectarian excesses " against minors are a "deeply worrying phenomenon" (explanatory memorandum, § 38) and "remains very worrying" (explanatory memorandum, § 46 ): this is contradicted by the available data on rare abuses recorded in some States.

b) Implicit premises

10. "Cults" present a priori a danger to minors: this discredits and throws suspicion on all non traditional churches and communities and on all new religious and spiritual groups, while only a tiny minority of these entities may – or may have in the past – given rise to such criticism.

11. The legislation of Member States, and particularly criminal law, is not sufficient to protect minors: this is a serious accusation against national legislators, suspected of negligence, or even complacency, towards dangerous groups.

12. Public services of Member States do not perform their duties properly, in particular to ensure schooling and health of minors: here again, this is an accusation aimed at national authorities.

C. Questionable models

13. In a veiled yet clearly way, the draft resolution and especially the explanatory memorandum are campaigning for combative systems against "sectarian excesses", that are supposed to be effective and valid throughout all of Europe.

a) The French "model"
14. The French system, in particular, is presented as a model that should be adopted by all other Member States. But it has not proven its effectiveness, as shown by the paltry number of abuse cases reported by Miviludes. As to the About / Picard law, it has aroused the concern of the Parliamentary Assembly, which invited the French government to reconsider it (Resolution 1309 (2002) Freedom of religion and religious minorities in France, § 6), without success. However, the draft resolution advocates repression – without, however, any reference to minors – of the "abuse of psychological and / or physical weakness of persons ". This is a concept that lies at the heart of the French law but is devoid of scientific value.

b) The German "model"

15. The German system is also portrayed favorably, although less emphasized. Catholic and Protestant churches play an important role in "counseling victims of 'sectarian excesses' and gathering information on sectarian groups" (explanatory memorandum, § 38). The Rapporteur encourages the authorities to grant them financial support for this purpose. However, we can question the neutrality of such churches, which are in direct competition with "cults". One must also consider the risk for the State to delegate its powers to private institutions, to the point that they become the armed branch of public authorities.

D. Redundant initiatives

16. Apart from the aforementioned dangers and drawbacks, the Salles report does not provide any "added value" to the works of the Parliamentary Assembly on the issue and is often only repetitions.

a) Previous works

17. The works of the Parliamentary Assembly on the protection of children against abuses led to Resolutions 1530 (2007) and 1952 (2013) and Recommendations 117 (2007) and 2023 (2013). They have a triple character. First, they are very recent. Then they remedy what seems to appear, in the eyes of the Rapporteur, a deficiency of the European Parliament in the considered field. Finally and most importantly, they cover all issues related to violations of the physical or moral integrity of children. They appear therefore amply adequate.

b) The draft resolution

18. On a general level, the Parliamentary Assembly adopted Recommendations 1178 (1992) and 1412 (1999): the first is about sects and new religious movements, the second about the illegal activities of sects. Yet the draft resolution includes two invitations that are already contained in Recommendation 1412 (1999) (§ 8 and § 10 ii and iv.) "to provide teaching in the history of religions and the main philosophies in schools" (§ 6.4) and "to make sure that compulsory schooling is enforced and ensure strict, prompt and effective monitoring of all private education, including home schooling"(§ 6.5).

E. Inaccurate assumptions

a) The explanatory memorandum

19. The Salles report notes that "The ECHR has never issued judgments directly concerning minors who have been victims of the influence of sects either directly or through their parents or persons caring for them" (explanatory memorandum, § 14). He explains this in part by "the specific nature of proceedings before the Court" and the "lack of legal capacity to act" of minors under domestic law ( ibid.). He adds that " it is hard to imagine a situation in which parents or legal guardians – followers of a sect – would turn to the courts to protect the children concerned against themselves" (ibid.). He thus suggests that children are helpless, which is incorrect .

b) The Strasbourg jurisprudence

20. States party to the European Convention on Human Rights have a positive obligation to protect individuals. This obligation applies primarily to minors and may be invoked before the national courts by relatives who deem that they are in danger. It is the same in Strasbourg: an indirect victim of a violation of the Convention can complain since he/she has a specific and personal connection to the direct victim. This would be the case of close relatives such as grandparents and aunts or uncles. The absence of ECHR judgments concerning minors affected by "sectarian excesses" is therefore not explained by any impossibility to file applications meeting the conditions of admissibility.

F. Conclusion

21. If they were adopted as such by the Parliamentary Assembly , the draft resolution and the draft recommendation would be likely to seriously undermine religious freedom and freedom of association guaranteed by the European Convention on Human Rights. Indeed, they cast aspersions on all new religious and spiritual groups that have emerged in Europe alongside traditional churches and denominations, in suspecting them, a priori, of "sectarian excesses" unlawful and harmful to minors.
----------------------------------------

 ---------------------------------------------------------------------------------
BRIEF NEWS
00:00 - 02.06.2021

00:00 - 18.10.2020

00:00 - 19.06.2020

00:00 - 18.05.2020

00:00 - 20.04.2020

00:00 - 02.02.2020

00:00 - 09.12.2019

00:00 - 27.11.2019

00:00 - 16.11.2019
Statistics
Visiteurrs: 53746318
Archive
Login Form
Other Menu
(Opinion)
Paris - Bruxelles - Strasbourg, 2 septembre 2008





Le spectaculaire succès du Président français, Nicolas Sarkozy, (en tête de l'UE jusqu'a décembre), à obtenir de suite un cessez le feu inattendu entre la Russie et la Georgie, immédiatement après sa visite aux Présidents Medvedev et Saakashvili, au pire moment de tensions et heurts violents meurtieurs, qui avaient tué plusieurs innocents et provoqué le deplacement forcé de réfugiés par milliers, lui donne incontestablement une stature vraiment européenne :

A ses liens personnels bien connus avec l'Hongrie, la Grece, l'Italie ou l'Espagne, en sus de son amitié avec la chancelière allemande Merkel, son souhait d'essayer d'attirer l'Angleterre au jeu européen, etc, s'y ajoute, maintenant, une réussite, fragile certes, mais importante, au combat pour la Paix dans la "grande" Europe du général De Gaulle, "jusqu'a l'Oural", qui inclut naturellement la Géorgie, l'Arménie et d'autres pays, et ne peut exister qu'avec rapports de confiance et partenartiat stratégique avec la Russie.

Apres avoir réussi à debloquer la situation au Liban, (pays avec liens culturels historiques en Europe), lors du Sommet pour la Méditerranée à Paris, juillet dernier, (comme atteste maintenant le prémier accord d'echange d'Ambassadeurs avec la Syrie), Sarkozy activa maintenant une présidence française de l'EU bien entreprenante, à l'autre bout de l'Europe, à Moscou, où, contrairement à Napoléon, il a été reçu avec soulagement par le nouveau président russe, ami de l'experimenté Vladimir Poutine.

Cet homme politique rélativement nouveau au plan politique européen, avec une vision souvent critique ou même critiquée, à tort ou a raison, mais ambitieuse et concrete a la fois, qui aime s'adresser aux "Européens", comme il dit, n'est-il pas bien placé pour stimuler le fameux débat sur l' "Identité de l' Europe", qu'il a proposé au Parlement Européen récemment à Strasbourg, moins d'un an avant les Elections européennes de 2009 ?

En 2007, il a réussi à faire monter spectaculairement la participation citoyenne aux élections présidentielles en France, obtenant des récords historiques :

N'est-ce pas, justement ce que l' Europe a bésoin, apres 2 abstentions majoritaires sans précedent aux Elections de 1999 et 2004, et 3 "Non" aux réferenda pour ses institutions en 2005 et 2008, pendant une décennie trouble 1999-2008, (marquée surtout par la demande controversée de la Turquie d'entrer dans l'UE eclipsant les avancées de la Monnaie unique et de la liberté de circulation à l'espace Shengen, avec consequences mal-ressenties par la majorité des citoyens, bien au-délà des clivages du passé), qui a failli stopper l'integration européenne ?

Et cela, au moment même ou une globalisation galopante met l'Europe devant un choix crucial entre saut qualitatif en avant, apte à valoriser une occasion historique exceptionelle à se développer résolument, après les vaines destructions, querelles et tensions des guerres "chaudes" ou "froides" qui lui ont couté son rang dans le Monde, ou réculer définitivement en décadence...

Alors, que certains de nos amis à la Commission en Bruxelles, lui laissent au moins un peu d'espace de mouvement, et qu'ils l'aident à tenter d'insufler de l' oxygène frais et vivifiant aux rapports entre les citoyens et une Europe qui a manifestement bésoin et mérite de retrouver d'urgence un nouveau dynamisme populaire, avec un souci de réalisme mais aussi une vision passionante pour son avenir !

Après tout, les Etats Unis d' Amérique ne se sont pas faits à coups de bureaucratie, nécessaire et utile, mais manifestement insuffisante : Sans l'impulsion d'hommes politiques originaux, d'intellectuels vraiment engagés, et, surtout, sans l'enorme énergie émanant de la conscience d'enjeux à la fois pratiques et grandioses, bien resentis par des millions de citoyens, stimulant leur adhésion active comme pioniers d'un nouveau avenir commun à construire, ils seraient encore une ex-colonie périphérique, affaiblie par stériles divisions, passif et impuissant spectateur des convulsions tragiques d'un Monde à la dérive...

Que les vrais "européens" ré-lisent au moins les fameux discours historiques sur l' Europe d'un Sarkozy bien inspiré à Strasbourg, aussi bien avant qu'après avoir gagné les élections françaises, le 21 février et le 2 juillet 2007, après son 1er sommet des Bruxelles, qui a adopté le nouveau Traité de l'UE en conclusion de la presidence allémande : Bonnes lectures pour cet été 2008, afin de préparer l' avenir qui s'ouvrira (ou fermera) à partir des élections européennes de 2009.
Peut-etre revelera-t-il plus, en ce sens, lors de ses 2 discours-debats prochains avec les eurodeputés, prévus lors des sessions plenières du Parlement Européen a Strasbourg en octobre et décembre 2008...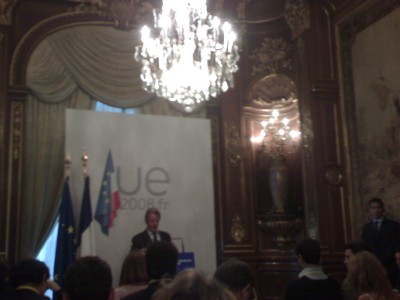 Foreign Minister Bernard Kouchner had already unveiled President Sarkozy's intentions, during a particularly "hot" Press Conference in Paris, where he faced some's insistance for "sanctions", with a call for "a common EU stance". In the meanwhile, he was consulting "all these days" most of his EU, Russia and Georgia counterparts, (as Sarkozy's Spokesman, P-J. Henin confirmed to "EuroFora"). This allowed him to obtained the desired result, as EU Chairman, at a short, exceptional EU Summit in Brussels, afterwards.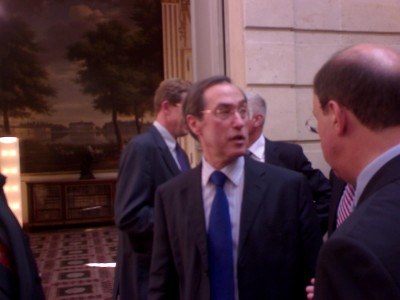 But, Sarkozy's No 1 official, Presidential palace's Secretary General Claude Gueant, active at Elysee during the 2008 Ambassadors' Conference, (together with his Top Diplomat, the experienced David Levitte), is well known for having an overall view : A link with 2009 EU Elections at the horizon ?
Polls